Picture/Sound/Extras: A-/B/C-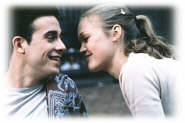 After walking out of She's All That a couple of years ago, I was ready for Hollywood to put an end to the teen comedy genre that had sprung up and grown almost overnight. Of course, I wouldn't get my wish, but at least the films have seemed to improve slightly. Such is the case with Down To You, a film that isn't anything great, but offers some engaging moments and a short running time - the film gets in and gets out, and doesn't wear out its welcome.
...Although it does begin to get close. The film stars many of the usual teen actors and actresses, including Freddie Prinze, Jr. and Julia Stiles as the two leads. Prinze plays Al, a chef and Stiles plays Imogen, who wants to be a painter. I can easily summarize the entire movie in a matter of a couple of sentences. The two meet, fall in love, go out and have fun, break up and then get back together again. We know that they're perfect for each other, and that they're going to be together in the end. As with most other films like this, the question is, do we enjoy the ride?
Well, for the most part, it manages to be light and harmless. To try to get through the not-so-original plot, there's some little touches such as the two talking to the audience occasionally, but it doesn't really work that well. It makes the picture feels more aimless than anything - the movie just sort of is, not really going anywhere, just spending time with the main characters talking away.
Some members of the cast elevate the film to the close-to-average level. Stiles is a wonderful, charming performer that deserves better roles than this as well as 10 Things I Hate About You; she does the most that she can do with this character. Prinze is well, his usual self - not the greatest actor. The supporting cast includes Selma Blair ("Cruel Intentions") and Shawn Hatosy (Outside Providence).
Teens will probably enjoy this film and actually, it's not the worst teen film that's been offered among all the product that's been geared towards that audience in the past couple years. That may be faint praise, but that's about all there is to say about Down To You.
The DVD: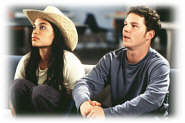 Another fine anamorphic effort from Disney, Down To You is offered in a 1.85:1 anamorphic transfer that looks as good as one would expect (and hope for) from a movie that's only a couple of months old. Sharpness is excellent, and detail is quite good, as well - even some of the dimly sit scenes offer a solid amount of visual information. Colors are especially nicely rendered throughout, looking well-saturated and without any problems. Black level is strong and flesh tones are accurate and natural.
A couple of Disney titles lately have shown slight problems such as shimmering, but Down To You pretty much lacks all of those flaws. There's only a couple of light traces of pixelation and no shimmering. The print used remains free off all but a handful of very minor marks. There's not a whole lot going on visually in Down To You, but the background scenery of New York City offers some very nice compositions that translate well to this effort. It shows when Disney does picture quality well, they are capable of nice work. Cinematography is by Robert Yeoman, who also was the cinematographer on such recent pics as Dogma and Rushmore.
Down To You goes from sounding great to sounding pretty unremarkable. There are some scenes that offer great sounding music playing in the background, such as the early club sequence. Other than that, the audio for the film offers pretty much what you would expect from a teen romance like this one. The focus remains on the dialogue, and the music lingers lightly in the background; there's the occasional rock song that has nice impact. Surrounds pretty much just offer the score and not much else. Dialogue is clear and easily understood, as well. It's not an agressive film in terms of audio, but there are some nicely done moments where the music steps in.
Down To You offers a handful of additional features; A Billie Meyers music video for "It All Comes Down To You" as well as two short featurettes - one very short featurette offering a look at the making of the music video and the other, a look at the behind-the-scenes of the movie. Strangely, there's no trailer.
Down To You is a light comedy that has a few enjoyable moments, but all in all - it's nothing too memorable. Maybe worth a rental.
Menu: DVD Movie Guide | Archive | Top