Reviewed by Colin Jacobson
Collector's Series DVD
Columbia-TriStar, widescreen 1.85:1/16x9, languages: English DD 5.1 [CC] & Dolby Surround, subtitles: English, Spanish, Portuguese, single side-dual layer, 24 chapters, rated R, 90 min., $27.95, street date 11/23/99.
Supplements:
Imagining Heavy Metal documentary
Feature-length rough cut with commentary by Carl Macek, author of Heavy Metal: The Movie and co-writer of the upcoming sequel
Alternate framing story with audio commentary
Carl Macek reading from his book Heavy Metal: The Movie
A deleted scene: Neverland
Heavy Metal magazine cover gallery
Pencil test and single and layered cel portfolios
Early conceptual art
Photo gallery
Theatrical trailers
Studio Line
Directed by Gerald Potterton. Voices of John Candy, Joe Flaherty, Eugene Levy, Harold Ramis, Richard Romanus.
Inspired by the fantastic stories and exceptional sexual graphics that brought Heavy Metal magazine an international readership, Heavy Metal Collector's Series creates a unique entertainment experience with its historic marriage of film, music and art. It transports the viewer to a step beyond science-fiction into a universe of magic, passionate fantasies, awesome good and terrifying evil.
With its provocative animation sequences, Heavy Metal pioneered the introduction in the West of what has come to be known as "Japanimation": an innovative, imaginative style, beyond erotica to exotica and always staggeringly beautiful that was introduced by Japanese artists/animators starting in the late 70ís. Heavy Metal interweaves six visionary stories of science fiction, fantasy and sword-and-sorcerer overtones. Each has its own distinctive style created and brought to life by underground avant-garde comic-strip artists.
Music is a pivotal ingredient in creating the terrifying and mysterious futuristic world seen and heard in Heavy Metal Collector's Series. 13-time Academy Award nominee Elmer Bernstein scored the film with song contributions from 13 notable bands and solo performers including Black Sabbath, Devo, Blue Oyster Cult, Journey, Stevie Nicks and Sammy Hagar.
Since its release in 1981, Heavy Metal has become a cult favorite, playing for months on end in theatres around the country at midnight screenings. The release of Heavy Metal Collector's Series on DVD allows fans of the film to own a definitive version of this unique animated adventure.
Picture/Sound/Extras (C+/B+/A)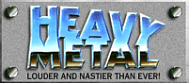 When a film is called a "classic," it's a pretty meaningless appellation; so many movies are believed to qualify for that status by someone that the term lacks much significance. I'm sure someone thinks the Ernest movies are classics.
A somewhat scarier term is the "cult classic." This designation narrows things down quite a bit, since it almost always involves a movie that didn't do too well at the box office and also one that's quirkier than the average mainstream film; it's a picture that eventually found a strongly devoted audience who then sustain its minor but significant popularity over a number of years.
Outside those commonalities, cult classics are radically dissimilar but I think some people believe it to be another kind of genre, one that unites these different films. Maybe, but all I know is that the cult classic appellation can be dangerous, since the films involved usually are backed with a great level of passion from their fans; the neophyte may receive some serious flack if he or she does not agree with that cult opinion.
As such, I'm fully prepared for some nasty comments in regard to my opinions about Heavy Metal. This is a film that fully qualifies for its cult classic status, as it apparently has a sizable following who simply adore the movie. Why this is so is absolutely beyond me. Heavy Metal is a largely amateurish, uninteresting and stupid collection of randomly connected animated vignettes, almost none of which offer anything compelling.
Frankly, I was shocked at how bad this movie was. I knew the music would bite - after all, the soundtrack mainly focussed on the hard rock or metal from the late Seventies and early Eighties, and that stuff was genuinely terrible. Journey? Sammy Hagar? Nazareth? When Stevie Nicks and Black Sabbath are the acts that remain the biggest deal from your soundtrack, you know you're in trouble; for some strange reason, the phrase "pathetically dated (not that any of that crap was any good to begin with) music" springs to mind.
However, I wasn't quite prepared for the generally poor quality of the animation and the inane nature of the stories themselves. If you've read many of my reviews, you'll know I'm clearly not a snob; no one who liked films like Billy Madison and The Mummy could be described that way. I always enjoyed comic books as well, so it's not that aspect of the production that turned me off.
Instead, it was simply the fact that all of these little vignettes were quite uninspired and dull. There's not a single interesting character or creative tale to be found in this mess. It's all the same old recycled silly teen fantasy material. Even the vocal talents of treasures like Joe Flaherty, Eugene Levy and John Candy can't save this trash; actually, I thought they all sounded vaguely embarrassed to be there (and I can't blame them - the heights of SCTV down to that nonsense).
Some of the storyline problems would be forgivable if the animation were of a higher quality, but this tripe made the whole bad dream turn into a nightmare. Not all of the animation is terrible; it ranges from God-awful to decent. For much of the film, I felt that the quality was on a Saturday morning cartoon level. No, it never sinks to the depths of something like Pokemon, but it never shows any flare or spark, and a stiffness inhabits so much of the animation that I felt even the good bits were tainted by the stench.
One thing that's done well here is the animated effects, I must admit. While I found the motion and realism of the concluding Taarna segment to be very poor, it did feature some dazzling effects that helped raise the bar to a degree. Not that the rehashed Eastwood revenge fantasy storyline deserved anything, though. I did enjoy all of the extravagantly drawn women as well.
And that's about it. I have little to say about Heavy Metal because there's not much that deserves comment. It's a tremendously lame and crudely done waste of cels that has maintained a strong cult following for nearly twenty years. I remain at a loss for an explanation as to the reasons for this. Lotsa people watched it and got stoned and it seemed cool by association? Works for me.
In any case, Columbia Tristar (CTS) have done a pretty decent job of bringing Heavy Metal to DVD with this new release. Due to rights issues, HM took a loooong time to hit video, and this version stands as easily the definitive release. The DVD offers the film in its original theatrical aspect ratio of 1.85:1 on this single-sided, dual-layered disc; the image in enhanced for widescreen televisions.
Because CTS have maintained a reputation for some of the strongest video transfers on DVD, my initial reaction upon the start of HM was shock because the image looked simply terrible. Early parts of the film feature massive amounts of grain and numerous print flaws such as scratches, marks and spots. I honestly could not believe how bad it appeared. Thankfully, the image mostly clears up as the movie progresses; marks and grain occasionally mar the proceedings, but not with anywhere near the prevalence we see during the early portions. Little by little, my rating for the picture gradually increased until I finally decided that "C+" was as far as I could go; no higher grade could go to a film with the severe flaws I saw at the start.
Once one gets past these print issues, the image actually looks pretty decent. It seems consistently sharp but without any apparent edge enhancement and without the shimmering and "jaggies" that often accompany a 16X9 transfer on a 4X3 TV. The colors generally seemed adequate, though they sometimes appeared vaguely cloudy or muddled. Black levels also seemed good. While it's tremendously erratic, this picture overall rates a slightly above average grade.
The Dolby Digital 5.1 mix of Heavy Metal is also something of a mixed bag, but it's nonetheless far superior on a consistent basis. It makes very good use of effects; various atmospheric bits really dominate the track and add life to the film. The forward soundstage is quite vivid and well-defined, and we occasionally hear some strong use of the split surround capabilities of the rear channels as well.
On the negative side, dialogue consistently seems flat and thin, and the music - whether in the form of the terrible rock songs or Elmer Bernstein's decent orchestral score - usually appears too soft; the effects overwhelm it and it gets lost in the mix. The balance really seems off for much of the movie. Despite these flaws, however, it's still a pretty good mix when one takes the age of the film into account; most films from 1981 won't sound nearly this good.
One area in which the Heavy Metal DVD excels is that of supplements. Put simply, this sucker is packed to the gills with materials. First up is a rough cut of the entire film. This piece runs for about 90 minutes and depicts the movie in various stages of completion; some scenes are fully animated and completed, and some are no more than rough drawings. No music or effects accompany the rough cut, though most of the dialogue appears.
This version of the film is clearly aimed at die-hard HM fans and I'm sure they'll eat it up. I found it to be pretty uninteresting, though not because I didn't like the movie. I mean, I didn't, but even if I had enjoyed it, I think I'd be bored with 90 minutes of unfinished animation. It's vaguely interesting as a curiosity, and I don't mind seeing it in small doses, but the idea of sitting through 90 minutes of incomplete film doesn't appeal to me. The best part of the rough cut were the segments that showed the film footage of the actress who modeled for Taarna. I would have really liked it if she were naked, ala the character, but they clad her in a bathing suit. Damn! The one thing that would have made this set interesting...
Next up is a quasi-commentary from writer Carl Hacek. Although his speech accompanies the film on an alternate track, it's not a traditional audio commentary because Hacek simply reads selections from his book Heavy Metal: The Movie. While this has the benefit of making his comments very organized and eliminating any dead spots (until the track ends at 77 minutes, that is), it has the negative consequence of lending a stilted and unnatural tone to the commentary. The printed page doesn't always sound that great when read aloud, and I have the feeling this material would have much more impact when seen instead of heard.
It didn't help that the narration is not very scene specific, so while one can look at the appropriate illustrations if one reads the book, the same benefit does not occur while watching the movie. All in all, I found Hacek's text to be dull and uninteresting; he really tended to detail the technical side of making the movie without any apparent insight or more general information. For fans of the film, I'm sure this is all fascinating, but for someone who actively disliked the picture, it didn't do much for me.
By the way, it should not be assumed that I would automatically dislike the commentary because I hated the film itself. I've found that while it's obviously more likely that I'll enjoy a commentary if I like the film in question, the two are not mutually exclusive. Some good films have weak commentaries, and some awful movies have fascinating tracks. It doesn't necessarily follow that the two will correlate. As such, I could have enjoyed the HM commentary, but I found it much too drab and flat for my liking; it really requires an avid interest in the film to maintain one's interest.
The rough cut of Heavy Metal also features a commentary from Hacek, and this one appears to be in the traditional form; Hacek seems to speak semi-extemporaneously as he watches the film. As such, the track flows more naturally and seems more scene-specific, but it still doesn't do much to keep my interest. Again, his comments are pretty technical and dry, so while serious fans will probably gain a lot from the track, it did nothing for me. Unlike the narration for the finished film, the rough cut's commentary lasts the entire 90 minutes.
Easily my favorite supplement on Heavy Metal is an approximately 35 minute documentary called Imagining Heavy Metal. It consists of modern interviews with many of the principal filmmakers, and their comments are interspersed with clips from the film and a few production shots. This piece is a lot less formal than the commentaries, and it helps provide a much better picture of the intentions behind the movie. All in all, it's a pretty entertaining little program that nicely encapsulates the history of the film.
Deleted scenes are a rarity for animated films; because the process is so costly, directors only commission that which they know they'll use after carefully planning the movie. Nonetheless, the Heavy Metal DVD includes two deleted scenes. Both are unfinished, though the first - Neverwhere Land - comes much closer to completion than does the second, an alternate version of the segments that frame the different vignettes. Neverwhere Land is actually pretty good; I'd guess that if it made the cut, it would have been easily the best thing about the movie, something the filmmakers sort of indicate in their comments during the documentary. It presents partially animated scenes accompanied by music and seems more like something out of a more graphic version of Fantasia than a part of Heavy Metal.
The framing sequences are only shown in very rough pencil shots, and they include no music or effects, though they do feature speech. These segments seem to be no better or worse than the rather dopey framing pieces that exist in the finished film, though they do appear to be more creative and imaginative at least.
A wide variety of still frame material can be found on the Heavy Metal DVD. A small collection of production photos documents the making of parts of the Gremlins and Taarna scenes; in all, we see about 18 pictures. Much more extensive is the "Artwork of 'Heavy Metal'" section; it depicts approximately 310 stills that show pencil sketches, production designs, character models, and many variety of cels as well as three animated pencil tests. It's a tremendous amount of information that I'm sure will satisfy the HM fans out there.
Also likely to ring many a bell is the Heavy Metal cover gallery. This section contains a ton of magazine covers from its inception in 1977 to date. I was too lazy to count them all to see if every cover is included, but if some are missing, it doesn't appear to be too many; there are a slew of them here. Since I lack interest in the magazine, this feature didn't do much for me, but I found it to be a thoughtful and cool addition nonetheless.
Finally, the Heavy Metal DVD offers a four-page booklet in its case, two of which provide some basic but good production notes. Absent but not missed are cast and crew biographies; CTS produces some very poor ones, so I'm not too upset they aren't here. Absent and somewhat missed are some trailers; I have no clue why at least the 1997 re-release ad doesn't appear.
Frequent readers will know that I love supplements and that I've purchased and kept many DVDs that I never would have considered just because they pack so many extras. Heavy Metal indeed includes a tremendously detailed supplemental section, but it's not a DVD that will remain in my collection. I genuinely disliked this inane and poorly-constructed movie, and almost no supplement in the world will get me past that fact. For Heavy Metal fans - whoever they may be, and whyever they feel that way - this will become the centerpiece of their DVD collection; CTS have gone above and beyond in producing this package. For anyone with less than an intense interest, however, pass up this clunker.
Related Sites
Current as of 11/23/99
Official Site--Here, you will find stills, press release, behind the scenes, about the filmmakers, about the music, and movie credits.
Heavy Metal - The Illustrated Fantasy Magazine--"Before Star Wars changed the face of movie industry, and Close Encounters blew the doors off the box office, Heavy Metal magazine poised to destroy the old perception that 'comics are for kids!' The future had arrived."
Amazon.com--Available to purchase are the DVD at special discount and the original music soundtrack featuring various artists.
Reel.com--Purchase the DVD at special discount.


Previous: South Park: Bigger, Longer & Uncut | Back to Main Page