Reviewed by Colin Jacobson
DVD
Columbia-TriStar, widescreen 2.35:1/16x9, languages: English Dolby Surroud [CC], subtitles: English, French, Spanish, single side-single layer, 28 chapters, production notes, theatrical trailer, rated R, 98 min., $27.95, street date 10/26/99.
Studio Line
Directed Gillie Mackinnon. Starring Kate Winslet, Said Taghmaoui, Bella Riza, Carrie Mullan, Pierre Clementi, Abigail Cruttenden.
Hideous Kinky is the intimate odyssey of Julia (Kate Winslet) and her daughters Lucy (Carrie Mullan) and Bea (Bella Riza), who have left the grey routine of London for the colorful promises of Morocco. Since her former lover (and the girls' father) has moved on to other lovers (and other children), Julia seeks some greater horizon for herself, and to enrich her daughters with a fearless curiosity and embrace of adventure.
This thirst for experience takes them to Marrakech, a vibrant city of mosques, music and kaleidoscopic markets, where Lucy and Bea run wild from sensation to sensation. But the richness of their discoveries contrasts sharply with a meager existence stretched between erratic support checks from the girls' negligent father. Just as their new lives uncomfortably begin to resemble their old ones, they are each transformed by Bilal, a charismatic street performer who becomes a lover to Julia, a fabled father figure to Lucy, and Bea's looking-glass into a civilization so alien from the one she knows.
With Bilal completing their vagabond family, they embark on a journey that will take them through the hidden worlds of Marrakech, the old-world traditions of a remote mountain village, and into Algeria, where the wisdom of a renowned Sufi burns as bright for Julia as an elusive grail. Hideous Kinky is a sonnet to an exotic culture, a love story between people of different worlds, and a paean to a mother's quest to gift her children with the courage of dreams.
Picture/Sound/Extras (A-/B+/D-)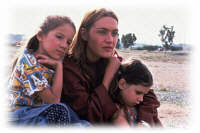 Hideous Kinky: decent movie, terrible title. The meaning of the title really never becomes clear through the film, other than those words seem fascinating to two sisters in the story, who utter them on occasion.
These sisters are dragged around Morocco in 1972 by their hippie-ish mother Julia (Kate Winslet) as she seeks spiritual enlightenment. Their father has moved on to a new relationship and a new family back in London, so while he occasionally sends money, these folks are basically on their own.
There's not much of a plot to HK; it just ambles along as we follow Julia and the kids through their various mini-adventures. Actually, "adventures" is a strong term; they basically spend most of their time trying to find money. Julia's spiritual quest is mentioned on occasion, but we get little sense of it; there's not much discussion of it.
Winslet performs well as Julia but I think she ultimately fails the role. Winslet's very convincing in the part, but she convinced me the wrong way; her presence consistently seemed contrary to the way the character should have appeared. Julia seems to be a very self-centered, shallow person; how else could she endanger her kids by toting them along for her own little hippie diversion?
Yet Winslet always seems incredibly grounded and secure; even though her actions are irresponsible, Julia herself appears rational and solid. Someone flightier really should have played the role; Winslet simply seems too substantial for the part.
Overall, HK is a mildly interesting film that meanders along its way but does so agreeably. I didn't find it to be terribly memorable - it's already starting to seep out of my brain - but it's pleasant enough.
Hideous Kinky appears in its original theatrical aspect ratio of 2.35:1 on this single-sided, single-layered DVD; the image has been enhanced for 16X9 televisions. Though inconsistent, the film generally looks quite good. Sharpness is the main issue here. For the most part, the image seems crisp and nicely-detailed, but a fair number of wide shots appear softer than they should. They don't look poor, but I felt they were less tightly focussed than they could have been. Some slight moire effects appear at times, but only very rarely.
The print used for the transfer was very clean and lacked any noticeable speckles, hairs, dirt, grain or scratches; I also detected no digital artifacts. Colors are a definite strength of this DVD; the setting provides a surprisingly varied palette and the disc reproduces these hues with great boldness and vivacity. Black levels seem good, and shadow detail appears clear and fine. It's not a great-looking disc, but it certainly seems well above average.
Since the movie came out in 1998, I was surprised to discover that Hideous Kinky only offers a Dolby Surround 2.0 mix. I was even more surprised to discover how good it sounds. To be frank, I could easily have been convinced that it was a 5.1 track. No, there are no split surround effects, but I've heard plenty of modern 5.1 mixes whose surrounds remain monaural in nature, so that's no big deal. I've also heard plenty of 5.1 tracks that are less active and less sonically ambitious, so this mix comes as a pleasant revelation.
Quality is consistently excellent. Dialogue is always clear and natural; while I occasionally had trouble understanding some speech, that resulted from accents, not from the audio itself. The music always seems warm and crisp, and effects are strong and realistic. The track displays good dynamic range, with some hefty bass.
The front soundstage definitely dominates and it's very well balanced. All three forward channels receive active usage and they display a nicely broad image. The rear speakers do a fine job of filling in the sound; they blast the pop/rock soundtrack and add a lot of effects as well. I must admit that I wish the track was 5.1 just because I figure that if the sound designers did so well with 2.0, I'd bet they'd do wonders with 5.1; still, Hideous Kinky offers one of the best 2.0 tracks I've heard.
Not so pleasant a story is that of the supplements: there ain't much here. We get three trailers; a terrible one for HK itself (the studio apparently had no idea had to market the film) plus ads for Sense and Sensibility and The Governess. The DVD's booklet provides some brief but informative production notes.
Hideous Kinky firmly falls into the pile of "possible rentals." It's a pretty good film, and the DVD offers solid picture and sound (though it skimps on supplements). However, it's not a film that seems likely to succeed through repeated viewings, and it's not so special to warrant purchase. Give it a rental.
Related Sites
Current as of 12/31/99
Official Site--The U.K site contains biograpies, sypnosis, stills, and trailer.
James Berardinelli's ReelViews--"For all that Hideous Kinky introduces us to an unusual culture and takes us on a whirlwind trip of Morocco, the central feature of the film is the human element."
Roger Ebert--"The movie is episodic and sometimes repetitive. What makes it work is Winslet's performance."
DVD Celebrities: Kate Winslet--Features profile, trivia, related films on DVD, and links with descriptions to the best fan sites.
Amazon.com--Available to purchase are the DVD at special discount, the paperback by Esther Freud, and the original music soundtrack featuring various artists.
Reel.com--Purchase the DVD at special discount.


Previous: Instinct | Back to Main Page