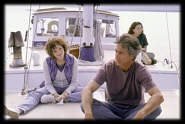 Although I know about John Sayles reputation as a filmmaker, I must admit that I'd only seen two of his films prior to my receipt of the DVD of Limbo. I found Brother From Another Planet to be decent but overrated, but I greatly enjoyed his version of Eight Men Out, a factor that should have spurred me to watch more of his movies. However, I never did, even though I knew that Lone Star received a great deal of acclaim. What can I say? I'm too lazy to seek out those indie films!

Anyway, I ended up with Limbo because we received a copy from Columbia Tristar, and I'm glad I did. While I wasn't bowled over by it, I liked it well enough to think that maybe I should finally get off my ass and try out some other Sayles films.

Limbo is billed as a thriller, but I find that description to be tremendously misleading. (Note: out of necessity, I'm going to reveal some plot points that you may not want to know if you haven't seen the movie. For those folks, just skip ahead to the quality reviews.) Yes, some bad people chase after our main characters and they have to hide from them, but that's about it; there's no intrigue or cleverness that the characters have to use to escape. They end up stuck on an island and are completely at the mercy of the baddies should they find them; no fantastic brainstorm will occur to turn the tables.

The structure of Limbo is unusual in that half of the film is over before the "thriller" aspect starts. Prior to that point, the movie comes across as one of those small character study kind of films; we focus on the interrelationships of a few folks in a depressed Alaskan town. No, the dire plot twist isn't completely unexpected; from the minute we see Bobby Gastineau (Casey Siemaszko), half-brother to main character Joe Gastineau (David Strathairn), we know he's bad news, and when Bobby involves Joe in some business, it seems inevitable that something negative will occur.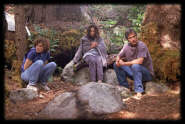 While it didn't appear completely predictable that Joe's new romantic interest Donna (Mary Elizabeth Mastrantonio) and her teen daughter Noelle (Vanessa Martinez) will also end up embroiled in this nastiness, it wasn't exactly a surprise. Still, Sayles should be commended for taking his movie on such an unusual path.
Despite the problematic predicament that confronts our leads, the movie doesn't really change thematic course at that point. It was a character-based film prior to that, and it remains that way through to its conclusion. The setting and the circumstances change, and the situation becomes more extreme and allows some vague "thriller" elements, but the focus stays small and sticks with the personalities. It's a wise decision because any gratuitous attempts at action or intrigue would have seemed completely out of place and would have hurt the story.
Limbo possesses an ending that's sure to anger and irritate many. Don't worry, I won't give away what happens to the characters, but I couldn't do so even if I wanted to do that. Here's a hint: O. Henry (and I don't mean the candy bar). It's definitely an unconventional conclusion, but one that ultimately seems satisfying just because it sticks to the spirit of the film.
As well as Sayles tells his story, it's the acting that really makes it work, as is usually the case in such character-intensive films. Mastrantonio is absolutely excellent as Donna; she incorporates so many small pieces of emotion and spirit into the character that it was amazing. Her performance is subtle and captivating; I don't think I've ever seen her better.
I had mixed feelings about Strathairn's turn as Joe. Don't get me wrong - he's very good - but I felt he came across as something of a one-trick pony. What I mean is that I can rarely recall seeing Strathairn play a role in which he wasn't cast as a pretty basic guy who seems withdrawn and introverted and has kind of a nervous air about him, like he has something to hide. Even when he doesn't have something to hide, Strathairn's characters seem vaguely jittery. That's definitely the case with Joe, and while it's appropriate for the role, Strathairn's predictability somewhat detracted from his work.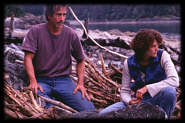 I have no history upon which to draw comparisons for Martinez's work as Noelle, but she seemed terrific. The depressed, bitter teen is not exactly an original character, but Martinez offers a nice turn on the part. She manages to make Noelle believable without being overly melodramatic.
Okay, spoiler skippers - you can come back now! Time to discuss the quality of the DVD. As usual, Columbia Tristar have done an excellent job with this release. Limbo is presented in its original theatrical aspect ratio of 1.85:1 on this single-sided, single-layered DVD; the image has been enhanced for widescreen televisions.
Limbo looks absolutely fantastic. Looking for flaws? You won't find them here. The image seems rock solid and terrifically sharp from start to finish, with no exceptions in between. I detected not a single print flaw, nor did I see any digital artifacts or grain. My Panasonic A110 isn't great at the anamorphic downconversion, but I never detected any problems with the jagged edges or shimmering qualities that occasionally mar the presentation of 16X9 enhanced titles on my 4X3 TV.
Colors are fairly subdued in this film, one that sticks to a pretty monochromatic palette to reflect the natural tones of the Alaskan wilderness, but hues always seem very solid and accurate. Black levels and shadow detail are absolutely flawless and rich; check out any of the many fireside scenes to see how good these can look. I withheld an "A+" rating from Limbo just because I think that level should be reserved for DVDs that offer a greater variety of tones and challenges, and Limbo is simply too basic a movie for that; it lacks the "dazzle" factor that would make it an "A+." However, it came pretty close - Limbo offers a terrific visual experience.
The Dolby Digital 5.1 soundtrack of Limbo doesn't approach the heights of the fantastic picture, but it gets the job done. It's a very front-oriented mix with very little occurring in the rear channels. We occasionally hear some gentle ambient effects back there - the best scene displays rainfall during a storm toward the end of the film - but it's generally pretty slight and not overly involving. The forward soundstage is good but unspectacular; again, ambient effects quietly appear in the right and left front speakers, but since this isn't the kind of film that lends itself to whiz-bang audio, the focus remains on the dialogue in the center channel.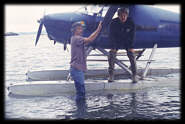 What Limbo does best is quality, and all aspects of the audio sound terrific. Although little of the action uses the speakers, the fine musical score makes good use of the stereo capabilities of the front channels and it sounds great; it's a fairly spare track, and it always sound clear and deep with well-defined instrumentation. Dialogue always seems full and natural and lacks any indication of being dubbed, even though some of it must have been due to the shooting locations. As noted, effects are pretty spare - this ain't Twister - but they seem realistic and accurate. The audio mix for Limbo nicely complements the film and adds to its effect without overwhelming the viewer.
The DVD of Limbo won't be mistaken for a full-fledged special edition, but it includes a few supplements. Key here is the running audio commentary from director Sayles. It's a mildly interesting but fairly mediocre entry. Sayles offers some useful tidbits about the characters and motivations, but for the most part, he sticks to dry technical information. I can't really fault him for this - it's clear that he doesn't want to overexplain the movie - but it doesn't make for a great commentary. Still, it was interesting enough to keep me going all the way to the end, and at least Sayles talks virtually continuously; the track suffers from almost none of the gaps that often plague commentaries.
Limbo also includes an isolated music track, which is nice since the score is good. I was excited to note that the end credits feature a Springsteen song ("Lift Me Up") that hasn't seen the light of day elsewhere. Actually, the vocal is nearly unrecognizable as Bruce, since he does it in a falsetto that I initially mistook for a female voice! I mean, I know Bruce's music awfully well, so I was quite surprised how hard it was for me to clearly identify the singer as him. Anyway, the isolated track is there, and it also includes "highlights" that allow you to easily access some of the more prominent portions of the score. I thought that last part was a nice touch, kind of along the same lines as the "cameos" menu in the Austin Powers DVDs; these are portions of the film that aren't difficult to access through chapter search, but I thought the additional options help make the process easier for the viewer.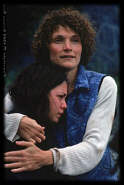 Finally, Limbo includes two trailers, one for the film itself and one for another Sayles work, The Secret of Roan Inish. Despite my feeling that I should check out more material from Sayles, the latter didn't intrigue me, but the Limbo trailer is a pretty decent piece of work. Limbo also offers a four-page booklet inside the case, two of which provide some basic but interesting details of the creation of the film.
While I didn't think Limbo was a classic, it's a good deal more thoughtful and intelligent than most films, and it offers a strong character-based story without indulging in any of the melodramatic excesses that usually mar such productions. The DVD from CTS features absolutely stunning visual quality plus strong audio and a couple of decent supplements. If you already know that you like this kind of austere filmmaking, Limbo is definitely a good addition to your collection. If you don't usually tend toward this type of film, you still may want to give it a try; Limbo is an affecting and interesting piece of work.