Picture/Sound/Extras: A-/B+/D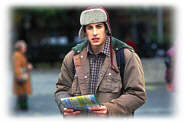 During her career, director Amy Heckerling has proven herself to be most successful when she deals with younger characters. Mainly this has meant films like her hit debut, 1982's Fast Times At Ridgemont High or 1995's Clueless, both of which featured teenage protagonists. However, her biggest success came with 1989's Look Who's Talking. Although it was one of the lamest films ever made, that clunker cleaned up at the box office and spawned two sequels, one of which - 1990's Look Who's Talking Too - was also directed by Heckerling.
Happily, Heckerling avoided a life of baby films and generally stuck with somewhat more-mature characters. After five years off since Clueless, Heckerling returns to the teen well with Loser, a film that concentrates on the coming of age experienced by a naïve young man.
Paul Tannek (Jason Biggs) leaves his small town to go to college in New York City. He anticipates a rough time and that's what he gets, mainly due to the nastiness caused by his trio of smug, selfish roommates Adam, Chris and Noah (Zak Orth, Thomas Sadowski, and Jimmi Simpson, respectively). In fact, pretty much everyone treats him like crap except for semi-Goth girl Dora (Mena Suvari). Almost instantly, Paul's smitten, but reality crashes around him when he discovers that Dora's dallying with their literature professor Alcott (Greg Kinnear).
It doesn't take a Ph.D. to determine where the plot will eventually go; Loser does nothing to reinvent the romantic comedy genre. For the most part, I thought it offered a moderately enjoyable ride that was made more compelling due to the engaging presences of the actors. Both Suvari and Biggs are veterans of 1999's hit American Pie - though the slimmed-down Biggs is almost-unrecognizable here - and they display reasonable chemistry in Loser. Actually, I found Biggs to be the more interesting of the two, as he pulled off the nerdishness necessary for the role despite the fact he's a fairly handsome guy. Suvari essentially tries to find a middle-ground between the ultra-nice Heather in AP and catty bitch Angela in American Beauty, and she's somewhat successful. She played the role well enough but she lacked a lot of the charisma displayed in the other films; Dora was likable but not terribly engaging.
All of the supporting actors more than adequately portray their loathsome characters. Orth, Sadowski and Simpson create nicely individual parts despite little screen time on their own; the roles are one-dimensional but effective. Kinnear ably demonstrates that he plays arrogant jerks better than anyone else in town; he makes the professor delightfully unlikable.
The film also contains a slew of cameos from some stars, though one of them made me think my DVD player was on the fritz. When I saw Dan Aykroyd, I thought my player was set to 16X9 mode, but I then realized that his freakishly elongated head was natural, not the result of my equipment.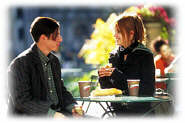 Despite all of these solid components, I must admit that Loser left me mildly cold. The movie seemed generally enjoyable and entertaining, but it never quite escalated into anything special. While the stars were provided strong performances, the film depended a little too strongly on them to carry it. I thought Suvari and Biggs were good but they just couldn't keep my full attention for the whole film.
As such, Loser stands as a decent movie but not anything special. I wanted to like it and I generally thought it was watchable but it rarely rose above that level. It's a modestly entertaining little flick that never threatens to be anything more than a cute romantic comedy.
The DVD:
Loser appears in both its original theatrical aspect ratio of approximately 1.85:1 and in a fullscreen edition on this single-sided, double-layered DVD; the letterboxed image has been enhanced for 16X9 televisions. Only the widescreen side was rated for this review. As a whole, the movie looked very strong, with few problems of note.
Sharpness seemed consistently solid. I detected virtually no instances of soft of hazy images, as the picture appeared crisp and detailed at all times. Moiré effects came up due to some blinds, but jagged edges presented no issues, and I saw only mild artifacts from the anamorphic downconversion on my 4X3 TV. Print flaws appeared non-existent; I saw no signs of scratches, grain, grit, hairs, blotches, tears or other defects.
Colors largely looked warm and natural. A nightclub scene with some red lighting came across as slightly heavy, but otherwise the hues were clean and vivid. Black levels appeared deep and rich, and shadow detail seemed appropriately thick without any excessive opacity. As a whole, the movie looked accurate and well-defined.
The Dolby Digital 5.1 soundtrack of Loser also seemed very satisfying. As is typical of this kind of film, the mix stayed pretty firmly in the forward channels. The audio spread nicely across the front spectrum, and it also integrated well between the speakers. The surrounds mainly offered general reinforcement of the forward channels. Music and some ambiance carried to the rears, but there wasn't much discrete information from those speakers.
Audio quality seemed positive. Some dialogue was poorly integrated with the action and appeared artificial, but the speech always sounded accurate and easily intelligible. Effects were clean and realistic and showed no signs of distortion. Music appeared clear and dynamic and also displayed solid bass response; the film offered lots of pop/rock songs, and they featured terrific low end, especially when the Offspring's "Pretty Fly (For a White Guy) blasted. Ultimately, the soundtrack seemed strong and appropriate.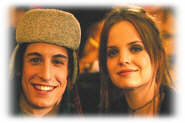 Unfortunately, Loser skimps on extras. We get a "Making of" featurette that lasts a whopping four and a half minutes. This is the sort of standard glorified trailer that so often taints the word "featurette". Actually, it offers a cute opening that makes it a little better than most, but don't mistake it for anything substantial; it's just a slightly extended advertisement.
In addition, there's a music video for Wheatus' "Teenage Dirtbag". This clip incorporates the usual lip-synch footage with some new footage of Biggs and Suvari that integrates the film's characters into a high school plot. It's nothing special, but it's more fun than most of these sorts of videos.
Finally, we get the standard barely-useful "Talent Files" for director Heckerling and actors Biggs, Suvari, Kinnear and Aykroyd. There are also trailers for Loser plus As Good As It Gets, Whatever It Takes, and Can't Hardly Wait. The package finishes with some brief but decent production notes in the booklet. It's an awfully bland little compendium.
The movie itself deserved better, but not by much. As a whole, I thought Loser felt like less than the sum of its parts. The film is generally entertaining and watchable but it was less-than-compelling much of the time. The DVD offers fine picture and sound but almost no extras. For fans of teen romantic comedies, Loser probably merits a rental.
Menu: DVD Movie Guide | Archive | Top