Reviewed by Colin Jacobson
Special Edition DVD
Columbia-TriStar, widescreen 2.35:1/16x9, languages: English DD 5.1 [CC] & Dolby Surround, subtitles: English, single side-dual layer, 28 chapters, rated R, 158 min., $24.95, street date 4/4/2000.
Supplements:
Extended International Version with an Additional 10 Minutes of Footage
"The Messenger: The Search For The Real Joan Of Arc" HBO First Look
Isolated Music Score
Theatrical Trailers
Talent Files
Studio Line
Directed by Luc Besson. Starring Milla Jovovich, John Malkovich, Faye Dunaway, Dustin Hoffman, Pascal Greggory, Vincent Cassel, Tchéky Karyo, Richard Ridings, Desmond Harrington, Timothy West.
The year is 1429. France is in political and religious turmoil as members of the royal family battle for rule. But one peasant girl from a remote village gave her country the miracle it was looking for. Milla Jovovich (The Fifth Element, Dazed and Confused) is Joan of Arc, a young woman who would inspire and lead her countrymen until her execution at the age of nineteen. Raised in a religious family, Joan witnessed her sister's rape and death at the hands of an invading army. Years later, as the same war raged on, Joan stood before her king with a message she claimed came from God: give her an army, and in God's name she would reclaim his diminished kingdom.
But was the message real, or the delusion of a girl whose life had been shattered? This startling epic drama by Luc Besson (The Fifth Element) explores the life of Joan of Arc, her amazing victories, relationship with God, and tragic death. Co-starring John Malkovich and Academy Award winners Dustin Hoffman and Faye Dunaway, The Messenger is a modern take on a medieval saint who enthralls people even today.
Picture/Sound/Extras (A/B+/C+)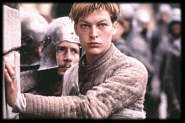 When The Messenger hit movie screens a few months back, I'd initially intended to see it because I'd liked the previous work of director Luc Besson (The Fifth Element, The Professional, La Femme Nikita). However, I ultimately skipped his newest film. This occurred partially because I'm not much of a fan of this kind of historical drama - I've always preferred more recent history - but mainly I passed up The Messenger because it received so many bad reviews; I'll ignore poor notices if the movie's one I really want to see, but when my interest was only half-hearted from the start, consistently weak ratings usually extinguish any interest I may have possessed.
Now that I've received the DVD and actually watched The Messenger, I can't help but wonder what film the critics saw back in November. The one I just watched had some flaws, but overall I found it to be a tremendously exciting, provocative and compelling adventure/drama.
Actually, the film's full title is The Messenger: The Story of Joan of Arc, and that's essentially what it purports to tell, but don't mistake it for a bio-drama. The movie's focus is firmly on her years of prominence as a military and inspirational figure. We see a little of Jeanne's (her non-Anglicized name, apparently) early life and meet family members briefly, but these sections appear just to set the stage for what is yet to come and they mainly deal with her obsessive religiosity.
The movie doesn't tell Jeanne's tale in the most cohesive or coherent manner, and events sometimes seem to leap about at random. However, I like the approach taken by Besson because he focusses on the most stimulating material and makes the film something of a "greatest hits" presentation. Even though Jeanne died at 19, too much happened in her life to create a detailed biographical film within the constraints of a theatrical format, and I think The Messenger presents enough information to give us a decent background without feeling sketchy or incomplete.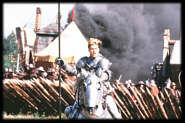 Maybe one reason I liked this film so much is because I'm a guy, and The Messenger takes a guy's approach to the subject. This is a visceral, kinetic and violent telling of the tale, and it almost never stops for sensitive or weepy moments. Oh, we get plenty of introspection, but even that appears in a tough manner, with Jeanne's innermost thoughts brutally challenged by her "conscience." This definitely is not a "touchy-feely" kind of film.
One aspect of the movie I also really liked was the fact that it never takes a clear position on the question of Jeanne's belief. By this I mean that we never receive any kind of "editorial opinion" to sway us to feel one way or the other. Many movies might try to convince us that her "visions" were hallucinations and the product of psychosis, whereas other would attempt to sway us to believe Jeanne actually received messages from God. The Messenger leaves it completely undecided and gives us evidence that could easily go one way or the other.
As Jeanne, I thought Milla Jovovich did a surprisingly excellent job. It's a difficult character, as she needs to appear scared, inspirational, tough, insane, awed and charismatic at various points in the movie. Jovovich does all that and more in a very strong performance. I've read some complaints that Jovovich's Jeanne doesn't seem very sympathetic, and she's not, but that's appropriate. Jeanne was a zealot, and such people don't always have the best social skills or seem very likable. Her single-mindedness makes her appear harsh and obsessive at times, and that appears completely appropriate for such a character; I'd have found Jovovich's performance much less compelling and believable if she turned the role into something more appealing.
Another strength of The Messenger comes from its dazzling battle scenes. Besson right involves himself in the fray, and these moments are brutal but marvelously kinetic and involving. Actually, they reminded me a lot of the fights in Braveheart due to similar styles of combat and the generally visceral tone of the pieces.
One note about the movie: the DVD presents the "International version", which apparently runs for about 10 minutes longer than the release US audiences saw. Since I didn't view The Messenger during its theatrical run, I can't personally comment on differences between the two cuts, but from what I understand, nothing graphic was removed to obtain the film's "R" rating; if that's wrong, I'm just communicating what I've heard - don't shoot the messenger! (HA!)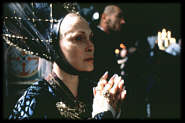 The Messenger appears in its original theatrical aspect ratio of 2.35:1 on this single-sided, dual-layered DVD; the image has been enhanced for 16X9 televisions. Another day, another fantastic transfer on a Columbia-Tristar DVD!
Sharpness seems absolutely rock-solid from beginning to end; I never noticed the slightest hint of softness, even during low-light or foggy scenes. Moiré effects and jagged edges appear non-existent, and I only rarely saw any artifacts related to the anamorphic downconversion on my 4X3 TV (some rooftops caused a little trouble in that regard). As one would expect from a five-month-old film, the print used for the transfer seems flawless, with no signs of scratches, speckles, grain, or other issues.
Colors are generally subdued but appear very accurate and rich. One remarkably notable notable exception to the intentionally desaturated palette comes early in the film, when young Jeanne runs through a field; the flowers seem stunningly vivid, especially the red ones, which practically leap off the screen. Black levels generally appear deep and dark, and shadow detail looks appropriately heavy but not overly opaque. All in all, The Messenger offers a tremendously satisfying visual experience.
It also provides a strong Dolby Digital 5.1 mix. The soundfield generated displays a great deal of activity in all five channels. The forward image seems especially broad and well-integrated, but the surrounds aren't neglected; they provide a terrific amount of ambient information that really balances out the entire mix nicely.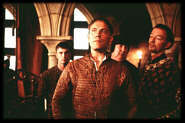 Quality seems good for the most part. While dialogue generally appeared natural and intelligible, the combination of various accents and loud battle scenes occasionally drowns out a lot of the speech. The words I had to strain to hear weren't exactly crucial - it was stuff like "Pour the oil!" that could be observed so easily that the dialogue wasn't all that necessary - but I still found it to make the experience a bit more frustrating that I'd like. The speech may ultimately not be essential, but I don't know that while I watch the movie, so I often backtracked during the film to hear what I'd missed, and I eventually just turned on the English subtitles during these kinds of scenes; I don't like to do that, because I find them distracting (I have a hard time keeping myself from reading them as soon as they appear even if I can understand the dialogue) but it was the most practical option.
The remainder of the audio sounds terrific. Effects are wonderfully crisp and realistic, with good depth and accuracy. The music seems deep and rich and bolsters the action nicely. Really, the only significant problem I had with the soundtrack came from the inaudibility of some of the speech; remove that issue and it's a thoroughly fantastic mix.
While The Messenger isn't billed as an actual Special Edition, it still offers a few supplements. First up is a nearly 24-minute "HBO First Look" featurette called "The Messenger: The Search For the Real Joan of Arc". This program combines historical details of Joan's life with snippets about the making of the movie. it's a decent documentary; it clearly sticks with a promotional tone and it repeats a lot of what we know from the movie, but it also shows some historical sights and documents, all of which help make it worth watching.
Another addition is the presence of Eric Serra's rousing score on an alternate audio track. The score appears in full Dolby Digital 5.1 sound. As I've mentioned in other reviews, I'm not much of a fan of movie music, but for those who enjoy them, supplements like this make for a nice treat.
Some text materials appear as well. We get talent files for director Besson plus actors Jovovich, John Malkovich, Faye Dunaway and Dustin Hoffman. Unfortunately, these are the usual exceedingly short and useless biographies we find on most CTS DVDs. Some brief and mildly interesting production notes also can be found in the DVD's booklet.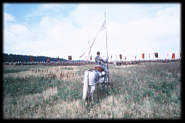 The DVD rounds out its supplements with a slew of trailers. We find both the theatrical and the teaser trailers for The Messenger itself; the teaser is the better of the two, as it shows shots of Jeanne with her sword in a field of flowers while words like "heretic" and "saint" appear. In addition, the DVD provides trailers for Besson's The Professional as well as Orlando - another historical film - and Run Lola Run. The presence of the latter makes less sense to me; all I can figure is that both are the products of European directors, and Jovovich and the German chick who plays Lola kind of look alike. (Actually, Lola looks a lot like Jovovich's Leeloo in The Fifth Element, and when you consider the similarity in names, this seems more than coincidental.)
The Messenger came as quite a surprise to me. I expected a dull, muddled affair and instead found a thrilling, epic adventure with some very stimulating examinations of the psychological state of a saint. The DVD provides terrific sound and picture, and tosses in a few good extras as well. The Messenger definitely rates at least a rental, but I'd recommend purchase instead; this one's good enough to own and rewatch.
Related Sites
Current as of 4/11/2000
Official Site--You will need to select the enhanced HTML version in order to access the information on the production of the film. The tremendous amount of materials on the site are definitely worthwhile.
James Berardinelli's ReelViews--"It's a pity that Jovovich can't handle the title role, because Besson's innovative approach to the legend is enough to warrant attention."
Saint Joan of Arc Center--You can find plenty of resources on the historical account of this legendary figure.
Filmtracks--A full review of the original score soundtrack composed by Eric Serra: "A film of this genre and magnitude deserves a score that is more passionate and involving."
Amazon.com--Available to purchase are the DVD at special discount, Joan Of Arc; Her Story by Regine Pernoud, and the original score soundtrack composed by Eric Serra.
Reel.com--Purchase the DVD at special discount.


Review Archive: #, A-C | D-F | G-I | J-L | M-O | P-R | S-U | V-Z
Previous: Dracula | Back to Main Page