Reviewed by Chris Galloway
Special Edition DVD
Warner, widescreen 1.85:1/16x9, standard 1.33:1, languages: English DD 5.1 [CC], subtitles: English, double side-single layer, 33 chapters, rated PG-13, 102 min., $24.98, street date 12/28/99.
Supplements:
Audio commentary by director Kelly Makin
Production notes
Theatrical trailer
Studio Line
Directed by Kelly Makin. Starring Hugh Grant, James Caan, Jeanne Tripplehorn, Burt Young, James Fox, Joe Viterelli.
Michael Felgate (Grant), an Englishman who runs an auction house in New York, is head-over-heels in love for the first time in his life. After only three months of dating his beautiful girlfriend Gina (Tripplehorn), Michael gathers up his courage and proposes marriage. But, to Michael's shock, Gina declares that, though she loves Michael very much, she can never marry him.
Michael pursues Gina to her father (Caan) Frank's restaurant in Little Italy, where Michael introduces himself to a tight-knit and tight-lipped group of Italian-American men who treat Frank with more than the usual respect.
As Frank welcomes his potential son-in-law with open arms, it slowly dawns on Michael exactly what kind of family he is trying to marry into.
And Gina refuses to have another of her boyfriends become corrupted and embroiled in her family's gangster life. So, to win the hand of the woman he loves, Michael bravely embarks on a mission to thwart the intentions of The Mob.
Soon, however, thanks to Gina's charming father, Michael finds himself inadvertently laundering money through his auction house, becoming an accessory to murder, and having to pass himself off as the notorious Mickey Blue Eyes.
Picture/Sound/Extras (A-/B/C)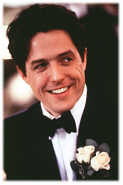 Ever sit back and wonder how amazing it is that within the span of a few months, movies or shows come out with the same theme or ideas? Antz was followed by a fairly similar A Bug's Life. Deep Impact and Armageddon (both asteroid disaster flicks) came out on top of each other. And then this year came the sudden rise of mafia comedies. You can look back to the summer of 1998 where the disastrous Mafia came out then to be followed by the smarter and funnier dark comedy HBO series The Sopranos, and then was quickly followed by the theatrical run of the amusing Analyze This. The mafia genre was getting picked on now it seemed. While Analyze This and The Sopranos are more similar because of the psychiatrist perspectives, the Hugh Grant vehicle, Mickey Blue Eyes has a lot of the same elements as Analyze This, but manages to be not as funny.
They were both made at the same time but comparisons are hard to avoid. You have big actor Robert De Niro in Analyze This as the mobster and you have big actor James Caan in this one, both Godfather alumni. You have an innocent non-Italian getting sucked into the mafia in the form of Billy Crystal in AT and Hugh Grant here. You have a wedding in both. And you have a lot of the same cast (including Joe Viterelli) and they're both distributed by Warner Bros. (Although Mickey Blue Eyes was made by Castle Rock). While many would consider this unfair to compare, it did affect my view of the movie. While I enjoyed Mickey Blue Eyes to a certain degree, I found Analyze This better, if not by much.
Michael Felgate (Grant) is an art auctioneer who is hopelessly in love with Gina (Jeanne Tripplehorn). He decides it's time to pop the question and he does this at a Chinese restaurant involving the very funny mix-up of a fortune cookie. She says "no" and runs off. He goes out to find her, discovering she has gone to her father's place. He goes to the father's restaurant, "The La Trattoria" to get his home address. He meets her father, Frank (Caan) and instantly takes a liking to him. Of course it hasn't dawned on him quite yet what her father is involved in. Even after meeting "family" members at the restaurant with names like Vinnie, Carmine, Louie and Uncle Vito. When he catches Gina at her father's place she explains to him that she cannot marry him because her father is involved with the mob. He promises her that he will not be corrupted and never be tempted by his new mob connections in hopes that she will say yes to his proposal. She accepts this and all looks good.
This doesn't work, of course, or there would be no movie. Uncle Vito (Burt Young), the type of mob Don starts influencing his auction house without Michael ever knowing it. He manages to get the delivery trucks in on time with all the deliveries there. Also, the competition magically burns down. He is then forced to sell Vito's son's rather psychotic paintings (including one portraying Jesus with a machine gun). As it turns out the mob is using this as a way to launder money, as explained by two FBI agents (one played by Kids in the Hall's Scott Thompson). He of course has to hide all this from Gina or he will lose her.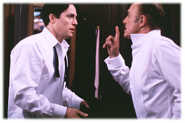 The story takes a nice little turn when Vito's son is accidentally killed and Michael finds himself in a lot of trouble. With the help of Gina's father, the two quickly dispose of the body and try to pin it on another mob family. The two now try to cover their own tracks, Grant even having to take on the persona of Mickey Blue Eyes. This actually leads to the funniest scene in the movie where Michael, having a heavy English accent has to pass himself off as Italian. He works on his "fahgedaboudit" and "getouttahea" bits to no effect. And then this ends up all leading to a wedding that may become a very bloody one at that.
The film is fairly predictable but the script is quite smarter than it deserves to be, especially since it's one of those movies that's only existence is because it was written for a certain star. The story flows nicely and dialogue is very witty and bright. Grant, who I am not a big fan of, charms me (he also did in Notting Hill) here. His stuttering, stammering persona works better here than in other movies I've seen him in. Caan underplays the role, like De Niro did and like with De Niro, it works (although he thankfully doesn't cry). Burt Young is a quiet, menacing presence as mob boss Unclie Vito. Vitterelli delivers another charming goombah performance. Tripplehorn is probably the weakest presence here but she looks good.
Director Kelly Makin, whose last effort Brain Candy allowed him more freedom (with funnier results) molds a fine, amusing picture here. But it's not as overly funny as he could have made it. Most of the visual jokes are background and some of the funny lines can be attributed to Grant's improv bits or the writers. Makin's concern though is to just lead everyone along to make a fairly entertaining movie and succeeds to a modest degree.
And Warner does a decent job on the DVD. The disc is double sided and single layered. One side contains a picture with a ratio of 1.85:1, enhanced for widescreen TVs and the other contains a standard version. I only viewed the widescreen version. Generally the picture looks very good. It's consistently sharp and very bright. Colours don't smear. Occasionally the red neon lights of NY give off a chroma effect but nothing too bad. If I have one problem it's the few specs of dirt that appear, but nothing too serious to take your attention off of the film. Otherwise, this is a very good picture with no major flaws.
Warner includes a Dolby Digital 5.1 Surround track only. It's not going to knock your socks off but it is still a very good track. The movie is not an action film so the full potential is not used. Dialogue mostly seems to come from the center speaker, sometimes panning across the other two front ones. Sound effects such as traffic are also mostly contained within the front two speakers, but move between the speakers with stunning accuracy. Dialogue is very easy to understand and is crystal clear. The auction house scenes use the back speakers a bit with the crowd but the closest it ever comes to full use is when the musical score or bits from the song soundtrack play. As well, the few scenes that do involve gunfire (especially the ricochet scene) use most to all the speakers to a good effect. While it didn't overly impress me it uses what it can to good effect.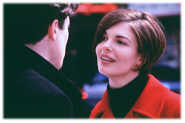 They have also included some extras. You get the amusing theatrical trailer along with Warner's standard cast and crew biographies, and like a lot of these, a lot of cast and crew are named but you can only view a few biographies, in this case director Kelly Makin, and actors Grant, Caan and Tripplehorn. They're fairly thorough but the Makin one is a little skimpy.
The one that surprised me (and didn't know was on here until I popped the disc in) was a commentary by Makin. This is the first time I know of where he has done one and he's very competent. I don't think he uses notes but he does go through the movie thoroughly, telling of his work with Grant and Caan, glancing on his past with Kids in the Hall as well as some production pointers. It's not overly engrossing but a fair commentary with very few dead spots. If Paramount makes a DVD for Brain Candy I hope they get him to a commentary for that one because it should make an interesting one.
So, Warner does another decent (if not amazing) job on another one of their titles. The picture is very good and the sound is decent with the nice inclusion of a commentary. The movie itself is not too great, but I found it entertaining enough at least to recommend it for a rental. And if you did really enjoy Analyze This chances are you may catch yourself liking this one, too, even if it doesn't completely meet up.
Related Sites
Current as of 1/18/2000
Official Site--Besides the requisite info on the film, you also get pictures, webcards, and other goodies.
James Berardinelli's ReelViews--"Mickey Blue Eyes is of passable entertainment value, but it's equally difficult to argue that it offers anything fresh or inspired."
Roger Ebert--"After the bite and freshness of Analyze This, Mickey Blue Eyes plays like an afterthought."
Mr. Showbiz Celebrities: Hugh Grant--An excellent source for profile and credits.
Filmtracks--A full review of the original score soundtrack composed by Basil Poledouris: "Overall, this is a light project, and the album favors the songs too heavily for most score fans."
Amazon.com--Available to purchase are the DVD at special discount and the original score soundtrack composed by Basil Poledouris.
Reel.com--Purchase the DVD at special discount.


Previous: This is Spinal Tap | Back to Main Page