Picture/Sound/Extras: A-/B+/B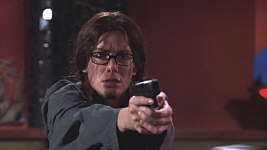 When I wrote my review of 28 Days last summer, I strongly questioned Sandra Bullock's continued status as an "A"-list actress. After all, she's only appeared in a couple of hits, and even those came out more than half a decade ago.
Of course, as soon as I made these negative comments, Sandy had to go and prove me wrong. Winter 2000's Miss Congeniality didn't exactly crush box office records, but its $106 million take made it the second-biggest hit of Bullock's career after 1994's Speed. No, $100 million isn't the impressive figure it used to be; 22 films made at least that amount in 2000, and Miss Congeniality was 21st on that list.
Nonetheless, it's a more-than-respectable take, especially for a sweet little comedy like this. Personally, although I've questioned some of Bullock's choices, I'm happy to see her back in a hit, as I think she's an appealing actress. Hey, she's a local girl as well; she grew up only about 15 miles away from me, so I have to root for someone who could theoretically have been a high school classmate!
Miss Congeniality isn't a classic, but it largely does what it sets out to do. After a Unabomber-esque nutbag called "The Citizen" threatens the tranquillity of the Miss United States pageant, the FBI step in to secure the event. They decide to place an agent in disguise as a contestant. After the most logical candidate turns out to be on maternity leave, they turn to the next best thing: unkempt and masculine Gracie Hart (Bullock).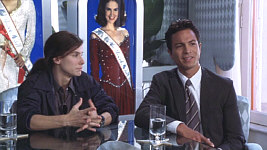 Although Hart seems completely wrong for the task, a make-over from pageant consultant Victor Melling (Michael Caine) turns her into a babe, and as her assignment progresses, she gets to know the other contestants and starts to become more of a well-rounded woman instead of the rough work-obsessed she-male seen at the beginning. She even manages to impress hunky agent Matthews (Benjamin Bratt), who now comes to see her in a different light.
As a whole, Miss Congeniality presents a fairly predictable piece, and it starts off slowly. Some of the early gags fired well, and I must acknowledge that the filmmakers' attempts to make Bullock look unattractive are surprisingly successful. Usually when movies show pretty women who are supposed to be skanky, their actual charms still seem apparent. That's not the case with Gracie, who presents a fairly scary image until her make-over. Credit Bullock with having the lack of ego to allow herself to be presented in such an unpleasant light; her crude behavior nicely plays up Hart's apparent lack of physical charms.
Granted, it's not exactly a shock when Gracie comes out as a babe - it's not like we've never seen Bullock before - but the movie capitalizes on this well. Nonetheless, I felt that the movie dragged a bit until these scenes; the first act wasn't bad, but it didn't move as smoothly as I would have liked.
However, MC picked up well once Gracie is firmly ensconced in the pageant. Here we meet all of her competitors, including the surprisingly sexy Miss Rhode Island, played by Heather Burns. Although Burns sports a look that isn't usually my cup of tea - she's presented as a prim and innocent blonde - I must say that I really liked her nonetheless. Wow! What a babe!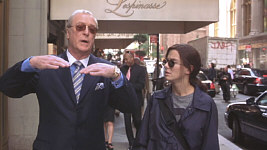 Lustful thoughts aside, Burns also provided a nice performance, as do all of the capable supporting cast. In addition to Bratt and two-time Oscar-winning Caine, we also find strong additions such as Candice Bergen as the pageant organizer, William Shatner as the show's clueless host, and Ernie Hudson as the FBI chief. All of them plus many others offered nice turns in their roles, and this support helped make the piece work better than it could have.
Nonetheless, MC remained Bullock's baby to drown, so it's nice to be able to report that she handled the role with aplomb. Bullock manages the physical and verbal comedic elements well, and she made Hart's transformation from homely brute into sexy and smart babe move smoothly. That's not an easy change to execute, and it usually comes across in a hurried and ham-handed manner, but Bullock proves her comedic worth in this role.
Director Donald Petrie does nothing to make the film excel, but he provides leadership capable enough to keep the project on track. Truthfully, Miss Congeniality is a somewhat awkward presentation, and the story doesn't always - or even usually - progress in the most fluid manner, but the charm of the actors is almost always enough to make it work. At the end of the day, Miss Congeniality is a fun trifle that left me with a smile.
The DVD: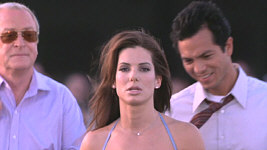 Miss Congeniality appears in an aspect ratio of approximately 1.85:1 on this single-sided, double-layered DVD; the image has been enhanced for 16X9 televisions. Not surprisingly, the picture looked consistently excellent, with almost no problems on display.
Sharpness seemed very good. One or two wider shots showed some modest softness, but these concerns were minor. As a whole, the movie appeared crisp and well-defined. A little shimmering showed up in some backgrounds, but this was exceptionally modest, and no jagged edges appeared. Print flaws seemed absent. At no point did I discern any signs of grain, grit, speckles, scratches, tears, or other defects in this clean, fresh image.
Colors looked bright and vivid throughout the film. Due to its beauty pageant setting, we were treated to a nice variety of bold and vibrant hues, and the DVD reproduced these well, with very accurate and clean tones on display. Black levels seemed nicely deep and rich, and shadow detail usually came across as appropriately heavy but not excessively thick. A couple of nighttime scenes looked slightly too dark, but these were the exceptions. As a whole, the DVD presented a simply terrific picture.
Also good was the Dolby Digital 5.1 soundtrack of Miss Congeniality. As one might expect of this sort of comedy, the soundfield usually stuck pretty close to the front spectrum. Across the forward speakers, the audio presented a solid image that created a decent environment. Music offered a good stereo presence, and effects were appropriate and well-localized. The surrounds mostly stayed in general reinforcement mode, with most of the rear activity functioning mainly to back-up the forward spectrum. However, the surrounds showed greater life during some of the action sequences, as both gunshots and explosions reverberated nicely in the rear channels.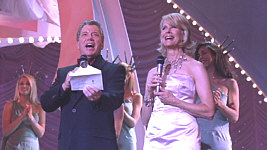 Audio quality seemed to be consistently strong. Dialogue appeared warm and natural, and it displayed no edginess or problems related to intelligibility. Effects were crisp and realistic, and they showed nice clarity without any distortion. Music appeared clean and smooth, and it occasionally offered some solid low end during a few of the pop songs. Effects also showed good depth and dynamics, and the entire track possessed quite satisfactory range and quality. The mix complemented the material and worked well.
Miss Congeniality packs in a few supplements, starting with two separate audio commentaries. The first comes from actress/producer Sandra Bullock and co-screenwriter/co-executive producer Marc Lawrence. The pair also worked together on 1999's Forces Of Nature, and they display a nice, comfortable chemistry during this screen-specific track. I'm not sure I learned a whole lot about the production of the film, but I didn't really care, as the track offered a breezy and entertaining affair. Bullock and Lawrence crack on each other frequently and the fun they had while they recorded the commentary came through nicely. In truth, I expect that a fair amount of material was conveyed, as the track did provide a decent look at the movie. Nonetheless, it's the entertaining tone that stuck with me and that made this an above-average commentary.
In comparison, the second track from director Donald Petrie was a bit of a dud. Granted, being the second commentator can be a tough position, as the person inevitably will repeat some of the information we've already learned from the first recording. That problem occurs here, but it wasn't the main reason I didn't much care for the track. Instead, its main flaw stemmed from Petrie's low-key and uninvolved tone. The commentary contained too many empty spots, and when Petrie spoke, he often provided little information. While I didn't much enjoy this track, I must acknowledge that some bias probably affected my opinion; I found the prior commentary to be so entertaining that the second one almost inevitably would be a disappointment. As such, I'd rate Petrie's commentary as a mediocre one, but not a total dog.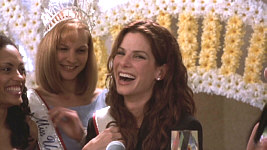 In addition to the original theatrical trailer and some perfunctory Cast and Crew filmographies, the DVD includes two featurettes. Called "Preparing for the Pageant" and "The Pageant", the two function as companion pieces in more ways than just implied by their titles. Although the two focus on different aspects of the production, they're not as "cut and dried" as their names might indicate. Each looks at a number of issues in regard to the shoot, and we find a nice little mix of interviews with participants, film clips, and the shots from the set. Also, at the end of each featurette, we get some deleted scenes. Ultimately, both were superficial but fun. I didn't learn a ton about the production, but the programs provided some decent information and a lot of interesting "behind the scenes" images.
With Miss Congeniality, Sandra Bullock finally broke out of her long box office slump, and she did so with style. While not a great film, this beauty pageant based farce succeeds due to the fun situations presented and a slew of solid performances from Bullock and her many able costars. The DVD provides strong picture and sound plus some nice extras; the audio commentary from Bullock and the film's co-writer was especially entertaining. Ultimately both the movie and the DVD are positive experiences, and Miss Congeniality deserves a look.