Picture/Sound/Extras: B/B/A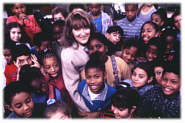 Although Music of the Heart purports to tell a true story, it doesn't smack me as terribly real. It comes across as that artificial variety known as "movie reality", which kind of looks like real life but is much more tidy and orderly. And it's awfully tired as well. For years and years we've seen these tales of the dedicated teachers who overcome the daunting odds. What was the first example? Who knows - The Miracle Worker, perhaps?
However, that piece belongs to a different genre, as MOTH fits more clearly into the same category as pictures like Dangerous Minds and To Sir, With Love. Those films - and this one - have teachers who lift up economically deprived students. That's a nice theme, of course, but all these movies look an awful lot alike, and MOTH does absolutely nothing to add to the genre.
In fact, it's less coherent than most of its brethren. The story tells of Roberta Guaspari (Meryl Streep), a long-time housewife who has been ditched by her husband. A tip from a friend sends her to a job opportunity as a violin teacher in an inner-city New York school. She gets the gig and promptly turns around the lives of all sorts of black and Latin urchins.
I had a number of problems with these aspects of the film. For one, it all happens far too easily. Roberta gains the trust and affection of these kids without any depicted effort; even DeSean - the token kid who especially dislikes Roberta - comes over to her side for no apparent reason other than the plot wants him to be there. We see little reason to understand why Roberta allegedly is such an effective teacher.
In fact, the only indications of her teaching style show Roberta to be tremendously obnoxious and harsh with her students. Apparently this emulates the behavior of the real Roberta and I believe it, but I intensely disliked the message it sent. Is it possible to be fairly nasty to kids and still have them respond and not become jerks in return? Yes, but such teachers are amazingly rare. Is Roberta one of those beings? Perhaps, but I was very trouble by the message sent by the movie.
Essentially, the one time that a character - the mother of a student - objects to Roberta's style, we're supposed to see that parent as overweaning and humorless. A comedic scene follows in which Roberta tries to be nicer to the kids but they don't like it so she reverts to her original style.
Again, I'll acknowledge that this method can work, but it's very dangerous in most teachers' hands. I work in a school system and although most teachers are very good, I see far too many who take out their bad moods on the kids; they scream at them constantly and berate and insult them at will. Not only will these people see MOTH and think it validates their techniques but others may watch the film and think it means that it's okay to treat students roughly.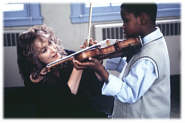 99 percent of the time it's not. All it does is teach kids that it's okay to be disrespectful and cruel to others. We're supposed to think Roberta's methods are okay because they're just manifestations of her high expectations and the discipline that her lessons require; she has to act that way if the kids will take her seriously. Bollocks. One can be pleasant and nice and still be stern at the same time. MOTH argues that the methods are required to get the results, and that's a potentially-harmful load of hooey.
Okay, so much for that particular soapbox. Even without that aspect of the film, I found MOTH to be a weak effort. Most of it relates to the fact that so much of it goes by without difficulty; things fall into place far too easily. The kids learn to play with little effort, and later concerns also dissipate without much ado.
The movie also suffers from overambition. It's split into two parts; the first documents Roberta's initial class of students and their successes, and the second - which takes place ten years after the first - looks at her struggles to continue her program. On their own, either portion could make a full movie, so director Wes Craven's attempt to stuff both into the roughly two-hour picture results in a tremendously sketchy product.
We get a reasonable idea of Roberta's character - enough to dislike her, at least - but everyone else comes and goes pretty quickly. The film introduces a large roster of personalities, but none of them (other than Roberta) are anything other than bit players, really. We accept them because we've seen the archetypes so many times before - the jerky coworker, the struggling principal, the downtrodden kid - but MOTH does nothing to expand upon them; in fact, they're treated much more casually than usual.
Music of the Heart isn't a terrible film, and it's nice to see Craven attempt to stretch from his horror roots, but I had an awful feeling of deja vu as I watched it. We've seen this story already, and we've seen it done better. Add to that some insulting components and an annoying main character and you have a film that offers little compelling reason to be watched.
The DVD:
Music of the Heart appears in its original theatrical aspect ratio of approximately 1.85:1 on this single-sided, dual-layered DVD; the image has been enhanced for 16X9 televisions. In general, the movie looks pretty good, though it seems a bit bland and lifeless.
Sharpness seems fine for the most part, but a fair number of scenes appear slightly soft and dull. That's most likely because so many of the shots are interiors that happen in institutional settings; it's difficult to make such gray environs look good, so I suppose I can't really fault the DVD for appearing flat and vaguely hazy in that way. I noticed no moiré effects or jagged edges and only saw a few instances of artifacts from the anamorphic downconversion on my 4X3 TV. The print itself looked clean and fresh; I noticed no instances of speckles, scratches, hairs, grain or other flaws.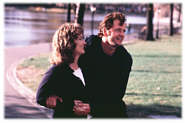 Colors appeared pretty subdued but were acceptably accurate and appropriately saturated. Again, the blandness of the setting doesn't lend itself to bright, bold hues,so what we see seems about right. Black levels were nicely deep and rich, and shadow detail seemed good. I felt somewhat bad about knocking this picture down to a "B" because I think much of the reason it doesn't look that great comes from the material itself, but I prefer to base my grades on what I see on the screen, and MOTH looks like a "B" to me.
The same goes for the film's Dolby Digital 5.1 soundtrack, though I don't feel any similar forms of regret about that grade. The soundfield itself seems about what you'd expect for this kind of dramatic film. The forward channels offer a fairly broad and well-developed aural image; most of the information comes from the center, but we get some good ambient effects and even some secondary dialogue from the sides. Effects are also gently reinforced from the surrounds, and we even get one or two examples of split surround usage as well. The music is the main beneficiary of the five channel treatment, and the mix spreads it nicely across all of the speakers, though the front still dominates.
Quality seemed acceptable but a little weak in my opinion. Dialogue appeared intelligible and clear but tended to sound slightly flat and dull, and I also noticed occasional edginess and a little harshness from the speech; those latter problems were rare but still more frequent than I'd expect from such a new film. Effects are the least important aspect of this soundtrack but they sounded adequately realistic and lacked any signs of distortion. The music is a mixed bag. When we hear the kids playing, the songs sound clear and crisp and smooth, but much of the film's actual score appears somewhat muddy and bland. These issues are relative, of course; for an older film, the music would have sounded great. However, for a 1999 release I expect higher quality, and while the score seems listenable, it simply lacks the clarity it should display. Ultimately, the soundtrack for MOTH is decent but unspectacular.
MOTH comes as part of Miramax's Collector's Series, and it's a very good package with a strong set of supplements. First up is an audio commentary from director Craven and producer Marianne Maddalena. Actually, it's really just from Craven. Maddalena leaves after about 15 minutes and never returns.
Overall it's a nice track. Craven's a veteran of audio commentaries - he's done at least three others - and he seems comfortable with the format. His remarks are engaging and informative and he covers a broad array of subjects. I found a few too many empty spots - especially toward the end of the film - but it's not too bad in this regard. Ultimately the commentary provides a good look at the movie.
Next we find three deleted scenes. These run for a total of ten and a half minutes and can be screened with or without Craven's commentary. All three were interesting, and I really think at least one should have remained, since it actually makes Roberta a more realistic character. Unfortunately, for that scene to stay, it would have required another clip to be kept in the film - they interrelate - and I can see why Craven decided to lose both rather than add so much to the running time. His comments are spotty but generally give us a good idea why he excised the scenes.
We find a featurette that runs for a little more than five minutes. As is typical of these, it's mainly promotional in nature, but it's not a bad little piece. We get interview snippets with a variety of participants and it's a watchable program.
Another segment documents affairs in the recording studio; this clip runs for a little more than two minutes. Most of this shows young musicians as they play, but we also get a brief interview with composer Mason Daring. It's not great, but is interesting if just to hear Daring instruct the musicians to make mistakes so they'll sound more like less proficient players.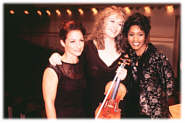 A Carnegie Hall segment shows the filming of the concert scenes there in this four and a half minute featurette. I found this one to be pretty dull and pointless. We see shots of the musicians on-stage - which are essentially already seen in the movie - intercut with images of the cameras shooting the sequences. Wow! Fascinating! Every once in a while we also view Craven or others as they watch the proceedings. I'm sure there's some point to this, but I can't figure out what that might be.
Other sections concern the hit title song, a collaboration between Gloria Estefan (who also acts in the film) and 'N Sync. Every night I pray that when I wake the next day, I will no longer live in a world in which Diane Warren is considered a fine songwriter. Unfortunately, I then confront dreck like this atrocious song and once again must resist urges to end it all.
Get the feeling I don't like the song? Anyway, we find a blah music video for that sappy piece of junk, and we also discover a clip that documents the making of the video; the latter runs for about one minute and fifteen seconds. Both are eminently avoidable.
A more unusual section is called "Background/Wisdom Soundbites With the Musicians". This lasts about 12 minutes and shows interview segments with nine of the "real life" musicians featured in the film. Their comments generally range from thoughts about Roberta and her project to discussions of their own early careers. I found the statements to be mildly interesting but nothing special.
Finally, DVD 1 gives us a theatrical trailer and it also features a slew of biographies. We get entries for nine actors, director Craven, producer Maddalena, composer Daring, songwriter Warren, and Guaspari herself. We also find discussions of the nine musicians who speak in the "Background..." section. All of these are pretty solid listings that give us a decent look at each of the people.
This package includes a second DVD. That platter apparently only includes one program, but it's a substantial addition: Small Wonders, a 77 and a half minute documentary from 1995 that inspired the film. The presence of this piece renders the existence of MOTH itself redundant, as they both tell the same story, but SW does so in less time and makes a more interesting case. The Guaspari of real life actually seems less annoying than Streep's interpretation, but I think that ironically, Streep probably presents the more realistic version; I have the feeling real-Guaspari cleaned up her act somewhat for the documentary cameras.
Other than that anomaly, however, I think that SW creates a more compelling view of events. Obviously, the MOTH delves more strongly into melodramatics like the departure of Guaspari's husband and other "behind the scenes" incidents, but SW more than compensates with the realism of the scenes. My personal favorite had to be the one kid who doesn't want to take violin; watching his reaction to his selection makes up for all of the syrupy-sweet kids I had to endure in the movie itself.
Although Small Wonders adds a lot to this package, I still can't recommend Music of the Heart. This is a nice DVD set, with decent picture and sound and some excellent supplements, but none of that can make up for the fact that the movie itself is a dog. It's a superficial look at a subject we've seen many times in the past, and nothing here makes this story interesting or compelling. Music of the Heart should be DVD Left of the Shelves.
Menu: DVD Movie Guide | Archive | Top