Over the two years I've written for the DVD Movie Guide, my DVD-related hardware has not remained static. Actually, I currently use none of the equipment that I utilized when I started on the site back in January 1999; my TV, DVD player, receiver, and speakers have all changed for the better in that time.
Most of these alterations should have been invisible to the reader, although my recent acquisition of a new TV may have been noticed by those very accustomed to my reviews since I no longer mention anything about anamorphic downconversion artifacts. One more obvious change in my equipment happened last fall when I finally got a DVD-ROM drive. For most of my time on the site, I was unable to comment upon DVD-ROM features on various releases because I had no way to test them. That changed when I picked up my no-name $80 eight-speed drive, which stands as one of the best bargains I've found.
I was initially apprehensive about this generic drive but it's performed like a champ. It even came bundled with a decent software player in WinDVD, a program that has worked fairly well over the last four months or so.
However, when I was offered the opportunity to give a different software player - PowerDVD - a shot, I jumped at it. While I liked WinDVD, it clearly wasn't perfect, so I was more than willing to try out something different. After using it for some time, I recognize that version 3.0 of PowerDVD isn't perfect either, but I think it's a solid program that works as well - if not better - than WinDVD or other similar efforts I've used.
Actual screenshots from PowerDVD's 'capture' function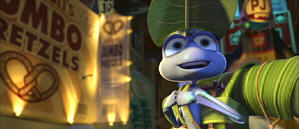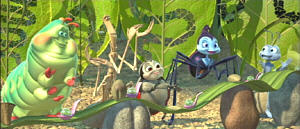 Unfortunately, one of Power DVD's main flaws appears pops up when you first start the program. Installation and set-up were both very simple and caused me no problems. However, when you start Power DVD, you immediately jump to their "i-power" function. This feature connects to the PowerDVD Internet portal and can provide you with a variety of information about the program and other DVD-related topics.
Overall, it's a nice little site, and I'm not just saying that because it offers a link to DVD Movie Guide (though it doesn't hurt); it's a good basic source for different facts and opinions. Nothing about the site itself bothers me - except for some sloppy errors such as references to a site called "DVD Files" - but this Internet aspect contains one major problem. If you try to exit PowerDVD and you're online, you'll be signed off the Internet! I found this to be a serious annoyance as I spent some time working with the program while I was online, and I wasn't pleased to have my connection interrupted just because I didn't want to continue with PowerDVD. There may be a solution to this problem that I've missed, but I've looked through a variety of different sources - including the "help" file and the "owner's manual" you can access online - and can't discover a way to alter this annoyance.
You can easily jump from the i-power portal to the regular PowerDVD screen by clicking on the "i-power" icon in the menu; conversely, you can leap back into i-power through the same icon while in them main menu. One thing I'd advise to change right off the bat is the program's "skin". This alters the appearance of the toolbar you can use to access different features or change playback settings. The program defaults to the "Oscar" skin, but I found that one to be excessively busy and unappealing. I prefer the simpler, sleeker look of "Neo", which I felt aided the ease of access to various features. In any case, you can choose from five different skins available with the main program, and if you click on the "Skins" link from i-power, you'll find an additional 39 skins currently offered, with more likely to pop up at a later time; without question, you should be able to find one that'll meet your needs. Some of them seem excessively busy and complicated - such as "Oscar", which is why I dumped it - but this problem doesn't affect all of the bars, and with so many options, you should get one you really like.
The availability of different skins may seem like a small issue, but it's really one of the best aspects of PowerDVD. One problem I encountered with WinDVD stemmed from the clumsiness of the main control panel; it could be tough to accurately place the cursor on the correct option, and I would occasionally inadvertently hit the wrong button. That's not a problem with PowerDVD, at least when I use "Neo". The bar makes it easy to click on the correct button and I had none of the "slippage" issues.
The menu bar also offers some other helpful features. (For the record, I don't plan to go through every minute detail about the program, as one can assume that the basic functions all work appropriately; I just want to mention the ones that stood out to me, whether positively or negatively.) I liked the use of the "Navigational Slider", which let me easily skip from part to part of the DVD. Other programs also offer this feature, but I found it to work slightly better on PowerDVD; it jumped more smoothly than I'd seen at other times.
One other advantage of PowerDVD stems from the use of its fast-forward and reverse options. Seven speeds are available in addition to regular time. Viewed forward, you can see the film at half-speed or accelerate it 1.5, 2, 3, 6 or 8 times; backwards, the options include half-speed, and 2, 4, and 6-speed. Other programs also provide rapid access options like this, but I hadn't seen any with either the variety of speeds or the smoothness. PowerDVD offers a very fluid image in any of the forward speeds; the reverse appearance is jerkier but remains acceptable. In any case, I really liked the availability of so many different speeds and the quality of playback for each one. I'd grown frustrated with the imprecision of other fast-forward options and found this one to work much better.
Actual screenshots from PowerDVD's 'capture' function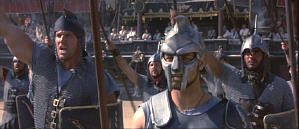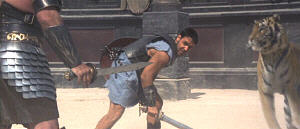 When I first got my DVD-ROM drive last fall, we were excited about it because we thought we'd now be able to provide our own screen captures to include on the site. Unfortunately, WinDVD has one fatal flaw in regard to the "grabs": as far as I can tell, you can't capture a 16X9 image and have it downconverted. These pictures came across as "stretched" and distorted the original frame. WinDVD plays the movies downconverted, but for reasons unknown, you can't get the accurate aspect ratio in a grab.
That's not a problem with PowerDVD. I captured a number of images from different sources and all appeared in their correct dimensions. Quality is somewhat iffy at times, but that seems to be the case with most software decoders. Sometimes I get a better image from WinDVD, but sometimes PowerDVD offers a clearer picture. There's no rhyme or reason apparent, but both seem similar for the most part.
This article didn't provide a comprehensive analysis of everything PowerDVD has to offer, but I chose not to get into extreme detail because I didn't feel that would offer the most useful coverage of the program. I think the majority of DVD-ROM players will do the basics effectively, so I elected to concentrate on the features that had become important to me over the last few months. Although I'd grown very accustomed to WinDVD, I find PowerDVD to work better in most ways. It has some problems that I'd like to see addressed - most related to the i-power function - but as a whole, I thought it functioned quite nicely. The perfect software for DVD-ROM player has yet to appear, but PowerDVD is the best one I've yet encountered.
(Editor's Note: PowerDVD 3.0 was provided for review purpose by Blisware.com. Through an arrangement with the online retailer, you can purchase the downloadable version at a great price. The site is based in England and for U.S. customers the currency conversion comes out to be around $45 dollars depending on the daily exchange rate (or £29.99+VAT). You get an additional £5 (around $7 U.S. dollars) saving by entering 'dvdmg' on the Keyword field when visiting Blisware.com. The full version file is 11MB and can also be downloaded at a multiple file option (split into 1.4MB portions). You can also download the Trial Version. Customers receive full technical support on the site. You can have the program up and running in a short period of time!

Menu: DVD Movie Guide | Archive | Top