Reviewed by Colin Jacobson
Collector's Series DVD
Columbia-TriStar, widescreen 1.85:1/16x9, languages: English DD 5.1 [CC] & Dolby Surround, subtitles: English, single side-dual layer, 28 chapters, rated PG, 85 min., $27.95, street date 4/18/2000.
Supplements:
Director's Commentary
Animation Supervisor's Commentary
Stuart's Central Park Adventure Game
Bloopers & Gag Reel
Visual Effects Gag Reel
Making It Big: HBO Special
Isolated Music Score
3 Music Videos
Race with Stuart: Hasbro Interactive ROM Game
Visual Effects Interactive Featurette
Read-Along with Stuart!
Artists' Screen Tests
DVD-ROM & Weblinks!
Boat Race: Early Concept Reel with Director's Commentary
Deleted Scenes with Director's Commentary
Art Galleries
Talent Files
Theatrical Trailers
Studio Line
Academy Awards: Nominated for Best Visual Effects, 2000.
Directed by Bob Minkoff. Starring Geena Davis, Hugh Laurie, Jonathan Lipnicki, Michael J. Fox (voice), Nathan Lane (voice), Chazz Palminteri (voice), Steve Zahn (voice), Bruno Kirby (voice), Jennifer Tilly (voice).
Join the fun when the Little family adopts an adorably spunky boy named Stuart (voiced by Michael J. Fox), who looks a lot like a mouse. Mr. And Mrs. Little (Hugh Laurie and Geena Davis) fall in love with Stuart right away, but their older son George (Jonathan Lipnicki) isn't so sure what to make of his new brother, and the family's white cat, Snowbell (voiced by Nathan Lane), devises a dastardly plan to get Stuart out of the house…permanently. State-of-the-art special effects, laugh-out-loud comedy and rip-roaring hijinks make this the biggest adventure a Little can have.
Picture/Sound/Extras (A-/A-/A)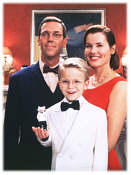 Were it not for the enormous success of both The Sixth Sense and The Blair Witch Project, it seems likely that a rather different film would have gone down as the biggest sleeper hit of 1999. That movie would be the unassuming children's picture, Stuart Little, which opened during the crowded Christmas season but still managed to rake in almost $140 million and was the second most successful film of the 1999 holiday period after mega-hit Toy Story 2.
(How bizarre is it that two of those three sleepers were at least co-written by M. Night Shyamalan? He's better known as the writer and director of The Sixth Sense, but he also cowrote this screenplay. Freaky!)
(Aside number two: you want to know when $100 million stops being the marker by which blockbuster films are judged? When twenty-one movies in one year make that much money! Face it folks, it's time to use $200 million as the baseline figure, for even $150 million seems insufficient; nine films hit that mark in 1999, but only four surpassed $200 million.)
Anyway, SL definitely emerged as one of the surprise success stories of 1999 and it actually makes for a "kids movie" that also seems tolerable and fairly fun for adults as well. Not for a second does it approach the likes of the better Disney films, which are equally entertaining and stimulating for a variety of age groups, but compared with other recent "family fare" like Baby Geniuses and Muppets From Space, SL stands above much of the competition.
A lot of the credit for that comes from the terrific cast assembled for the film. In front of the camera we find solid veterans Geena Davis (I guess now that she and Renny have split, she'll no longer try to be an action hero) and Hugh Laurie in the lead human roles, with a fine crew of character actors in support; we find performers like Brian Doyle-Murray, Dabney Coleman, Julia Sweeney, Estelle Getty, Jeffrey Jones and a slew of others in small roles.
Even better are the voice actors. Most prominent, of course, is Michael J. Fox as our lead mouse, Stuart. Fox pulls off the role in a manner that's both charming and endearing but without being overly sappy (well, most of the time). Nathan Lane steals the show with his catty comments as Snowbell, the Littles' resident feline who's none to happy to have to share the house with a mouse; Lane can't quite elevate Snowbell to the heights of a character as memorable as Timon in The Lion King (codirected by SL's director Rob Minkoff, by the way) but he makes the cat more entertaining and enjoyable than I'd otherwise expect.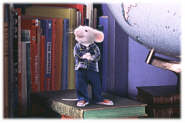 More hepcats appear through the voices of other terrific actors. It's a strong roster of faux felines: Steve Zahn, Chazz Palminteri, Jim Doughan and David Alan Grier all make appearances. Add to that Bruno Kirby and Jennifer Tilly as another pair of mice and you have a startling strong cast of voice actors.
The weakest link in the group comes from little Jonathan (Jerry Maguire) Lipnicki. The kid's still cute three years after his big break, but cute can only go so far; it worked for him in 1996 but now he's supposed to actually act, and the kid really isn't very good. Granted, there's a limit to how much you expect from a child in his age range (Lipnicki was only seven when filming started in 1997) but he's still rather awkward and stiff; I don't think he'd have gotten the role without his established semi-fame. Lipnicki doesn't hurt the film, but he's not one of the better child actors.
Director Minkoff does just enough right to bolster the cast and keep things moving nicely. As I already stated, most of the humor in the film is aimed at little folks, and the plot will hold virtually no suspense for anyone over the age of eight. Nonetheless, the movie remains entertaining and pleasant throughout its brief running time and makes for a fairly charming diversion that avoids much of the crassness usually found in "children's" entertainment these days (though I could have lived without the occasional butt/gas jokes).
Stuart Little appears in its original theatrical aspect ratio of 1.85:1 on this single-sided, dual-layered DVD; the image has been enhanced for 16X9 televisions. Although not quite perfect, the DVD presents a consistently excellent picture.
Sharpness looks crisp and well-defined throughout the movie, with virtually no instances of softness or blurriness. Moiré effects also seem absent, but I did notice more problems with the anamorphic downconversion on my 4X3 TV than usual; I saw the edginess that often accompanies this process much more frequently than is typical. I noticed no examples of print flaws; if any grain, scratches, speckles or other defects exist on this DVD, I certainly didn't see them.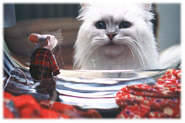 Colors seem consistently bright and vivid, and I saw no signs of smearing or any chroma noise. Black levels also are deep and rich, and shadow detail appeared clear and appropriately dense. Columbia-Tristar (CTS) offer some fine transfers, and Stuart Little is no exception.
The film's Dolby Digital 5.1 soundtrack also seems terrific. The soundstage provides a wonderfully immersive experience. Audio appears consistently well-placed and still spatially integrated; the entire mix blends together smoothly and creates an enveloping soundfield. The surrounds contribute quite a lot of aural information and they do so naturally and convincingly.
Sound quality appears very good as well. Dialogue sounds largely natural and clear; the only problem I noted is that much of Stuart's speech does not match that of the human actors terribly well at times and it doesn't seem as neatly-integrated as it could be. Effects are realistic and forceful, plus they lack any signs of distortion, while the score displays strong dynamic range with clear highs and some deep bass. All in all, it's a very fine soundtrack.
Stuart Little appears as a "Collector's Series" release, and they aren't fooling around; this package includes a nice variety of supplements. We get two - count 'em! Two! - audio commentaries. The first features director Rob Minkoff and animation supervisor Henry Anderson, while the second presents visual effects supervisors John Dykstra and Jerome Chen; in both cases, the two participants were recorded together, not separately.
Not surprisingly, both commentaries largely focus on the technical challenges of creating the film. For the visual effects track, that's almost exclusively the topic, while the other piece also gets into other creative and storytelling decisions. I found both commentaries to be fairly interesting and to provide some good information, but neither's tremendously compelling; they're worth a listen but don't rank with the best of the genre.
Next up is "Making It Big", an "HBO First Look" featurette that runs for 22 minutes. It's a pretty typical promotional program in which we see clips from the film interspersed with interview snippets and behind the scenes shots. One unusual approach taken by this program is that it occasionally pretends that Stuart's an actor; as such, we find clips of cast and crew discussing him as if he were one of them. (No one seems to have let Jonathan Lipnicki in on the joke, though; he answers the interviewers off-camera questions seriously.) It's a good but unspectacular piece that deserves a screening.
A section titled "Basement Treasures" includes a slew of other features. First are 2 and a half minutes of "animators' screen tests". These are literally what they say they are: a few different animators were given Stuart, the same setting and objects and had Stuart interact with them. I guess the producers picked who they liked based on these tests. It's something I've never seen before and makes for an interesting addition.
This area offers six deleted scenes, which can be viewed with or without Rob Minkoff commentary. They can also be seen either individually or as one running piece; actually, the program will just keep going if you don't stop it, and the total of all six clips is five minutes and 15 seconds. These make for some interesting segments, especially number 3 (which shows a quick retake of a scene and provides a cool look at filmmaking) and number 4 (which uses rough animation), but the content is nothing special. The commentary seems pretty useless because Minkoff basically only explains the scenes, which is unnecessary; with the exception of number 5, he never explains why the segments were cut, which is the most basic requirement of a commentary that accompanies deleted scenes.
Two more segments feature "gag reels". One - the "visual effects gag reel" - displays premeditated bloopers reminiscent of the ending of "A Bug's Life" outtakes and runs for 30 seconds, while the "production gag reel" - which lasts for about three and a half minutes - sticks to the more typical human goof-ups. Honestly, I really hate bloopers, so the second piece is generally useless in my opinion, except it intersperses some cool looks behind the scenes of the film with things like shots of the Stuart prop used on the set. I wish I didn't have to watch all the usual misreadings of lines to get to the good stuff, but at least it's there.
The "Basement Treasures" area closes with the "Boat Race Early Concept Reel". This piece offers a running presentation of storyboards for an unused version of the boat race; the boards are accompanied by commentary from Minkoff during this eight-minute segment. It's an interesting look at this alternate possibility, which Minkoff states was discarded because it would have been prohibitively expensive. (From the sound of it, it also would have been too far from reality, but that's just my opinion.)
That finished the "Basement Treasures" area but not the supplements - we still have a loooong way to go! The "Visual Effects Interactive Featurette" presents six different segments ("The Making of a Mouse", "A Goodnight Kiss" , "How A Mouse Brushes His Teeth", "Dressing Up Stuart", "Stuart Steers the Wasp", and "In Bed With Mom and Dad") that each include four mini-features, most of which run between 30 and 40 seconds (though a few go for between 20 and 30 seconds). All of these show different steps of effects process and include narration from members of the effects crew. It's a very unusual and effective presentation and it helps show us the steps for creating this type of film.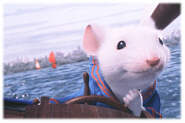 The "Read Along" presents a video storybook. The child can either read the tale on his own, or have it read to him as he follows the text. If read to the kid, the program last for three and a half minutes. Hey, I don't have kids, so this doesn't do much for me, but it's a great addition for parents with children in the appropriate age range. One very nice touch: Michael J. Fox - as Stuart - reads the story.
Those kinds of video storybooks are becoming more popular on DVDs, as are interactive trivia games, another feature we find on Stuart Little. The latter offers three difficulty levels ("Little Mouse", "Big Mouse", and "Professor Mouse") but seems insanely simple at any of them; as such, this thing's really meant for kids (unlike some of the Disney trivia games, which present a few tough questions). One nice touch is that the child can never "lose" "Stuart's Central Park Adventure Game": if he misses a question, a video shows backwards progress but doesn't greet the kid with some of the nasty "WRONG!" messages found in other games.
The music videos section includes three songs. We get "If You Can't Rock Me" by the Brian "I Refuse to Acknowledge That Music Has Changed In Any Way Since 1962" Setzer Orchestra. The song is Setzer's usual retro junk, but the video's more entertaining than most as it shows Stuart at a gig by the band. One interesting note: if you've learned a lot about effects-intensive movies, you'll know that whenever actors interact with objects that weren't there at the time of shooting - like Stuart - it's insanely important that they maintain the correct eye-line so it really seems as though they're looking at the correct object. If you ever doubted that this really was crucial, check out the guy who watches Stuart play the trumpet; his gaze is off, and though it's not by much, it's enough to completely kill the illusion.
The next video comes from Trisha Yearwood with the sappy ballad, "You're Where I Belong". Please God - save us from any more insipid Diane Warren-penned clunkers like this! (You may not know Warren's name but you know her songs, like Starship's "Nothing's Gonna Stop Us Now" and Milli Vanilli's "Blame It On The Rain" - when Aerosmith's "I Don't Want to Miss a Thing" is easily someone's best tune, that's when you know that person is a miserable hack!) This is the typical lip-synch/film clip combination that so often appears when we see movie-related videos, and although it's lush, it's also pretty dull. At least Yearwood's very pretty and she seems on the slim side of her Oprah-esque weight fluctuations here.
The final video gives us R Angels and their song "I Need to Know". Who are "R Angels"? Based on the evidence of this clip, they're Spice Girls wannabes who wannabe Spice Girls so badly their song badly reprises "Wannabe". It's another pretty lame lip-synch/film clip video, though at least the blonde's pretty hot (and the redhead would look good, too, if she didn't so closely resemble a walking glass of milk - get some sun, baby!).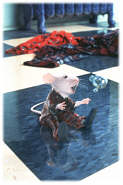 What else? Well, we find a track that isolates Alan Silvestri's score. This option presents the music in full Dolby Digital 5.1 sound. I remain not very interested in film scores, but I still think this is a great feature for folks who enjoy them.
A DVD standby appears in the cutely retitled "The CATrical Trailers" section, which features a preview for SL itself plus five other CTS family-oriented programs. We get trailers for The Adventures of Elmo In Grouchland, Madeline, The Nuttiest Nutcracker, Baby Geniuses, and Muppets From Space. An additional DVD basic can be found in the booklet, which provides good although basic production notes.
While CTS generally do a very nice job with all areas of their DVDs, there are two kinds of extras that they consistently botch. One comes from the terrible talent files they foist upon us. The biographies for SL are typical of those seen on other CTS DVDs; we find terribly rudimentary and useless listings for director Minkoff and five of the actors (Fox, Davis, Laurie, Lane and Lipnicki).
The other poorly-executed area appear in the "Scrapbook". This section offers three subheadings, each of which presents still-frames of conceptual drawings created for the film; the subtopics are called "Stuart", "Concepts", and "Cars and Boats", and each provides between 18 and 20 screens of illustrations.
The information itself is great; I like to see the early ideas that went behind the creation of a film. The problem stems from the way the DVD presents the images. As with a number of other CTS DVDs - like Ghostbusters and Jumanji - the disc's producers got too creative for their own good, and they try to make the screens look like they actually are in a real scrapbook. Cute, but this comes at the expense of image size; many drawings are rather small because they take up less of the screen than they should, and this problem is compounded because sometimes two or even three drawings are crammed onto the same frame! Most of the art remains visible, but I simply think that they should make the entire presentation easier to see, since many details will be lost along the way.
Believe it or not, the supplements don't end there, but those are the final extras I can critique. The DVD also features "Race With Stuart: Hasbro Interactive ROM Game" and "DVD-ROM and weblinks!" Hmm - that last one makes for an odd statement, so I can't really explain completely what it is. (Okay, I get the "weblinks" part, but the rest... DVD-ROM what?!) Since I still don't have a DVD-ROM drive, I can't offer any more details, but at least know they're there!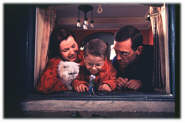 Stuart Little makes for a pleasant enough viewing experience; it seems more appropriate for the wee ones, but there's enough fun for adults to make it worth their while, especially since the movie features a terrific cast. The DVD itself is one of the best ever made. Both picture and sound are great, and the roster of supplements has rarely been surpassed. I don't like the movie itself well enough to make this a unilateral recommendation, but if you think you might enjoy a film such as Stuart Little, run - don't walk - to pick up a copy; current and prospective fans of that endearing mouse will be exceedingly pleased with this DVD.
(Please note that a fullscreen version of Stuart Little is also available, but I did not view that one, so I cannot comment upon it. From what I understand, the fullscreen edition offers Dolby Digital 5.1 sound and includes all of the same supplemental features as the widescreen version; the only difference comes from the aspect ratio of the film itself.)
Related Sites
Current as of 4/9/2000
Official Site--The bright pastel and cartoony site is appropriately geared toward the very young audiences with plenty of fun activities and goodies to download.
James Berardinelli's ReelViews--"Stuart Little is not a film of great performances, but it is one of subtle-but-impressive special effects."
The E.B. White Home Page--"E.B. White is one of the most beloved American writers, both for his lucid essays and for his enduring contributions to children's literature."
Amazon.com--Available to purchase are the widescreen and the full screen presentation DVD at special discount, the book by E.B. White, and the original music soundtrack featuring various artists.
Reel.com--Purchase the DVD at special discount.

Review Archive: #, A-C | D-F | G-I | J-L | M-O | P-R | S-U | V-Z
Previous: Sophie's Choice | Back to Main Page