Picture/Sound/Extras: B/B/C-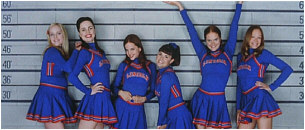 Every once in a while an apparently dead genre gets a revival, and recent years gave cheerleader flicks their renewed time in the sun. Actually, I don't know how strong this form of film ever was; outside of some softcore porn flicks, I can't think of many stabs at this field.
Nonetheless, the last few years provided a few takes on the format. First up was But I'm A Cheerleader in 1999. Well, sort of. Apparently the flick made a film festival premiere in 1999, but it didn't really hit theaters until July 2000, and even then it never played on more than 115 screens. That's why the film bit the dust with a $2 million gross and almost no one remembers it.
Soon after that, Bring It On premiered in August 2000. This was the most successful of the bunch, both critically and financially. Indeed, BIO provided a surprisingly fun and frothy little experience, and while its $68 million gross didn't set the world on fire, it was a solid take for a low-budget flick.
Last of the modern bunch was Sugar & Spice in January 2001. This one fell in the middle of the three, but it landed much closer to But I'm A Cheerleader territory. It received weak reviews and scared up a very modest take of about $13 million. Because Bring It On did well, I'm sure we'll see more cheerleader flicks, but it's clear that these films aren't guaranteed to do well.
Actually, the three movies in question share few similarities. Yes, their protagonists are high school cheerleaders, and they're all comedies, but they take very different paths. But I'm A Cheerleader mocked the concept that gay people can be "rehabilitated", while Bring It On was little more than an "always try your best" piece of fluff. Sugar & Spice probably attempts the most substantial plot of the three, but that doesn't ensure its success as a film.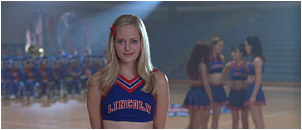 Virtually all of S&S appears as a flashback. At the start of the film, jealous "B-squad" cheerleader Lisa (Marla Sokoloff) relates the story of her "A-squad" mates; they apparently committed a crime, and she has the goods. Once that frame is established, we hear the details of what happened with these girls.
Essentially, captain Diane (Marley Shelton) met hunky transfer student Jack (James Marsden) and fell in love. Unfortunately, she quickly became pregnant, and the two struggled to make ends meet; shocked and dismayed, their parents refused to provide any support, so they were left on their own to survive. Jack bounced from job to job, but Diane signed on at a bank branch located in a supermarket.
Even with two paychecks, ends wouldn't meet, so Diane decided that she and her cheerleader sisters should rob the bank. (She couldn't tell Jack about the scheme because he was too honest and couldn't tell a lie.) The remainder of the film followed their exploits as they planned and executed this crime, and we also saw the aftermath of the events.
All of that sounds like it could make for a fun movie, and the trailers for S&S certainly looked like it might be frisky and winningly satirical. Unfortunately, the actual result was a dud. When you find a film that matches characters named "Jack" and "Diane", you know you're in for trouble; that level of comedic desperation signaled just the start of the blah tale ahead.
S&S certainly tried hard to entertain, as it went into satirical overdrive from minute one. Clearly this tale never wanted to or would attempt to provide a realistic view of teen life. Instead, it went for a parody of the perfect existence of the star quarterback and the head cheerleader, and it posited the question: what would happen if they made a mistake?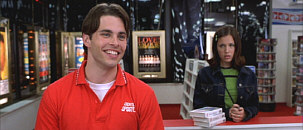 Too bad the answer was so witless. S&S played a variety of circumstances for laughs, but none of them worked. In addition to Diane, the "A-squad" consisted of four other stereotypical characters. There was token tough chick Kansas (Mena Suvari), a bad ass whose mother went to jail because she killed her father immediately after delivery. Cleo (Melissa George) was the semi-psycho of the group; obsessed with Conan O'Brien, she appeared destined for many years of therapy, and probably jail time as a stalker.
Hannah (Rachel Blanchard) was the goodie-two-shoes of the bunch; a devout Christian, she refused to play with a Ouija board due to its potential satanic connection. Lastly, Lucy (Sara Marsh) was the brain of the crew, all set to go to Harvard. Eventually timid Fern (Alexandra Holden) became part of the gang; her exterminator father insisted that the girls add her to the "A-squad" before he'd provide the guns they'd need.
Ultimately, S&S wanted desperately to be bright, clever and quirky, but all it became was dull and inane. I can't really fault the cast, though none of them added much to the proceedings. Shelton offered an appropriately mechanical Stepford babe; she played the part with a robotic perkiness that frightened me, but it made sense for the film. The others fit their roles adequately, and all were certainly easy on the eyes; had the movie included a few more underwear scenes, I might have given it a better rating.
But as it stood, Sugar & Spice was a witless dud. It tried so hard to be irreverent, but it just couldn't do it. The umpteen Conan O'Brien references got old quickly, and other wacky or mildly shocking moments fell flat. In the end, Sugar & Spice had some potential, but it failed to live up to it.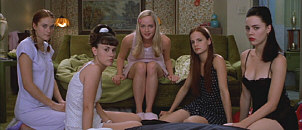 By the way, if you want to see more of sexy Melissa George, check out Dark City. She played the prostitute who got killed early in the flick. Before her untimely demise, she gave us a good look at herself, and it's quite… uh… stimulating.
Note that the DVD release of Sugar & Spice includes an extended version of the film. Apparently the theatrical cut ran for 80 minutes, whereas this one lasts 85 minutes. I have no idea what segments comprised the additions; I didn't see the movie during its brief run, and nowhere on the DVD does it detail the changes.
The DVD:
Sugar & Spice appears in both an aspect ratio of approximately 2.35:1 and in a fullscreen version on this single-sided, double-layered DVD; the widescreen image has been enhanced for 16X9 televisions. Only the widescreen picture was reviewed for this article. Although the image seemed to be consistently acceptable, I thought it was a little bland at times and it didn't seem as strong as it could have been.
Sharpness generally appeared to be acceptably crisp and detailed. During interiors, however, the picture often seemed a little fuzzy and hazy. These concerns weren't extreme, as most of the movie looked detailed and succinct, but they caused parts of the film to be overly bland. Moiré effects cropped up at times, mainly due to shots of blinds, but jagged edges provided no concerns. In regard to print flaws, I saw a little grain at times, and a few examples of speckles and grit also appeared, but these remained quite modest.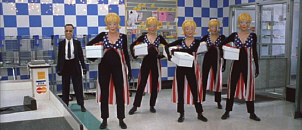 Colors usually looked fairly bright and vivid, as one might expect from this kind of bubbly flick. However, I thought they seemed a little muddled during interiors, and to be frank, they never achieved the vivacity I felt they'd show. Lively colors should be a staple of this sort of movie, and while the hues appeared to be reasonably accurate and clear, they lacked the power they needed.
Black levels were reasonably dark and dense, and shadow detail usually seemed to be appropriately clean and opaque. However, some interiors remained a moderate concern, as they looked a little hazy and muddy at times. Ultimately, Sugar & Spice was a generally solid visual presentation, but it rarely rose above that level.
Somewhat more satisfying was the Dolby Digital 5.1 soundtrack of Sugar & Spice. Although this was a comedy, and that sort of film usually provides a subdued soundfield, the mix for S&S appeared to be reasonably lively. Not surprisingly, music dominated the affair, and the various pop songs cropped up nicely from the different channels. The tunes showed fine stereo separation from the front speakers, and the surrounds reinforced them well. Effects were less involving, though they added a reasonably positive ambience. A mix of minor sounds emanated from the side and rear channels. They stayed acceptably natural and well-placed, but they did little to add life to most of the movie.
Audio quality seemed to be quite good. Some speech betrayed a mildly metallic tone, but most of the dialogue sounded acceptably warm and natural. The lines showed no signs of edginess or problems related to intelligibility. Effects were clean and realistic, and they lacked distortion. Music was nicely rendered, as the songs appeared crisp and bright. Effects and music provided fairly solid dynamic range; low end didn't seem to be fantastic, but I thought bass response was fairly taut and rich. Ultimately, the audio for Sugar & Spice offered an experience that worked well for the material.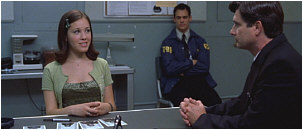 New Line have become justly famous for their special editions, but Sugar & Spice doesn't fall within those lines. However, we do get a few supplements on this disc. Most significant are the four Deleted Scenes. These last between 23 seconds and one minute, 28 seconds for a total of three minutes, 15 seconds of footage.
The final two clips - "Sure Is Sweet" and "Lamaze Class" - are the only two that offer truly deleted segments. The first shows Jack and his friends as he initially inquires about Diane, while the latter displays a few seconds of girly goofiness at one of Diane's sessions. Both deserved to get the axe.
The first snippet - "Kansas" - shows an alternate version of a scene that remains in the film. During the finished movie, when we learn of the reason for Kansas' mother's incarceration, we simply watch Lisa as she tells the tale. This piece actually shows the murder, albeit in a tame version. Finally, "The Big O" provides a longer version of Hannah's horse ride at church camp. Neither of these clips seemed to add anything to the experience either.
In the Cast and Crew area, we get the standard filmographies for director Francine McDougall and actors Marley Shelton, Marla Sokoloff, Mena Suvari, Melissa George, James Marsden, Alexandra Holden, Sara Marsh, and Rachel Blanchard. In addition, however, we get some fun "Character Profiles" of each role. These are brief and not nearly as cool as those found on the two-DVD version of Boogie Nights, but they're still a clever extra.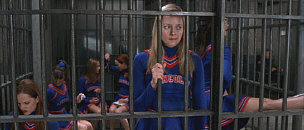 Next the DVD includes the film's theatrical trailer. I thought it was interesting to note that this clip conspicuously avoids any mention of Diane's pregnancy. The piece is cut to make it appear as though the parents of Jack and Diane freak out when they announce their engagement. However, that wasn't what happened. In the film, the adults all swooned when they were told of these impending nuptials; it was the admission of the pregnancy that caused them to lose it. I don't understand why the trailer went so far out of its way to avoid a major plot point.
Finally, S&S tosses in some DVD-ROM materials. "Script to Screen" lets you read the original script while you watch the movie; the video runs in a small screen on the left as the text displays on the right half of the screen. This was interesting mainly to note some small changes that took place, such as some omitted dialogue.
The "Original Website" places some of the material found at that location on the DVD itself. This includes information about the film itself, details about real "cheerleaders gone bad", a link to a site that offers uploaded pictures of cheerleaders, cheerleading tips, and links to cheerleading-related websites. Some of the extras require an Internet connection, but much of the site is available straight from the DVD. I especially enjoyed the character profiles; these were a little more detailed than those found on the main part of the DVD, as were the cast and crew biographies.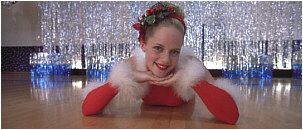 The "Hot Spot" sends you to a New Line site that apparently should offer revolving pieces of information and activities. When I checked out a corresponding page for Dungeons and Dragons, it went to a trivia game that asked questions about a variety of New Line films. However, as I write this eight days before Sugar & Spice hits stores, the link doesn't work; hopefully it'll become active when the DVD officially arrives.
Although I enjoy the sight of sexy young women in skimpy outfits, Sugar & Spice offered little to interest me. The movie tried very hard to be irreverent, clever and wicked, but it only succeeded in being lifeless and bland. The DVD provided fairly good picture and sound plus a small roster of extras. If you think Sugar & Spice will do it for you, I'd recommend a rental; otherwise, cheerleading fans should just watch Bring It On again.