Reviewed by Colin Jacobson
DVD
Paramount, widescreen 1.85:1/16x9, languages: English DD 5.1 [CC] & Dolby Surround, subtitles: English, single side-single layer, 12 chapters, Theatrical Trailer, rated PG-13, 82 min., $29.95, street date 4/11/2000.
Studio Line
Directed by Bruce McCulloch. Starring Molly Shannon, Will Ferrell, Elaine Hendrix, Harland Williams, Mark McKinney, Glynis Johns, Emmy Laybourne.
All schoolgirl Mary Katherine Gallagher (Molly Shannon) wants in life is a kiss. Not just any kiss, mind you - a big-time, hold-your-breath-'til-you-think-you're-going-to-faint, bona fide Hollywood-style kiss. But no matter how hard she tries, no one will kiss her. And then it hits her. Mary Katherine realizes the only way she is ever going to get what she wants is to become just like the people she sees getting those kisses in the movies. When Catholic Teen Magazine sponsors a talent contest at her school - along with a grand prize of a free trip to Hollywood and the chance to be an extra in a movie with positive moral values - she sees the opportunity to make her dreams come true. After all, everyone wants to kiss you when you're a SUPERSTAR!
Picture/Sound/Extras (A-/B+/D-)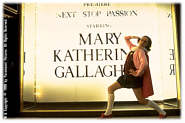 What we need to do first is determine who's responsible. For what? All of the string of crummy movies based on characters from Saturday Night Live.
Lorne Michaels seems to be the easy target, and he's probably the best one. After all, he produced many of these films, five of them to date, with another - The Ladies Man - apparently due this year. That doesn't include movies that come from the usual SNL suspects such as Tommy Boy; those pictures weren't actually based on the show's characters, but they may as well have been.
We could also blame John Belushi and Dan Aykroyd for starting the whole crossover trend back with the Blues Brothers. Okay, I could accept their extension into the actual music business - it seemed logical - but their entrance to the movies was more of a stretch. 1980's The Blues Brothers was the first big-screen offering to feature SNL characters, but although it currently seems revered as something of a classic, it didn't make much of an impact theatrically; it did okay but wasn't the break-out hit expected, and no imitators came following behind it.
A lot of the blame has to fall upon Mike Myers. 1992's Wayne's World was the first legitimate hit that starred SNL characters, and it seems most responsible for the string of films that continues to this day. WW wasn't much of a movie, but it looks like a classic compared to some of its imitators.
Like Superstar, for example. This film takes Molly Shannon's geeky Catholic school girl Mary Catherine Gallagher and doesn't do much with her. Part of the problem stems from the fact that whatever humor we get from the character stems from her absurd awkwardness and lack of self-awareness. That works fine in a five-minute TV sketch but has to be expanded for a feature film, even a brief one like this 82-minute offering.
As such, in Superstar, MCG seems much more like a real person, but that's not necessarily a good thing. The character was never all that interesting on TV, and Shannon simply cannot make her compelling over the length of this film. Shannon is a decent performer, but the material just isn't there.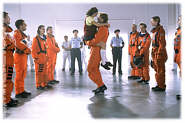 A lot of that comes from the negligible plot. All MCG wants is to kiss a boy - specifically school "hunk" Sky Corrigan - implausibly (but somewhat humorously) played by fellow SNL player Will Ferrell. The plot revolves around this quest, which she hopes to achieve through her attempts to become a "superstar" (hence the title).
That's about it. MCG works to get into - and then win - her school's talent show, which she's sure will solve all her ills. We discover an obvious foe for MCG - school hottie Evian (Elaine Hendrix) - who will try to thwart MCG's potential victory. Predictable results ensue.
Superstar isn't a terrible movie, but it lacks laughs or anything compelling. I watched it and found it to be watchable but not very entertaining. At least it wasn't aggressively bad, which is probably something of an achievement.
Superstar appears in its original theatrical aspect ratio of approximately 1.85:1 on this single-sided, single-layered DVD; the image has been enhanced for 16X9 televisions. Superstar doesn't look completely flawless, but it nonetheless presents a pretty nice picture.
Sharpness seems consistently excellent, with images that look crisp and detailed for most of the film. Some moire effects appear (such as in bathing suits at the start of the movie) but I saw no instances of jagged lines, and the DVD handled the anamorphic downconversion on my 4X3 TV well. The print itself was fairly clean, though I noticed occasionally speckles.
Colors tended to look very bright and bold; for the most part, they were the highlight of the DVD. The only exceptions occurred during scenes with colored lighting. One segment in which Evian is briefly cast in red light seemed oversaturated, and the lighting effects during the closing production number gave the film a vaguely fuzzy appearance. Otherwise, however, the hues were terrific. Black levels seemed nicely deep and rich, and shadow detail was excellent. All in all, it's a great-looking film.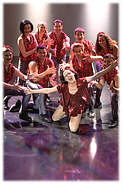 The Dolby Digital 5.1 soundtrack of Superstar seemed adequate for this sort of movie but nothing too special. The forward soundstage actually appeared well-defined and broad, with a fair amount of audio popping from the side channels; mostly we hear effects and music, but a bit of dialogue came from the right and left as well. The surrounds seemed a bit underused for the most part, but on occasion they'd kick in nicely; mainly that occurred during musical pieces when we'd hear various pop tunes spread brightly across all five channels.
Audio quality sounded very good. Dialogue was natural and clear with no intelligibility problems. Effects were crisp and realisitic and lacked distortion, while music seemed smooth and clean and boasted some strong dynamic range. Bass appeared fairly deep, but I should note that although Superstar is encoded with that ".1" channel, I never noticed any indication that it was used during the movie; I often sneak a glance at my receiver to see if the LFE indicator lights, and it never seemed to do so during this film. Despite that apparent lack of subwoofer usage, the soundtrack still seems pretty good.
Less compelling are the DVD's supplements. We get the film's theatrical trailer and that's it.
Superstar seems typical of pretty much all other films based on characters from Saturday Night Live. It's not a completely atrocious movie, but it's not entertaining or funny. The DVD provides terrific picture and good sound, but almost completely lacks supplements. Unless you're a die-hard fan of either SNL or gawky teen Mary Catherine Gallagher, Superstar is a film to skip.
Related Sites
Current as of 4/26/2000
Official Site--Contains full sypnosis, production notes, cast and crew bios, interviews, audio & video downloads, wallpapers, puzzle, screensaver, game, postcards and more.
Amazon.com--Available to purchase are the DVD at special discount and the original music soundtrack featuring various artists.
Reel.com--Purchase the DVD at special discount.


Reviews Archive: #, A-C | D-F | G-I | J-L | M-O | P-R | S-U | V-Z
Previous: The Adventures of Sebastian Cole | Back to Main Page