Picture/Sound/Extras: A-/A-/C+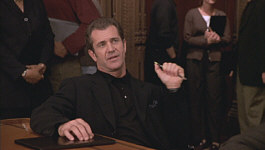 Back when I was in college, my apartment-mates and I spent a fair amount of time discussing women, with a particular emphasis on how confusing they were. Nothing new there, but for some reason, it seemed to surprise my friends when I indicated that I thought it'd be fascinating to get to spend a month or so as a women; just transfer me over somehow and let me see what it's like, as long as I could remember it all when I was done.
The key was to actually be a woman for that short period. It would be less than useful to just have my brain in a female body; I'd end up spending the whole time groping myself. However, if somehow I could fully inhabit the body and mind of a woman and still retain all of those impressions when I freaky-Friday'd back, that'd be a truly fascinating experience.
My friends disagreed, and they thought I was nuts. I didn't understand their viewpoint then and I don't get it now - how could it not be amazing to get such a radically different look at the world? No, I have no gender identity issues at work here; I just think it'd be intellectually fascinating to spend sometime in different shoes, as it were. (And I'd get to grope myself a lot!)
While What Women Want doesn't take that idea to the extreme my friends and I discussed, it does examine the same basic issue: the fact that men just don't understand women. Although that concept has been beaten to death in a variety of ways - from that John Gray junk to most stand-up comedians, the cognitive and emotional differences between men and women have made a lot of people rich - none of these endeavors remove the inherent truth; the two genders really don't comprehend each other much of the time.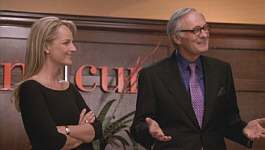 In WWW, one lucky man gets the opportunity to look at the world through female eyes - whether he wants it or not. Chauvinistic bachelor Nick Marshall (Mel Gibson) seems to be doing quite well, as he's always been adored by a variety of women. He's made a good living as an ad man through a variety of campaigns that appealed to men of all ages.
However, things start to change at work when he loses a key position to an outside competitor, Darcy McGuire (Helen Hunt). Since the firm's Eighties hey-day, the spending power has shifted towards the women, and the company lacks leadership in that area. Nick certainly doesn't seem able to appeal to the female mind, so Darcy comes in to take over in that regard.
Inevitably, Nick resents her, but he improbably throws himself into a variety of women's products that Darcy gives to all of her people to research. As he tries on pantyhose and blow-dries his hair, Nick slips on some spilled bath beads and topples into the tub. Miraculously, he survives the electric shock, but something changes, and he now has the power to hear women's thoughts.
To say the least, this new power initially overwhelms Nick, but he soon adjusts to the skill. As such, he uses his mental abilities to steal ad ideas from Darcy, and he becomes the old hotshot again. He also wows a coffee shop babe (Marisa Tomei) in bed, pals up with his daughter Alexandra (Ashley Johnson), and impresses the office gals with his spot-on advice. All should be perfect, but he gradually falls for Darcy, and that involvement stirs up feelings of guilt due to his less than ethical behavior.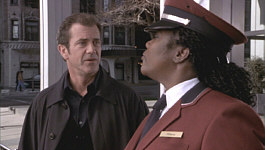 All will be well, of course, as What Women Want isn't the kind of movie that even remotely considers an unhappy ending. However, I thought that this worked well for the film, for although it flirted with sappiness, it stayed warm and charming enough to entertain even an anti-chick flick guy like myself.
Let me get out the negatives first. For one, we find too many cutesy montages in which Mel dances, struts, waxes, or whatever. These serve little purpose in the plot, and they get in the way of the story. Frankly, at 126 minutes, WWW probably runs about a half an hour too long; less is more for this kind of flick, and it seemed padded at times.
The movie also often wasted an excellent cast. As the psychologist Nick entreats to help him after he gets his "gift", Bette Midler offers an uncredited performance, but as soon as we meet her, she vanishes. This seemed extremely odd in the context of the story, since her Dr. Perkins was the only person who knew about - and believed - Nick's skill. I don't know if the role was originally larger and was shorn to keep WWW from reaching Braveheart length, but I found Midler's glorified cameo to be jarring; she's too big a star to make such a brief and unfulfilling appearance.
Many of the other semi-big names in the cast also come and go with little fuss. Tomei gets to do little, but at least her story has a beginning, middle and end; others a mere billboards on the highway. Valerie Perrine and Delta Burke are overqualified for their underwritten roles as Nick's secretaries, and Alan Alda makes only fleeting appearances as Nick's boss. Hunt gets a lot of screentime, but although the movie purports to be about a man's ability to understand women, I thought its investigations of Darcy's heart and mind were rather thin and superficial.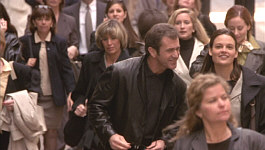 Frankly, all WWW is about is Mel. This movie exists as a showcase for its star, and to my surprise, that wasn't a bad thing. Put bluntly, I'm not a huge fan of Gibson's work, and that lack of affection meant that I expected to dislike WWW. However, Mel puts on a terrific show here as he inhabits Nick with tremendous gusto. There's not a whole lot of realism to the performance; Nick offers a mass of mannerisms and comedic takes as shown in the movie. Nonetheless, Gibson makes it work, and his charm and willingness to poke fun at himself come through winningly. He takes on Nick's macho aspects and his sensitive sides with equal aggressiveness, and it's hard to dislike a film that shows Hollywood's best-known semi-homophobe as he declares his homosexuality.
Ultimately, What Women Want is an inconsistent film, and not one that will likely remain in my memory for long. However, it accomplishes what it sets out to do, and it creates a funny and warm piece that usually seemed entertaining. The plot is as predictable as the movie itself is overly long, but it was a generally fun ride, and it should be a good compromise film for men and women to watch together.
The DVD:
What Women Want appears in an aspect ratio of approximately 1.85:1 on this single-sided, dual-layered DVD; the image has been enhanced for 16X9 televisions. While not flawless, the movie offered a thoroughly fine picture that almost always looked terrific.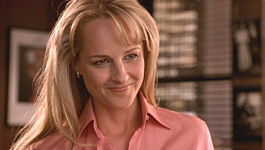 Sharpness seemed quite solid, with most of the film shown as crisp and well-defined. A few shots appeared slightly soft, but these were rare. For the most part, the film was accurate and nicely detailed. Jagged edges presented no concerns, but some minor moiré effects appeared during shots of blinds. Print flaws were also nearly nonexistent. I saw a speckle or two, and maybe a couple of bits of grit, but otherwise the movie looked clean and fresh, with no examples of more glaring defects.
Colors seemed consistently quite lovely. The movie used a naturalistic but varied palette that was nicely displayed on this DVD. Most enjoyable were the various nighttime scenes, as those showed a bright and vivid array hues when the characters went out on the town. Evening shots also featured terrific blacks, as these were always very deep and rich, and shadow detail appeared appropriately dense but never excessively thick. All in all, What Women Want presented a great image that was a pleasure to watch.
While I expected a fine picture, the activity level of the film's Dolby Digital 5.1 soundtrack surprised me. Since WWW looked like a quiet romantic comedy, I didn't think the speakers would get much of a workout, and the early portions of the film matched up to my expectations. However, once Nick got zapped, the movie became more involving; it never quite made it up to big-budget action flick territory, but the soundfield nonetheless was pretty compelling.
Most of WWW stuck fairly strongly to the forward channels, where I heard well-delineated music and also some fine ambient effects. Where the movie became more challenging was during scenes such as Nick's transformation and some other storm-related segments. At those times, the surrounds kicked in nicely and the soundfield was quite realistic and engrossing. Music tended to appear more active as the film progressed as well; during earlier sequences, the songs seemed anchored to the front, but the rears added a nice level of reinforcement as the movie continued. Ultimately, the soundfield wasn't stunning, but it was much more aggressive than I expected.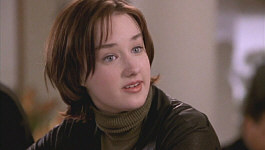 Not surprisingly, audio quality seemed to be very good. Dialogue occasionally displayed some modestly edgy tones, but for the most part speech seemed natural and accurate, with no problems related to intelligibility. Music appeared clean and bright, with good dynamic range. The low end probably could have sounded a little deeper, but as a whole, the score and the tunes were rich and well-rounded. Effects came across as clear and realistic, and they featured some fine dynamics as well; those thunderstorms really blasted some positive sound at times. No, What Women Want won't replace Saving Private Ryan or Twister in anyone's demo collection, but it seemed considerably more impressive than I thought it would.
Although it isn't a tremendously packed DVD, What Women Want does offer a modest array of supplements. First up is a running audio commentary from director Nancy Meyers and production designer John Hutman. The two were recorded together for this screen-specific track, although it's hard to tell if Hutman remained present for the entire session; he said so little that frankly, he may as well have stayed home that day. This is Meyers' commentary, and though it can be somewhat spotty, for the most part she offered enough interesting notes to make it worth a listen. Some of her remarks tended toward the standard "he was great, she was great, we were great" happy talk, but Meyers also added useful information about her directorial style and many aspects of the production. This wasn't a fantastic commentary, but it was generally compelling and I gleaned a fair amount of fun data about the film from it.
In addition to the commentary, WWW includes two theatrical trailers - both of which feature a few seconds of footage not in the finished film - and two featurettes. The first is called "The Making of What Women Want" and lasts for 16 minutes, while the second offers the provocative title of "WWW: A Look Inside" and runs for 12 minutes and 10 seconds. Despite the porn-film name of the latter, it's actually nothing more than the usual batch of interviews with WWW principals.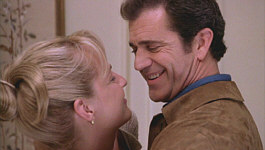 Really, there's little to differentiate between the two featurettes other than their titles. They combine interview snippets, film clips and some shots from the set and do little more than promote the film. "The Making Of…" is mainly a summary of the movie's story, while "A Look Inside" largely sticks with brief discussions of the characters. All of these facets are extremely superficial and they shed no informative light on the movie or the participants. Frankly, they're quite bland; we see a few fun clips from the set, but otherwise these shows simply offered the usual promotional happy talk.
Although What Women Want won't go down as a classic, it succeeded to a much greater degree than I expected, mainly due to a terrific job from Mel Gibson as a borderline misogynistic man who gets the power to hear women's thoughts. Without Gibson's forceful work, the movie might have collapsed under a variety of weaknesses, but Mel single-handedly holds it together with a wonderfully diverse and comic performance. The DVD itself also is a treat due to its excellent picture, better than expected sound, and some minor extras. What Women Want at least merits a rental, and guys may want to pick up a copy to score points with the females in their lives and also have a pleasant experience at the same time - it's definitely one of the more entertaining "chick flicks" on the market.