Reviewed by Colin Jacobson
Special Edition DVD
Warner, widescreen 1.85:1/16x9, languages: English DD 5.1 [CC], subtitles: English, single side-dual layer, 31 chapters, rated PG-13, 105 min., $24.98, street date 11/30/99.
Supplements:
Audio commentary by director Barry Sonnenfeld
5 behind-the-scenes documentaries showcasing the film's special effects, costumes, props & gadgets, and cast interviews
2 music videos: Will Smith's Wild Wild West (including a "making-of") and Enrique Iglesias' Bailamos
Still gallery
DVD-ROM: "The Steel Assassin" game
DVD-ROM: 10 mini-documentaries
Studio Line
Directed by Barry Sonnenfeld. Starring Will Smith, Kevin Kline, Kenneth Branagh, Salma Hayek, Ted Levine, M. Emmet Walsh.
If you think special government agent James West is fast with a six-shooter, wait'll he lays a quip on you! Megahit star Will Smith plays West, reuniting with Men In Black director Barry Sonnenfeld in an effects-loaded, shoot-from-the-lip spectacular. Kevin Kline plays fellow agent and crackerjack inventor Artemus Gordon, teamed with West on a daring assignment: Stop legless Dr. Arliss Loveless (Kenneth Branagh) and his diabolical plot for a Disunited States of America. Salma Hayek is mysterious adventuress Rita Escobar. And all manner of geared-up 1860's gadgets - from belt-buckle derringers to surprise-packed billiard balls to a walking, eight-story, steam-and-steel tarantula - help make Wild Wild West a Wow Wow West!
Picture/Sound/Extras (A/A-/B+)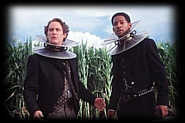 I suspect that only the existence of The Haunting kept Wild Wild West from being the biggest dud of the summer of 1999. Oh, WWW didn't do horribly at the box office; its $113 million dollar take was nothing to sneeze at, though breaking the coveted $100 million barrier doesn't mean what it used to. I mean, the $100 million mark is supposed to denote that a film is an exceptional hit; as of December 15, sixteen movies from 1999 had topped that number, and I'm sure at least four or five more will get there before their runs end. Personally, I think $200 million is now the true mark of a real blockbuster (FYI, that number's been topped three times in 1999, The Phantom Menace, Austin Powers, and The Sixth Sense. I'd bet Toy Story 2 will get there as well.)
Anyway, the problem with the earnings of WWW is that while $113 million isn't bad, that inflation I discuss makes it not all that great, especially for such a high profile film. Here we had Will Smith and Barry Sonnenfeld reuniting after 1997's second highest grossing film, Men In Black (about $250 million, for the record). Add to that some prominent actors like Kevin Kline and Salma Hayek plus the marketing muscle of Warner Bros. and you should have had an enormous hit.
Unfortunately for all involved, one problem stood in the way: the movie wasn't very good. While I disagree with much of the venom that's been aimed at WWW, I'm not going to go too far out on a limb to defend it, either. I saw it theatrically and again on DVD, and both times I had the same reaction: I found it mildly entertaining but couldn't help feel cheated.
Why? Because the whole is much less than the sum of its parts. In theory, WWW had everything going for it, from the big-name cast to the slick director to the terrific effects, with lots of action thrown in for good measure. Nonetheless, I always felt like I should have been thrilled but I simply wasn't. The entire enterprise simply seems to formulaic and forced.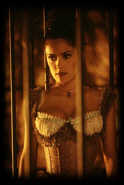 That latter characteristic also occurred during the Austin Powers sequel, but it manifests itself in a different way during WWW. For AP, the problem was that everyone tried too hard to top the previous film. You had everything and the kitchen sink in that one, but their was little cleverness or spark.
In WWW, however, I got the feeling that they didn't try quite hard enough. It seems that all involved just assumed that since they used the same winning formula that made MIB work that WWW would turn out just as well. Unfortunately, that wasn't the case.
For one, Kevin Kline doesn't do much to replace Tommy Lee Jones. That's not a slight on Kline, who I actually much prefer as an actor to Jones, but at least Smith and Jones displayed strong chemistry in MIB. None of that is evident in WWW between Smith and Kline. As a team, the two are pancake-flat.
Salma Hayek doesn't adequately take over the Linda Fiorentino spot either. This actually is something of a knock on her, however. While Hayek is a world-class babe, I have yet to see much evidence that the woman can actually act. Fiorentino's no match for Salma in the looks department, but she provides much more spark and personality and can act. Hayek does nothing to move along the story or to make her character compelling.
Not that there's a lot that's terribly compelling here. When viewed through its components, WWW seems like it should be a lot of fun, and if you watch it with pretty low expectations, you'll probably think it's okay. That sense that it could/should have been more remains pervasive, though. I like WWW as an occasional diversion, but it's not something I'd buy strictly because of the quality of the film.
Since the advent of DVD, however, I've found myself acquiring many, many movies that I don't think much of just because the DVD seemed so cool, and WWW definitely falls into that category. While Warner Bros. have had problems with some of their catalog titles, they rarely slip on DVDs that fall under the new release "A"-list category, and WWW is no exception; it's a topnotch DVD in every way.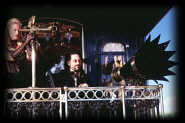 Wild Wild West is presented in its original aspect ratio of 1.85:1 on this single-sided, dual-layered DVD; the image has been enhanced for 16X9 TVs. From start to finish, the picture looks thoroughly fantastic. For some unknown reason, my DVD player often has trouble with anamorphic downconversion on WB titles, but that doesn't occur here; WWW looks razor sharp at all times with virtually no evidence of moiré effects or "jaggies." Colors are quite strong, though occasionally they seem a little too powerful. That issue arises in regard to the blue sky; it's obvious that many times the sky is computer-drawn, and these hues tend to overwhelm the image and look odd. I don't blame the DVD for this, though; it seems to be the fault of the filmmakers.
Black levels in WWW appear fantastically rich and deep; they really stand out during the film. Unfortunately, shadow detail seems a little thick at times; the blacks are so strong that they tend to slightly overwhelm the image and block out some portions of the shots that we probably should see. As befits such a recent film, no print flaws are evident, and I also saw no digital artifacts. Although it exhibits a few minor problems, the picture of WWW generally seems quite terrific.
The film's Dolby Digital 5.1 track almost keeps pace with its image. Overall, it's a very good mix. The quality of the audio is absolutely fantastic. All sounds seem very natural, crisp and deep, with clear highs and well-defined lows. The soundstage also offers a nicely rounded image; all five channels receive active use with neatly discrete sounds. Unfortunately, these channels at times seem too discrete; although some effective panning between speakers occurs at times, I found the spatiality to often appear too "speaker specific" with sounds that were too strongly localized to one particular channel or another. Still, it's a strong mix and one that added a lot to my enjoyment of the film.
Since WB like to pull out all the stops with their "A"-list releases, WWW offers a nice complement of supplemental materials. First up is a running audio commentary from director Sonnenfeld. I approached this track with trepidation because I'd heard his commentary that came with the MIB laserdisc. Sonnenfeld did little more than discuss the effects; he set a world record for number of uses of the phrase "Industrial Light and Magic." Sonnenfeld's MIB track wasn't the absolute worst I've heard, but it was close.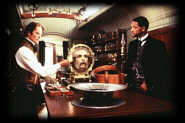 His commentary for WWW is a bit better, though it's still something of a chore to fully digest. Again, Sonnenfeld spends most of his time discussing effects minutia; even when he talks about other subjects - such as when he discusses the origins of the project and of his involvement - he quickly interrupts himself to mention some dull detail about the effects. This is a shame, because I've seen Sonnenfeld on talk shows and he's really quite funny. Next time out, he really needs to be involved with someone else; I'd bet that another participant would add a lot of spark and get him to tell us more interesting material. As it stands, his commentary is worth a listen, but it's not much more than that.
The WWW DVD features extensive video extras. We get "It's A Whole New West: HBO First Look Special". This piece runs for a little more than 14 minutes. As one would expect, it's a quite light and fluffy promotional piece, but it nonetheless remains decently interesting. While its coverage is superficial, it does at least touch on all of the major topics one would expect. No real insight into the production can be found, but it's fun and entertaining. I'd say it's worth it just to see Salma - the program's host - in an absolutely amazing dress...
A section called "Loveless' Lair" provides a wealth of video materials. All in all, it contains four bits that total a bit more than 30 minutes all together. Their details follow:
"Wardrobes of the West": this piece goes a little over eight minutes. It's a pretty good piece on costuming for the film. It covers all the highlights and offers a nice look at that aspect of the production.
"Good Guys' Gadgets": this program lasts a little more than six and a half minutes. For the most part, it concentrates on Artemus Gordon's clever devices, especially the train and the bicycle. It's okay and largely is about the quality of "Wardrobes...": good but unspectacular.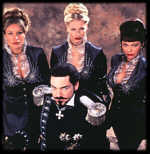 "Loveless' Ladies": this one goes for eight minutes and it focusses on interviews with the four fashion models who play Loveless' sidekicks. It shows these women as they talk about their characters, the other actors and director, and their experiences. It's watchable but pointless. I mean, why do we care what these minor participants think? I'd much rather hear more from the main actors. It's an interesting way to focus, I suppose, but these chicks weren't exactly fascinating...
"Evil Devices": this piece lasts a little more than seven and a half minutes. It's the best of the bunch as it concentrates on the effects behind Loveless' legs and the tarantula. It's a nice look at effects and seems interesting and informative. While these effects were created pretty much the ways I thought they would, it was still fun to hear them discuss it, plus I gained some insight into production design. All in all, a strong program.
WWW offers a few more supplements as well. Two music videos appear. First is Will Smith's Wild Wild West. The song itself is more of Smith's semi-karaoke rapping; it's a catchy tune - after all, it is Stevie Wonder's I Wish - but annoyingly derivative. The video itself is extremely silly and overblown but nonetheless fairly entertaining.
We also get Bailamos from Enrique Iglesias. I much preferred this song; it's not great, but it's a decent piece of Latin pop. The video, however, is pretty dull; lots of Iglesias as he romps around, with a few incongruous film clips tossed into the mix as well. The image quality seemed surprisingly poor; while Smith's WWW looked terrific, Bailamos appears much less clear. It's not bad, but still seemed below the quality level I would expect.
A program called "Newswrap" offers a behind the scenes look at the making of Smith's WWW video. This is yet another puff piece that serves mainly as promotion - promotion for a promotional clip, really. It's watchable but nothing special.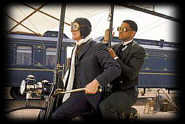 A few more extras round out the WWW DVD. The theatrical trailer appears. This is actually a very effective clip and served to make the movie look quite exciting. Strangely, the image quality isn't up to par, however. Biographies for the four lead actors (Smith, Kline, Hayek, and Kenneth Branagh) plus director Sonnenfeld and producer Jon Peters are available; these are decent but not great. Finally, a still gallery offers 65 pictures. These include publicity photos, production shots, close-ups of props, and stills from the film. All in all, it's a nice little mix of images.
Actually, I shouldn't have said "finally" because a few more features appear on the DVD. They are available only to owners of DVD-ROM drives, and since I'm not a member of that fraternity, I can only list what the DVD box says appears and I can't comment on them. Here's the roster:
"The Steel Assassin": Game by South Peak Interactive;
"Artemus Gordon's Mind-Projection Theatre": Offers ten fun, fast-moving behind-the-scenes minidocumentaries about various aspects of the film;
"Original Theatrical Website": Enjoy all of the features of the Web Site, permanently housed on the disc, including web links;
"Theatrical Trailer Sampler": Visit other movies with TV series roots: The Avengers, Batman, Batman and Robin, Batman Forever, Batman Returns, The Fugitive, Maverick, and US Marshals.
Wild Wild West is yet another example of great DVD, not so hot movie. If this was a movie-only DVD, there's no chance I'd recommend it; while I think the movie's decently entertaining, it's the supplements that make this a strong disc. Since this DVD combines a nice batch of extras, excellent picture and sound, an okay film and a low list price, I think it's worth owning. Yes, that's a tremendously tepid recommendation, but it's the most enthusiasm I can muster for this DVD.
Related Sites
Current as of 12/15/99
Official Site--I am rather hard to please when it comes to judging movie sites, and this is one mightily impressive site with with terrific contents and lots of goodies. Highly recommended!
James Berardinelli's ReelViews--"Wild Wild West isn't just a bad adaptation of a TV series; it's a bad film."
Roger Ebert--"A comedy dead zone."
The Will Smith Fan Page--Information on Smith's acting and singing careers with news, pictures, multimedia, lyrics, chatroom, and more.
Kevin Kline Online--The only site that is listed on the Yahoo! directory, so it is a good thing that the webmaster has created a very comprehensive source on the actor.
HayekHeaven--Contains 1000+ photos, also news, movies, multimedia, articles, biography, forum, and more.
The Kenneth Branagh Compendium--Besides being an excellent actor on film and stage, he also write, direct, and produce.
The Wild Wild West on TNT--The television series that the movie adapted from. Starring Robert Conrad and Ross Martin.
TNT's Rough Cut--A full review of the music soundtrack featuring Will Smith: "This sugar-coated rap and a train of urban pop just isn't wild enough."
Filmtracks--A full review of the score soundtrack composed by Elmer Bernstein: "A good Western score for an unsatisfactory Western film."
Amazon.com--Available to purchase are the DVD at special discount, the original music soundtrack featuring Will Smith, and the original score soundtrack composed by Elmer Berstein.
Reel.com--Purchase the DVD at special discount.


Previous: Dick | Back to Main Page