WARNER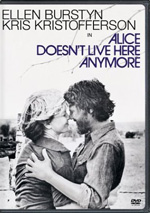 MOVIE INFO
Director:
Martin Scorsese
Cast:
Ellen Burstyn, Kris Kristofferson, Billy Green Bush, Diane Ladd, Lelia Goldoni, Harvey Keitel, Lane Bradbury, Vic Tayback, Jodie Foster
Writing Credits:
Robert Getchell
Tagline:
A picture for anyone who has ever dreamed of a second chance!
Synopsis:
Alice Hyatt (played by Ellen Burstyn, who won an Oscar for her performance) is a widowed mother trying to start a singing career while raising a growing son (Alfred Lutter). In the early portions of the film, Alice works as a waitress at a diner owned by "Mel" (Vic Tayback); these scenes served as the springboard for the popular TV sitcom "Alice."
Box Office:
Budget
$85 thousand.
Domestic Gross
$17.600 million.
MPAA:
Rated PG


DVD DETAILS
Presentation:
Widescreen 1.85:1/16x9
Audio:
English Monaural
French Monaural
Subtitles:
English
French
Spanish
Closed-captioned

Runtime: 112 min.
Price: $19.97
Release Date: 8/17/2004

Bonus:
Disc One
• Audio Commentary with Director Martin Scorsese and Actors Ellen Burstyn, Diane Ladd and Kris Kristofferson
• "Second Chances" Documentary
• Trailer




PURCHASE @ AMAZON.COM

EQUIPMENT
Sony 36" WEGA KV-36FS12 Monitor; Sony DA333ES Processor/Receiver; Panasonic CV-50 DVD Player using component outputs; Michael Green Revolution Cinema 6i Speakers (all five); Sony SA-WM40 Subwoofer.


[an error occurred while processing this directive]
---
Alice Doesn't Live Here Anymore (1974)
---
Reviewed by Colin Jacobson (September 3, 2004)

Most people think of M*A*S*H primarily as a TV series, not as a movie. The same applies to the Alice TV program, which may not be as famous as M*A*S*H, but the Linda Lavin vehicle continues to overshadow the 1974 film. Given that the series wasn't a classic like M*A*S*H and the flick was directed by Martin Scorsese, this reversal of fortune comes as something of a surprise, but 1974's Alice Doesn't Live Here Anymore stands as one of the director's semi-forgotten efforts.

That's too bad, for it's a pretty solid flick. Alice starts with a short prologue that features Alice (Mia Bendixsen) as a young girl in Monterey, California. We get a slight glimpse of her life before we leap ahead 27 years to meet adult Alice (Ellen Burstyn) in Socorro, New Mexico. She lives with abusive husband Donald (Billy Green Bush) and precocious 11-year-old son Tommy (Alfred Lutter). Both irritate the touchy Donald, but that issue soon disappears when the man dies in a truck accident.

This leaves Alice with nothing. She sells everything she owns and plans to move back to Monterey. She stops in Phoenix where she plans to get a job as a singer to earn the money to make the trek to Monterey. Alice eventually lands a gig and she starts a romance with goofy younger man Ben Eberhardt (Harvey Keitel). Alice enjoys this until she eventually gets a visit from Rita Eberhardt (Lane Bradbury), Ben's wife, who relates the facts. Ben violently confronts Alice and she soon flees to get away from him.

Alice and Tommy make it to Tucson, where she gets a job as a waitress at Mel and Ruby's Café. There we meet two other waitresses: sassy Flo (Diane Ladd) and ditsy Vera (Valerie Curtin). We also encounter crusty cook and owner Mel (Vic Tayback) as well as rugged customer David (Kris Kristofferson), who hits on her with eventual success.

Alice follows the various relationships. Alice initially hates her job and bickers with the bawdy Flo, whose flirty style rubs her the wrong way, though these opinions slowly change. Alice also resists David's advances, but he manages to ingratiate himself into the lives of her and Tommy. Speaking of whom, Tommy hangs out with tomboy Audrey (Jodie Foster), who comes from a problematic home life and invites him to get drunk on Ripple.

It's somewhat surprising to realize that with the possible exception of Boxcar Bertha, Alice is the only one of Scorsese's movies that features a female protagonist. A few others use women prominently, but Alice remains the only one in which a female clearly plays the lead. In a career dominated by movies heavily focused on men, Alice stands as Scorsese's closest stab at a chick flick. Don't take that as a criticism. Scorsese knows his strengths and plays to them; not everyone has a women's movie in them.

No one will call Alice Scorsese's edgiest flick, as it certainly lacks the harshness of his better-known work. However, he does bring a nice lack of sentimentality to the piece. It easily could have devolved into a weepy, mawkish tale of female empowerment, but Scorsese allows the material to unfold more naturally and without any sappiness.

For example, take the scene in which Alice stages her teary departure from Socorro. As she bawls with her friends, Scorsese undercuts the moment via eye-rolling from Tommy and a friend. The director also leavens potentially awkward bits like one scene of Alice's sould-exploration with shots of a swamped Vera. This could have turned disastrous, but instead it adds to the film's sense of reality.

Interestingly, Alice starts with an extremely theatrical moment. The shots with Alice as a child come in a 1.33:1 ratio with a serious Technicolor look, as these present young Alice as a character in her own mental movie. From there, however, the flick goes very realistic and doesn't pull punches. The film doesn't make saints out of any characters. Each displays many flaws, and that especially goes for Alice and her relationship with Tommy. We see their edgy interactions and Alice's inconsistent and periodically non-productive parenting style. We view her warmth but also detect borderline abusive behavior.

That tone helps make Alice Doesn't Live Here Anymore a success. It also avoids the strident tone one might expect. Yeah, it goes for a "girl power" vibe, but it doesn't do so in a blatant manner. I also like the general absence of man bashing; it doesn't treat men in a positive light, but it doesn't go out of its way to attack them. It creates an interestingly blemished portrait of it subject and does so effectively.

Footnote: one element of Alice did distract me. It's a bit more than 1100 miles from Socorro to Monterey, so I wasn't sure why Alice needed to build up such a fund of money to make it there. Her car worked and gas was cheap back then, so how much did she needs? She could have easily driven there in two days. Maybe I missed something, but this element of the story made no sense to me; the entire plot hinges on her troubles getting to Monterey, but it should've been an easy drive. And why'd she go to Phoenix before Tucson? The latter is on the way to the former.
---
The DVD Grades: Picture B+/ Audio C/ Bonus B-
---
Alice Doesn't Live Here Anymore appears in an aspect ratio of approximately 1.85:1 on this single-sided, double-layered DVD; the image has been enhanced for 16X9 televisions. Whatever minor flaws marred Alice stemmed from its age and film stock, as the transfer itself seemed strong.
For the most part, sharpness was very good. Some light softness crept in at times, but this never became anything intrusive. Instead, the movie usually remained nicely defined and concise. I saw no issues with jagged edges or shimmering, and the film also appeared to lack edge enhancement. Other than some fairly prominent grain at times, the image failed to present any source flaws; it stayed nicely clean.
Alice didn't feature a bright palette, as its hues somewhat mirrored the subdued nature of the desert setting. The various reds and oranges looked pretty good in general, though they sometimes came across as a bit heavy and murky. These weren't big concerns, as the tones mostly were positive. Blacks seemed deep and firm, while low-light shots were reasonably visible and well-defined. Alice showed its age but was mainly quite satisfying.
The monaural soundtrack of Alice Doesn't Live Here Anymore also felt like a product of its era and appeared mediocre when viewed that way. Speech was somewhat flat and bland, though the lines always remained intelligible and never displayed any edginess. Some moderately weak dubbing appeared at times. Effects played a minor role in the flick. They came across as acceptably concise, though they lacked much dimensionality or life. Music was a little better, as the flick's occasional source songs demonstrated decent definition and dynamics but nothing better than that. Again, given the age of the material, the audio seemed fine, but the mix never emerged as anything above average.
When we head to the extras, we start with an audio commentary with director Martin Scorsese and actors Ellen Burstyn, Diane Ladd and Kris Kristofferson. All four were recorded separately for this edited, occasionally-screen-specific piece. The commentary doesn't fill the movie's entire running time, as it skips some parts and lasts a total of 53 minutes and three seconds.
Relative to the length of the film, this is the shortest of the five edited commentaries from the Scorsese Collection, which comes as a disappointment; with four participants, it seems odd they couldn't find enough to say for a 112-minute movie. Nonetheless, we get some good information about Alice. We learn how Scorsese came onto the flick as well as tidbits about the cast and their work. Scorsese talks a little about editing and pacing, while the actors provide insight into their characters and choices, and we also hear a nice mix of more general notes. Despite its brevity, this proves to be a useful and engaging commentary.
In addition to the film's theatrical trailer, we get Second Chances, a 19-minute and 45-second documentary. We hear remarks from Burstyn and Kristofferson. We learn how Burstyn came onto the film, getting a director, additional casting and character development, the atmosphere on the set, the film's texture, challenges presented by the ending, and various anecdotes about the shoot. For the most part, this feels like an extension of the commentary, as it consists of the same sort of information found there. Nonetheless, it presents a lot of details in a smooth and concise manner and helps flesh out our understanding of the project.
While Alice Doesn't Live Here Anymore doesn't quite match up with Martin Scorsese's best flicks, it stands as a consistently good one. The movie presents a gritty and concise portrait of a single parent and thrives in that regard. The DVD offers very good picture with average audio and a small but informative set of extras. Unjustly forgotten, Alice deserves a look.
Note: Alice Doesn't Live Here Anymore can be purchased on its own or as part of the Martin Scorsese Collection. The latter includes Alice along with the new special editions of Mean Streets, GoodFellas, Who's That Knocking On My Door?, and After Hours. Separately, those five retail for $106.87, but the Collection goes for a mere $59.92. That makes it a real steal for Scorsese fans.
| | |
| --- | --- |
| Viewer Film Ratings: 4.3333 Stars | Number of Votes: 15 |