SONY PICTURES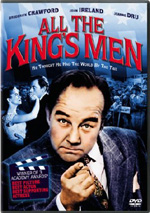 MOVIE INFO
Director:
Robert Rossen
Cast:
Broderick Crawford, John Ireland, Mercedes McCambridge, John Derek, Anne Seymour
Writing Credits:
Robert Rossen, Robert Penn Warren (novel)
Tagline:
He Might Have Been A Pretty Good Guy ... If Too Much Power ... And Women ... Hadn't Gone To his Head!
Synopsis:
A Huey Long-type political figure creates a following for himself among the "common" voters after being rejected by the organized party system. The film takes the point of view of a journalist who helps the politician make it to the big time by winning the governorship. But the power of high office eventually corrupts him and turns him into a controversial figure in the eyes of his onetime supporters.
MPAA:
Rated NR


DVD DETAILS
Presentation:
Fullscreen 1.33:1
Audio:
English Monaural
Subtitles:
English
Closed-captioned

Runtime: 109 min.
Price: $19.94
Release Date: 9/5/2006

Bonus:
• Preview of All the Kingís Men (2006)
• Trailer for All the Kingís Men (2006)




PURCHASE @ AMAZON.COM

EQUIPMENT
Sony 36" WEGA KV-36FS12 Monitor; Sony DA333ES Processor/Receiver; Panasonic CV-50 DVD Player using component outputs; Michael Green Revolution Cinema 6i Speakers (all five); Sony SA-WM40 Subwoofer.


[an error occurred while processing this directive]
---
All The King's Men (Repackaged) (1949)
---
Reviewed by Colin Jacobson (August 23, 2006)

Every film that won the Oscar for Best Picture enjoys a certain level of fame due to that elite honor. After all, many thousands of movies have hit screens since the Academy Awards first emerged in 1929, but only 78 of these have garnered the big prize. As such, these movies mark a claim to legendary status just because of their inclusion in the hallowed roster.

However, all of these flicks arenít created equal, and some are much better remembered than others. Of course, the farther back you go on the list, the fewer people will know a certain film, though thatís not a perfect rule. Obviously, 1939ís Gone With the Wind and 1942ís Casablanca remain awfully famous, and some other older pieces - like 1934ís It Happened One Night and 1950ís All About Eve - continue to maintain a nice audience.

Then we find more obscure pictures like 1947ís Gentlemenís Agreement and 1945ís The Lost Weekend. These are the movies that probably would be largely forgotten were it not for their Oscar status. They arenít bad films, but many of them havenít held up particularly well, and without the Best Picture honor, their fame would be much smaller.

Into that category falls 1949ís All the Kingís Men. This film tells the story of a politicianís rise to power in the south. Strongly modeled after the real-life exploits of Louisianan Huey Long, we follow Willie Stark (Broderick Crawford), a self-described ďhickĒ who manages to capture the governorís seat based on his connection with other folks of his lower socioeconomic bracket. Stark takes control based on his populist leanings, but he becomes a virtual autocrat once he gets the job, and he seems to turn into the kind of person against whom he railed during his campaigns.

Based on the films that won Best Picture in that era, the second half of the Forties appears to have been a fairly progressive period. Through movies like Gentlemenís Agreement, The Lost Weekend and 1946ís The Best Years Of Our Lives, we see how social issues came to the forefront of popular culture in the time, and All the Kingís Men fits in neatly with those other flicks.

Unfortunately, thatís not necessarily a good thing. While I appreciate the progressive baby steps seen in these movies and I can understand that they probably had a substantial impact at the time, that doesnít make them interesting more than half a century later. To be sure, all of them are well-made films, and I canít say that I honestly disliked any of these works. However, theyíve not aged particularly well, and for a modern audience they can be fairly tedious to watch.

Probably my main problem with Men stems from its focus. Although the film is about Starkís rise to power, heís sort of a supporting character. The main protagonist is actually Jack Burden (John Ireland), a journalist who gets close to Stark. Along the way, this weak-willed guy becomes Starkís stooge for the most part, and we slowly watch as Burden loses his own self-respect due to his silent acceptance of Starkís abuses.

I suppose that the film used Burden as its main character because it wants to be a cautionary tale. Although the movie may have been based on the life of Huey Long, it also seems to echo aspects of Nazi Germany. Burden appears to represent the quiet majority who failed to act while tyrants took over their government. Director Robert Rossen also stages some scenes in a manner that strongly recalls Nazi propaganda; some of Starkís rallies look like theyíre outtakes from Triumph of the Will.

Burden is supposed to give the audience an entry point into the film. Unfortunately, because Burden is such a pathetically passive character, this never takes hold, and the movie limps along from its strangely detached point of view. Of course, Stark should be the star of the show, but the movie wonít let him take over that role. Instead, heís left at a distance as we witness Burdenís observations.

Despite this misstep, some parts of Men are good, mainly due to the acting. Ireland seems somewhat drab as Burden, but Crawford provides a nicely powerful turn as Stark. Frankly, I think he changes from earnest rube to neo-fascist too quickly and smoothly, but Crawford manages to make Willie a lively character; we can better accept his rise to power since he provides such a forceful persona.

Crawford won an Oscar for his work, as did Mercedes McCambridge as political aide Sadie Burke. While I like Crawfordís performance, McCambridge is definitely the best of the bunch. While Burke also stands by fairly idly while Stark takes control, at least McCambridge makes her into a feisty personality. The character has much more spark than I expected, and McCambridge offers a biting, vicious piece of work. She dominates all of the scenes in which she appears and she really lights up the screen.

Unfortunately, that isnít enough to redeem the lackluster and thin political treatise that is All the Kingís Men. As a cautionary tale, it fails to generate much of an impact, and as a social commentary, it lacks depth; ďabsolute power corrupts absolutelyĒ wasnít even a new concept 50 years ago. All the Kingís Men provides a mildly interesting experience due to some solid acting, but the movie seems dated and unconvincing as a whole.
---
The DVD Grades: Picture C-/ Audio C/ Bonus D-
---
All the Kingís Men appears in an aspect ratio of 1.33:1 on this single-sided, single-layered DVD; due to those dimensions, the image has not been enhanced for 16X9 televisions. Although the movie seemed watchable, I thought the picture presented a myriad of concerns.
Sharpness generally appeared acceptably crisp and well-defined, though there were exceptions to this rule. At times, I found the image to appear somewhat fuzzy and soft, with a moderate lack of clarity. However, most of the film seemed to be accurate and fairly detailed. Jagged edges cropped up via some hat brims, and a mix of minor moirť effects could be seen due to checked patterns on clothes. Neither concern was overwhelming, but they were heavier than Iíd expect.
Black levels seemed to be inconsistent. At times they appeared appropriately rich and dark, but they could also become rather drab and muddy on occasion. Contract levels varied throughout the movie, and quite a few scenes looked excessively bright. Shadow detail also seemed erratic. Some parts of the movie showed a nice balance within the low-light sequences, but others were too dark and difficult to discern. In general, dimly-lit scenes were rather bland and lackluster.
As one might expect from an older movie, All the Kingís Men featured a wealth of print concerns. Light grain cropped up throughout the film, and a myriad of additional problems seemed apparent. I also witnessed frequent examples of grit, speckles, nicks, vertical lines and a few small hairs. Ultimately, none of these defects seemed to be horribly excessive for an old movie, and the other problems remained within the levels of acceptability based on that factor. However, I found the visual aspects of All the Kingís Men to be a disappointment; the movie was passable but no better than that.
The filmís monaural soundtrack has survived with a little more grace than has the picture, but it didnít seem noteworthy either. Though speech displayed a thin quality typical of the era, dialogue usually sounded acceptably accurate and distinct. However, some lines were poorly-dubbed and stood out during the film. For example, when we saw Willie as he campaigned, sometimes the wider shots appeared to be out of synch with his mouth movements. These concerns were rare, but they could become distracting.
As with dialogue, effects and music seemed similarly flat and lackluster and they failed to demonstrate much dynamic range. However, those issues often appeared during older movies, so I had no great worries about them. At times, the effects could sound a little shrill, but the overall impact of the track was adequate. I did notice periodic bouts of background noise, however. There was occasional popping heard on the track, and I also detected a more frequent nuisance caused by a light hum. These problems came and went, so they didnít interfere with the entire movie. All in all, I thought that the soundtrack of All the Kingís Men seemed to be very typical for its era; it wasnít a bad mix, but it failed to stand out from the crowd.
If you compare the comments above to those I made in regard to the original 2001 release of Men, youíll find theyíre identical. I thought the 2006 edition looked and sounded the same as the prior DVD.
It offers a different set of extras, though. All of the new DVDís supplements promote the 2006 remake of Men that stars Sean Penn. In addition to a trailer for that version, we get a Preview for it. This five-minute and 25-second program includes movie clips, behind the scenes shots, and interviews. We hear from screenwriter/director Steve Zaillian, producers Arnold Messer and Mike Medavoy, executive producers James Carville and David Thwaites, and actors Jude Law, James Gandolfini, Patricia Clarkson, Anthony Hopkins, Jackie Earle Haley and Mark Ruffalo. They discuss the story and characters, working with Penn, Zaillianís effect on the project, shooting in Louisiana, and general thoughts about the film. No real information emerges here, as the piece promotes the remake but gives us nothing else.
The 2006 DVD fails to replicate the smattering of extras found on the original release. That means we lose some filmographies, a few trailers, and any essay about director Robert Rossen.
I wish I felt enthusiastically about All the Kingís Men, but unfortunately, I thought it was a somewhat dull and heavy-handed piece. The movie featured some good performances, but it lacked great focus and it tended to ramble on for too long. The DVD provides flawed but acceptable picture and sound plus extras that do nothing more than promote a remake. Folks who want to see every Best Picture winning film will have to give this one a look, but others may want to skip it.
In addition, thereís no reason for fans to repurchase this disc if they already own the 2001 disc. It doesnít improve picture or audio, and it doesnít offer any interesting new extras. If you donít own Men and want to have a copy, grab whichever one you can get for the lowest price; thereís nothing about either one that makes it superior to the other.
| | |
| --- | --- |
| Viewer Film Ratings: 2.75 Stars | Number of Votes: 4 |