WARNER BROS.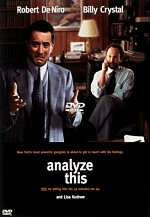 MOVIE INFO
Synopsis:
De Niro, deftly spoofing the wiseguy roles that have been a staple of his estimable career, plays powerful New York crime family racketeer Paul Vitti. Crystal, always one joke ahead of sleeping with the fishes, is shrink, Ben Sobel, who has just days to resolve Vitti's emotional crisis and turn into a happy, well-adjusted gangster. Yes, Sobel is a falmily pychiatrist. But surely this isn't the kind of family he had in mind.

Director:
Harold Ramis
Cast:
Robert De Niro, Billy Crystal, Lisa Kudrow, Chazz Palminteri, Kresimir Novakovic
Writing Credits:
Kenneth Lonergan, Peter Tolan, Harold Ramis

Tagline:
New Yorks most powerful gangster is aboout to get in touch with his feelings
Box Office:
Budget $30 million.
Opening weekend $18.383 million on 2518 screens.
Domestic gross $106.694 million.
MPAA:
Rated R for language, a scene of sexuality and some violence.


DVD DETAILS
Presentation:
Widescreen 1.85:1/16x9
Fullscreen
Audio:
English Dolby Digital 5.1
Subtitles:
English
Closed-captioned

Runtime: 104 min.
Price: $14.98
Release Date: 8/17/1999

Bonus:
• Audio Commentary With Director Harold Ramis
• Audio Commentary with Actors Billy Crystal and Robert De Niro
• Gag Reel
• Cast and Crew
• Theatrical Trailer




EQUIPMENT
TV - Mitsubishi CS-32310 32"; Subwoofer - JBL PB12; DVD Player - Toshiba SD-4700; Receiver - Sony STR-DE845; Center - Polk Audio CS175i; Front Channels - Polk Audio; Rear Channels - Polk Audio.


[an error occurred while processing this directive]
---
Analyze This (1999)
---
Reviewed by Colin Jacobson (May 5, 2003)

One of these days I think I should survey my DVD collection and decide how many of them I acquired mainly because they included some cool supplemental features. I'm a sucker for those, and you can add another title to the list: Analyze This. I saw the film theatrically and thought it was okay, but there's no way it would have entered my collection were it not for the inclusion of an audio commentary that features Robert De Niro. You rarely hear De Niro speak about his acting, so this track greatly appealed to me.

Not that it's a bad movie or anything. Actually, Analyze This is probably more entertaining and fun than I thought it would be. Based on the folks who participated in it, it was a toss-up; I like De Niro, but De Niro in a comedy? Risky. Billy Crystal never did much for me, and after the enormous success he had with City Slickers and his yearly Academy Awards hosting duty, he got more and more smug and cutesy, so whatever small appeal he once had for me evaporated.

As a longtime SCTV fan, director Harold Ramis was probably the safest bet of the bunch for me, but his work behind the camera has never been exceptional. He's not made many genuinely bad films, but even his best pictures – Caddyshack and Groundhog Day - stand only as pretty good but not great. What boded ill for Analyze This was the fact that Ramis's best movies featured inspired comic actors like Bill Murray, something that didn't appear to be on the horizon for this picture.

In the end, Analyze This acquits itself well among Ramis's movies. It doesn't equal the better pictures I mentioned, but it outdoes much of his remaining repertoire. In general, a Ramis film is good for a few decent laughs and will rarely become embarrassing, and that sums up Analyze This pretty nicely. It's competently written, nicely performed, and executed with a minimal amount of fuss. It may be workmanlike, but is seems enjoyable nonetheless.

De Niro's wittily self-mocking performance as Mafia boss Paul Vitti causes much of the film's success. At this point, De Niro could clearly play these kinds of roles in his sleep, and he had started to enter the realm of unintentional self-parody at times. It's fun to see him purposefully poke fun at himself in this part. It seems that De Niro's having a ball throughout the film, and his enjoyment comes through in the looseness with which he plays Vitti. I didn't care much for his crying scenes - even when he shouldn't play the situation for laughs, he acts the same way, which hurts those scenes - but other than that, De Niro energizes and boosts all of his scenes.

As for Crystal, he does okay for himself as psychiatrist Ben Sobel. I thought he seemed less self-consciously cute than usual, and it's interesting to see him in the role of straight man to De Niro; one probably would have expected it to be the other way around. With the exception of the very funny climactic meeting scene, Crystal's performance doesn't do much to assist the movie, but he also does nothing to hurt it. Considering how I feel about him, that's probably a pretty big accomplishment.

Rounding out the main cast are Lisa Kudrow as Sobel's fiancée Laura and Joe Viterelli as Vitti's sidekick Jelly. Viterelli's the clear standout here. I like Kudrow, but there's just way too much Phoebe in her performance for me to really buy her in the role; the two characters seem very different, and what works for one seems tired in the other. Also, this isn't Kudrow's fault, but scraggly 52-year-old Crystal with hot 36-year-old Kudrow? I don't think so! Those sorts of pairings are hard enough to believe when the older actor is handsome, but Crystal isn't much to look at, and since his character is successful but not overwhelmingly so - unlike his media darling father - there is no likely explanation for this couple. No, this doesn't ruin the film, but it kind of creeped me out.

As for Viterelli, he's clearly a one-note actor - a quick review of his credits through IMDB reveals a paucity of roles that aren't gangsters – but that's okay. He's very good as Vitti's not-too-bright sidekick and he manages to steal the show on numerous occasions. Viterelli's well suited for a role such as this and he performs nicely.

One other fun aspect of Analyze This features its references to other Mafia movies. While many of the Godfather quotes are fairly obvious, less readily noticed are two subtle Goodfellas references. I recognized Tony Darrow from his role as the restaurant owner in that film, but much subtler is the use of Elizabeth Bracco - Lorraine's sister - as Vitti's wife. Sometimes it pays to watch the credits!
---
The DVD Grades: Picture B- / Audio B / Bonus B-
---
Analyze This appears in both an aspect ratio of approximately 1.85:1 and in a fullscreen version on this double-sided, single-layered DVD; the widescreen image has been enhanced for 16X9 televisions. Only the letterboxed picture was reviewed for this article. While much of the movie looked great, a fair number of weaknesses negatively affected the overall impression left by the image.
Sharpness generally appeared solid. A few wide shots demonstrated slight softness, but they remained in the minority. Most of the movie came across as nicely tight and well defined. No problems with jagged edges or moiré effects appeared, but I did notice some mild edge enhancement at times. In addition, the movie showed a few mild examples of speckles and marks throughout the flick.
More significant were the periodically noticeable examples of digital artifacts. Some scenes suffered from moderate levels of that interference, and they gave the movie a rather grainy look. The entire film didn't show this issue, but it popped up more prominently than I'd like.
Colors generally fared well. Much of the film's naturalistic palette appeared vivid and rich, with tight and vibrant hues. Skin tones came across as a little on the orange side at times, but usually I felt the colors were bold and warm. Blacks seemed dense and deep, while shadow detail looked concise and appropriately heavy. The problems that affected Analyze This didn't seem enormous, but they caused enough distractions for me to drop my grade to a "B-".
Though film's surprisingly involving Dolby Digital 5.1 soundtrack fared a bit better, but some quality concerns also affected it. The soundfield worked better than I expected, as it used the various channels well. The mix always demonstrated a fine sense of environment, especially in the city scenes. During the occasional segments that featured action, the speakers came to life more vividly, and the track utilized all five channels nicely. Gunfights worked especially well, as they brought a good degree of vividness to the soundfield. The scope remained consistent with this sort of comedy, but it added a little more life than I anticipated.
Audio was generally positive but could be a little lackluster. Speech demonstrated some slightly rough tones at times, as lines periodically came across as a bit thick and trebly. The material remained clearly intelligible, but it lacked a natural sense. The remainder of the mix appeared clean but often lacked much range. The louder sequences showed fairly crisp highs and acceptably powerful bass – gun blasts rocked the mix well – but otherwise the audio seemed to emphasize midrange too much. It didn't portray a great sense of dynamics and felt somewhat constricted. The positives of the soundfield were enough to ensure a "B" grade for this track, but the somewhat flat audio quality kept it from something higher than that.
Analyze This tosses in a few supplements, headlined by two separate audio commentaries. The first presents a running, screen-specific track from director Harold Ramis. As with literally all of Ramis's solo commentaries, this one seems generally informative but decidedly spotty. On the positive side, the director tells us about lots of ways he and others worked on the script and points out specific variations that they made. Ramis goes over a few production issues, but he mostly focuses on these story topics, and those moments seem informative and incisive.
Unfortunately, this comes with many empty spaces. Another Ramis trademark, the director lets much of the movie pass without any statements. He also often tends to just tell us the names of participants and locations. Overall, the commentary seems worth a listen, as it offers quite a lot of good material, but it becomes frustrating at times nonetheless.
The second commentary offers remarks from actors Billy Crystal and Robert De Niro. Recorded separately, the track provides screen-specific material but it edits the pair together. Crystal heavily dominates the piece, as we rarely hear from De Niro. He tosses in a few comments about his methods and such, but he doesn't pop up frequently. Crystal seems chattier as he informs us about working with De Niro, alterations made to the script, reshoots and other elements of the production. Unfortunately, dead air causes a lot of the track to pass without any material, and Crystal often repeats what we already heard in Ramis's commentary. I don't fault Crystal for that – he wouldn't have known what the director said – but these different factors render the Crystal/De Niro track as a fairly mediocre one.
A few other components round out the DVD. The Gag Reel gives us five minutes and five seconds of the usual wacky bloopers. We also find the film's theatrical trailer plus a Cast & Crew section with filmographies for Ramis, Crystal, and De Niro.
All in all, Analyze This is a competently made and generally entertaining and amusing little film. It'll never be mistaken for a classic, but it's a fun piece of work that can probably stand up to repeated viewings. The DVD offers generally good picture and sound with a couple of erratic but fairly informative audio commentaries. With a list price of less than $15, Analyze This provides an appealing package.
| | |
| --- | --- |
| Viewer Film Ratings: 4.5 Stars | Number of Votes: 8 |