DREAMWORKS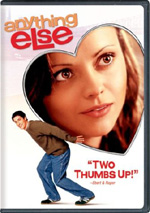 MOVIE INFO
Director:
Woody Allen
Cast:
Woody Allen, Jason Biggs, Christina Ricci, Fisher Stevens, Anthony Arkin, Danny DeVito, Kadee Strickland, Jimmy Fallon
Writing Credits:
Woody Allen
Tagline:
In any relationship, one person always does the heavy lifting.
Synopsis:
Jason Biggs (American Pie) and Christina Ricci (Sleepy Hollow) star in Woody Allen's latest comedy romp that proves love at first sight isn't like "anything else." When an aspiring young writer falls head over heels with a free-spirited, hard-to-please young woman, he soon discovers he's going to have to work doubly hard to make their love work. Anything Else is a hysterical look at modern romance that keeps the laughs coming as their relationship spins wildly out of control!
Box Office:
Budget
$18 million.
Opening Weekend
$1.673 million on 1033 screens.
Domestic Gross
$3.203 million.
MPAA:
Rated R


DVD DETAILS
Presentation:
Widescreen 2.35:1/16x9
Audio:
English Monaural
Subtitles:
English
French
Spanish
Closed-captioned

Runtime: 109 min.
Price: $26.99
Release Date: 12/23/2003

Bonus:
• Cast and Crew Biographies
• Production Notes




COMPARE DVD PRICES

EQUIPMENT
Sony 36" WEGA KV-36FS12 Monitor; Sony DA333ES Processor/Receiver; Panasonic CV-50 DVD Player using component outputs; Michael Green Revolution Cinema 6i Speakers (all five); Sony SA-WM40 Subwoofer.


RELATED REVIEWS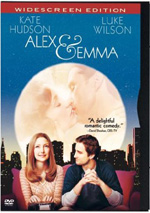 [an error occurred while processing this directive]
---
Anything Else (2003)
---
Reviewed by Colin Jacobson (January 23, 2004)

Over the last few years, Woody Allen enjoyed a decent little resurgence. Actually, "resurgence" may be a bit strong, as all of his flicks since 1998's Celebrity have been only moderately entertaining. Nonetheless, given the crumminess of most of his efforts in the years immediately prior to that, Celebrity and the films to follow seem brilliant. Geez, after the debacles that were Mighty Aphrodite and Everyone Says I Love You, it didn't take much for Allen to rebound.

His work from 1998 through 2002 seemed unspectacular but enjoyable. Unfortunately, 2003's Anything Else falls back into some of Allen's old traps. While not a terrible effort, it seems fairly meandering and often annoying.

The film introduces us to a young aspiring comedy writer named Jerry Falk (Jason Biggs). He pals around with David Dobel (Allen), another writer wannabe, and dates a would-be actress and singer named Amanda (Christina Ricci). He adores Amanda despite a slew of emotional issues and quirks that make her quite self-absorbed and negligent when it comes to Jerry's needs and desires. A real schlub, Jerry puts up with whatever she wants, even when she insists that her mother Paula (Stockard Channing) move in with them temporarily.

Else doesn't present much of a story. After we get to know a little about Jerry and Amanda, we flash back to their first meeting. Back in the present, we learn that she won't sleep with him and they've not done it for six months. Dobel also encourages Jerry to become a survivalist and keep a rifle in the house. Eventually Dobel pushes Jerry to move out to LA where they'll get a job in TV as a writing team. Who cares? These stories never engage the viewer or go anywhere.

Though Else offered a loose plot at best, it might have worked if the characters seemed interesting or even vaguely intriguing. Unfortunately, they range simply from dull to genuinely annoying. With flicks like Deconstructing Harry, Allen demonstrated a serious misogynistic streak. He didn't treat women that poorly here, but it seemed noteworthy that both female roles in Else are unpleasant at best. Amanda and Paula are self-absorbed and mean toward others. Allen gives Amanda's selfishness a comic spin, but the character remains genuinely unlikable.

Because of this, one might want to slap around Jerry and tell him to get with reality. However, that would assume that one cares enough about Jerry to feel such a level of investment. Unfortunately, he doesn't register strongly enough to get us to care. Biggs plays him as a boring loser – not a lovable loser, but just a bland, uninteresting one. The audience never worries about what happens to him or gives a hoot about his future.

Though Else focuses on younger than usual characters for an Allen flick, he makes them seem just like the pretentious snobs who populate the majority of his films. I know you're supposed to write what you know, but seeing these pompous boors who exist just to show off their book-learning gets really old. Do these people ever offer an original thought? All they do is speak in quotations from others, and this just seems like pathetic snobbery. In the hands of anyone else, I'd view this as parody, but since all of Allen's characters are like this, I must assume he doesn't aim for that tone.

Allen's comedic instincts fail him in Else. The film offers lots of conflict but little amusement. Allen presents the occasional slightly funny bit, but the one-liners that hit pop up very infrequently. Instead, most of the gags fall flat.

Ultimately, Anything Else adds up to Not Much of Anything. The film presents no real plot, bland, generally unlikable characters, and little humor. It won't stand as Woody Allen's worst film, but it's far from his best.
---
The DVD Grades: Picture A-/ Audio C-/ Bonus D-
---
Anything Else appears in an aspect ratio of approximately 2.35:1 on this single-sided, double-layered DVD; the image has been enhanced for 16X9 televisions. To date, prior Allen flicks from DreamWorks looked great, and Else continued that trend.
Sharpness seemed immaculate from start to finish. The image always came across as crisp and distinct, and it showed virtually no signs of softness. Jagged edges and moiré effects appeared absent, and only a little edge enhancement popped up on a couple of occasions. Print flaws were similarly non-existent. I noticed no signs of various defects in this clean and smooth transfer.
Else featured a natural palette, and the DVD showed the colors wonderfully well. It represented other hues with terrific accuracy and clarity. The colors came across as accurate and rich at all times. Black levels also seemed deep and dense, and shadow detail was appropriately heavy but not overly opaque. All in all, Else boasted a very strong transfer.
Like every other Woody Allen flick, Anything Else offered only a monaural soundtrack. The mix seemed typical and greatly resembled the audio for many other Allen movies. Dialogue was consistently intelligible and reasonably natural, and I heard no concerns related to edginess. Effects came across as acceptably accurate and distinct, and they occasionally showed decent low-end response, though they remained a minor aspect of the mix. The score – which consisted entirely of period jazz recordings, another Allen staple - was fairly bright with reasonable fidelity. Due to the source, bass response stayed lackluster but range seemed acceptable nonetheless. It was another satisfying mono mix, but it lost points for its lack of ambition; Else sounded good, but by default, a single-channel track from 2003 doesn't deserve a grade above "C-".
Allen fans know that the director doesn't care for supplements, which is why we never find much on the DVDs for his films. Oddly, no trailer appears. Instead, we find Cast and Filmmakers listings. Like most DreamWorks DVDs, these cover a slew of participants. We get entries for Allen, executive producer Stephen Tenenbaum, producer Letty Aronson, co-producer Helen Robin, editor Alisa Lepselter, director of photography Darius Khondji, production designer Santo Loquasto, costume designer Laura Jean Shannon, casting directors Juliet Taylor and Laura Rosenthal, and actors Jason Biggs, Christina Ricci, Stockard Channing, Danny De Vito, and Jimmy Fallon. For the most part, these amount to annotated filmographies, but their scope seems positive nonetheless. (In the case of Allen, all we find is a plain filmography; I guess his dislike of extras means he refuses to allow them to print even some rudimentary biographical information!)
Finally, the DVD provides some passable Production Notes. The text gives us some basic information about the film, but too much of it relates praise for participants and the film. Not a lot of real data appears here.
After a string of fairly decent flicks, Woody Allen regresses with the unfunny and unlikable Anything Else. The movie suffers from little plot and characters who annoy more than entertain. It lacks insight or depth and seems like a generally unpleasant experience. The DVD presents excellent visuals with clear monaural audio and almost no supplements. Woody Allen fans should look elsewhere for an entertaining film, as Anything Else offers a pretty bad piece of work.
| | |
| --- | --- |
| Viewer Film Ratings: 2.923 Stars | Number of Votes: 13 |