VELOCITY HOME ENTERTAINMENT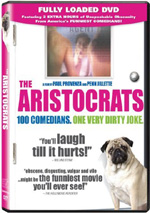 MOVIE INFO
Director:
Paul Provenza
Cast:
George Carlin, Robin Williams, Drew Carey, Whoopi Goldberg, Sarah Silverman, Lewis Black, Andy Dick, Penn Jillette, Bob Saget, Chris Rock (and dozens more)
Writing Credits:
Various
Tagline:
No Nudity. No Violence. Unspeakable Obscenity.
Synopsis:
Comedy veterans and co-creators Penn Jillette (one half of the hit duo Penn & Teller) and Paul Provenza capitalize on their insider status and invite over 100 of their closest friends (who happen to be some of the biggest names in entertainment, from George Carlin, Whoopi Goldberg, Drew Carey to Gilbert Gottfried, Bob Saget, Paul Reiser and Sarah Silverman) to reminisce, analyze and deliver their own versions of the world's dirtiest joke, an old burlesque routine too extreme to be performed in public, called "The Aristocrats".
One of the smash hits of the 2005 Sundance film festival, this critically acclaimed, star-studded comedy extravaganza, which celebrates the art of improvisation and the finest (and most foul mouthed) traditions of stand up, is sure to stretch the limits of its audience, particularly for how loud and how long they can laugh.
Box Office:
Opening Weekend
$243.796 thousand on 4 screens.
Domestic Gross
$6.364 million.
MPAA:
Rated NR


DVD DETAILS
Presentation:
Fullscreen 1.33:1
Audio:
English Dolby Digital 5.1
English Dolby 2.0
Subtitles:
None
Closed-captioned

Runtime: 88 min.
Price: $29.99
Release Date: 1/24/2006

Bonus:
• Audio Commentary with Director Paul Provenza and Executive Producer Penn Jillette
• "More from the Comedians"
• "The Aristocrats Do The Aristocrats"
• "For Johnny Carson"
• "Behind the Green Door: Comics Tells Us Some of Their Other Favorite Jokes"
• "Be An Aristocrat Contest Winners"
• Trailers




PURCHASE @ AMAZON.COM

EQUIPMENT
Sony 36" WEGA KV-36FS12 Monitor; Sony DA333ES Processor/Receiver; Panasonic CV-50 DVD Player using component outputs; Michael Green Revolution Cinema 6i Speakers (all five); Sony SA-WM40 Subwoofer.


[an error occurred while processing this directive]
---
The Aristocrats (2005)
---
Reviewed by Colin Jacobson (January 18, 2006)

One of 2005's most notorious and unusual indie hits came from The Aristocrats. Granted, "hit" is a relative term, as the movie's $6 million gross represented about the same amount of money the year's blockbusters made in their first screenings, but given the unusual nature of The Aristocrats, I view it as a real success.

The movie's tagline read "No Nudity, No Violence, Unspeakable Obscenity". An unrated film because of its language, Aristocrats works with an unusual premise. In it, a long roster of comedians tell variations on the same old joke. Entitled "The Aristocrats", at its most basic, this groaner works as follows: a family goes to a talent agent to pitch their act. In it, they perform all forms of vile acts on each other. After the horror ends, the agent asks the name of the act. The father replies, "The Aristocrats!"

No one seems to think the joke itself is any good. Instead, it earns its stripes based on the unlimited variations the comedians lend to it. That becomes the focus of The Aristocrats, a documentary that looks at the joke and its permutations.

Since we find so many of them, I won't list all of the comedians who appear in the film. You'll recognize many of the performers, though, and that's a good thing since the movie doesn't credit them until the end. I didn't like that method since it made things a little confusing.

Granted, the nature of the film's construction would have created problems with on-screen credits. The Aristocrats boasts some of the most rapid-fire cutting I've ever seen. Much of the time it can't stay with one angle for more than a second or two, as it jumps around relentlessly. I guess the filmmakers felt this was necessary to avoid a static visual presence, but it doesn't work for me. It seems annoying and distracting, and it simply detracts from the material.

Based on what I'd heard about The Aristocrats, I didn't get what I expected. I thought it'd offer a running roster of repetitions of the joke told in full. That doesn't occur. We get a handful of complete tellings, but usually we simply hear fragments of it.

That can become frustrating at times. We get so much information about the joke that it makes us want to hear it from start to finish. However, I understand the choice not to do this since it'd radically decrease the number of comedians who could appear. We learn that some versions of the joke can run 15 minutes or longer. That would either require the movie to run three hours or it'd mean we only hear from a small group of performers.

While the format can become a little frustrating, we still get a good feel for the variations. The film acts more as a dissection of the joke that a free view of it. Among snippets of the joke, we find quite a lot of interpretation of it. The participants discuss aspects of it and parse out variations and what can be done with it.

This gives us an interesting look behind the curtain at the work of comedians. As I mentioned, we get an enormous roster of performers here, many of whom you'll instantly recognize. We find folks like George Carlin, Robin Williams, Whoopi Goldberg, the Smothers Brothers, and Phyllis Diller. We also locate much less known comedians such as Otto & George, Billy the Mime, and Doug Stanhope.

Though men dominate the film, a couple of women offer standout versions of the joke. Sarah Silverman does it in an oddly nostalgic, personal way that ends with an incendiary punch line about talk show host Joe Franklin. That part comes out of nowhere and provokes real laughs, though Franklin might disagree. I also like Carrie Fisher's show-biz rendition. She involves her parents Eddie Fisher and Debbie Reynolds as well as others from the Golden Age of Hollywood. This gives the joke a punch because it mentions real-life figures in a clever manner. C'mon – how can you resist Fisher's description of her mother as a "golden showers queen" and her insistence that this disgusting act was the original focus of Singin' in the Rain?

After Aristocrats hit theaters, Bob Saget received the most notoriety due to his version of the joke. The movie touts him as the nastiest comic out there, but frankly, I don't see a lot of difference between his take on the gag and the other ones. Sure, his version is gross, and it's odd to see someone with such a strong reputation as a family comic tell it that way, but I don't feel Saget's rendition is particularly over the top in comparison.

As for the best performances, I must admit "Billy the Mime" does a fun edition of the joke. Like most people, I don't like mimes, but there's something bizarrely amusing about a wordless version of the joke. The Smothers Brothers' take is also very good. It's the least disgusting of the bunch, and it derives its humor from the interplay of the two. It probably helps that Dick never heard the joke, so his confusion makes things funnier. Mostly it's their chemistry that adds to its punch, though.

We also get an amusing South Park rendition, and I like Hank Azaria's version done in character as an immigrant from eastern Europe. Granted, the funniest part comes from Azaria's after the fact recognition of a goof. He ends with a comment about "my grandfather, Uncle Janusz" and then wryly comments about how it's bad improv to refer to your grandfather as "uncle". I guess I'm a dim bulb, as I didn't even think about that until he mentioned it, but I laughed heartily when he noted his goof.

Again, don't expect a lot of straight tellings of the joke here. Most of the time we hear fragments along with interpretation of the gag's facets and what makes it work. I enjoy comments about the variations, such as when Drew Carey indicates that he likes to end with a little hand gesture. He's right – it's a funny conclusion.

As a film, I must admit that The Aristocrats is a bit of a mess. The absurdly hyperactive editing causes the main problem, as the flick cuts rapidly for no apparent reason other than to avoid too many static shots. Despite its cinematic flaws, I think the movie works. We get a fun glimpse at the intellectual workings of comedians. Having so many people tell the same basic joke allows us to see the enormous variations and gives us a greater appreciation for their work. The Aristocrats provides a clever and entertaining view of this subject.
---
The DVD Grades: Picture C+/ Audio C/ Bonus B+
---
The Aristocrats appears in an aspect ratio of 1.33:1 on this single-sided, double-layered DVD; due to those dimensions, the image has not been enhanced for 16X9 televisions. I found that the flick presented a solid but unexceptional picture.
Shot on consumer-grade video equipment, the image displayed some of the problems associated with that format. Sharpness looked fairly crisp and detailed for the most part, especially since the focus usually stayed with close-ups. However, when wider angles were used, the picture often seemed slightly soft and fuzzy. Things could get a bit iffy during those bits. Occasional examples of jagged edges and shimmering occurred, and I also noticed some light haloing. Artifacts cropped up at times and could give the flick a gritty look.
Colors remained in the natural realm and were acceptable. They never came across as particularly vibrant or dynamic, but they were fine within the constraints of the video format. Blacks seemed similarly decent but unexceptional, while shadows could be a little dense. The occasional low-light shots showed a little too much thickness, though they were infrequent enough not to become a distraction. Ultimately, the image was average, but it did what it needed to do.
Even funnier than the joke itself was the fact that The Aristocrats provided a Dolby Digital 5.1 soundtrack. One would assume that a 5.1 mix would actually use speakers other than the center one. That almost never happened with the relentlessly single-channel Aristocrats. Only during the end credits did we hear anything that didn't come from the middle speaker. The closing section featured stereo music that spread just fine across those channels. Otherwise, this was a totally one-speaker mix.
And an almost completely speech-centered track. Music appeared solely during the end credits. Otherwise, we just heard speech from beginning to end. The few minutes of jazz at the conclusion sounded just fine, and the speech was always good. Those elements appeared natural and concise, with no signs of edginess or other issues. I gave the track a "C" because it was perfectly adequate and appropriate for this sort of film. I'd still have to call it the least ambitious 5.1 mix I've ever heard; I'm not sure why they bothered to credit it to all those channels.
Heading to the extras, we begin with an Audio Commentary with director Paul Provenza and executive producer Penn Jillette. Both sit together for this running, screen-specific piece. They offer notes about the comedians featured in the movie and general info about its creation. We get good details about what was shot, the performances of the joke, and other related issues. Jillette and Provenza also go over what it took to make the film and reactions to it. They create a lively setting with plenty of funny bits as well as a good deal of insight into the topics. The commentary fleshes out the flick nicely and helps us understand their choices.
The "truth in titling" award goes to More from the Comedians. In this 90-minute and 12-second collection, we get additional work from 21 of the acts recorded for the film. These include Gilbert Gottfried (7:00), Bob Saget (13:01), Hank Azaria (6:36), Kevin Pollak (4:35), Sarah Silverman (5:46), Lewis Black (1:51), Taylor Negron (3:35), Pat Cooper (3:59), Jason Alexander & Peter Tilden (5:53), Jon Stewart (4:04), Doug Stanhope (4:32), Whoopi Goldberg (4:07), Phyllis Diller (4:12), Richard Jeni (2:38), Jake Johannsen (2:05), Merrill Markoe (4:08), Otto & George (2:16), Ron Jeremy (2:23), Billy the Mime (3:10), Terry Gilliam (1:59), and the Royal Debonaires (2:15).
As you can tell by the time listings, some of the folks get to do more than others. We get tons of Saget and a lot of Azaria and Gottfried. Standout work comes from Silverman, as her story-telling version remains the best of the bunch. I like Pollak's impersonation of Albert Brooks' take on the joke, and Markoe's reality TV interpretation is a lot of fun. On the negative side, Black and Cooper are incredibly annoying. Also, technical problems mar the Gilliam interview; as Provenza notes, he messed up the sound, so we only hear a description of what Gilliam said. Overall, this is a solid package of clips that I enjoyed.
For something different, we head to the five-minute and 19-second The Aristocrats Do The Aristocrats. This intercuts many different tellings of the joke to create one long, multi-artist version. It ends with a montage of punchline readings. It's a clever way to form a new look at the gag.
A tribute appears during For Johnny Carson. This two-minute and five-second clip we hear that "The Aristocrats" was Carson's favorite joke, and Dana Gould gives his impersonation of how Johnny would tell it. Larry Miller also relates another favorite Carson joke in this interesting little clip.
Additional material pops up in the 16-minute and eight-second Behind the Green Room Door: Comics Tells Us Some of Their Other Favorite Jokes. We hear from George Carlin, Jackie Martling, Paul Reiser, Larry Miller, Wayne Cotter, Dom Irrera, Rita Rudner, Martin Mull, Allan Havey, Phyllis Diller, Harry Shearer, Bruce Vilanch, Mark Cohen, Amazing Johnathan and Jay Kogen. Most of the jokes aren't terribly funny, but a few winners emerge, and this offers another fun way to see more footage.
Another video piece comes next. Be An Aristocrat Contest Winners runs 10 minutes and four seconds as it presents some home video of amateurs who perform the joke. Peter Kremidas does it as a Mickey Mouse-style 1920s cartoon character named "Flapjack" – and doesn't produce a single damned laugh in his tremendously lame and irritating video. Rob Foster creates an animated version called "Ball Sack Follies". To call this "animated" is a stretch, as it just shows a succession of still drawings with no actual motion. His take is okay, but the visuals make the joke so disgusting that it's almost unwatchable. Geez, if these are the two best submissions they received, I'd hate to see the losers.
Finally, the DVD includes some Trailers. This doesn't include the promo for Aristocrats but it touts other ThinkFilm products. We get ads for When Stand Up Stood Out and The Untold Story of Emmett Louis Till.
The Aristocrats provides an interesting look behind the curtain to demonstrate the workings of comedians as it brings a hidden element to the public. The multiple renditions of the titular joke offer some hits and some misses, but it's always cool to see all the variations. The DVD features average picture and audio along with a generous and interesting compilation of features. The obscene content will mean that most people won't want to see The Aristocrats, but for those with an interest in the topic, I definitely recommend it.
| | |
| --- | --- |
| Viewer Film Ratings: 3.1 Stars | Number of Votes: 10 |