PARAMOUNT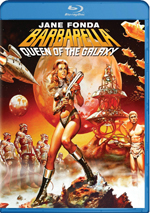 MOVIE INFO
Director:
Roger Vadim
Cast:
Jane Fonda, John Phillip Law, Anita Pallenberg, Milo O'Shea, Marcel Marceau, Claude Dauphin, Véronique Vendell
Writing Credits:
Jean-Claude Forest (comic "Barbarella" and story), Claude Brulé (collaborating writer), Terry Southern, Roger Vadim, Vittorio Bonicelli (writer), Clement Biddle Wood (writer), Brian Degas (writer), Tudor Gates (writer)
Tagline:
Who can save the universe?
Synopsis:
Barbarella is marked by the same audacity and originality, fantasy, humor, beauty and horror, cruelty and eroticism that make comic books such a favorite. The setting is the planet Lythion in the year 40,000, when Barbarella (Jane Fonda) makes a forced landing while traveling through space. She acts like a female James Bond, vanquishing evil in the forms of robots and monsters. She also rewards, in an uninhibited manner, the handsome men who assist her in the adventure. Whether she is wrestling with Black Guards, the evil Queen, or the Angel Pygar, she just can't seem to avoid losing at least a part of her skin-tight space suit!
Box Office:
Budget
$9 million.
MPAA:
Rated PG


DVD DETAILS
Presentation:
Aspect Ratio: 2.35:1
Audio:
English Dolby TrueHD Monaural
Spanish Monaural
French Monaural
Subtitles:
English
French
Spanish
Portuguese
Closed-captioned
Supplements Subtitles:
English
French
Spanish
Portuguese

Runtime: 98 min.
Price: $29.99
Release Date: 7/3/2012

Bonus:
• Trailer




PURCHASE @ AMAZON.COM

EQUIPMENT
Panasonic 50" TH-50PZ77U 1080p Plasma Monitor; Sony STR-DG1200 7.1 Channel Receiver; Panasonic DMP-BD60K Blu-Ray Player using HDMI outputs; Michael Green Revolution Cinema 6i Speakers (all five); Kenwood 1050SW 150-watt Subwoofer.


[an error occurred while processing this directive]
---
Barbarella [Blu-Ray] (1968)
---
Reviewed by Colin Jacobson (July 12, 2012)

44 years after its 1968 theatrical release, there are two reasons why the film Barbarella maintains any presence in the communal consciousness. First, pop group Duran Duran took their name from the movie's villain. Second, a young and very sexy Jane Fonda stars, and she spends the picture either in skimpy outfits or none at all.

While some of the shots of Jane did get my motor mildly revved up, neither of these factors comes close to redeeming this atrocious mess of a film. Inevitably, many parties will argue that Barbarella is one of those movies that's so bad, it's good. They're wrong. It's so bad, it's bad. In fact, it's so bad, it's terrible and almost unbearable to watch - only sweet Jane kept me in front of the screen.

Even that aspect of the film wasn't as hot as it could have been. Barbarella starts with a long scene of Jane stripping out of her space suit, but much of the good stuff is blocked by some cutesy title credits. Yeah, this was obviously intentional, but I still got peeved.

Anyway, as with fellow sci-fi craptacular Logan's Run, only some nice skin makes Barbarella even remotely tolerable. I suppose Barbarella deserves some credit in that it at least tries to be a comedy, whereas Run takes itself rather seriously.

But while Barbarella constantly winks at the viewer, that doesn't make it any more entertaining. Whether intentionally bad or not, this is one poor film.

The word "campy" doesn't do justice to this flavor of cheese. The acting is constantly atrocious. No signs of the Jane who would become an accomplished performer appear here; she just swoons her way through this tripe. Heck, we get stuck with Keith Richards' ex, Anita Pallenberg, in one role, and we find Marcel Marceau in a speaking part, for God's sake!

The story plods along as Barbarella pursues renegade Dr. Durand-Durand for reasons that become less and less interesting with each passing moment; once she finally meets him, I could not have cared less what happened. Of course, I never really had any interest in what happened prior to that, so this wasn't much of a loss.

Barbarella displays special effects that make the original Star Trek shows look high-tech. Most laughable are the terrible blue screen effects for the flying Angel, though the ugly and ridiculously phony sets give them a run for their money.

Admittedly, Barbarella is a bit harder to criticize than films that are unintentionally funny ala Logan's Run. After all, it was co-written by Terry Southern, who also worked on the script for Dr. Strangelove, and it clearly tries to spoof science fiction films and some of the hippie-drippy attitude of the era. If it did so with any success, that'd be great, but it's such a fruity and campy little piece of excrement that it has to be considered a complete failure.
---
The Blu-ray Grades: Picture B/ Audio B/ Bonus D-
---
Barbarella appears in an aspect ratio of approximately 2.35:1 on this Blu-ray Disc. Aspects of the transfer looked great, but it lacked consistency.
Overall sharpness was quite good, as the majority of the film showed solid clarity and accuracy. However, some shots looked a bit soft; many of those related to visual effects, but others didn't seem as easily explained. In any case, most of the flick appeared concise and accurate.
I noticed no issues with jaggies or moiré effects, and edge haloes were absent. The film came with nice, natural grain but suffered from more than a few specks. These weren't major, but they distracted more often than I'd expect.
With its wild late 1960s psychedelic background, Barbarella boasted a dynamic palette. The film reproduced the vivid hues in a satisfying manner, as the tones always looked full and rich. Blacks came across as dark and deep, while shadows demonstrated reasonable clarity; a few were a bit dense, but those were exceptions to the rule. The minor concerns made this a "B", but it was a very good "B".
Similar thoughts greeted the lively Dolby TrueHD monaural soundtrack of Barbarella. Dialogue often suffered from bad dubbing – in particular, the speech of Ugo Tognazzi appeared out of synch with the action - but the lines were always intelligible. They could be a bit flat or dull, but they weren't terrible if you got past the poor looping.
Effects lacked much range. They were usually fairly clear, though they could be a bit shrill in terms of high-end elements. On the other hand, the score and songs sounded terrific. These showed very good reproduction and strong depth. The music alone made this an above-average mix for its age.
How did the Blu-ray compare to the original DVD from 1999? Both showed improvements. The audio remained limited due to age, but the Blu-ray sounded warmer and fuller. Visuals came across as cleaner, better defined and more vivid. This was a nice upgrade.
Virtually no extras appear here. We get the film's theatrical trailer - and that's it. I would have liked an audio commentary to hear someone try and rationalize this mess.
And a mess it is - a rather unwatchable one, too. Although Barbarella offers some cheap thrills via sexy shots of Jane Fonda, that's about all it has going for it. The Blu-ray delivers pretty good picture and audio but lacks real supplements. This ends up as a nice presentation of an awful movie.
| | |
| --- | --- |
| Viewer Film Ratings: 4 Stars | Number of Votes: 4 |