Academy Awards: Nominated for Best Picture-Michael Shamberg, Best Supporting Actress-Glenn Close, Best Screenplay Written Directly for the Screen-Barbara Benedek, Lawrence Kasdan, 1984.

Directed by Lawrence Kasdan. Starring Kevin Kline, William Hurt, Glenn Close, Tom Berenger, Jeff Goldblum, Mary Kay Place, JoBeth Williams, Meg Tilly.

Celebrate good friends, classic music, and ground-breaking moviemaking with the 15th Anniversary Collector's Edition of The Big Chill.

Experience the movie in digitally remastered stereo sound and a picture newly restored from the film elements. With a new featurette including up-to-date interviews with the cast and filmmakers, behind-the-scenes footage and hilarious scenes never before shown, this definitive special edition with take you straight to the heart of the reunion that made film history.

Join Kevin Kline, Glenn Close, William Hurt, Jeff Goldblum, Tom Berrenger, Mary Kay Place, Jobeth Williams and Meg Tilly as they reunite for the funeral of a college pal. During the weekend that follows, these friends compare their '60s ideals with the harsh reality of their lives in the '80s, and discover that in a cold world, you need your friends to keep you warm.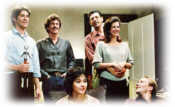 Every night before I go to bed, I get on my knees and thank God that my mother didn't bake this particular bun until well after the Baby Boom had ended. Has there ever been a more self-congratulatory, self-possessed, and self-obsessed group than THAT bunch? I certainly hope not.

Sound harsh? Maybe, but that's the message I got from watching The Big Chill. While the film isn't without its charms, it essentially comes down to nearly two hours of "deep talk" from a group of smug Boomers about their "ideals" and how they've changed since college.

You see, these friends, reunited after many years at a funeral for one of their group, have pretty much all gone on to become rather successful. We have a lawyer, a doctor, a magazine writer, a business owner, and a TV actor; of the friends, the only ones who aren't considered raging successes are the housewife (though she clearly leads a very upper middle class life) and the drug dealer (who WAS a success but he "lost his way").

Although all these people are doing quite well for themselves - none of them ever ate any government cheese! - they all seem unsatisfied because they're not living up to their '60s radical expectations of themselves. Lawyer Mary Kay Place was going to be a public defender and rescue the unjustly accused among the lower income levels, but then she realized just how - gasp! - GUILTY many of those people actually were and turned to a high prestige firm in Atlanta. Jeff Goldblum was going to teach those forlorn "ghetto kids" in Harlem, but somehow he lost his way and now he - GASP! - writes for People magazine! Incidentally, we're supposed to view Goldblum as something of a failure because he writes for People instead of something like the New Yorker, I suppose, just as TV actor Tom Berenger is viewed as a buffoonish sell-out because he stars in a Magnum, PI-esque show.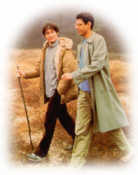 Well, please excuse me if I forgot my hanky. I'll shed no tears or feel no sympathy for these folks. They all seem so tremendously self-pitying as they mope around and talk about what they had planned to do back in the '60s. I'm not entirely clear what the point of this film is, other than to try and convince aging Boomers that they really aren't such sell-outs after all.
Because they rapped the entire enterprise in such lofty and smug idealism and they seem to be so obsessed with their youth, these Boomers never actually entertain the notion that hey, it's OKAY to change your views as you age! It's no crime to see the world differently when you're forty than when you were twenty. These folks all seem to feel so guilty that they've done well for themselves, as though success is some kind of sin. They cling to their '60s dreams like a Kennedy to a babysitter, and they refuse to even remotely consider the possibility that these ideals failed because they weren't terribly realistic. Mary Kay Place thinks she's a bad person because she went from seeing the criminals she assisted during her brief stint in a public defender's office as misfortunate victims to vicious scum; maybe that change occurred because the real world opened her eyes to a reality that differed from her paternalistic college concepts.
That's basically the outlook of the entire group. Occasionally drug dealer William Hurt makes some comments that actually smack of some rational thinking, but he's supposed to be viewed as bitter and cynical so we're supposed to ignore whatever he says. Strangely, after all these ideas are bantered about and debated to death, nothing gets resolved until a good old fashioned bout of '60s free love gives us a happy ending. Even self-hating William Hurt decides to turn his life around once he gets some! Ain't that terrific!
Possibly the worst crime of this film is that it takes a truly terrific cast and makes me dislike each and every one of them. Goldblum, Hurt, Kevin Kline, Glenn Close - these are some of my favorite actors, but I certainly didn't much like them here. That's especially true for Kline, who uses an on-again, off-again Southern accent ineptly and comes across as the most smug of a pretty insufferable bunch.
The film isn't a totally worthless affair. The writing possesses some wit and flair and makes the film semi-watchable despite its annoying characters. Plus, at 106 minutes, it's over fairly quickly; if this thing had been half an hour longer, I don't think I could have made it.
Well, if you've made it this far and you still have any interest in The Big Chill, you must already know that you like the film and have decided that I'm full of it and you just want to know if the DVD's any good. Unfortunately, I have to report that like the film itself, it's pretty disappointing.
Columbia Tristar (CTS) have made a name for themselves among videophiles by presenting some of the best-looking DVDs on the market. You wouldn't know that from their transfer of The Big Chill. While the DVD case touts that the disc was taken from a "picture newly restored from the film elements," you wouldn't know that by looking at it. Occasionally, some scenes look sharp and vivid, but for the most part, the image appears drab, fuzzy, and lifeless. It's not unwatchable, but it's one of the worst DVD pictures I've yet seen, with consistently soft, flat images.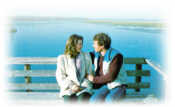 It's a good thing this DVD provides the option to listen to the film in either Dolby Digital 5.1 or Dolby Prologic 2.0 sound, because there's almost no difference between the two. To be frank, I was at least 30 minutes into this film before I heard any proof that it wasn't MONO! The 5.1 mix adds the tiniest amount of surround usage; it's not directional, but it's there, which it doesn't seem to be on the 2.0 version. Stereo effects from the front channels mainly seem reserved for the occasional car that exists stage right or left. This film possesses a famed soundtrack, but the music doesn't get much of a treatment here; again, it comes off as glorified mono with absolutely no use of the rear channels. While I didn't expect this audio mix to challenge my system, I certainly expected more than THIS!
One area in which this DVD succeeds to a fair extent is in its supplemental materials, although even those should probably be called The Big Tease. Few films have more famous deleted scenes than The Big Chill. Originally, a "flashback" ending was shot, but it was scrapped before the film was released. Ordinarily, this would not mean much to most people, except that the actor cast as Alex (the friend whose funeral brings the crew together) was none other than Kevin Costner!
When I (and probably everybody else) saw that this DVD included deleted scenes, I thought "Great! We'll finally get to see the Costner stuff!" Unfortunately, that ain't the case. The seven or so minutes of extra footage mainly consists of comedic material that would have come early in the film; not a glimpse of The Postman in sight!
While the pleasant retrospective documentary discusses these Costner scenes, no samples of them are offered, and no rationale for why they remain unseen is given. Did the film get destroyed? Does Costner not want it shown? Does director Larry Kasdan just no longer like the bit? I have no idea; his comments offer no explanation as to why they were not included on this DVD.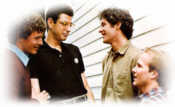 Despite that omission, the documentary is the best thing about this DVD. One pleasant surprise: it's 55 minutes long, not 30 as listed on the DVD case. It includes recent interviews with all the cast members (save Costner, of course) and the principal crew. It's all more entertaining than the film itself, especially a bizarre piece of archival "behind the scenes" footage that shows Kline and Goldblum speaking to the interviewer with Scottish accents; it's so funny that I wish IT lasted 106 minutes and the film only went on for about two!
Finally, the DVD contains a theatrical trailer. Strangely, it's not the trailer for The Big Chill; it's an ad for Silverado, which was also directed by Kasdan. Okay, I would understand if that trailer were included along with the one from The Big Chill, but to give us JUST the Silverado promo? Weird!
Overall, I found the DVD release of The Big Chill to be a disappointing package. Even if you discount my dislike of the film itself, this DVD fails on the most basic count: it simply doesn't look very good, and the sound mix also is quite limited. While the supplemental materials are really very good, even they falter by some strange decision-making. If you like this film, go for it - you probably stopped listening to my opinion back during the second or third paragraph. If you're on the fence, however, I'd recommend that you pass on this less than terrific DVD.