Blade II appears in an aspect ratio of approximately 1.85:1 on this single-sided, dual-layered DVD; the image has been enhanced for 16X9 televisions. If any flaws appeared during Blade II, I couldn't find them, as I thought the DVD offered a terrific visual experience.
Sharpness looked excellent. At all times, the movie remained crisp and distinct, and I noticed virtually no examples of softness or fuzziness. Jagged edges and moiré effects created no distractions, and I also discerned no signs of edge enhancement. As for print flaws, they seemed totally absent during this clean and fresh presentation.
The DVD replicated the stylized palette of Blade II terrifically well. The hues always appeared vivid and distinct, and the movie handled some instances of colors with aplomb; those scenes remained tight and lacked any signs of bleeding or noise. Black levels looked deep and rich, while shadows appeared appropriately heavy but never became excessively dense. Chalk up this picture as a total winner.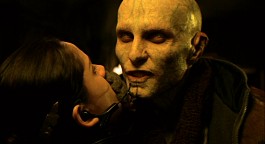 I also felt very pleased with the soundtracks of Blade II. The DVD included both Dolby Digital EX 5.1 and DTS ES 6.1 mixes. Most of the time these days I fail to discern any substantial differences between DD and DTS tracks, as the gap between the two appears to have narrowed significantly. However, exceptions do occur, and Blade II offered one of those instances. The DTS mix seemed noticeably stronger in this case. I'll initially discuss the DTS track, and then I'll relate the ways in which I thought the two differed.
From start to finish, Blade II featured demo-quality audio. The soundfield offered an exceedingly active environment. All five channels received almost constant use, whether for the very vivid action sequences or just to provide generally spooky music and ambience. The different elements seemed nicely delineated and placed within the spectrum, and they blended together smoothly and cleanly. The surrounds played a very substantial role in the process and provided a high level of discrete information. As a result, the soundfield consistently gave us a lively and engaging presence.
Audio quality also seemed terrific. Dialogue sounded natural and distinct, with no signs of edginess or problems related to intelligibility. Music appeared bright and vivid, and the score and songs demonstrated solid dynamics; highs came across as crisp and clear, while low-end sounded deep and warm. Effects provided the highlights of the track, of course, as the myriad of elements kept the mix active. Those components sounded clean and accurate and they featured excellent low-end response. Bass consistently appeared loud but it remained tight and never became overwhelming; that spectrum accentuated the process and didn't become a distraction. The DTS mix for Blade II impressed me so that it narrowly missed out on an ever-elusive "A+" rating.
On the other hand, the Dolby Digital track settled for an "A-". What differentiated the two mixes? I felt that the DTS version simply seemed more natural. Both appeared very active, the DTS blended together a little more smoothly, and the audio quality sounded more realistic. The DD track came across as slightly metallic at times and didn't seem quite as rich and vibrant. To be sure, the DD edition worked quite well, but I definitely preferred the stellar DTS track.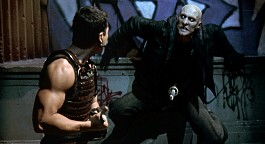 This two-DVD release of Blade II packs a solid roster of extras. Most of those reside on the second disc, but DVD One includes some good material. We start with two separate audio commentaries. The first comes from director Guillermo Del Toro and producer Peter Frankfurt, who were recorded together for this running, screen-specific track. They offered a very chatty and entertaining discussion that nicely fleshed out the film. Del Toro dominated the piece; Frankfurt tossed in a modicum of information, but he mainly served to amusingly mock some of the movie's weaker points. Del Toro also demonstrated a refreshing tendency to criticize parts of the flick, and he provided scads of other information as well. The director discussed story issues, comparisons with the original movie, technical issues, effects, working with the actors, and many other topics. I especially liked his notes about how anime influenced his style here. Overall, the commentary seemed very lively, honest and stimulating.
The second audio commentary provides remarks from writer David Goyer and actor Wesley Snipes, both of whom also were recorded together for their running, screen-specific presentation. Though not as useful as the first commentary, Goyer and Snipes added some good material. Their remarks dealt more heavily with daily production issues, and they also went into stronger comparisons between the two films. A lot of nice notes popped up along the way, such as the identity of a major music star who almost did a cameo. The two men kept things light and engaging along the way and created a generally fun and entertaining discussion.
In addition, DVD One features an isolated score. Presented with Dolby Digital 5.1 sound, the piece doesn't include any commentary from the composer. That made the track less useful for me, as I'm not a big fan of movie music, but those with an interest in that material should be happy to get this bonus.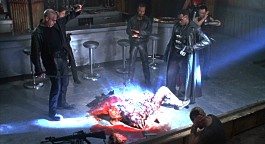 As we move on the DVD Two, we discover a slew of additional extras. Most of these appear within the "Production Workshop" domain. First up we get The Blood Pact, a solid documentary that tosses in some branching material as well. The main show lasts a whopping 83 minutes and 25 seconds and uses a pretty standard format. In addition to some clips from the movie, we see many shots from the set as well as interviews with director Del Toro, writer David Goyer, producer Peter Frankfurt, production designer Carol Spier, visual effects supervisors Nick Brooks and Blair Clark, prosthetics and creature coordinator Mark Boley, prosthetics and creature effects supervisor Steve Johnson, costume designer Wendy Partridge, fight choreographer/actor Donnie Yen, stunt coordinator Jeff Ward, composer Marco Beltrami, and actors Wesley Snipes and Luke Goss.
Though "Pact" does include some movie scenes, these fill very little time. Most of the program either shows the interview participants or depicts footage from the shoot. Both elements combine to give us a pretty rich and lively look at the creation of the film. The show runs most of the important topics. From the project's origins through effects through production design through costumes through fight choreography through most everything else, "Pact" covers a lot of bases, and it does so in a well-drawn and vivid manner. If I had to pick a flaw, it would come from the omission of the actors; we hear from too few of them. Otherwise, "Pact" provides a strong documentary.
Ala the DVD release of From Hell, "Pact" includes some branching material. Periodically during the program, an icon pops onscreen. Hit "enter" on your remote and you can watch a related segment. The material also appears separately on the DVD, so you don't have to watch it while you check out "Pact".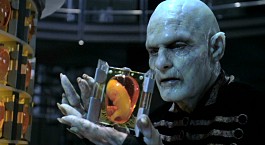 Five of these segments show up on the disc. They first four run between 73 seconds and five minutes, 19 seconds for a total of 16 minutes and 10 seconds worth of material. The fifth includes a text glossary of the different percussion instruments.
The first two segments of the branching section mainly focus on interviews, and they feel very similar to the material found in the main documentary. Actually, I'm not sure why they weren't simply incorporated into that piece, as they offer some good information. The third shows interesting production footage of the "Damaskinos Blood Bath" sequence, while the fourth offers an alternate musical cue for one scene. Overall, these segments provide some worthwhile material.
The next part of the "Production Workshop" domain offers six Sequence Breakdowns. Each of these gives us a mix of ways to examine the different scenes involved. Though not all options come with each segment, usually we can read both the original script and the shooting script. We can watch stillframe materials in the "storyboards/FX breakdowns" and also check out the final result from the film. All of these give us a nice feeling for the background and creation of the different segments.
Additionally, each scene features clips "on the set". Those clips last between two minutes, 52 seconds and five minutes, 49 seconds for a total of 28 minutes and 56 seconds of scenes. These include raw video footage from the shoot, and they also provide some impromptu commentary from the photographer as well as text subtitles that add information about the material. The featurettes tend to provide a fairly technical emphasis, which seems fine, especially since the "Blood Pact" documentary offers a more general orientation. I enjoy pieces with this kind of "you are there" feeling and think these work fairly well.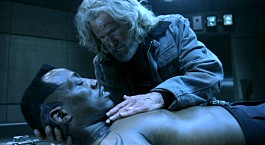 As we continue in the "Production Workshop", we encounter the "Visual Effects" domain that splits into three programs. Synthetic Stuntmen lasts six minutes and four seconds as it discusses the use of computer generated stuntmen. We see lots of good footage from the set and from the effects perspective as well as hear interviews with Del Toro, visual effects supervisor Bill Clark, visual effects producer Edward Irastorza, and visual effects supervisor Craig Hayes. I don't think they achieved convincing artificial stuntmen, but I still enjoyed this look at their work.
In The Digital Maw, we briefly visit Tippett Studios for a look at the wide-open mouth effect for the reaper. We hear from Bill Clark as he leads us through the process. The featurette lasts three minutes, 25 seconds and provides a nice little examination of the work.
According to the text that precedes the next program, special makeup designer Steve Johnson kept director Del Toro informed of his work through videotaped Progress Reports. The program lasts a whopping 53 minutes and five seconds as we examine different practical effects like the reaper fetuses, all elements of the dead reaper for the dissection scene, the spine used for the House of Pain sequence and elsewhere, a detailed Whistler dummy and some other similar molds, and a mix of other number of other pieces. We also hear comments from Johnson and many other unnamed workers. Hey, we even get to watch a bodycasting session with a fairly unhappy looking Kris Kristofferson! To some, this long piece may seem like overkill, but I don't think you can ever have too much material on a DVD; I prefer too much detail to too little. The "Progress Reports" add a very cool element to the package.
After that the "Production Workshop" moves on to the "Notebooks" domain. The Director's Notebook starts with a quick video introduction from Del Toro, and then we get to walk through a stillframe gallery of nine screens of material from his personal notebook.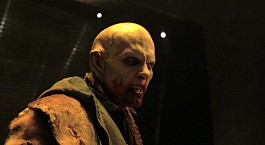 Next we find the Script Supervisor's Notebook. It covers 206 screens as we see mostly polaroids from the set, as well as some scribblings from script supervisor Claudine Strasser and others. Lastly, the Unfilmed Script Pages offers a look at three different scenes that weren't shot. Or were they? In the DVD's "Deleted Scenes" area, we see a version of "Whistler and Blade's First Meeting". The two aren't identical, but they seemed close enough. In any case, the notebooks and the script excerpts provide some interesting material.
Finally, we come to the last portion of the "Production Workshop", the Art Gallery. A collection of stillframe materials, this one splits into six subdomains: "Sequence Concepts" (42 images), "Props and Weapons" (22), "Costume Design" (9), "Set Design" (17), "Character Design" (116), and "Storyboards" (134). I particularly liked the "Character Design" pictures, as they detailed the evolution of the reaper concept, but all the areas seemed compelling.
The next section of the DVD provides 16 Deleted and Alternate Scenes. Presented anamorphic 1.85:1 with Dolby Digital 5.1 sound, the clips last between 20 seconds and three minutes, 25 seconds for a total of 24 minutes and 28 seconds of material. At the start of this area, we get a quick video introduction from director Del Toro, who amusingly tells us that we're about to watch a bunch of crappy shots. I agreed with him for the most part, as the majority of the footage seemed pretty lackluster and irrelevant. Still, it was good to have a look at these clips, especially the bizarre footage of Damaskinos with a really bad wig.
You can watch the deleted/alternate scenes with or without commentary from Del Toro and producer Frankfurt. As with their main commentary, they remain lively and engaging here. Del Toro's a riot, and he happily slanders his excised footage. In addition, the pair make sure we know the background for the clips and why they didn't make the cut. The commentary definitely merits a listen.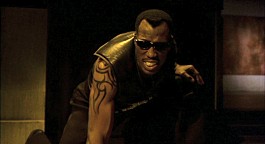 The final section of DVD Two includes "Promotional Material". We start with the Blade II Video Game Survival Guide. Essentially this gives us little more than a trailer for the game. It tosses in some instructions but doesn't seem to provide any real hints, so it appears pretty useless even for those who play the game. If that isn't you, the piece becomes even more pointless.
In the Theatrical Press Kit we get three smaller subareas. "About the Cast" provides fairly decent biographies for actors Wesley Snipes, Kris Kristofferson, Norman Reedus, Leonor Varela, Luke Goss, Ron Perlman, Matthew Schulze, Thomas Kretschmann, Danny John Jules, Tony Curran, Donnie Yen, Marit Velle Kile, and Daz Crawford. "About the Filmmakers" gives us similar information for director Del Toro, producers Frankfurt and Patrick Palmer, screenwriter/executive producer David S. Goyer, production designer Carol Spier, costume designer Wendy Partridge, editor Peter Amundson, composer Marco Beltrami, and director of photography Gabriel Beristain. Finally, "About the Production" offers reasonably useful coverage of the project.
In addition to the film's teaser and theatrical trailers - both of which appear anamorphic 1.85:1 with Dolby Digital 5.1 sound - we get a music video for "Child of the Wild West" by Cypress Hill and Roni Size. The piece uses some of the standard format - we see snoppets of the movie and some lip-synching - but it's a little more clever than usual, as we also watch "funkamedics" run around town and revive people with music. Neither the video nor the song seem great, but they're both above average for their genres.
In addition to all of this, Blade II adds some DVD-ROM materials that are split between the two discs. DVD One includes "Script to Screen" lets you read the original script while you watch the movie; the video runs in a small screen on the left as the text displays on the right half of the screen. The "Hot Spot" sends you to a New Line site that apparently offers revolving pieces of information and activities. When I tried it, I went to a short trivia game for The Lord of the Rings; you might get something different.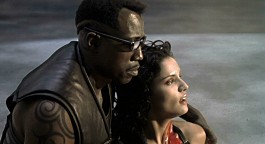 Moving to DVD Two, we get a link to the movie's "Original Website". This packs most of the site onto the DVD, which makes it nicely easy to access. However, you'll still need Internet access to get to some of the components. This platter also includes the "Hot Spot", but you must go back to disc one for "Script to Screen".
One nice touch: virtually all of the DVD's extras include English closed-captions. Paramount consistently provides subtitles, but very few other studios offer any form of text for the supplements on their DVDs, so I liked their inclusion here.
While not quite as terrific as the original movie, Blade II still offered a solid comic book adventure. The film needed stronger characterizations, but it nonetheless managed to provide lots of brisk and lively action and it worked quite well for the genre. The DVD is one of the best on the market. It features excellent picture and sound along with a terrific roster of extras. Anyone with even a remote interest in Blade II should eagerly grab this sterling DVD - it's a lock to remain one of the absolute best releases for 2002.