Reviewed by Colin Jacobson (January 28, 2009)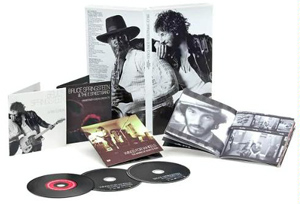 Although Bruce Springsteen has produced arguably superior albums since 1975, that year's Born to Run remains his most iconic work. Run broke him as a popular artist and established him with a mass audience. 1984's Born in the USA sold better, but Run stands as Bruce's best known and probably most popular record.
Notoriously stingy when it comes to releasing nuggets from his archives, Bruce opened up a bit for Run's 30th anniversary. Fans who want outtakes from the recording sessions will be disappointed by Born to Run: 30th Anniversary Edition, but those who want some video material will get into it.
As you'll note if you look to my grades below, I decided not to give Run a rating for extras. That's because I couldn't really decide what would qualify as "bonus" material here. Is the CD the main element and the DVDs supplements? I didn't agree with that, so I figured it'd be best to consider the whole thing as the main program and not bother with a grade for extras.
First things first: the album. As I noted earlier, I don't consider Born to Run to be Bruce's strongest release. I'd definitely take 1978's Darkness on the Edge of Town and 1980's The River over Run, and on some days, I'd argue that 1982's Nebraska and 1987's Tunnel of Love better it as well.
That doesn't mean Run isn't a terrific album, though. It may not quite deserve its status as Bruce's ultimate classic, but it certainly works awfully well. Overexposed as they may be, the "hits" of "Born to Run", "Thunder Road", and "Jungleland" remain great tunes, and everything else about the album succeeds as well. There's not a dud to be found on this satisfying record.
I owned the first Run CD from the mid-Eighties and it was a disaster. The album's gone through a couple of remasterings since then, though there's only so much engineers can do. Like George Harrison's All Things Must Pass, you have to take Run on its own merits and accept that parts of it will remain a sonic mess. Bruce wanted that dense "wall of sound" pioneered by Phil Spector – who produced Pass, by the way – and this meant that Run came with a lot of murk.
The new CD makes things sound about as good as ever, for what that's worth. The album shows pretty good sonics within the constraints of the source material. I'll never expect Run to shine, but this CD works well.
As for the rest of the package, the big attraction comes from Hammersmith Odeon London 1975. This offers a full length recorded during the tour to support Run. Odeon presents 16 tracks with a running time of two hours, nine minutes and 30 seconds. Off of Bruce's 1973 debut Greetings from Asbury Park NJ, we get "Lost in the Flood", "Spirit in the Night", "For You" and "It's Hard to Be a Saint in the City", while 1973's follow-up The Wild, The Innocent and the E Street Shuffle produces "Kitty's Back", "The E Street Shuffle", "Rosalita (Come Out Tonight)" and "4th of July, Asbury Park (Sandy)". Run itself gives us the title track, "Thunder Road", "She's the One", "Jungleland", "Tenth Avenue Freeze-Out" and "Backstreets". Finally, we get some covers via Bruce's take on Gary "US" Bonds' "Quarter to Three" and a mix of hits in the "Detroit Medley".
That's a heck of a setlist circa 1975, and it creates a terrific concert. I was too young to see Bruce live back in that era, not that I expect I would've been interested anyway. I didn't become a fan until a decade later, so a 1985 stadium show was my first exposure to Bruce as a live performer. Odeon lets me see what I missed. (At least I've made up for lost time, as I've gone to 62 Bruce shows since 1985.)
For some reason, the London 1975 concerts got a bad reputation over the years, though I think a lot of that came from Bruce's self-assessment. He was under a lot of "new Dylan" pressure at the time and was clearly upset about all the hype that accompanied his first visit to the UK. After this, the general thought was that he and the E Street Band didn't do their best work at these concerts.
Since I don't have other 1975-era concerts to which I can compare Odeon, I can't evaluate how it matches up with its tour mates. On its own, at least, Odeon produces a dynamic and satisfying show. The first half of the concert works the best, largely because of the musical choices. A gentle, piano-oriented "Thunder Road" starts things on a fine note, and the full band "Tenth Avenue Freeze Out" immediately brings great punch to the program.
Matters continue to progress well from there. "Spirit In the Night" is rollicking, goofy fun in a live show, and the relentless "Lost In the Flood" caps it with a more intense, somber note. "Flood" doesn't work all that well on the Greetings album, but it's a killer live, and this incendiary version demonstrates why that is.
The rolling Bo Diddley beat of "She's the One" keeps things cranking, and we get a nice take on "Born to Run" before it became an anthem. It's interesting to hear the song in this setting, as it was just another new track back then, not Bruce's most famous and beloved tune. "E Street Shuffle" slows things down a bit; it's never been a great song, and this show's version makes it a little too logy for my liking. However, the show soon rebounds, as the one-two punch of "It's Hard to Be a Saint in the City" – with a terrific guitar duel – and the always impassioned "Backstreets" gives us more fine material.
After that, Bruce missteps. "Kitty's Back" is one of my favorite Bruce tunes, and I was ecstatic when I finally heard it in person during a 2003 Philadelphia concert. Unfortunately, the Odeon version is a dud. Bruce extends "Back" way past its point of expiration, as the track lasts an interminable 16-plus minutes. Actually, it's not the length that's the problem so much as the unending jazz noodling that creates the excessive running time. Yeah, "Back" should be a long, exploratory song, but this rendition just is too much and it harms the show's energy.
At least a solid "Jungleland" helps return some fire to the show. Another classic that hadn't made it to iconic status yet, "Jungleland" sounds very good in this early version. "Rosalita" adds more kick to the show as it tries to reclaim the momentum lost after "Kitty's Back", and "Sandy" finishes the main set on a sweet note.
The encore proves a little less satisfying for me, mainly because I'm just not a big fan of Bruce's cover versions. "For You" is a quality original that proves emotional and memorable in its stripped-down incarnation here. (Funny - Greetings never did much for me as a studio album, but its tracks almost always sound great in the live setting.) I'm just not wild that Bruce sandwiched "For You" inside the "Detroit Medley" and "Quarter to Three". I know lots of Bruce fans love both of those, but whenever I hear them, I can't help but wish that Bruce was playing an original song instead. They're acceptably fun and obviously Bruce digs them, but neither does a lot for me.
Odeon offers a surprisingly good presentation. I must admit I figured we'd get lots of awkward camerawork and unappealing visuals, but the show instead looked quite professional. This is a well-shot performance that gives us a nice view of the proceedings. The post-production work is solid as well. Editing keeps things moving but never gives into any gimmicks or rapid-cutting techniques. We see a clear take of the action and feel like we're taking in the show as performed in 1975.
A few minor misfires aside, Odeon is a great document from an important stage in Springsteen's career. For more information about Born to Run as an album, we turn to this package's other DVD. Presented anamorphic 1.78:1 with the choice of both PCM stereo and Dolby Digital 5.1 audio, Wings for Wheels: The Making of Born to Run lasts 87 minutes and mixes archival materials with modern interviews. We hear from Springsteen, producer Jon Landau, former manager Mike Appel, engineer Jimmy Iovine, photographer Eric Meola and musicians Roy Bittan, Ernest "Boom" Carter, Clarence Clemons, Danny Federici, Nils Lofgren, David Sancious, Patti Scialfa, Garry Tallent, Steve Van Zandt, and Max Weinberg.
"Wheels" looks briefly at Bruce's first two albums and how they led toward and influenced Run. We get thoughts about the record's themes, tunes and lyrics, and Bruce gives us breakdowns of some tunes. We also learn about the guitar shown on the cover and see how Bruce composed the album's tracks on piano. In addition, the show views Landau's impact on Bruce and his work, aspects of the album's recording sessions, band changes, mixing and mastering the final product, the cover shoot, and the record's release. "Wheels" finishes with a look at the album's reception, the infamous Time and Newsweek covers, and the aftermath.
At the outset, "Wheels" starts slowly and can be a little tedious. We hear too much general info and praise for the album without the specifics we desire. However, the program soon improves and becomes quite good. We learn a lot about the various aspects of creating Run, and great deal of terrific archival material appears. We hear elements like an unused intro for "Jungleland" as well as alternate elements abandoned for "Born to Run".
A fair amount of nice analysis appears as well. The show digs into the aspects of writing and recording Run as it plows through that side of Bruce's career. To my surprise, it deals with the end of Springsteen's relationship with Appel, though it doesn't quite convey the rancor that occurred at the time.
I can't call "Wheels" a perfect program, as it doesn't discuss all of the album's songs, and it doesn't give us as much archival material as I'd like. While we find many nice elements, the fan in me really wants more; this hors d'oeuvre frustrates at times. Nonetheless, "Wheels" offers a good general view of Born to Run and entertains as it informs.