WARNER / NFL FILMS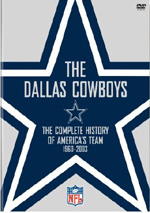 MOVIE INFO
Director:
NFL Films
Cast:
The Dallas Cowboys
Synopsis:
Ushering in the Era of the Tuna in Dallas, there is a renewed interest in "America's Team", the Dallas Cowboys. This two-disc set celebrates the glorious history of the Dallas Cowboys, from the inception in 1960, through the first days in training camp 2003. Bonus disc is the 70 minute highlight program of the NFC Championship Game of 1992, in which Dallas beat the 49ers and kicked off its Super Bowl run of the 1990s - one of the greatest Cowboy games.
MPAA:
Rated NR


DVD DETAILS
Presentation:
Fullscreen 1.33:1
Audio:
English Dolby Stereo
Subtitles:
English
Closed-captioned

Runtime: 73 min.
Price: $26.95
Release Date: 11/25/2003

Bonus:
Disc One
• "1979 Redskins-Cowboys Shootout" Featurette
• "Thomas 'Hollywood' Henderson" Featurette
• "Cliff Harris and Charlie Waters" Featurette
• "Ed 'Too Tall' Jones" Featurette
• "Bill Bates" Featurette
• "Bill Parcells' First Dallas Win" Featurette
Disc Two
• "1992 NFC Championship: Cowboys Vs. 49ers" Documentary
• "Super Bowl XXVII Recap"
• "Troy Aikman" Featurette




COMPARE DVD PRICES

EQUIPMENT
Sony 36" WEGA KV-36FS12 Monitor; Sony DA333ES Processor/Receiver; Panasonic CV-50 DVD Player using component outputs; Michael Green Revolution Cinema 6i Speakers (all five); Sony SA-WM40 Subwoofer.


[an error occurred while processing this directive]
---
Dallas Cowboys: The Complete History Of America's Team (1960-2003)
---
Reviewed by Colin Jacobson (February 27, 2004)

Taken individually, the words "Dallas" and "cowboys" provoke no reaction from me. Actually, I rather like the state of Texas and think Dallas is a fine town. However, when you combine the two, a feeling of revulsion overcomes me. Such it must be – as a lifelong resident of the DC area and longtime fan of the Washington Redskins, this is the natural order of things.

Despite my distaste for most things related to the Cowboys, I decided to take a look at a documentary called The Dallas Cowboys 1960-2003. For Redskins fans, this title seems appealing, as it makes it sound like the Cowboys died in 2003. Too bad that's not the truth, as the franchise continues to prosper, a subject touched upon in this program.

Not surprisingly, Cowboys starts at the franchise's beginnings as an expansion team in 1960. We learn that the Cowboys were the first ever NFL expansion team and that they were made up of cast-offs from the other squads. The program then moves through the team's struggles in their first few years until they finally hit .500 in 1965 and then ran off a string of 20 consecutive winning seasons.

Among other topics, the program touches upon standout players in the first decade and the team's burgeoning reputation as "next year's champion", the franchise that couldn't win the big one. We hear of the quarterback controversy between Craig Morton and Roger Staubach and finally see the Cowboys win a championship with Super Bowl VI. The show follows the arrival of superstar Tony Dorsett and the team's victory in Super Bowl XII.

After an interlude to examine the self-anointed title of "America's Team" and innovations in the front office and with the Cheerleaders, we head back to the field to look at the Cowboys' rivalry with the Redskins. We also get a spotlight on some players like Staubach and Dorsett before we see the team's also-ran status in the early Eighties and their failures in the second part of the decade.

Most of the rest of the show concentrates on the team's return to glory in the Nineties. We see Jerry Jones' purchase of the team in 1989 and his hiring of Jimmy Johnson as head coach. The program highlights the important Herschel Walker trade, its results, and the legendary offensive tandem of quarterback Troy Aikman, running back Emmitt Smith, and receiver Michael Irvin. This leads to their victories in Super Bowls XXVII and XXVIII, the departure of Johnson and the arrival of Coach Barry Switzer, and their final return to championship glory with Super Bowl XXX. Finally, the program quickly runs through the years between then and now, right up to the 2003 season and the introduction of Bill Parcells as the new head coach.

Cowboys follows the team through a mix of football footage and interviews. Shot over a number of years, the comments mostly come from various Dallas players and personnel. We hear from head coach Tom Landry (1960-1989), linebacker (1960) Tom Braatz, president/general manager Tex Schramm (1959-1989), quarterback (1960-1968) Don Meredith, linebacker (1963-1976) Lee Roy Jordan, defensive tackle (1961-1974) Bob Lilly, guard (1966-1974) John Niland, receiver Pete Gent (1964-1968), tight end (1962-1970) Pettis Norman, quarterback (1965-1974) Craig Morton, quarterback (1969-1979) Roger Staubach, running back (1969-1974) Calvin Hill, running back (1970-1971) Duane Thomas, running back (1966-1974) Walt Garrison, defensive back (1970-1978, 1980-1981) Charlie Waters, receiver (1973-1983) Drew Pearson, quarterback (1976-1988) Danny White, assistant coach Dan Reeves (1970-1980), quarterback (1974-1975) Clint Longley, defensive tackle (1975-1988) Randy White, defensive end Harvey Martin (1973-1983), personnel director Gil Brandt (1960-1988), running back (1976-1987) Tony Dorsett, cornerback (1981-1989) Everson Walls, running back (1986-1989, 1996-1997) Herschel Walker, owner/president/GM Jerry Jones, head coach Jimmy Johnson (1989-1993), quarterback (1989-2000) Troy Aikman, receiver (1989-1999) Michael Irvin, and coach Dave Campo (assistant coach 1989-1999, head coach 2000-2002).

In addition to Dallas personnel, we get some remarks from others connected to the story. These interviews come from Dallas Morning News writer Frank Luksa, Redskins linebacker Sam Huff, author/former NFL player Tim Green, Redskins quarterback Billy Kilmer, football historian Dan Daly, Redskins quarterback Joe Theismann, Redskins defensive tackle Diron Talbert, and Sports Illustrated writer Peter King.

Cowboys provides a reasonably efficient and detailed examination of the team, though it suffers from a mix of flaws. Most of these come from the rather sugarcoated feel to the project. Don't expect much depth to the information here, as it mostly attempts to accentuate the positive. The show glosses over failures like the team's three Super Bowl losses, and it totally neglects to address the controversy that followed the firing of Tom Landry when Jerry Jones bought the team. That event caused a major ruckus, but you'll not hear a whiff of that here.

Actually, the show mostly pretends that the Eighties didn't exist. Not counting the current decade, that was the only 10-year term in which the Cowboys failed to make a Super Bowl. The program points out some of the team's positive moments in that period, but mostly it rushes through the era to get to the franchise's massive success in the Nineties.

Not surprisingly, the early Nineties dominates much of Cowboys. The boom years of the Seventies get their due, but the program really grabs hold of the Aikman/Smith/Irvin era and gnaws it to pieces. Again, all of this comes across as a superficial air that makes the program feel less like a documentary and more like a love letter to fans. Nonetheless, that period gets the best exploration by far, which made me wish more of the show demonstrated such depth.

Actually, the program gives us a good look at the Cowboys' long-time rivalry with the Redskins. It delves into the historical background behind the animosity and digs into the George Allen-fueled hatred of the early Seventies. This area offers some of the show's most amusing and revealing moments.

Unfortunately, not a lot of that kind of material exists in Dallas Cowboys 1960-2003. The program gives us a generally rudimentary and fluffy look at the team's history that will mostly please their fans. For those of us who'd like a richer and more balanced take on the franchise, I guess we'll have to look elsewhere. Cowboys remains fairly interesting, but the emphasis on happy talk makes it less than scintillating.
---
The DVD Grades: Picture C-/ Audio C+/ Bonus B+
---
The Dallas Cowboys 1960-2003 appears in an aspect ratio of 1.33:1 on this single-sided, double-layered DVD; due to those dimensions, the image has not been enhanced for 16X9 televisions. The program never looked bad, but it presented fairly lackluster visuals.
Sharpness generally appeared adequate. Most of the footage came across as reasonably crisp and distinct, but more than a few shots displayed less than ideal definition. Some vague softness interfered with the presentation at times. I never saw anything that looked terribly fuzzy, but some examples were rather unfocused. Not surprisingly, the older footage presented the worst definition, but these problems showed up throughout all era. Jagged edges and moiré effects caused no concerns, but I saw light signs of edge enhancement. In regard to print flaws, I detected moderate grain and a mix of other issues such as specks, spots, lines, marks and hairs. These didn't seem excessive, but they did create some distractions.
Colors varied. At times they looked fairly vivid and vibrant, but much of the time they came across as fairly flat and subdued. These improved with newer images but remained somewhat problematic through the years. Black levels seemed fairly dense and deep, while shadow detail – a minor issue during the brightly lit games – appeared appropriately defined without too much thickness. Ultimately, Dallas Cowboys was watchable but no better than that.
Unsurprisingly, the Dolby Surround 2.0 soundtrack of Dallas Cowboys came across as acceptable but without much ambition. However, I must note that I didn't expect a lot of auditory excitement from this program. Narration and background score dominated this piece, so we didn't get any chances for fireworks. Dialogue dominated the show and remained oriented toward the front center. Music presented solid stereo presence over the front speakers, and the surrounds echoed the score moderately. Effects popped up minimally during some game footage but played a very minor role in the proceedings.
Audio quality seemed fine for this sort of program. The narration and interviews consistently sounded natural and distinctive, with no signs of edginess or problems connected to intelligibility. Effects played such a minor role in the show that I found it hard to judge their quality. They seemed acceptably accurate, but they never taxed the track at all. The score sounded clean and vibrant, with rich and dynamic replication of the music. Nothing about the audio stood out from the crowd, but the material seemed solid for this kind of piece.
For this two-disc set, we get a bunch of extras. A few show up on DVD One. We start with an archival piece about the 1979 Redskins-Cowboys Shootout. The eight-minute and 54-second program includes game shots plus comments from Tom Landry and Redskins players Joe Theismann and Mark Murphy. Since it presented a Redskins loss, I didn't enjoy the show, but it covered the contest well.
The next four featurettes illuminate us about specific Cowboys notables from over the years. We get programs about linebacker Thomas "Hollywood" Henderson (six minutes), safeties Cliff Harris and Charlie Waters (6:18), defensive end Ed "Too Tall" Jones (5:02), and safety Bill Bates (5:55). We see game footage and interviews with Dallas Morning News sportswriter Frank Luksa, Tom Landry, boxing analyst Larry Merchant, special teams coach Joe Avezzano, owner/GM Jerry Jones, and players Henderson, Harris, Waters, Hones, Bates, Randy White, Harvey Martin, Pat Haden, Roger Staubach, Drew Pearson, John Niland, Danny White, Dan Dierdorf, Daryl Johnston, Billy Davis, and Herschel Walker.
For the most part, the featurettes seem a bit puffy as they tell us of their subjects' greatness. Still, they offer some nice notes. The Henderson one tells the most compelling tale due to his drug abuse, but the others present intriguing moments as well. We learn about Bates' triplets – born right before the first training camp with Jimmy Johnson in 1989 – and the business effort run by Waters and Harris. Oddly, we don't hear about Jones' famous soft drink ad, but overall, these featurettes are reasonably informative.
DVD One ends with Bill Parcells' First Dallas Win. This 122-second program offers a quick recap of the Cowboys' September 15, 2003, victory over the Giants. It seems efficient but not terribly interesting.
Over on DVD Two, the main attraction comes from a documentary that looks at the 1992 NFC Championship Game between the Cowboys and the San Francisco 49ers. In this 70-minute and 31-second program, football action dominates. Essentially it shows most of the game minus any kind of on-field pauses. We hear the contest with the original commentary. Occasionally we also hear some retrospective remarks from participants; these include Cowboys coach Jimmy Johnson, Cowboys players Emmitt Smith, Troy Aikman, Charles Haley, Daryl Johnston, 49ers players Bill Romanowski, Steve Young, and Jerry Rice.
"Championship" offers a lot of fun, largely because of its simplicity. Though some of the usual ponderous narration occurs, we mostly hear and see the action as it unfolds. This creates a sense of momentum and excitement that the standard clip conglomeration lacks. The comments from the participants give us some good perspective and introspection. All in all, "Championship" offers a very good presentation.
Next we find a Super Bowl XXVII Recap. After the terrific NFC Championship Game, the Cowboys' battle against the hapless Buffalo Bills was almost anti-climactic. In this eight-minute and five-second featurette, we hear narration as we watch the game's major events. It doesn't try hard to make the 52-17 victory look like an actual contest, but it covers the game reasonably well.
Finally, we get another featurette that concentrates on Cowboys quarterback Troy Aikman. During the eight-minute and 38-second program, we see archival footage and hear comments from Aikman, Cowboys Director of Public Relations Rich Dalrymple, broadcaster Pat Summerall, Sports Illustrated writer Peter King, and Dallas Morning News writer Rick Gosselin. It's a fairly fluffy examination of his life and career, but it goes through the basics acceptably well, and Aikman's comments offer some minor insight. Footnote: in a nice touch, all the DVD's video programs present English subtitles.
Despite the rich history of the team in question, The Dallas Cowboys 1960-2003 offers an only intermittently compelling look at the franchise. It covers the highlights fairly well but glosses over too many subjects and occasionally feels like something meant just for big fans. The DVD presents acceptable picture and audio plus a nice set of extras that give us a nice examination of one big Cowboys victory. Dedicated Cowboys fans will like this puffy piece, but general football lovers probably won't think a lot of it.
| | |
| --- | --- |
| Viewer Film Ratings: 4.0227 Stars | Number of Votes: 44 |