LIONS GATE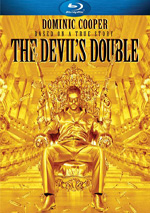 MOVIE INFO
Director:
Lee Tamahori
Cast:
Dominic Cooper, Ludivine Sagnier, Raad Rawi, Philip Quast, Mimoun Oaïssa, Khalid Laith, Dar Salim
Writing Credits:
Michael Thomas, Latif Yahia (and novel)
Tagline:
Play the part or suffer the consequences.
Synopsis:
Based on a gripping, unbelievable true story of money, power and opulent decadence, Lionsgate's The Devil's Double takes a white-knuckle ride deep into the lawless playground of excess and violence known as Baghdad, 1987. Summoned from the frontline to Saddam Hussein's palace, Iraqi army lieutenant Latif Yahia (Dominic Cooper) is thrust into the highest echelons of the "royal family" when he's ordered to become the 'fiday' – or body double – to Saddam's son, the notorious "Black Prince" Uday Hussein (also Dominic Cooper), a reckless, sadistic party-boy with a rabid hunger for sex and brutality. With his and his family's lives at stake, Latif must surrender his former self forever as he learns to walk, talk and act like Uday. But nothing could have prepared him for the horror of the Black Prince's psychotic, drug-addled life of fast cars, easy women and impulsive violence. With one wrong move costing him his life, Latif forges an intimate bond with Sarrab (Ludivine Sagnier), Uday's seductive mistress who's haunted by her own secrets. But as war looms with Kuwait and Uday's depraved gangster regime threatens to destroy them all, Latif realizes that escape from the devil's den will only come at the highest possible cost.
Box Office:
Budget
€15.000 million.
Opening Weekend
$96.414 thousand on 5 screens.
Domestic Gross
$1.357 million.
MPAA:
Rated R


DVD DETAILS
Presentation:
Aspect Ratio: 2.35:1
Audio:
English DTS-HD MA 7.1
Subtitles:
English
Spanish
Closed-captioned
Supplements Subtitles:
None

Runtime: 108 min.
Price: $39.99
Release Date: 11/22/2011

Bonus:
• Audio Commentary with Director Lee Tamahori
• "True Crime Family" Featurette
• "Double Down with Dominic Cooper" Featurette
• "The Real Devil's Double" Featurette
• Previews




PURCHASE @ AMAZON.COM

EQUIPMENT
Panasonic 50" TH-50PZ77U 1080p Plasma Monitor; Sony STR-DG1200 7.1 Channel Receiver; Panasonic DMP-BD60K Blu-Ray Player using HDMI outputs; Michael Green Revolution Cinema 6i Speakers (all five); Kenwood 1050SW 150-watt Subwoofer.


RELATED REVIEWS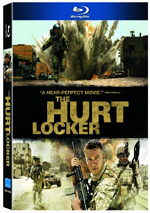 [an error occurred while processing this directive]
---
The Devil's Double [Blu-Ray] (2011)
---
Reviewed by Colin Jacobson (November 9, 2011)

Adventures in Bad Advertising for the day: 2011's The Devil's Double. When I first heard of this film, my exposure came from a poster I saw at the local multiplex. If you look in the upper left corner of this page, you'll see a facsimile of what it presented: an all-gold image of actor Dominic Cooper.

When I saw this, I thought it advertised a stand-up comedy concert film. I didn't recognize Cooper's name – I've only seen him in supporting roles and he didn't immediately "click" – so I thought he was some comic who was popular with a younger crowd. Hey, I always see previews for "Fathom Events", so I figured this might be one of those.

Imagine my shock when I read a review and found out Double was actually a drama about the family of Saddam Hussein. That revelation came as a surprise, but at least it made Double sound more interesting to me.

Set in Iraq circa the late 1980s, Lt. Latif Yahia (Cooper) gets summoned to meet with Saddam's son Uday (also Cooper). The pair knew each other as kids and were observed to look a lot alike. Uday remembers that resemblance and wants to recruit Latif as his double; this will allow Uday to maintain a public presence with less risk, as Latif can show up at dangerous spots instead of himself.

Latif doesn't want to accept the gig but Uday gives him an offer he can't refuse: either Latif takes the job or Uday's men will kill the Yahia family. Latif grudgingly agrees to the role, and after doctors make a few minor surgical alterations, he bears a remarkable resemblance to the Hussein child.

Physically, that is; in terms of personality, the quiet, stoic Latif has nothing in common with the silly, sadistic Uday, and that's an obstacle for the impersonator, for he needs to replicate Uday's personality. He also still finds himself at risk, for any minor transgression earns Latif massive punishment, and he constantly must make sure he follows the Hussein clan's idiosyncratic set of rules. He also must deal with potential assassins out to kill Uday. We follow Latif as he plays his role and decides how much of Uday's evil he can stand.

When Double succeeds, it does so due to Cooper. As I mentioned earlier, I've not seen him in much, and I mostly think of him as the hunky dude in - not exactly a performance that inspired me to expect much from him in a challenging dual role here.

To my surprise, Cooper performs ably as both men. He manages to create distinctly different personalities for each one but doesn't resort to cheap gimmicks or techniques along the way. Each part feels real and believable, as Cooper delivers high-quality work.

Unfortunately, the rest of the movie lets him down, as nothing else here does much to support Cooper's performances. Granted, I can't claim that the movie's bad outside of Cooper's acting, but I also can't claim it's particularly good.

Much of the problem stems from Lee Tamahori's too slick direction. Double feels like a movie that should be dark and gritty, not one with such a shiny feel to it. If you look at Tamahori's background, you'll mostly see big action flicks like Die Another Day and Taken. One might expect a factual story like Double to adopt a colder, crueler air, but it doesn't; even when the film indulges in sadism and depravity, it still maintains a glossy, superficial feel. We don't really feel the brutality; it's all too pretty to have an enormous impact.

The story fails to become particularly complex. In essence, we see that Uday's bad and Latif's good – end of discussion. One might expect Latif to show some moral ambiguity, to see his temptations, to view his difficulties staying on track.

Nope. We never sense any risk to Latif's soul, as he remains essentially the same from start to finish. This seems tough to swallow; while he didn't have to become amoral ala Uday, I'd have to imagine he'd have lost his compass occasionally. That doesn't occur on screen, so expect a cartoon tale of good and bad here.

The film's lack of complexity makes it a disappointment. Double provides an intriguing tale and Dominic Cooper does his best to make it work, but the story needs a deeper director, not someone who treats the material like just another action flick.
---
The Blu-ray Grades: Picture B+/ Audio B+/ Bonus B-
---
The Devil's Double appears in an aspect ratio of approximately 2.35:1 on this Blu-Ray Disc. Nothing about the image dazzled, but it looked fine.
Sharpness was usually strong. Occasional wide shots came across as a bit soft, but those instances remained rare. The majority of the flick appeared well-defined and distinctive. No concerns with jaggies or shimmering occurred, and I noticed no edge haloes. Print flaws created no distractions in this clean presentation.
Colors tended toward a golden tone. A few other tones appeared, but the vast majority of the flick opted for an amber tint. Within those stylistic constraints, the movie delivered clear, full tones. Blacks were dark and dense, while shadows seemed clear and distinctive. All of this was good enough for a "B+".
Similar thoughts greeted the good DTS-HD MA 7.1 soundtrack of Double. The mix started out fairly slowly but got better during its second half; that's when the Gulf War materialized and added battle elements to the mix. Prior to that, the track stayed atmospheric most of the time, and it still didn't go nuts, but the war sequences brought out a lot more activity and involvement to the track.
Audio quality was solid. Speech appeared distinctive and concise, without edginess or other issues. Music sounded clear and full, while effects seemed lively and dynamic. I thought this was a pretty positive mix.
When we head to the set's extras, we launch with an audio commentary from director Lee Tamahori. He provides a running, screen-specific look at visual design and the opening credits, various effects, story and characters, sets and locations, cast and performances, music, audio and editing, and some period details.
While not the world's most scintillating commentary, Tamahori delivers a more than competent chat. He does tend to fade as the movie progresses, but he still covers a good array of topics in this piece. We learn a reasonable amount about the production and his choices here, so it ends up as a useful discussion.
Three featurettes follow. True Crime Family goes for 16 minutes, nine seconds as it provides notes from Tamahori, UCSD Institute on Global Conflict and Cooperation Middle East Military Program Director Dr. Russell A. Burgos, producer Michael John Fedun, writer Michael Thomas, costume designer Anna B. Sheppard, production designer Michael Kirby, location manager Joseph Formosa Randon, and actors Dominic Cooper, Ludivine Sagnier, Dar Salim, and Jamie Harding. The program looks at the fact behind the movie's fiction, as we learn about the Hussein family and the adaptation of these events into the film. I'd like more emphasis on the real-life events and less on the flick, but this is still a reasonably informative piece.
Double Down with Dominic Cooper lasts eight minutes, 46 seconds and offers remarks from Cooper, Sagnier, Thomas, Tamahori, makeup designer Jan Sewell, visual supervisor Simon Giles, and the real-life Latif Yahia. The featurette concentrates on Cooper's dual performances as two characters and the technical methods used to bring this to life. Like "Family", this one has some fluff, but it contains enough good material to make it worthwhile.
Finally, The Real Devil's Double fills seven minutes, 44 seconds with info from Yuhia. He tells us about his life and the events depicted in the film. Less than eight minutes seems too brief, but we still get some interesting notes.
The disc opens with ads for Warrior, Conan the Barbarian, Red State, Pulp Fiction, and City of God. These show up under Also from Lionsgate as well but no trailer for Double appears.
With The Devil's Double, we get a look at potentially interesting events behind the scenes in Saddam Hussein's Iraq. Unfortunately, the film invests more in style than in substance, so it doesn't deliver the power expected. The Blu-ray provides solid picture and audio as well as a smattering of good supplements. Double deserves a look due to strong lead performances from Dominic Cooper, but the movie itself disappoints.
| | |
| --- | --- |
| Viewer Film Ratings: 4 Stars | Number of Votes: 1 |