WARNER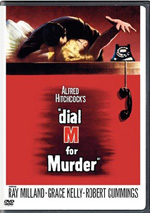 MOVIE INFO
Director:
Alfred Hitchcock
Cast:
Ray Milland, Grace Kelly, Robert Cummings, John Williams, Anthony Dawson, Leo Britt, Patrick Allen, George Leigh
Writing Credits:
Frederick Knott
Tagline:
If a woman answers ... hang on for dear life!
Synopsis:
When American writer Mark Halliday visits the very married Margot Wendice in London, he unknowingly sets off a chain of blackmail and murder. After sensing Margot's affections for Halliday, her husband, Tony Wendice, fears divorce and disinheritance, and plots her death. Knowing former school chum Captain Lesgate is involved in illegal activities, Tony blackmails him into conspiring to kill Margot. When she kills Lesgate in self-defense, Tony implicates her as being guilty of premeditated murder. Halliday must out-stratagize Tony to save Margot's live.
Box Office:
Budget
$1.4 million.
MPAA:
Rated PG


DVD DETAILS
Presentation:
Fullscreen 1.33:1
Audio:
English Monaural
French Monaural
Subtitles:
English
Spanish
French
Closed-captioned

Runtime: 105 min.
Price: $19.96
Release Date: 9/17/2004

Bonus:
• Hitchcock & Dial M
• 3D: A Brief History
• Trailer




PURCHASE @ AMAZON.COM

EQUIPMENT
Mitsubishi WS65315 65" TV; Pioneer VSXD409 Home Theater Receiver; Sony DVP NC665P 5 Disc DVD player; KLH Home Theater Speakers


[an error occurred while processing this directive]
---
Dial M For Murder (1954)
---
Reviewed by Brian Ludovico (December 13, 2004)

What would you do if you found out your significant other had been unfaithful? Contact your lawyer? Match their infidelity as revenge? Nothing?

When former tennis star Tony Wendice (Ray Milland) found out his wife Margot (Grace Kelly) had had an affair with American mystery novel writer Mark Halliday (Robert Cummings), the answer was almost to go OJ on her ass. She would pay with her life for her dalliances while he was on the long tennis tour around the world, as soon as he figured out a way to do it. The problem for Wendice was that he wanted to go free, of course, and he wanted to get his hands on Margot's money after her death. Tony had grown accustomed to the lavish lifestyle that being a tennis pro had afforded him, but in his retirement, he had trouble adjusting to the lower income. No, this wouldn't be a hot-blooded crime of passion; Wendice would deliver her fate with cold precision and walk away to tell the tale. Wendice would have to pull off the perfect murder to accomplish all of these malevolent goals.

Tony finds an ingenious way to rope in a local hood, a con man with a lot to hide, who needs money and needs it in a hurry. Tony offers this man, sometimes known as Captain Lesgate, a thousand pounds to snuff out his wife. He doesn't want Lesgate to smash open the door and hit his wife over the head with a pot while she screams for help. He offers Lesgate what sounds like an absolutely infallible plan, plotted out to every single last detail meticulously. If followed to the letter, Tony tells Lesgate, there is absolutely no risk involved for anyone except Margot. What's more, Lesgate can't refuse; Tony's got enough information on him to turn him over to the police for fraud, or worse, murder.

Tony's alibi is none other than Margot's old paramour, Mark. They'll go to a stag party together and when they come back, if the plan went off, they'll both find Margot dead at the same time. This will clear Tony of any wrong doing and mentally punish Mark. The big night arrives, and from the very beginning starts to go awry, as Margot won't easily agree to stay in the house while the two men are out. It's a sign of things to come, as a key mistake by Tony, something as tiny as over-winding his watch, throws the entire plan into disarray. The attempt on Margot finally does take place, but the results are quite unexpected: Margot kills her assailant.

Now Tony's got a problem he could never have seen in his meticulous planning: a dead body and a terrified wife in his flat. He immediately returns home and tries to fix things up, forms an impressive plan B, then calls the police. One bobby in particular, Chief Inspector Hubbard (Hitch stock player John Williams), takes to the situation rather quickly. The evidence all points to Margot as a first degree murderess. There was no forced entry, Margot lies to the police on her husband's advice, and worst of all, a solid motive. Margot is on her way to jail, and worse, unless someone figures out what actually happened.

Dial M for Murder is an absolutely delicious Hitchcock morsel that gets a little lost in the glare of his higher-profile projects. There's absolutely nothing really wrong with the movie; it's just that it isn't one of those immortal movies from an immortal director. It's not North by Northwest, or Rear Window. There's still plenty to appreciate here, though, starting with the performance by Milland. He really runs with the character, completely understating his menace and evil intentions and totally emphasizing his unflappability, all the way to the bitter end. At the core, Milland is a serpentine coward, but thanks to Hitch's direction and Frederick Knott's script based on his famous play, the ebb and flow of the audience sympathies never finds us completely rooting against Wendice until the end. It's one of the most unique qualities in this film, that movement of sympathy over all of the characters. The only one I never found myself rooting for was Halliday, because Cummings plays him without any panache.

The film also features one of my all time favorite actresses, the incomparably beautiful Kelly. Her performance seems a little theatrical here, a little exaggerated in spots, but as usual, she has a magnetic screen presence. In every movie I've seen her in, particularly her Hitchcock collaborations like Rear Window and To Catch a Thief, she's always imbrued with an intelligence and sense of humor that separates her from the usual "damsel in distress" types. She's put into some bizarre narrative situations, like the whole "litigation" scene, where there's really no way to succeed, which contributes to some of her stage-like performance.

As is the standard with Hitch films, there are some interesting visual themes, but they're pretty elementary. The main one is the way Hitch handles color and Margot. At the very outset, she's in a white linen dress sitting at breakfast with her husband. When she meets her paramour for the first time, even though they're no longer involved, she's in a red dress. The significance is of course the connotations of these colors. White, of course, is the color of a wedding gown, associated with good, purity, virginity, and chastity, to name a few. Red is…well, it's the color of the scarlet letter, isn't it? It's associated with promiscuity, prostitution, and the devil, among others. As the picture progresses, Margot's clothes become gray, dark, depressing, reflecting her possible fate.

No, it isn't exactly rocket science, but I like discovering these little tidbits about films that may not reveal themselves at first blush. One thing that did reveal itself pretty quickly is that Dial M for Murder doesn't really belong relegated to the second class of Hitch films. It's fantastically suspenseful, it's tightly directed and very true to its stage roots, and it's absolutely rewatchable. If this were any other director, it might be one of their crowning achievements, but when you're Alfred Hitchcock, it's just another entry in a long list of great suspense movies.
---
The DVD Grades: Picture C-/ Audio B-/ Bonus D+
---
Dial M for Murder appears in an aspect ratio of 1.33:1 on this single-sided, double-layered DVD; due to those dimensions, the image has not been enhanced for 16X9 televisions. It would, of course, be unfair to grade M against modern, digital-friendly fare like the Lord of the Rings pictures or some Superbit Michael Bay effects crapfest. It's important to remember that this movie was printed fifty years ago now, and those are the films we should be ranking this one against. Like baseball players, technical ratings should be relative to a film's peers; after all, one can't compare Mickey Mantle's accomplishments to Barry Bonds (the Mick drank but didn't do designer steroids). That said, I used the Hitchcock films under the Universal Banner, films like Rear Window, Vertigo and The Trouble With Harry as the benchmark against which to judge Warner Bros.' Dial M for Murder.
The quality doesn't compare quite as favorably as I'd hoped it would. By most accounts, the titles that Warner is releasing are squarely in the secondary tier of Hitchcock films, and they are treated as such. There isn't any evidence of a digital restoration attempt, and as a result, as with most movies over the age of 40, there's the pervasive layer of grain to contend with. It's the movie version of laugh lines if digital restoration is the film world's Botox. The size of this problem is directly proportional to the size of the display the film's viewed on. Obviously, grain looks grainier at 54" than it does at 27".
Color technology was in its relative infancy in 1954, so once again, expectations have to be damped down to a reasonable level. With that filter in place, colors on Dial M are pretty good, but the film doesn't offer a lot of challenges. The brightest the picture gets is the red dress in which Margot first reunites with Mark, which looks great, never bleeding outside of it lines.
Dial M for Murder is one of Hitchcock's more claustrophobic affairs, limiting itself in large part to the apartment, like the play the film is based on. The few exteriors of the movie are where we see some real problems with clarity and coloration. Check out Lesgate's murderous approach to the Wendice apartment; it's horrid. The film has a few of these screen backgrounds and the poor quality is very distracting.
Even for an older movie, the video isn't great. It's passable, but it's not something that the DVD collector is going to be overly impressed with. The audio is much the same way. The disc features a Dolby 2.0 monaural track, obviously devoid of directional effects, which means the only real concern is clarity. In that regard, Dial M for Murder is actually pretty successful. Dialogue certainly sounds like it's from the Fifties, with just the slightest hint of an analogue hiss, but only if one is really listening for it. The real beneficiary is the fantastic score by Dimitri Tiomkin, one of the best suspense film scores I've ever heard.
When it comes to bonus materials, don't expect a Criterion-sized bundle. In fact, don't expect a Universal-sized bundle, either. The volumes contained in the new Hitchcock Collection are all fairly light on the bonus materials, which means that M's pair of featurettes make it a standout. The first featurette is the seven minute A Brief History of 3-D, included here because Dial M for Murder was originally a 3-D production. The featurette goes on to explain how 3-D is filmed, why it came into being, and the reason for an intermission in a 105-minute film. For people into film history, this is quite an interesting piece.
Hitchcock and Dial M is a far more substantial piece, clocking in at twenty one minutes. This one details the genesis of the project, from its stage beginnings all the way through its current impact. As with most Hitch-related featurettes, there's no shortage of film cognoscenti to talk about things, including film critic Richard Schickel, dickie-wearer Peter Bogdanovich, film historian Robert Osbourne and director M. Night Shyamalan. Part of me feels bad for Shyamalan; it seems like every media outlet is trying to brand him with a 'next' label. They want him to be the 'Next Spielberg' or 'The Next Hitchcock.' Can't we just let him be the first Shyamalan? Or at the very least, let his films garner a little more acclaim than they have to date?
The final supplement is the 150-second theatrical trailer, which as trailers used to do in those days, stopped just short of describing the film as "The GREATEST ACHIEVEMENT IN THE HISTORY OF ALL ARTISTIC ENDEAVOUR, BAR NONE!" It's almost funny. When people complain that they don't make movies like they used to (I'm one of them), no one ever says "but the way trailers are made sure has improved." I much prefer contemporary trailer style to this bombast from days of yore.
No, Dial M for Murder, one of the eight new Hitchcock releases, isn't built for the technophile collector. The video is okay at best, the audio is passable, and the bonus materials are long on quality but far short on quantity. As the saying goes, "The play's the thing", at least in this case. The film itself is worth far more than the low asking price. I highly recommend Dial M for Murder to any classic film enthusiast, DVD quality be damned.
| | |
| --- | --- |
| Viewer Film Ratings: 4.6842 Stars | Number of Votes: 19 |