WARNER HOME VIDEO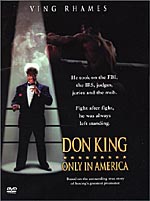 MOVIE INFO
Synopsis:
Director:
John Herzfeld
Cast:
Ving Rhames, Vondie Curtis-Hall, Jeremy Piven, Darius McCrary, Keith David
Writing Credits:
Kario Salem, based on the book by Jack Newfield
MPAA:
Not Rated.


DVD DETAILS
Presentation:
Fullscreen 1.33:1
Audio:
English Dolby Surround
Spanish Dolby Surround
French Dolby Surround
Subtitles:
English, Spanish, French
Closed-captioned

Runtime: 116 min.
Price: $19.98
Release Date: 7/9/2002

Bonus:
• Audio Commentary with Director Jack Herzfeld
• Audio Commentary with Writer Kario Salem and Executive Producer Thomas Carter
• Cast/Crew Bios
• Awards




EQUIPMENT
Sony 36" WEGA KV-36FS12 Monitor; Sony DA333ES Processor/Receiver; Panasonic CV-50 DVD Player using component outputs; Michael Green Revolution Cinema 6i Speakers (all five); Sony SA-WM40 Subwoofer.


[an error occurred while processing this directive]
---
Don King: Only In America (1997)
---
Reviewed by Colin Jacobson (Arpil 3, 2003)

Depending on one's point of view, Don King encompasses either the best or the worst of the American dream. On one hand, the garrulous boxing promoter overcame a prison sentence and a past as a low-level crook to become one of the world's most successful entrepreneurs. On the other, some would claim that the venue changed but the man stayed the same. They'd state that King achieved his wealth through methods that were less overtly criminal than those from his youth but that he remained the same sleazy thief he always was.

Both interpretations are probably correct. One can't deny that King is a remarkable man, a person who pulled himself to the top of his chosen field largely via sheer force of personality. However, his flaws seem obvious, and his lack of loyalty, tact, or many forms of compassion have made him much reviled by a substantial portion of the population.

In the entertaining HBO film Don King: Only In America, we get a look at both sides of his personality. The movie doesn't attempt a thorough telling of King's life. Instead, it examines various moments of his existence that relate parts of his tale. These start in 1954 with his criminal conviction, and we quickly jump to 1966, where King (Ving Rhames) becomes a nascent businessman. In cahoots with popular singer Lloyd Price (Vondie Curtis-Hall), the two plan to run a benefit boxing match at which they want Muhammad Ali (Darius McCrary) to appear.

Thus King starts on the career that would bring him so much fame and derision. Much of the project focuses on what would become perhaps King's defining moment, his organization of the famed "Rumble in the Jungle" fight between Ali and George Foreman (Jarrod Bunch). Actually, even beyond that episode, King's relationship with Ali forms much of the movie; once his affairs with the Champ end, the movie skitters quickly to its conclusion. The years after that time receive only token coverage; we see some of Mike Tyson (Clifford Couser) but not much.

Those moments provide some of America's weakest, if just because they seem gratuitous. As revealed in the DVD's supplements, the inclusion of the infamous Holyfield/Tyson ear-biting incident occurred as a last minute thing, and it sticks out badly among the rest of the film. It has little to do with the narrative and feels exploitative.

Otherwise, America offers a lot to like, largely due to the outstanding performance from Rhames. He totally loses himself from the role and seems nearly unrecognizable. It can be a serious challenge to portray someone so well known, but Rhames does it incredibly well. He inhabits King's personality but never feels like a simple impersonator. Instead, Rhames captures the man's spirit and attitude and also creates a sense of depth. Rhames offers some amazing work.

Actually, America provides a well-acted piece across the board. Dsa's work as Ali deserves particular note. I think he better represents the boxer than did Will Smith's overrated performance in Ali, and adsjl gets the more challenging task. He has to play Ali across many years, whereas Smith only covered a fairly short period of time. Granted, Smith had to carry an entire movie whereas McCrary played a supporting role, but I still felt he brought the Champ to life with terrific vivacity and realism.

America moves at a very peppy pace, which becomes both a blessing and a curse. On one hand, the movie moves quickly and never shows any gaps or slow spots. However, this also means that it lacks a great deal of substance. The story doesn't attempt a serious examination of King's character; at times, it pays lip service to this concept, but it mostly revels in his audacity. The flick rarely threatens to become something terribly deep or insightful.

Nonetheless, I find it hard to complain about something that seems like so much fun. Despite its lack of substance, Don King: Only In America provides a consistently lively and entertaining piece of work. Highlighted by a stunning turn from Ving Rhames, the movie cranks along and challenges the viewer to keep up with it. Do so and have a blast along the way.
---
The DVD Grades: Picture C / Audio C+ / Bonus B+
---
Don King: Only In America appears in an aspect ratio of 1.33:1 on this single-sided, double-layered DVD; due to those dimensions, the image has not been enhanced for 16X9 televisions. While consistently watchable, the picture displayed too many concerns to become anything above average.
Sharpness usually appeared adequate. At times, the image became somewhat soft and fuzzy, but those instances seemed reasonably infrequent. Overall, the movie remained fairly detailed and concise. Jagged edges presented no problems, but I noticed occasional shimmering and also detected some light edge enhancement. As for print flaws, a mix of light concerns appeared. I saw sporadic examples of grain, grit and speckles. These never seemed heavy, but they could become distracting.
For the most part, colors looked fairly good. The hues appeared reasonably accurate and distinct, but they never surpassed that level. The tones seemed fine but didn't distinguish themselves in any way. Black levels came across as acceptable as well, though they could look somewhat drab and inky. America featured a smoky look much of the time, mainly due to the many low-light interiors it featured. This made shadow detail a bit thick and muddy, but those shots usually seemed decent. Ultimately, Only In America provided a passable picture.
The Dolby Surround 2.0 soundtrack of Only In America didn't stand out from the crowd, but it earned slightly above-average marks. For the most part, the soundfield remained largely anchored in the center. Music demonstrated good stereo presence, as those elements appeared nicely delineated across the front speakers. Otherwise, dialogue and most of the effects emanated from the center. Occasionally I heard effects from the side, where they showed decent movement and spread, but those examples remained modest. The surrounds contributed mainly music and did little more than reinforce the forward spectrum.
Audio quality appeared fine for this material. Except for some bleeding to other channels, speech sounded natural and warm, and I noticed no concerns related to edginess or intelligibility. Effects came across as distinct and accurate, and they failed to present any noticeable distortion. As with the soundfield, the music fared best of all. The score and songs seemed bright and tight, with clean highs and rich lows. The soundtrack did little to distinguish itself, but it remained acceptable for this film.
Only In America packs a few good extras, starting with two separate audio commentaries. The first comes from director John Herzfeld, who offers a terrific running, screen-specific piece. Herzfeld provides a chatty presence as he rarely pauses for breath. The director covers many aspects of the production, from the actors to sets and locations to interactions with the real Don King and also his occasional problems with HBO. Herzfeld consistently seems frank and funny, and he makes this a lively and very informative track.
After this we find a second audio commentary with executive producer Thomas Carter and writer Kario Salem. Both were recorded together for this running, screen-specific piece. They don't provide as much great information as Herzfeld, but they come close during this useful program. A few too many empty spaces occur, but those are reasonably infrequent, and I like the fact the pair don't repeat much material heard in Herzfeld's track. They focus more heavily on the reality behind the movie, as they tell us about various facts. We learn which scenes featured creative liberties and also get a better feel for many of the participants. The sdajl/Salem track nicely complements the piece from Herzfeld, and both offer very compelling commentaries.
A few other supplements round out the package. Cast/Crew Bios includes listings for director John Herzfeld, writer Kario Salem, and actors Ving Rhames, Vondie Curtis-Hall, Jeremy Piven and Loretta Devine. These amount to little more than annotated filmographies, but they run through the various careers acceptably well. Lastly, Awards details the prizes won by America. How Rhames failed to obtain the Emmy is a mystery to me. In the spirit of Don King, I blame The Man!
While not a rich or insightful docudrama, Don King: Only In America creates a winning and witty portrait of its subject. Thanks to a terrific performance from Ving Rhames, the movie manages to fly by quickly and it contains a lot of very entertaining and compelling material. The DVD offers fairly average picture and sound but benefits from the inclusion of two outstanding audio commentaries. Despite the lackluster visuals and audio, Only In America seems very entertaining, and the DVD comes with my recommendation.
| | |
| --- | --- |
| Viewer Film Ratings: 4.6363 Stars | Number of Votes: 11 |