UNIVERSAL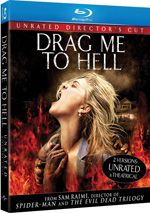 MOVIE INFO
Director:
Sam Raimi
Cast:
Alison Lohman, Justin Long, Lorna Raver, Dileep Rao, David Paymer, Adriana Barraza, Chelcie Ross, Reggie Lee
Writing Credits:
Sam Raimi, Ivan Raimi
Tagline:
Christine Brown has a good job, a great boyfriend, and a bright future. But in three days, she's going to hell.
Synopsis:
Christine Brown (Alison Lohman) is on her way to having it all: a devoted boyfriend (Justin Long), a hard-earned job promotion, and a bright future. But when she's forced to make a tough decision that evicts an elderly woman from her house, Christine becomes the victim of an evil curse. Now she has only three days to dissuade a dark spirit from stealing her soul before she is dragged to hell for an eternity of unthinkable torment. Director Sam Raimi returns to the horror genre with a vengeance in the film that critics rave is "the most crazy, fun and terrifying horror movie in years!" (Owen Gleiberman, Entertainment Weekly)
Box Office:
Opening Weekend
$15.825 million on 2 screens.
Domestic Gross
$42.057 million.
MPAA:
Rated NR


DVD DETAILS
Presentation:
Widescreen 2.40:1
Audio:
English DTS-HD MA 5.1
English Dolby Surround 2.0
Spanish DTS 5.1
French DTS 5.1
Subtitles:
English
Spanish
French
Closed-captioned
Supplements Subtitles:
English
Spanish
French

Runtime: 99 min.
Price: $39.98
Release Date: 10/13/2009

Bonus:
• Both Theatrical and Unrated Versions of the Film
• Production Video Diaries
• Digital Copy




PURCHASE @ AMAZON.COM

EQUIPMENT
Panasonic 50" TH-50PZ77U 1080p Plasma Monitor; Sony STR-DG1200 7.1 Channel Receiver; Panasonic DMP-BD60K Blu-Ray Player using HDMI outputs; Michael Green Revolution Cinema 6i Speakers (all five); Kenwood 1050SW 150-watt Subwoofer.


RELATED REVIEWS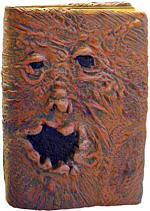 [an error occurred while processing this directive]
---
Drag Me To Hell [Blu-Ray] (2009)
---
Reviewed by Colin Jacobson (October 5, 2009)

As a break between Spider-Man movies, director Sam Raimi returned to his roots in over-the-top horror with 2009's Drag Me to Hell. In this throwback to Raimi's Evil Dead days, we start with a prologue set in 1969. A Mexican boy (Shiloh Selassie) steals a necklace from a gypsy woman. Bad move – she puts a curse on him and he ends up sucked into hell.

From there we leap to modern times and meet Christine Brown (Alison Lohman), a young woman who strives to get ahead. She takes diction lessons to eradicate an accent, and she aims to get the assistant manager position at the bank where she works. Christine feels pressure to improve because the mother of her boyfriend Clayton Dalton (Justin Long) wants him to be with someone in his social circle, not a "girl from the farm".

Elderly Mrs. Ganush (Lorna Raver) asks Christine to help hold off an imminent foreclosure of her house. Normally a soft touch, Christine turns down her request because she wants to prove her worth to her boss (David Paymer). Another bad move, as she incurs Mrs. Ganush's wrath and spurs the old lady to place a curse on her.

Christine immediately feels the effects of this curse. At her house, she undergoes a mysterious spectral assault. Matters intensify as Christine tries – and fails – to cope with the horrors that come her way.

Drag didn't exactly soar at the box office. Some saw its performance as a disappointment, but that's because they expected Spider-Man money, not Evil Dead money. Since Drag has a whole lot more in common with the latter than the former, it lacked great mass potential. With their gore and gross-out moments, the Evil Dead films were never efforts that would appeal to a broad audience, and the same was true for Drag.

The film definitely pours on a lot of over the top nastiness. Raimi ran poor Lohman through the ringer, as she had to endure plenty of disgusting horrors. Blood shoots out of her face, embalming fluid oozes into her mouth, and many other nasty bits befall her.

All of which should delight fans of the genre. These gross-out moments are part of the perverse fun in Raimi's horror flicks, and it's even more oddly titillating to see a quiet, sweet babe like Lohman go through all of this unpleasantness. Though not the greatest actress, Lohman endures torture well and helps sell all the torture.

Drag does show an obvious connection to the Evil Dead flicks, but it manages to becomes its own tale. It winks toward Evil Dead, such as when Clay mentions a trip to his parents' cabin; when I heard that, I fully expected lots of the action to take place there and resemble Evil Dead.

However, this is obviously Raimi toying with his audience, as we never visit any cabins. Instead, we stay city-bound and see how the curse affects Christine in that setting. This works fine for the story, as it makes the terror a bit less predictable – and even more inescapable. With Evil Dead, the characters could get away from the nasties if they just made it away from the cabin. That doesn't hold true here, as Drag ensnares Christine no matter what she does or where she goes.

Frankly, it's simply nice to find a horror movie that doesn't rely on the usual slasher conventions, as those seem to dominate the genre. Drag Me to Hell occasionally sags, but it usually provides a delightfully gross and creepy piece of work.

Note that this Blu-ray includes both the theatrical "PG-13" version of the film and an unrated cut. Both last 99 minutes. I watched the unrated edition for my review. I never saw the original "PG-13" Drag, so I can't comment on the changes, but I wanted to mention that the Blu-ray provides both options. I expect most fans will opt for the unrated edition.
---
The Disc Grades: Picture A-/ Audio A-/ Bonus C
---
Drag Me to Hell appears in an aspect ratio of approximately 2.40:1 on this Blu-Ray Disc. Virtually no issues cropped up in this pleasing transfer.
Overall sharpness looked excellent. Only the slightest smidgen of softness ever appeared, and only for fleeting moments. In general, fine detail looked great, as even the widest shots demonstrated nice definition. No concerns with jagged edges or shimmering occurred, and edge enhancement was absent. Source flaws weren't a problem, though some shots looked a smidgen grainy. This was clearly a photographic choice; it as a film decision, not a flaw.
Drag opted for a subdued palette much of the time. The film featured occasional instances of brighter tones – such as when Christine wore a yellow dress for dinner at Clay's house – but much of the flick stayed with restrained tones. Across the board, the colors fit with the tale well and looked solid. Blacks appeared dark and dense, while shadows showed good clarity and smoothness. I felt quite impressed with this consistently attractive presentation.
I also felt very satisfied with the DTS-HD MA 5.1 soundtrack of Drag. With all the horror moments, we got a great sense of creepy atmosphere. Plenty of environmental bits popped up from around the spectrum, and the louder sequences packed a powerful punch. The material melded together in a smooth, encompassing manner that made it effective.
Audio quality also succeeded. Speech seemed natural and concise, without edginess or other flaws. The score was clear and dynamic, and effects fell into the same realm. Those elements appeared bright and full, as they exhibited solid low-end response when necessary. Overall, the soundtrack impressed.
As for extras, the main attraction comes from 14 Production Video Diaries. These run a total of 35 minutes, eight seconds and include comments from director/co-writer Sam Raimi, special makeup effects supervisor Greg Nicotero, production designer Steve Sakland, prop master Ellen Freund, producer Grant Curtis, set decorator Don Diers, co-producer Cristin Carr Strube, special effects producer James Schwalm, stunt coordinator Randy Beckman, director of photography Peter Deming, animal trainer Cathy Pittman, visual effects supervisor Bruce Jones, re-recording mixers Chris Jacobson and Marty Humphrey, co-sound supervisor Jussi Tegelman, and actors Alison Lohman, David Paymer, Dileep Rao, Lorna Raver, and Justin Long. The "Diaries" cover various effects and makeup elements, stunts and action, production design and props, cast and characters, working with animals, audio and sets.
I always enjoy features that concentrate on footage from the set. That side of things makes "Diaries" quite enjoyable. The interview tidbits flesh out matters well, but the shots from the production are best of the bunch. I wish we got more than just 35 minutes of this material, but I like what we see.
On Disc Two, we find a Digital Copy of Drag. As usual, it allows us to transfer the flick to a portable viewing device or a computer. Hooray?
Sam Raimi returned to his roots with the wild gross-out horror flick Drag Me to Hell. It didn't earn a substantial audience, but it did what it needed to do: it created a crazy and entertaining supernatural tale. The Blu-ray offers excellent picture and audio, but unfortunately it skimps on supplements; I like the bonus features we find, but we don't get many of them. Despite that weakness, this is a fun movie that will appeal to Raimi fans.
| | |
| --- | --- |
| Viewer Film Ratings: 4.2857 Stars | Number of Votes: 14 |