PARAMOUNT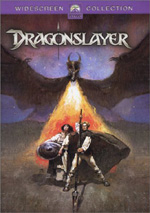 MOVIE INFO
Director:
Matthew Robbins
Cast:
Peter MacNicol, Caitlin Clarke, Ralph Richardson, John Hallam, Peter Eyre, Albert Salmi, Sydney Bromley, Chloe Salaman
Writing Credits:
Hal Barwood, Matthew Robbins
Tagline:
In the Dark Ages, Magic was a weapon. Love was a mystery. Adventure was everywhere ... And Dragons were real.
Synopsis:
Back in the days when everyone believed in magic, a horrifying fire-breathing dragon terrorized the sixth-century British countryside. The only hope for the beleaguered citizens is an aging sorcerer. But when he is killed before he can save the people, the task falls on his young apprentice, Galen.
Galen's mission is complicated by resistance from the king - and by falling in love - but his biggest challenge comes when he is suddenly face to face with the dreaded monster. Is his magic enough to save him?
Box Office:
Budget $18 million.
Domestic Gross
$6 million.
MPAA:
Rated PG


DVD DETAILS
Presentation:
Widescreen 2.35:1/16x9
Audio:
English Dolby Digital 5.1
English Dolby 2.0
Subtitles:
English
Closed-captioned

Runtime: 109 min.
Price: $19.99
Release Date: 10/21/2003

Bonus:
• None




EQUIPMENT
Sony 36" WEGA KV-36FS12 Monitor; Sony DA333ES Processor/Receiver; Panasonic CV-50 DVD Player using component outputs; Michael Green Revolution Cinema 6i Speakers (all five); Sony SA-WM40 Subwoofer.


RELATED REVIEWS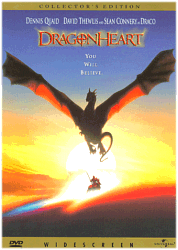 [an error occurred while processing this directive]
---
Dragonslayer (1981)
---
Reviewed by Colin Jacobson (October 31, 2003)

While it seems possible for movies with the word "dragon" in the title to achieve success, we've not encountered too many hits with the word "dragon" in the title that actually feature dragons. I scanned the long list at IMDB and found hits like Red Dragon, Crouching Tiger, Hidden Dragon and Enter the Dragon, none of which involve the beasts. As for films that depict the flying critters, it seems that 1977's Disney effort Pete's Dragon might be the most successful of the lot, and that's not saying much.

It's too bad that these flicks suffered such a lackluster fate, as some of them actually seem pretty solid. I rather liked 1996's Dragonheart, and you can add 1981's Dragonslayer to the list of reasonably enjoyable cinematic myths.

At the film's start, a small party comes to a castle called Cragganmore. Led by young Valerian (Caitlin Clarke), they seek the sorcerer Ulrich (Sir Ralph Richardson). Normally he refuses to see visitors, but he agrees to chat with them. A dragon terrorizes the community of Urland and they want the magician to stop it. He decides to do this and the clan head back to their land.

Along the way, they encounter agents of the king led by Tyrian (John Hallam). He challenges Ulrich to prove his skills, and the sorcerer goes along with this. He dies, though apparently willingly.

As Ulrich's apprentice Galen (Peter MacNicol) packs up his things, he notices some remaining magical spark and discovers his master's pendant. With it in tow, he takes over the cause against the dragon of Urland. The party heads back to their native land to nail the dragon. A number of surprises occur on the path to the film's climax.

No one will confuse Dragonslayer for a classic, but it offers a reasonably engaging little fable. A lot of its charm comes from its tone. The film fails to take itself too seriously, as we see from the early moments with Ulrich. We encounter some "behind the scenes" looks at the gimmickry of his magic, though we also discern that real power exists there. The film's able to have its cake and eat it too; it pokes some fun at the field but nonetheless manifests strength when necessary.

The movie certainly enjoys a simple plot. Boy attempts to kill dragon and falls in love along the way – that's about all there is to this thing. The basic nature of the story doesn't harm the film, though. In fact, it becomes a strength, as the flick doesn't get bogged down in unnecessary complications that distract from the main focus. Even the romantic elements blend without concern, as they never take away from the emphasis on the issues connected to the dragon.

Not surprisingly, the effects related to the dragon show their age at times. However, for the most part they hold up well. If I recall correctly, ILM did the work, and by 1981, the kind of material featured had matured pretty well. Good effects of this sort tend to continue to work decently over the years, and the filmmakers had the good sense not to test their quality too strongly. That means few clear shots of the dragon, all the better to make it convincing. But that's not a bad thing; they had to hide the shark in Jaws, and look how amazing that film turned out to be.

Dragonslayer isn't in a league with the Spielberg classic, but the fairly engaging little fable deserved a better fate than its poor box office take. The movie enjoys a clean plot and solid pacing that rarely strays off-course. That helps it become a well-executed tale.
---
The DVD Grades: Picture B+/ Audio B+/ Bonus F
---
Dragonslayer appears in an aspect ratio of approximately 2.35:1 on this single-sided, double-layered DVD; the image has been enhanced for 16X9 televisions. Despite some photography that could render the transfer complicated, Dragonslayer mostly looked excellent.
Overall, sharpness seemed very good. Occasional wide shots demonstrated a slight amount of softness, but those instances occurred infrequently. In general, the movie remained tight and detailed. No issues connected to jagged edges or shimmering popped up, and edge enhancement seemed modest; a few instances of haloes looked apparent, but not many. Print flaws were nicely minor. The general darkness of the movie meant grain was a little more noticeable than usual, but I didn't regard that as a concern since it stemmed from the original photography. Otherwise, a few specks and spots popped up, but most of the movie lacked defects.
Given the darkness that covered much of the movie, colors remained subdued. Nonetheless, the transfer replicated the hues nicely. The tones always looked accurate and true, and on those rare occasions when brighter colors appeared, they were vivid and distinctive. Black levels seemed slightly inky but usually presented reasonably dense and deep tones, and shadow detail was appropriately defined. The smokiness of the photography made some of those shots slightly tough to discern, but again, this came from the original material and didn't seem to result from any transfer issues. Ultimately, I felt very pleased with the image of Dragonslayer.
In addition, the Dolby Digital 5.1 soundtrack of Dragonslayer worked well. For the most part, the soundfield remained anchored in the front speakers. Music showed nice stereo imaging, and effects created a good sense of place. Elements panned smoothly from side to side, and the various effects were appropriately delineated and located. Surround activity mostly fell into the category of general reinforcement, though the dragon sequences brought the back speakers to life fairly well. Overall, the surrounds played a passive role, but the dragon scenes offered fine activity and involvement.
Audio quality occasionally showed its age but mostly sounded good. Speech was consistently natural and well delineated, with no issues connected to edginess or intelligibility. Music didn't present much range and tended to be somewhat heavy on the high-end. Nonetheless, the score came across as acceptably well defined and bright; low-end could have been better, but enough depth occurred to make the track better than listenable. Effects came across as concise and distinctive. They presented some decent bass response and lacked any problems with distortion or other issues. The soundtrack of Dragonslayer didn't quite match up with the highs heard during another 1981 action flick, but it seemed very good.
Unfortunately, Dragonslayer totally lacked any extras. The DVD included absolutely nothing – not even a trailer!
Despite the omission of any supplements, Dragonslayer deserves a look. The movie seems lithe and creative, and it provides a good take on the dragon genre. It takes itself just seriously enough but manages to provide some lightness to keep the flick from dragging. The DVD presents very good picture and sound. With a list price of less than $20, Dragonslayer would make a good addition to your collection.
| | |
| --- | --- |
| Viewer Film Ratings: 4.5199 Stars | Number of Votes: 25 |