SONY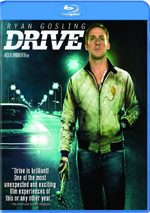 MOVIE INFO
Director:
Nicolas Winding Refn
Cast:
Ryan Gosling, Carey Mulligan, Bryan Cranston, Albert Brooks , Oscar Isaac, Christina Hendricks, Ron Perlman, Kaden Leos, Jeff Wolfe
Writing Credits:
Hossein Amini, James Sallis (book)
Tagline:
Get in. Get out. Get away.
Synopsis:
Ryan Gosling stars as a Hollywood stunt driver for movies by day and moonlights as a wheelman for criminals by night. Though a loner by nature, "Driver" can't help falling in love with his beautiful neighbor Irene (Carey Mulligan), a young mother dragged into a dangerous underworld by the return of her ex-convict husband. After a heist goes wrong, Driver finds himself driving defense for the girl he loves, tailgated by a syndicate of deadly serious criminals (Albert Brooks and Ron Perlman). Soon he realizes the gangsters are after more than the bag of cash and is forced to shift gears and go on the offense.
Box Office:
Budget
$15 million.
Opening Weekend
$11.340 million on 2886 screens.
Domestic Gross
$34.911 million.
MPAA:
Rated R


DVD DETAILS
Presentation:
Aspect Ratio: 2.40:1
Audio:
English DTS-HD MA 5.1
Subtitles:
English
Spanish
Closed-captioned
Supplements Subtitles:
English
Spanish

Runtime: 100 min.
Price: $30.99
Release Date: 1/31/2012

Bonus:
• "Drive Without a Driver" Interview with Director Nicholas Winding Refn
• "I Drive" Featurette
• "Under the Hood" Featurette
• "Driver and Irene" Featurette
• "Cut to the Chase" Featurette
• Previews




PURCHASE @ AMAZON.COM

EQUIPMENT
Panasonic 50" TH-50PZ77U 1080p Plasma Monitor; Sony STR-DG1200 7.1 Channel Receiver; Panasonic DMP-BD60K Blu-Ray Player using HDMI outputs; Michael Green Revolution Cinema 6i Speakers (all five); Kenwood 1050SW 150-watt Subwoofer.


RELATED REVIEWS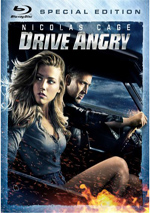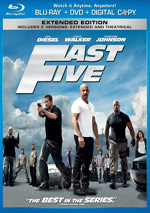 [an error occurred while processing this directive]
---
Drive [Blu-Ray] (2011)
---
Reviewed by Colin Jacobson (January 19, 2012)

Five years from now, I suspect Ryan Gosling will be viewed as a front-line movie star. But as of early 2012, he remains an actor on the rise without any major hits on his filmography. 2011's Drive earned a lot of praise but didn't find a great audience. Still, along with the critically-acclaimed Ides of March, Drive advanced Gosling as a lead actor, and I suspect both will help him leap ahead in the not-too-distant future.

In Drive, Gosling plays an unnamed character simply known as "Driver". During the day, he works as a mechanic and occasional Hollywoood stunt driver; at night, he acts as the getaway for crimes. With the backing of shop owner Shannon (Bryan Cranston), Driver aspires to enter the world of stock car racing.

Driver leads a solitary existence, but that starts to change when he meets Irene (Carey Mulligan), a single mother with a next-door apartment. After a couple of encounters, they develop a slow bond and relationship. The complication? She's married to Standard (Oscar Isaac), an inmate who will soon get out of prison.

After this occurs, Standard's past quickly comes back to haunt him. He owes money to some low-lifes; they insist that he perform a job for them, and when he refuses, they beat the tar out of him and threaten to come after Irene and son Benicio (Kaden Leos). Driver doesn't much care what happens to Standard, but he wants to protect Irene and Benicio, so he agrees to aid in this caper. Inevitably, some matters go awry and create additional complications.

Exhibit A in the case of Why You Can't Trust Trailers: Drive, a film whose ads made it look like a non-stop action spectacular. To say that's not the case would be an understatement; even the introductory getaway sequence lacks a lot of visceral thrills, and the vast majority of the flick's first half focuses on quiet character elements.

This changes in the movie's second half, though, and I don't consider its low-key parts to be a liability, really. Yes, they can be a little frustrating in the early going, as the action-starved viewer may wonder how he ended up with a character drama instead, but the first half manages to set up the personalities and situations well.

Indeed, the absence of much material related to the second half's narrative becomes a strength in the end. That's because the film builds to its action and doesn't shove it at us in a gratuitous manner. Since it builds from character, the more dynamic elements come with greater impact than they would if they'd been a constant companion.

Virtually every character like Driver owes a debt to Steve McQueen, and Gosling does adapt a persona that follows along those lines – well, at least that'd be the case if Steve McQueen favored characters who leaned toward the autism spectrum. Driver gives off all sorts of signs that seem to plop him in that category: he rarely talks, he shows limited emotions and interests, and he doesn't like to be touched.

Perhaps I read too much into the role to feel that he's Aspergers or the like, but that's the vibe I got – and it's an interesting way to develop a lead action hero. Driver goes beyond "strong, silent type". Sure, he possesses some of the familiar traits of such characters, but he seems more introverted and insular than most.

Much of the movie's viewpoint appears to reflect Driver's unusual mental state, as we get an interesting combination of graphic violence and airy dreaminess. Even in some of the darkest sequences, we tend to see them from a more fantasy-oriented viewpoint, as though they play out that way in Driver's mind.

Anyway you look at it, he's an unusual sort of action hero, and Gosling plays him well. He doesn't overdo any of the role's characteristics; instead, he keeps the part quiet and focused but without an overt feeling of "performance".

By the way, when I mentioned "graphic violence", I meant that. Drive is substantially gorier than I would've expected, so go into it with an expectation of some nasty visuals.

If you can tolerate those, I think Drive is worth the ride. It's certainly artier than the average action flick, but it doesn't present itself in a self-conscious or off-putting way. Instead, it delivers an involving piece that expands its genre.
---
The Blu-ray Grades: Picture A-/ Audio B+/ Bonus C-
---
Drive appears in an aspect ratio of approximately 2.40:1 on this Blu-Ray Disc. The image always looked solid.
For the most part, sharpness seemed strong. A little softness crept into the image at times, but not frequently. Instead, the movie almost always appeared nicely detailed and distinctive. No issues with jagged edges or shimmering occurred, and edge haloes remained absent. Source flaws were a non-factor, as this was a clean presentation.
Orange and teal have become dominant colors in today's Hollywood, and they influence Drive. Nonetheless, the tones consistently seemed clear and concise within those parameters, and some more natural colors emerge along the way as well. Blacks were deep and firm, while low-light shots came across as appropriately dense but not overly dark. Overall, the picture appeared positive.
I also felt pleased with the DTS-HD MA 5.1 soundtrack of Drive. Though much of the film concentrated on character moments, the various car-based sequences offered enough pizzazz to create an impact. These filled out the speakers well, and the quieter moments delivered good involvement as well.
Audio quality also was solid. Speech seemed crisp and distinctive, as I noticed no flaws like edginess. Music seemed warm and full, while effects added a real bang to the proceedings. Those elements showed good clarity and accuracy, and they offered tight, deep bass as well. The track seemed vibrant and dynamic as it accentuated the movie in a satisfying manner.
When we shift to the disc's extras, we open with Drive Without a Driver, an interview with director Nicholas Winding Refn. This piece lasts 25 minutes, 41 seconds as Refn discusses how he came onto the project and aspects of the development, casting, characters and performances, cinematography and stunts, themes and symbolism, and the film's Cannes screening/success. Refn proves to be surprisingly open and blunt as he discusses his experiences. He throws out a bunch of good notes and makes this a terrific interview; it's too bad he didn't do a full commentary.
Four featurettes follow. I Drive goes for five minutes, 26 seconds and includes notes from producers Adam Siegel and Marc Platt, and actors Ron Perlman, Albert Brooks, Carey Mulligan and Oscar Isaac. This one looks at story and characters, what Refn brought to the film, and rehearsals. While we get a few minor insights about the director's style, this one tends to be superficial, so don't expect much from it.
For the 11-minute, 50-second Under the Hood, we hear from Platt, Siegel, Mulligan, Isaac, Brooks, Perlman, screenwriter Hossein Amini, and actors Bryan Cranston and Christina Hendricks. "Hood" looks at story/script, cast, characters and performances. Although "Hood" improves on the fluffy "I Drive", it's still not something with a ton of depth. Nonetheless, it boasts acceptable information value.
Driver and Irene runs six minutes, 14 seconds and provides info from Siegel, Mulligan, Amini, and Isaac. As implied by the title, this one examines the Driver/Irene dynamic. Like its predecessors, it comes with a few insights but not a lot of strong details.
Finally, Cut to the Chase goes for four minutes, 35 seconds and delivers material from Platt and 2nd unit director Darrin Prescott. For this piece, we get notes about the driving and chase sequences. It's not long enough but it packs good material into its brief running time.
The disc opens with ads for The Rum Diary, London Boulevard, Meeting Evil, In the Land of Blood and Honey and Take Shelter. These also appear under Previews. No trailer for Drive pops up here.
With its airy feel and insulated character, Drive offers an unusual – and somewhat "arty" – take on the action flick. It takes chances and most of these succeed, as it creates an involving, character-oriented thriller. The Blu-ray boasts excellent visuals and solid audio but doesn't include a lot of supplements; an interview with the director stands out as the best of an otherwise mediocre bunch. I suspect that the film's unusual tone means it won't be for everyone, but I think it's a satisfying piece.
| | |
| --- | --- |
| Viewer Film Ratings: 3.6315 Stars | Number of Votes: 19 |