BUENA VISTA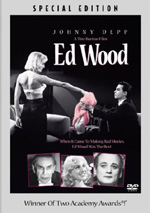 MOVIE INFO
Director:
Tim Burton
Cast:
Johnny Depp, Martin Landau, Sarah Jessica Parker, Patricia Arquette, Jeffrey Jones, G.D. Spradlin, Vincent D'Onofrio, Bill Murray, Mike Starr
Writing Credits:
Rudolph Grey (book, "Nightmare of Ecstasy"), Scott Alexander, Larry Karaszewski
Tagline:
Movies were his passion. Women were his inspiration. Angora sweaters were his weakness.
Synopsis:
From Tim Burton, acclaimed director of Planet Of The Apes, Sleepy Hollow and Batman comes the hilarious, true-life story of the wackiest filmmaker in Hollywood history, Ed Wood! Johnny Depp stars as the high-spirited movieman who refuses to let unfinished scenes, terrible reviews, and hostile studio executives derail his big-screen dreams. With an oddball collection of showbiz misfits, Ed takes the art of bad moviemaking to an all-time low! The all-star cast features Sarah Jessica Parker, Patricia Arquette, and an Academy Award-winning (Best Supporting Actor) performance by Martin Landau as Bela Lugosi. Hailed by critics everywhere, this laugh-packed comedy hit is sure to entertain everyone!
Box Office:
Budget
$18 million.
Opening Weekend
$1.9 million on -unknown- screens.
Domestic Gross
$5.887 million.
MPAA:
Rated R


DVD DETAILS
Presentation:
Widescreen 1.85:1/16x9
Audio:
English Dolby Digital 5.1
Subtitles:
English
Spanish
Closed-captioned

Runtime: 127 min.
Price: $29.99
Release Date: 10/19/2004

Bonus:
• Audio Commentary with Director Tim Burton, Actor Martin Landau, Co-Writers Scott Alexander and Larry Karaszewski, Director of Photography Stefan Czapsky and Costume Designer Colleen Atwood
• Deleted Scenes
• Letís Shoot This F#*%@r! Featurette
• ďMaking BelaĒ Featurette
• ďPie Plates Over HollywoodĒ Featurette
• ďThe ThereminĒ Featurette
• Music Video
• Trailer




PURCHASE @ AMAZON.COM

EQUIPMENT
Sony 36" WEGA KV-36FS12 Monitor; Sony DA333ES Processor/Receiver; Panasonic CV-50 DVD Player using component outputs; Michael Green Revolution Cinema 6i Speakers (all five); Sony SA-WM40 Subwoofer.


[an error occurred while processing this directive]
---
Ed Wood: Special Edition (1994)
---
Reviewed by Colin Jacobson (October 15, 2004)

After five straight good to excellent movies, Tim Burton firmly had me in his pocket by 1994. My least favorite of the bunch is 1988ís Beetlejuice, which remains a very fun effort, so I canít complain about Burtonís work through 1992.

And then there was 1994ís Ed Wood. Given my love of Burtonís prior works, I expected a lot from Wood but didnít find it to live up to my hopes. Frankly, I barely remember my impressions of the flick. I didnít hate it, but I didnít particularly like it either.

Anyway you look at it, Wood clearly was my least favorite Burton movie to date. While I watched the previous five films repeatedly over the years, I never saw Wood a second time until this DVD arrived.

Now that Iíve seen Wood again, I canít help but wonder what I was thinking back in 1994. Although the movie left me cold 10 years ago, on second glance it turns out to be a real winner.

Ed Wood (Johnny Depp) wants into movies in the worst way, and based on the quality of his projects, he achieves his goal: his projects are the worst. He puts on terrible plays while he schleps around a movie studio in menial jobs. When he hears about a proposal to film the story of a transsexual, he leaps at the chance to direct it and manages to convince producer George Weiss (Mike Starr) to give him the shot. He goes for broke to land the gig due to his ďspecial qualificationĒ: he likes to dress in womenís clothes. This fails, however.

On the way home, he sees Bela Lugosi (Martin Landau) in a coffin shop and the pair chat when Wood gives the actor a ride home. He finds out that Lugosi canít get work anymore - partially because of the actorís drug addiction - so Ed decides to give him a job if he can. The pair strike up a friendship and Wood pitches the use of Lugosi to Weiss. This finally convinces the producer and Wood gets to take on the quickie project.

Wood decides to use the film - which he titles Glen or Glenda - to reveal his transvestitism to girlfriend Dolores (Sarah Jessica Parker) and the world. This initially upsets her but she decides to support him in the end, at least superficially. Weiss doesnít care for Woodís treatment of the story, but the director ultimately gets the green light and goes into the four-day production with himself in the lead role.

With prints of Glen in tow, Wood attempts to score more gigs with a Warner Bros. producer named Feldman (Stanley Desantis). Predictably, he laughs at the incompetent Glen, and Weiss excoriates Wood as well since heíll lose all his money on the horrible flick. None of these setbacks daunt Wood, and inspiration strikes when he sees hirsute professional wrestler Tor Johnson (George ďThe AnimalĒ Steele) in action. Wood casts him in Bride of the Atom and works to get this new project off the ground. This complicates when Wood meets a young woman named Loretta King (Juliet Landau) who has money to invest - if he casts her as Janet Lawton, the role he already promised to Dolores. As he attempts to further his own career, Wood also strives to do what he can to support Lugosi and bring the actor back to his former prominence.

That relationship sits at the heart of Ed Wood. Sure, we also see Edís interactions with Dolores and Kathy OíHare (Patricia Arquette), but none of them mean as much to him as his friendship with Lugosi. Their pairing gives the movie more depth than it otherwise might have, for we see how badly Ed wants to help his friend, and also how the work keeps Lugosi alive. Without that relationship, the story might have turned into a one-dimensional look at a misguided would-be artist, but with the layer connected to Wood and Bela, matters become richer and more emotional.

Landau won an Oscar as Lugosi, and he fully deserved it. Forget the ďBest Supporting ActorĒ niche, for Landauís performance stands out as one of the strongest in recent memory in or out of that category. As with everything else connected to Wood, Landau easily could have simply relied on a stock characterization of Lugosi and/or played everything in a simple manner. He doesnít fall into easy elements, as he makes Lugosi sad, funny, touching and irascible all at ones. Itís a genuinely stunning performance that helps take Wood to another level.

Not that the movie wouldnít have been good with a lesser actor as Lugosi, for although Landau elevates it, the film displays many other charms. At first glance, Depp seems awfully cartoony as Ed. According to the audio commentary, he used a mix of inspirations for his performance, with an emphasis on Ronald Reagan, Casey Kasem and the Tin Woodsman from The Wizard of Oz. I can see those, but my initial impression was that Depp borrowed liberally from Jon Lovitz, as his campy tone evokes memories of the Master Thespian.

However, upon further review, we can see the depth Depp brings to the part. He makes Wood the ultimate ďglass is half fullĒ character and conveys a childlike naivetť. This allows him to become a sweet dreamer rather than an opportunistic sap. Ed doesnít display the dimensionality of Lugosi, but he shouldnít, as heís better off as a fairly restricted personality. Depp fills the part nicely, and the rest of the cast also occupy their roles in a solid manner.

Wood seems like the perfect project for Burton. Half loving homage and half barbed spoof, the director combines the two sides swimmingly. He manages to balance the humor, pathos and drama and makes the movie wholly entertaining.

Add to that some absolutely gorgeous black and white photography and Ed Wood ends up as a winner. Why didnít I like this movie 10 years ago? I canít answer that, as I now see Wood as a funny, rich and wholly entertaining experience.
---
The DVD Grades: Picture B-/ Audio B/ Bonus B
---
Ed Wood appears in an aspect ratio of approximately 1.85:1 on this single-sided, double-layered DVD; the image has been enhanced for 16X9 televisions. The movie displayed a few more flaws than Iíd like, but it usually looked good.
Sharpness mainly appeared solid. Some softness occasionally interfered with wide shots, but those examples occurred fairly infrequently. Most of the time, the movie was concise and well-defined. I saw no problems with jagged edges or shimmering, but edge enhancement created distractions, as the film displayed some moderate haloes at times.
Print flaws also were somewhat problematic. I noticed sporadic examples of specks, grit, and marks. These diminished as the movie progressed, but they still seemed too heavy for a fairly recent movie. Black levels looked terrific, as the movie always demonstrated deep, rich tones. Contrast was excellent, and shadows also appeared smooth and appropriately delineated. Ultimately, parts of the film offered very good visuals, but the mild softness and the various source flaws knocked my grade down to a ďB-ď.
The Dolby Digital 5.1 soundtrack of Ed Wood offered good quality with limited scope. The soundfield stayed very heavily anchored in the front. I noticed only minor support from the surrounds, as the forward channels strongly dominated the effort. Good stereo imaging popped up in that realm, as music spread nicely across the speakers. Effects also broadened well and created a good sense of place.
Audio quality was fine. Speech sounded natural and concise, with no issues connected to edginess or intelligibility. Music was smooth and dynamic, and the effects presented nice range. Those elements didnít play a huge role in the proceedings, but they were consistently accurate and bright. Not a whole lot of fireworks emerged during this piece, which was probably logical given its tone as a throwback; actually, it might have made more sense as a monaural track to match the black and white visuals. In any case, the audio seemed fine for the material.
When we head to the DVDís extras, we open with an audio commentary from director Tim Burton, actor Martin Landau, co-writers Scott Alexander and Larry Karaszewski, director of photography Stefan Czapsky and costume designer Colleen Atwood. The writers chat together, but everyone else sits alone in this edited track. Very informative, the commentary covers many topics. We learn a little about how the writers developed the piece after Problem Child mauled their career, and we find out Burtonís interest in the material and how he came onto the project.
Alexander and Karaszewski dominate the piece, as they toss out lots of good stories as well as notes about subjects like the facts of the tale versus invented elements, cuts from the film and changes from the original script. We also get some casting notes and Landau provides character insights. Thereís information about the use of black and white photography plus other visual notes, and we hear a little about the use of real locations to match the original events. A smidgen of dead air occasionally occurs, but not much, as this remains a consistently informative and entertaining discussion.
Next we find five Deleted Scenes. These run a total of seven minutes, 49 seconds. Two add to the octopus-stealing sequence in very minor ways. A more interesting one shows Edís visit with Tor Johnsonís family; itís not significant but itís got a little insight plus some humor. Another lets us look at Edís pathetic state after his break-up with Dolores; itís also intriguing and offers more information about Lugosi, but it wouldíve been too much of a downer and a departure from Edís usual optimistic outlook. The final clipís the oddest, as Bunny leads the mariachi band on a mournful rendition of ďQue Sera SeraĒ as they slowly march through the meat plant. Itís something of a head-scratcher, and its omission makes sense.
Four featurettes follow. Letís Shoot This F#*%@r! runs 13 minutes, 55 seconds, as it consists almost entirely of footage from the set. It opens with a quick - and odd - intro from Depp in drag and then goes to the behind the scenes snippets. We see them shoot Edís strip tease plus a mix of Plan 9 recreations, Lugosiís battle with the rubber octopus, and a few other scenes. Itís a fun glimpse at Burtonís work style and the way things went on the set.
Called Making Bela, the second featurette goes for eight minutes, 16 seconds. It presents remarks from Landau and makeup effects artist Rick Baker. The actor covers his approach to the role and its different facets, while Baker goes over his attempts to make Landau look like Lugosi. The program offers its information in a concise manner and proves quite useful, even though a little of Landauís remarks repeat what he said in the commentary.
After this we get Pie Plates Over Hollywood. It fills 13 minutes and 51 seconds and looks at the movieís visuals. We hear from production designer Tom Duffield, challenges of shooting in black and white, set design and period elements, creating the miniatures and sets for Woodís movies, and other art connected to the flick. Duffield offers nice insights into his work and also provides glimpses of his research. This ends up as a good program with lots of useful details.
For the final featurette, we learn about The Theremin. This seven-minute and 24-second piece involves notes from composer Howard Shore and theremin expert Mark Segal. Shore talks about his score and use of the instrument, while Segal gives us a quick demonstration of how the theremin works. Itís another taut and informative piece that gives us a good level of information.
In addition to the movieís trailer, we finish with an odd music video. This shows some sexy dancing ghouls as well as a few movie snippets, all to the strains of Howard Shoreís theremin-dominated music. Itís weird, but the dancers are hot, so who am I to complain?
For the last 10 years, I believed Ed Wood was one of Tim Burtonís lesser works. I was wrong, as the movie turns out to be genuinely terrific. Sweet, funny, quirky and moving, itís an excellent piece of work. The DVD presents decent but flawed picture with perfectly acceptable audio. Though we donít get a slew of extras, the ones that appear offer a lot of good information, particularly from the strong audio commentary. I definitely recommend Ed Wood, and I only regret that I waited so long to discover the movieís charms.
| | |
| --- | --- |
| Viewer Film Ratings: 4.625 Stars | Number of Votes: 40 |