WEA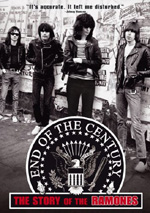 MOVIE INFO
Director:
Michael Gramaglia and Jim Fields
Cast:
The Ramones
Writing Credits:
Michael Gramaglia and Jim Fields
Synopsis:
Starting with the band's origins in Forest Hills, Queens, End Of The Century: The Story Of The Ramones gives a fascinating background portrait of the eccentric group of individuals who came together to be one of the most influential punk bands in history. This documentary about the New York City renegades who made their mark in the mid-1970s with counterculture lyrics and underground performances at rundown joints like CBGB on the Bowery, shows how the band eventually earned recognition, even being inducted into the Rock and Roll Hall of Fame in 2002. But it is the insider look at the blue collar upbringing of the band members, and their desire to be part of Manhattan's burgeoning hard-rock scene, that is most endearing about this particular film. In candid interviews with Dee Dee Ramone, he tells stories about the group's total lack of complexity in its earliest days. Going to see contemporary acts like the New York Dolls and Iggy and the Stooges, the Ramones quickly created their own sound and practiced frenetically. When they finally made their debut with an extremely loud sound, furiously fast and short songs, and lots of drama such as blatant on-stage arguments, they practically scared away their fans. While other stars, like Steve Jones of the Sex Pistols, comment on the Ramones' subsequent rise to punk stardom, providing wild stories about sex, drugs, chaos, and tragedy, it is the truly interesting story of the band's start that will linger in viewers' minds.
Box Office:
Opening Weekend
$18.422 on 1 screen.
Domestic Gross
$391.950 thousand
MPAA:
Rated NR


DVD DETAILS
Presentation:
Widescreen 1.78:1/16x9
Audio:
English Dolby Digital 5.1
English Dolby 2.0
Subtitles:
None
Not Closed-captioned

Runtime: 107 min.
Price: $19.99
Release Date: 3/15/2005

Bonus:
• Deleted Scene
• Joey Ramone Radio Interview Excerpts
• Marky Ramone Drum Technique
• Johnny Ramone Interview Excerpts
• Richie Ramone Interview Excerpts
• Dee Dee Ramone Interview Excerpts
• Joe Strummer Interview Excerpts
• Tommy Ramone in Forest Hills Interview Excerpts
• Debbie Harry and Chris Stein Interview Excerpts
• Richie Adler Interview Excerpts
• ďWho Wrote What On the First Three AlbumsĒ by Tommy Ramone
• Trailer




PURCHASE @ AMAZON.COM

EQUIPMENT
Sony 36" WEGA KV-36FS12 Monitor; Sony DA333ES Processor/Receiver; Panasonic CV-50 DVD Player using component outputs; Michael Green Revolution Cinema 6i Speakers (all five); Sony SA-WM40 Subwoofer.


[an error occurred while processing this directive]
---
End Of The Century: The Story Of The Ramones (2003)
---
Reviewed by Colin Jacobson (April 21, 2005)

The Ramones made a career for more than 20 years and ended up in the Rock Ďní Roll Hall of Fame all based on three chords and an insolent attitude. Whether you love them or hate them, the bandís impact on rock canít be denied. Indeed, they were largely responsible for the launch of punk rock in the mid-Seventies.

2004ís The End of the Century looks at their life and times via the usual mix of interviews and archival footage. We hear from bandmembers Dee Dee Ramone, Tommy Ramone, Johnny Ramone, Joey Ramone, Marky Ramone, Richie Ramone, and CJ Ramone. We also get notes from producer Rick Rubin, Chris Stein, Clem Burke and Debbie Harry of Blondie, Punk Magazine co-founders Legs McNeil and John Holstrom, neighborhood friends Ricky Salem and Mark Ralin, Joeyís mother Charlotte Lesher and brother Mickey Leigh, CBGB door person/photographer Roberta Bayley, Ramones art director Arturo Vega, Ramones tour manager Monte Melnick, first manager Danny Fields, co-manager Linda Stein, Sire Records president Seymour Stein, producer Daniel Rey, Mark Bell of the Voidoids, Glen Matlock of the Sex Pistols, Joe Strummer of the Clash, Captain Sensible of the Damned, performer Jayne County, Walter Lure of the Heartbreakers, engineer Ed Stasium, session musicians Dan and David Kessel, DJ Rodney Bingenheimer, second manager Gary Kurfirst, Thurston Moore of Sonic Youth, Rob Zombie, Lars Frederiksen of Rancid, Anthony Kiedis and John Frusciante of Red Hot Chili Peppers, and Kirk Hammett of Metallica.

Century opens in March 2002 Hall of Fame ceremony at which the Ramones were inducted. From there, it shifts to Queens to look at the bandís origins and their early lives. We hear about subjects like Johnnyís early criminal ways as well as Joeyís Obsessive-Compulsive Disorder. Some notes about family interactions and early connections for the band pop up, and we learn of influences like the Stooges and the New York Dolls.

Next comes the bandís formation and the choice of who played what part in it. We get comments about their name, the development of their sound and songs, and early gigs, with a particular emphasis on CBGB concerts. The documentary traces the band from there through their breakup in 1996 and eventual induction into the Hall of Fame, with many notable events along the way.

Itís all those stories that make Century a winner, largely due to their honesty. This comes across as a real no holds barred piece. Boy, if anyone holds back, then Iíd hate to hear the full truth, for Century presents the bandís rough-hewn tale in all its glory.

To be sure, thereís plenty of vivid stories to be heard, and thereís a lack of sentimentality that makes them more effective. For example, at one point the interviewer separately asks both Dee Dee and Johnny if Tommyís drumming was an important part of the bandís sound. They quickly and dismissively snarl negative responses to that concept. Similarly frank remarks pop up throughout this rich, insightful examination of the band.

Plenty of excellent archival footage helps. We see plenty of shots of the band in their heyday, and these help flesh out matters nicely. Actually, Iíd have liked a few more glimpses of their stage performances, but these give us a good view of what they did.

One intriguing subject goes undiscussed. I think the bandís signature sound and approach to music was both their biggest strength as well as the proverbial albatross around their necks. The Ramones did something fresh and dynamic in the Seventies, but they never really grew. Partly that was by design; as noted in the show, Johnny was the bandís driving force, and he was happy to have them repeat their first album ad infinitum. Apparently the deeply conservative Johnny opposed change for the band.

Unfortunately, that made them a nostalgia act by the Eighties. Yeah, they still made new albums, but not a lot of creative growth occurred. Match that with their stubborn refusal to change their stage clothes - or even get new haircuts in the cases of Johnny and Joey, who sported the same Ďdos from the Seventies until their deaths - and you have a group that ended up as little more than a weird form of Ramones tribute act. It was like seeing Beatlemania except with the real thing representing their younger selves.

Century never addresses the bandís creative stagnancy. Happily, it doesnít turn around and gush over them either. Sure, thereís a moderate amount of praise for their work, but thatís a given, and probably necessary. The filmmakers need to establish the bandís importance and place in rock history, so we need a bit of information about their work. Iím pleased that these remarks donít dominate, as the participants usually view things in a manner that treats the music fairly but without fluffy talk.

As I noted, though, I would have liked to have them more heavily address the lack of change and growth. The section about their work with producer Phil Spector vaguely gets into this, but it doesnít really address the musical content. Instead, that portion delves mostly into conflicts with the nutso Spector; only minor allusions to creative clashes occur. For the most part, thatís fine; the two sides fought so heavily that the topic becomes really fascinating. I simply would have enjoyed more depth about the music.

Donít take that as a strong criticism of End of the Century, though. In general, it tells the Ramonesí story in a blunt and consistently entertaining manner. It moves through most of the material weíd like to hear and always maintains a tone of frankness. End adds up to a simply terrific look at the Ramones.
---
The DVD Grades: Picture C-/ Audio C+/ Bonus B-
---
End of the Century: The Story of the Ramones appears in an aspect ratio of approximately 1.78:1 on this single-sided, double-layered DVD; the image has not been enhanced for 16X9 televisions. The absence of anamorphic encoding created a disappointment, but given the programís fairly crude video origins, Iím not sure it would have made a huge difference.
Many of the variations in quality connected to the different sources. Century split between old archival footage and modern interviews. Unsurprisingly, the former showed lots of problems. They were often rough and unattractive. I didnít find the old clips to be poor for the most part, but they came with quite a few signs of source flaws, iffy definition and bland tones.
As for the newer shots, they were more consistent but still not better than average. For the interviews, sharpness usually seemed fine, though many exceptions occurred. At times these bits came across as fuzzy and ill-defined. Nonetheless, they normally presented decent clarity. Not much shimmering occurred and I noticed no edge enhancement, but quite a lot of jagged edges appeared throughout the show. New shots demonstrated a little video artificating, and a few filmed shots - like some with Joey - showed some streaks, but otherwise the modern footage looked clean.
Colors were acceptably full. They never looked terribly good, and they sometimes were flat and drab. Nonetheless, for this kind of material, the tones seemed fine in general. Blacks were usually reasonably dark. This wasnít a good-looking program, but it worked okay for material of this sort. Besides, who watches a Ramones documentary and worries about flawless visuals?
On the other hand, audio quality became more important, and the Dolby Digital 5.1 soundtrack of End of the Century was a mixed bag. As one might expect, music dominated the spectrum. Studio recordings showed good stereo presence, and they also used the surrounds to bolster the power of the songs. Music that came from cruder sources - like primitive film footage from the Seventies - was mono or close. At times the songs spread to the sides in a somewhat awkward manner, but the channels didnít do much with them. Otherwise, some atmospheric elements popped up in the sides and rears - like street ambience - but there wasnít much to the soundfield.
Audio quality varied, and not just because of the different sources. Again, professionally recorded music sounded great, with nice clarity and dimensionality. Less stellar sources showed more significant problems, as those bits were usually quite rough. Effects had little to do in the program, but they were fine given their limited scope.
Speech was always intelligible - a good thing since the DVD lacked any subtitles or captioning. Nonetheless, the quality of the dialogue varied as well. Mostly this stemmed from some poor source recordings. For instance, a lot of hiss showed up for most of Johnnyís sessions. Some edginess and roughness also interfered. At its best - when it focused on studio recordings - the track sounded excellent. However, all the erratic elements knocked my overall grade down to a ďC+Ē.
When we head to the extras, we start with one Deleted Scene. This 91-second clip discusses the brief period between Richieís departure and Markyís return. We see how Blondieís Clem Burke almost joined the band. Itís an intriguing look at band history.
Next comes a two-minute and 54-second Joey Ramone Radio Interview Excerpt. He claims that Bruce Springsteen originally wrote ďHungry HeartĒ for the Ramones and some other Bruce-related thoughts. The DJ seems like a schmuck, but Joey provides a cool story.
In the three-minute and 33-second clip called Marky Ramone Drum Technique, he demonstrates some aspects of his style. Marky talks about what makes this form of drumming difficult. He doesnít really convince us itís tough; it may well be, but he doesnít make it clear why this would be. Still, itís an interesting topic, and itís nice to see Marky play in other styles to establish his versatility.
After this we find a collection of seven separate interview excerpts. These offer comments from Johnny Ramone (3:18), Richie Ramone (3:14), Dee Dee Ramone (3:58), Joe Strummer (4:01), Tommy Ramone in Forest Hills (2:27), Debbie Harry and Chris Stein (6:47), and neighborhood friend Ritchie Adler (1:54). All but Strummer reflect upon the old days. The two Blondie members chat about their interactions with the Ramones, while the various bandmembers discuss aspects of being in the group. Strummer chips in with some appreciation of what the Ramones meant, while Adler tosses in a quick memory of the bandís very early times. The clips help flesh out our understanding of the Ramones and add a lot of good information.
In addition to the movieís trailer, the set ends with Who Wrote What On the First Three Albums by Tommy Ramone. In this four-minute and 15-second piece, Tommy fields song titles and tells us who composed each of the tracks. He adds a little insight at times about the tunesí creation, but mostly this is a fairly bland recitation of titles and names.
Now that almost all the original bandmembers have died, the Ramones have become regarded as one of rockís great acts. Created not long before we started to lose the musicians, End of the Century gives us a terrific encapsulation of the bandís career and connected issues. It seems honest and fascinating. As for the DVD, it presents fairly average picture and sound plus a decent roster of extras highlighted by some extra interview footage. No one will mistake this for a stellar DVD, but it does its job as it gives us a strong documentary.
| | |
| --- | --- |
| Viewer Film Ratings: 4.6 Stars | Number of Votes: 10 |