LIONS GATE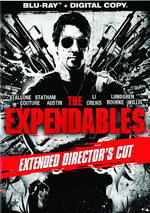 MOVIE INFO
Director:
Sylvester Stallone
Cast:
Sylvester Stallone, Jason Statham, Jet Li, Dolph Lundgren, Eric Roberts , Randy Couture, Steve Austin, Terry Crews, Mickey Rourke, Bruce Willis
Writing Credits:
Dave Callaham (and story), Sylvester Stallone
Tagline:
Choose your weapon.
Synopsis:
Sylvester Stallone stars as Barney Ross, leader of The Expendables, a tight-knit team of skilled combat vets turned mercenaries. Hired by a powerful covert operator, the team jets off to a small South American country to overthrow a ruthless dictator. Once there, they find themselves caught in a deadly web of deceit and betrayal. Using every weapon at their disposal, they set out to save the innocent and punish the guilty in this blistering action-packed thriller.
Box Office:
Budget
$82 million.
Opening Weekend
$34.825 million on 3270 screens.
Domestic Gross
$266.159 million.
MPAA:
Rated R


DVD DETAILS
Presentation:
Aspect Ratio: 2.40:1
Audio:
English DTS-HD MA 7.1
Subtitles:
English
Spanish
Closed-captioned
Supplements Subtitles:
None

Runtime: 114 min.
Price: $24.99
Release Date: 12/13/2011

Bonus:
• Introduction from Sylvester Stallone
• "Action: The Expendables" Featurette
• Music Video
• "Sylvester Stallone: A Director in Action" Featurette
• "Inferno: The Making of The Expendables" Four-Part Documentary
• Sneak Peeks




PURCHASE @ AMAZON.COM

EQUIPMENT
Panasonic 50" TH-50PZ77U 1080p Plasma Monitor; Sony STR-DG1200 7.1 Channel Receiver; Panasonic DMP-BD60K Blu-Ray Player using HDMI outputs; Michael Green Revolution Cinema 6i Speakers (all five); Kenwood 1050SW 150-watt Subwoofer.


---
The Expendables: Director's Cut [Blu-Ray] (2010)
---
Reviewed by Colin Jacobson (December 23, 2011)

If it'd come out in 1990, 2010's The Expendables probably would've made a fortune. With a cast that includes Sylvester Stallone, Arnold Schwarzenegger, and Bruce Willis, it might've been a massive, massive hit. Of course, it also would've cost an insane amount of money to bring all those actors under the same roof, so it might never have made a profit, but it sure would've been viewed as a real movie event.

In 2010, Expendables still became something of an "event", even if all involved are years past their commercial primes. With the three actors mentioned as well as others like Jason Statham, Jet Li, Dolph Lundgren and Mickey Rourke, it created a real "action hero summit" and did reasonably well at the box office. No, its $103 million US gross wasn't stunning, but it took in about $266 million worldwide; with a budget of $82 million, it turned a minor profit and allowed some old action stars another day in the sun.

We meet an elite mercenary team known as "The Expendables". Led by Barney Ross (Stallone), the crew also includes blade expert Lee Christmas (Statham), sharpshooter Gunnar Jensen (Lundgren), martial artist Yin Yang (Li), weapons pro Hale Caesar (Terry Crews) and demolition man Toll Road (Randy Couture). We get to know them through a quick mission to rescue hostages taken by Somalian pirates, one that results in Gunnar's dismissal when he goes rogue at the end.

Back in the US, Ross fields an offer for a new job from a mysterious "Mr. Church" (Willis). He wants the Expendables to head to the island of Vilena, a place led by military dictator General Garza (David Zayas). The interests represented by Mr. Church want Garza eliminated and will pay major bucks to see this happen, so Ross agrees to accept this dangerous mission.

Back 20-25 years ago, I used to enjoy those mega-brawn action flicks. While they were never my favorites, I took pleasure in them and saw plenty of them.

Every now and then, I revisit some of these and realize how poorly the genre has aged. Some of the mid-80s-to-mid-90s pictures still have their moments, but most look pretty ridiculous – so absurd that I find it tough to figure out what I saw in them.

That said, I maintain some nostalgic affection for the genre and hoped that Expendables would deliver a strong update on the formula. Alas, it does not. Indeed, it mostly highlights all the problems with the old flicks and does little to compensate for that.

No one goes to movies such as this for a great plot or three-dimensional characters, but Expendables should've been more dynamic than it is. The story's a total mess, as it cares more about subplots than its main narrative. These distract from the film's overall thrust and do little more than cause boredom. They feel gratuitous and pointless.

Which they are, as attempts to develop characters in action flicks such as this rarely succeed. I can accept the thin personalities, but I'm less willing to tolerate the awful storytelling. Again, I don't expect a movie like this to deliver a tight narrative, but the plot of Expendables is so muddled and messy that – like the lame character beats I mentioned – it distracts from any potential fun. If the flick had gone with a more straightforward A-B plot, it could've been fine, but with all the detours and lack of clarity, it's unwieldy and uninvolving.

The actors seem even less engaging than ever, as most kind of look like they know they're told old for this sort of material but want to pretend they're not. Of course, this isn't true for all the participants, as guys like Statham and Li are still in their forties, but most of the players passed their action hero expiration dates years ago. They look tired, and while they don't embarrass themselves, the whole enterprise feels desperate.

It doesn't help that Stallone can't deliver action sequences with real flair. Expendables mixes a melange of styles but doesn't bring much life to any of them. A largely gun-free fight in a Vilena prison probably boasts the highest level of pep, but most of the scenes fail to deliver a vivid, visceral feel. They're competently depicted but don't leap off the screen.

An action film without compelling action doesn't have much reason to exist. The Expendables comes with promise due to its cast of prominent – if past their prime – actors, but it suffers from the genre's worst traits. It does too little to compensate for these, so it's a big, loud dud.

Note that the Blu-ray features an "Extended Director's Cut" of the film. This adds about 10 minutes to the theatrical version's running time. Unfortunately, I never saw the original, so I can't comment on the changes, but I wanted to mention that the Blu-ray delivers an alternate edition of the flick.
---
The Disc Grades: Picture B-/ Audio A-/ Bonus C+
---
The Expendables appears in an aspect ratio of approximately 2.40:1 on this Blu-Ray Disc. While not a bad presentation, the image seemed less consistent than I'd expect.
Sharpness varied. Much of the movie showed good delineation and clarity, but occasional exceptions occurred and gave us slightly soft shots. Those weren't a big concern, though, and the majority of the flick exhibited nice definition. I noticed no issues with jagged edges or moiré effects, and I saw no edge haloes. Source flaws also failed to materialize.
In terms of colors, Expendables often went with a cold, stylized blue palette, though it warmed up at times, especially during exteriors on the island of Vilena. Whatever choices the film made, the hues looked well-rendered and full. Blacks tended to be erratic, unfortunately; some seemed deep, but others could be a bit mushy. Shadows also were up and down, so some low-light shots appeared somewhat murky. All of this made for a "B-" presentation.
Happier thoughts greeted the consistently active DTS-HD MA 7.1 soundtrack of Expendables. This delivered an assault on the ears, which was a good thing given the kind of film this was. Music broadened to the various speakers well and a wide variety of action elements kicked in throughout the movie. We got a mix of vehicles – cars, planes, motorcycles, trucks – to zip around the room, and different weapons also provided real pop. That meant gunfire, explosions and everything else one could imagine for a big old action flick. The effects created a killer setting for the set pieces and made this an impressive soundscape.
Audio quality held up its end of the bargain as well - mostly. Music was vivid and bold, while effects sounded dynamic and full. Those elements showed clear highs and tight lows. Only speech was a bit of a weak link, as the lines became buried in the mix at times and could be tough to understand. Since this wasn't exactly a chatty flick, that wasn't a huge handicap, and the dialogue was usually comprehendible. The mix's strengths were more than enough to make this an "A-" track.
When you launch the disc, you'll find a quick Introduction from writer/director/acrot Sylvester Stallone. In this 40-second clip, he tells us that we should like the extended cut of the film and promises us that the sequel will be great. It's not memorable but it's short and painless.
Though we find no audio commentary, we do get a long four-part documentary. Inferno: The Making of The Expendables runs one hour, 31 minutes and 42 seconds as it presents a form of production diary. While we get occasional soundbites from a mix of personnel, we mostly watch shots from the set and hear narration from Stallone. "Inferno" looks at Stallone's early love of action flicks and the goals for Expendables, cast, characters and performances, what Stallone brings to the effort, stunts and action, and other anecdotes.
I usually like programs such as this since they can give us dynamic glimpses of the production. Overall, "Inferno" offers some nice material, but it's not as good as it could – or should – have been. That's because its producers make it into too much of a love letter to Stallone; far too much of the show seems intended to glorify its main participant. There's still enough quality footage to create a reasonably interesting program, but it's a bit of a disappointment.
First aired on Spike TV, Action: The Expendables lasts 20 minutes, 33 seconds and features Stallone and actors Terry Crews, Steve Austin, Jason Statham, Dolph Lundgren, Randy Couture, and David Zayas. The show looks at story, characters and cast, stunts and action, and what Stallone brings to the project. Most programs like this exist to promote the movie more than anything else, and that's definitely the case here. "Action" occasionally tosses in a good clip from the set, but the majority of the piece simply tries to convince us how great the film will be. It's pretty forgettable.
Another featurette follows. Sylvester Stallone: A Director in Action goes for 20 minutes, 21 seconds and provides info from Stallone as he looks at aspects of his career. As implied by the title, the piece discusses Stallone's work as director from 1978's Paradise Alley up to Expendables. Probably the most thoughtful of the Blu-ray's programs, this one offers an interesting overview of Stallone's life behind the camera.
We get a music video for Sully Erna's "Sinner's Prayer". This offers a lip-synched stage performance clip. I'm glad it lacks the usual allotment of movie snippets, but it's not a particularly interesting video.
The disc opens with ads for Set Up, Conan the Barbarian, Rambo and Pulp Fiction. These pop up under Also from Lionsgate as well; no trailer for Expendables appears here.
While The Expendables helped give some life to the careers of Sylvester Stallone and other faded action heroes, it failed to create an exciting flick. The movie features the worst aspects of the 1980s efforts it emulates but doesn't add anything new to make it sizzle. The Blu-ray provides erratic but generally good picture as well as excellent audio and a decent set of supplements. Expendables should've been a fun adventure but it's too much of a mess to succeed.
| | |
| --- | --- |
| Viewer Film Ratings: 2.7058 Stars | Number of Votes: 51 |