PARAMOUNT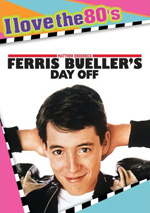 MOVIE INFO
Director:
John Hughes
Cast:
Matthew Broderick, Alan Ruck, Mia Sara, Jeffrey Jones, Jennifer Grey, Cindy Pickett, Lyman Ward, Edie McClurg, Charlie Sheen, Ben Stein
Writing Credits:
John Hughes
Tagline:
One Man's Struggle To Take It Easy.
Synopsis:
Ferris Bueller (Matthew Broderick) is a tricky but harmless fast-talker. But he knows how to have fun, which is exactly what he sets out to do when he feigns illness and talks his parents into letting him stay home from school. The perpetually lucky Ferris enlists his hypochondriac best friend, Cameron Frye (Alan Ruck), into springing his girlfriend, Sloane Peterson (Mia Sara), from class, and the three embark on a raucous downtown Chicago adventure. From Wrigley Field to the Art Institute of Chicago to a Polish pride parade, Ferris and his friends make the most of their day off. But Ferris, Sloane, and Cameron might not get away with playing hooky. Ferris' sister, Jeanie (Jennifer Grey), is determined to prove that Ferris is faking sick and make him pay for it, and the bumbling school dean, Ed Rooney (Jeffrey Jones), is sure that Ferris is pulling a fast one. Another classic from writer-director John Hughes, this film features a star turn from Broderick as the charismatic Ferris.
Box Office:
Opening Weekend
$6.300 million on -unknown- screens.
Domestic Gross
$70.136 million.
MPAA:
Rated PG-13


DVD DETAILS
Presentation:
Widescreen 2.35:1/16x9
Audio:
English Dolby Digital 5.1
English Dolby Surround 2.0
French Dolby Surround 2.0
Subtitles:
English
Closed-captioned
Supplements Subtitles:
None

Runtime: 102 min.
Price: $14.99
Release Date: 8/5/2008

Bonus:
• Audio Commentary with Writer/Director John Hughes
• Bonus CD




PURCHASE @ AMAZON.COM

EQUIPMENT
Sony 36" WEGA KV-36FS12 Monitor; Sony DA333ES Processor/Receiver; Panasonic CV-50 DVD Player using component outputs; Michael Green Revolution Cinema 6i Speakers (all five); Sony SA-WM40 Subwoofer.


RELATED REVIEWS
[an error occurred while processing this directive]
---
Ferris Bueller's Day Off: I Love The 80's Edition (1986)
---
Reviewed by Colin Jacobson (July 30, 2008)

Since I went through my teens in the Eighties, I experienced the popular success of John Hughes firsthand. With efforts like Sixteen Candles and The Breakfast Club, he defined teen movies for an entire generation.

And then he vanished! Hughes last directed a film in 1991 when he made the abysmal Curly Sue. He's written and produced since then, but he hasn't taken the lead on any movies over the last 14 years.

Hughes wrapped up his teen efforts even earlier. 1986's Ferris Bueller's Day Off served as his final look at the high school set. With the following year's Planes, Trains and Automobiles, he addressed a more adult crowd, and that trend continued with 1988's She's Having a Baby.

At least Hughes ended his string of teen flicks on top. Ferris made more money than any of his other films, and it also remains probably the most popular of Hughes' efforts. The movie introduces us to an extremely popular high school student named Ferris Bueller (Matthew Broderick). Confronted with a beautiful spring day, Ferris decides he can't face the prospect of wasting it in school. He fakes an illness and gets his parents' permission to stay home. He convinces his buddy Cameron (Alan Ruck) – who's actually sick – to come over and he frees his girlfriend Sloane (Mia Sara) from school so the three of them can have some fun.

This doesn't come without complications, though. Dean of Students Ed Rooney (Jeffrey Jones) suspects that Ferris is faking it, and he makes it his mission to expose the kid's charade. Ferris's sister Jeanie (Jennifer Grey) resents the way that he gets away with whatever he wants, so she also acts to sabotage her brother's day of fun. The movie follows these threads and other problems.

If forced to pick the main problem with this film, I'd focus on Ferris himself. I mean no offense to Broderick, who I think does fine in the role. However, as written and depicted, Ferris is annoying. I can totally understand why he grates on his sister. Smug and arrogant, he gets what he wants because he bullies everyone else. He batters poor Cameron until he leaves his sickbed, and he rarely proves to be sympathetic.

Defenders of Ferris likely will note his positive effect on those around him. After all, doesn't he ultimately help Cameron confront his demons and become more self-realized? Sure, but that doesn't mean I have to agree with the methods. Ferris strikes me as selfish and smug.

That said, the movie does deliver a good message. It reminds us that life is short so we should grab the gusto while we can and all sorts of other cliches. Again, all that is fine, but I don't care for the execution of the theme. I see Ferris as a cartoon version of the smooth kid who has it all, but he remains an annoying cartoon.

And it is possible to pull off this kind of character. After all, Axel Foley in Beverly Hills Cop manages to manipulate situations to his advantage all the time, and we love him for it. The difference is that a) Axel isn't a smug, spoiled rich kid, and b) Axel uses his intelligence while Ferris just acts pushy.

Maybe I'm griping too much about the main character, but given how he dominates the film, his nature causes problems for me. Ferris's personality doesn't ruin the film, but he makes it more difficult to take, especially when everything gets tied up so neat and nice at the end. His sister all of a sudden has a change of heart? It seems tough to accept that one rough makeout session with Charlie Sheen would undo years of antagonism and jealousy.

But I suppose I'm investing too much of an expectation of realism. As I noted, Ferris essentially exists as a cartoon, and it provides a reasonably entertaining one. However, I do find it tough to get past the flick's heavy mid-Eighties vibe. I understand that most films bear mark of the era in which they were made, but Ferris carries that burden more intensely. From the music to the fashions to the basic filmmaking, this flick screams "1986", and that doesn't make it more charming.

All told, Ferris has its moments, and I'm sure it works better for folks who can more closely identify with their high school days. Not that I think I loved it back when I was only one year into college, so maybe that's not the case. The film has many adherents, but I must admit that its charms largely escape me.
---
The DVD Grades: Picture B-/Audio B/ Bonus C+
---
Ferris Bueller's Day Off appears in an aspect ratio of approximately 2.35:1 on this single-sided, double-layered DVD; the image has been enhanced for 16X9 televisions. While I didn't find a ton of flaws here, there were enough to cause some problems.
Sharpness seemed fairly distinct and detailed, though the movie displayed some general blandness that was likely due to the film stock of the era. Many Eighties pictures haven't held up especially well in this regard, and Ferris looked like a product of its era. Exterior shots appeared nicely crisp and clear, but interiors could be somewhat drab and flat. I saw no problems with jagged edges or shimmering, but I noticed moderate edge enhancement at times. Print flaws seemed fairly modest. Some light grain appeared, and I saw intermittent examples of speckles, grit, and a couple of nicks, but these were relatively rare and caused few concerns.
Colors appeared acceptably natural and accurate throughout the movie, but at times they could look drab and bland. The worst examples occurred during interior shots, which were a bit murky. Exteriors offered better definition; they never became terribly lively, but they were adequate. Black levels seemed acceptably dark though a little dull, and shadow detail was similarly flat. Low-light scenes generally appeared fairly easy to discern, but they looked too lackluster to be anything impressive. Ultimately, Ferris always remained watchable but it never rose too far above that level.
Somewhat better was the film's Dolby Digital 5.1 soundtrack. Although nothing mind-blowing, the soundfield was fairly involving and engaging. The forward spectrum dominated and showed some decent stereo imaging. The music spread cleanly across the front speakers, and I also heard occasional use of discrete effects. These panned relatively well across the channels, and the forward audio seemed cleanly integrated.
The surrounds contributed some solid sound as well. None of the effects from the surrounds were terribly impressive, but they seemed good for this kind of movie. Mostly it was the film's music that was reinforced in the rear. Clearly the soundfield didn't compete with something from a more recent action spectacular, but I thought it seemed pretty good nonetheless, and it added a fine sense of place and involvement to the package.
Also positive was the quality of the audio. Speech appeared distinct and natural, with no issues related to intelligibility or edginess. Effects were clean and realistic and showed no signs of distortion. The music seemed clear and bright and displayed good low-end. As a whole, the track lacked much deep bass, but I found the dynamics to seem fairly satisfying, with most of the low-end stemming from the flick's pop songs. The soundtrack of Ferris worked well for the film it served.
How did the picture and audio of this 2008 "I Love the 80s Edition" compare to those of the special edition from 2006? Both looked and sounded virtually identical to me. I checked out some other comparisons of the two, and those tended to favor the 2006 DVD. I just don't see the differences; I thought the two transfers were extremely similar.
This "80s Edition" of Ferris actually is a reissue of the movie's original release from 1999. That means it drops the extras from the 2006 SE but it provides one exclusive component: an audio commentary with writer/director John Hughes. He offers a running, screen-specific chat that looks at cast and performances, sets, locations and production design, story and character choices, music, and a few other topics.
Given his usual reluctance to participate in DVD extras, I feared Hughes wouldn't tell us much here. Instead, he generates a lot of good info about the movie, and he proves quite insightful along the way. Hughes clearly put a lot of thought into characters and story subjects, and he takes us inside his choices with many notes that flesh out the personalities and situations. This becomes a consistently interesting track.
The "80s Edition" also throws in a Bonus CD with four hits from the era. We find INXS's "Need You Tonight", a-ha's "Take On Me", Echo and the Bunnymen's "Lips Like Sugar" and Erasure's "Chains of Love". I have no clue how they chose these songs and why we get a mere four. I suppose the disc is a decent extra if you want the DVD anyway, but I can't imagine it'll be a decision-maker for any fans on the fence about this disc.
Perhaps the fact I'm not wild about Ferris Bueller's Day Off makes me a traitor to my generation. The film certainly has maintained a big audience over the last two decades. I just never got a whole lot out of it, as I find it to provide sporadic entertainment and not much more. The DVD features adequate to good picture and audio along with a very good audio commentary.
For Ferris fans, the question becomes which DVD to purchase. Both this 2008 version – which essentially duplicates the original 1999 disc – and the 2006 special edition provide picture and audio I think seem virtually identical, and they sport similar prices. That leaves the extras as the deciding factor. The 2006 SE includes more components, but I don't think any of those elements are as good as this disc's commentary. For me, that's the deciding factor, though it's really a wash; I prefer this disc by a slight margin, but it's a coin toss either way.
To rate this film visit the "Bueller, Bueller" Edition of FERRIS BUELLER'S DAY OFF