MIRAMAX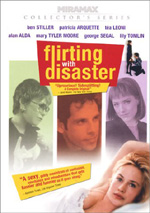 MOVIE INFO
Director:
David O. Russell
Cast:
Ben Stiller, Patricia Arquette, Tťa Leoni, Alan Alda, Mary Tyler Moore, George Segal, Lily Tomlin, Josh Brolin, Richard Jenkins
Writing Credits:
David O. Russell
Tagline:
Have you flirted yet?
Synopsis:
Written and directed by David O. Russell, this hysterically original comedy was cheered by critics and audiences nationwide. In a quest to find his biological parents, Mel Coplin (Ben Stiller) - joined by his wife (Patricia Arquette) and a sexy adoption counselor (Tea Leoni) - embarks on a cross-country search for his "roots". Yet as he careens from one outrageous situation to another, Mel finds himself tempted by the seductive counselor - even as his wife starts a flirtation of her own! By the time they meet up with his free-spirited birth parents, the whole situation is spinning hysterically out of control! Also starring Mary Tyler Moore, Alan Alda and Lily Tomlin, this hilarious hit is sure to entertain everyone!
Box Office:
Budget
$7 million.
Domestic Gross
$14.891 million.
MPAA:
Rated R


DVD DETAILS
Presentation:
Widescreen 1.85:1/16x9
Audio:
English Dolby Digital 5.1
French Dolby 2.0
Subtitles:
English
Closed-captioned

Runtime: 93 min.
Price: $19.99
Release Date: 6/1/2004

Bonus:
• Original Featurette
• Deleted Scenes
• Mistakes




PURCHASE @ AMAZON.COM

EQUIPMENT
Sony 36" WEGA KV-36FS12 Monitor; Sony DA333ES Processor/Receiver; Panasonic CV-50 DVD Player using component outputs; Michael Green Revolution Cinema 6i Speakers (all five); Sony SA-WM40 Subwoofer.


RELATED REVIEWS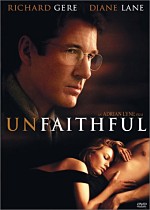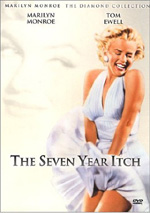 [an error occurred while processing this directive]
---
Flirting With Disaster: Collector's Series (1996)
---
Reviewed by Colin Jacobson (June 9, 2004)

Many marriages experience intimacy problems following the arrival of a baby. 1996ís Flirting with Disaster examines that topic in an unusual and irreverent manner. We meet 30-ish Mel Coplin (Ben Stiller). His parents (George Segal and Mary Tyler Moore) adopted him as an infant, and he searches for his real parents. His wife Nancy (Patricia Arquette) just had a baby boy a few months earlier, but Mel doesnít feel comfortable naming the lad until he comes to terms with his past.

Mel gets help from Tina Kalb (Tea Leoni) at the adoption agency. She finds his biological mother Valerie Swaney (Celia Weston) in San Diego and wants to accompany Mel and Nancy as they go to meet her. Tina wants to document the reunion to examine the psychological impact of these reunions.

Melís parents arenít happy with his decision, but he goes to San Diego anyway. Some flirting emerges between Mel and Tina, and they Indian wrestle at Valerieís house. Nancy sees the attraction and gets jealous. After a brief and tearful reunion, however, it turns out the agency made a mistake, and Valerieís not actually Melís mother.

Tina locates his father in Gundall, Michigan, so they now fly there to meet Fritz Boudreau (David Patrick Kelly). He turns out to be a wildman, but heís not Melís dad. He just helped out the biological mother and dropped off Mel at the agency. Fritz steers them in the right direction, but not before an incident occurs in which Mel drives Fritzís rig into a post office.

When the authorities investigate, we meet ATF agent Tony Kent (Josh Brolin) who went to high school with Nancy. Some flirting occurs between those two, though Tonyís bisexual and ďmarriedĒ to his work partner Paul Harmon (Richard Jenkins) is his partner. The whole group heads to Antelope Wells, New Mexico, where they plan to find Melís parents, Richard (Alan Alda) and Mary Schlichting (Lily Tomlin). Flirting and tensions mount along the way, and things come to a head in New Mexico.

To be sure, one canít regard Disaster as a serious look at the issues connected to any of its topics. We donít get a view of problems confronted by adopted kids, and we also really deal with the temptations experienced by married folks. Again, it touches on the lack of sexuality affected by the birth of a child, but that topic seems tangential.

Instead, Disaster mainly exists as an excuse for some wacky scenarios. The movie starts slowly, but it gradually becomes more involving. Unfortunately, it starts to collapse toward the end. The second act fares the best, as the various participants interact in a lively and amusing manner.

By the time we get to New Mexico, though, the matters connect in such a way that they become more than slightly absurd. Some of this works but much of it gets so goofy that it fails to succeed. I donít want to present spoilers, but drug usage occurs and it turns into pretty ludicrous territory. The movie tries so hard to be wacky that it loses touch with its core.

Still, when Disaster works, it does so well. The strong cast helps. It seems somewhat gimmicky that so many Seventies icons like Alda, Tomlin, Moore and Segal appear, but despite that problem, they fare nicely. Moore seems especially winning as she plays against type. She makes Melís mom amusingly caustic and neurotic and offers some of the movieís best moments.

Both a strength and a weakness, the film progresses more like a series of sketches than a coherent story. This means that the pacing doesnít often flag, but it also results in a disjointed tale. The various components donít always connect well and this can make the movie somewhat iffy at times.

Although it often feels silly and absurd, Flirting with Disaster presents enough amusement to generally succeed. Occasionally clever and incisive but periodically goofy and pointless, the movie sputters at times but it mostly entertains.
---
The DVD Grades: Picture B+/Audio B/ Bonus D+
---
Flirting with Disaster appears in an aspect ratio of approximately 1.85:1 on this single-sided, double-layered DVD; the image has been enhanced for 16X9 televisions. A few small problems cropped up, but not too many, as Disaster largely looked very good.
With only some minor exceptions, sharpness seemed excellent. A couple of shots demonstrated minor softness, but those instances occurred infrequently. Instead, the majority of the movie came across as distinctive and well defined. I noticed no problems with jagged edges or shimmering, and just a smidgen of edge enhancement occurred. Print flaws were a little more distracting, though. Occasional instances of specks, marks and debris cropped up through the movie. These never became major, but they presented a small nuisance.
On the other hand, colors appeared terrific. The movieís natural palette produced many warm, rich tones. The DVD replicated them with great vivacity and definition. Black levels also came across as deep and firm, while low-light shots appeared clean and smooth. Drop the minor softness and the print flaws and Disaster would become an ďAĒ-level image.
Given its status as a quirky comedy, I didnít expect much from the Dolby Digital 5.1 soundtrack of Flirting with Disaster. Indeed, the soundfield seemed pretty limited. The music showed decent stereo imaging, and most of the remaining audio tended toward general ambience. The mix always presented a nice sense of place, but that was about it. The surrounds echoed those elements and added a light feeling of dimensionality but never played a significant role.
Audio quality was positive. Speech seemed natural and crisp, with no issues connected to edginess or intelligibility. Music was fairly bright and dynamic, as both score and source tunes demonstrated solid reproduction and range. Effects also came across as clean and tight, with acceptable low-end. Nothing much happened to stand out, but the cumulative effect seemed fine.
Only some minor extras show up on Disaster. We start with an original featurette that runs five minutes, 21 seconds. It presents the usual collection of movie snippets, behind the scenes tidbits, and remarks. We hear from writer/director David O. Russell, actors Ben Stiller and Patricia Arquette, George Segal, Mary Tyler Moore, Alan Alda, Lily Tomlin, Richard Jenkins and Tea Leoni. The promotional piece recaps the story and tells us how wonderful the movie is. Thatís about it, as the featurette touts the film and succeeds at nothing else.
After this we find three deleted scenes. These run a total of four minutes, 44 seconds. We see an early chat between Mel and Tina about his plan, an extension of the hotel scene between Mel and Nancy after the encounter in San Diego, and some snippets from Melís parents in jail at the movieís end. None of them seem very interesting, though the Mel/Tina clip probably provides the most information.
Lastly we get mistakes. These provide bloopers from the film (six minutes, 49 seconds) and from the deleted scenes (89 seconds). These offer the usual assortment of goofs and silliness, and I see nothing unusually interesting here.
An inconsistent but occasionally amusing flick, Flirting with Disaster doesnít seem like a great movie. Still, it includes enough humor to make it generally fun, and it enjoys a nice cast who help make it work. The DVD features very good picture plus solid audio, but the extras seem generally insubstantial. Give this one a rental.
| | |
| --- | --- |
| Viewer Film Ratings: 4.6 Stars | Number of Votes: 5 |