WARNER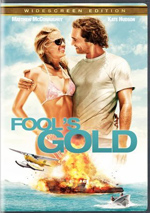 MOVIE INFO
Director:
Andy Tennant
Cast:
Matthew McConaughey, Kate Hudson, Donald Sutherland, Alexis Dziena, Ewen Bremner, Ray Winstone, Kevin Hart, Malcolm-Jamal Warner, Brian Hooks
Writing Credits:
John Claflin (and story), Daniel Zelman (and story), Andy Tennant
Tagline:
This February True Love Takes a Dive.
Synopsis:
Matthew McConaughey and Kate Hudson go for the gold (and the diamonds, emeralds and rubies) as a just-divorced couple who bicker and banter their way through an adventure - and laugh-packed undersea treasure hunt. McConaughey is Finn, in love with his ex (Hudson) and in deep with gangster Bigg Bunny. After eight years of searching, Finn gets a clue to the whereabouts of the Queen's Dowry, a fabulous fortune that mysteriously disappeared in the Caribbean in 1715. Now all he has to do is get the gold, get the girl and get going before Bigg Bunny gets him. Directed by Andy Tennant (Hitch), Fool's Gold glitters with danger, action, romance, comedy, great one-liners - and a great time to be had by all!
Box Office:
Budget
$70 million.
Opening Weekend
$21.589 million on 3125 screens.
Domestic Gross
$70.158 million.
MPAA:
Rated PG-13


DVD DETAILS
Presentation:
Widescreen 2.35:1/16x9
Audio:
English Dolby Digital 5.1
French Dolby Digital 5.1
Spanish Dolby Digital 5.1
Subtitles:
English
Spanish
French
Closed-captioned
Supplements Subtitles:
English
Spanish

Runtime: 112 min.
Price: $28.98
Release Date: 6/17/08

Bonus:
• "Fool's Gold: Flirting With Adventure" Featurette
• Gag Reel
• Previews




PURCHASE @ AMAZON.COM

EQUIPMENT
Panasonic 50" TH-50PZ77U 1080p Plasma Monitor; Harman/Kardon DPR 2005 7.1 Channel Receiver; Toshiba A-30 HD-DVD/1080p Upconverting DVD Player using HDMI outputs; Michael Green Revolution Cinema 6i Speakers (all five); Kenwood 1050SW 150-watt Subwoofer.


[an error occurred while processing this directive]
---
Fool's Gold (2008)
---
Reviewed by Colin Jacobson (June 6, 2008)

Here's a sign that audiences become starved for escapist entertainment in the winter: when a piece of fluff with "B"-level stars turns into a moderate hit. And that's exactly what happened in February 2008, as Fool's Gold earned a perfectly acceptable $70 million. This is the kind of flick that would fade without a sound during busier parts of the year, but in the quiet of winter, it found an audience.

Gold introduces us to a newly divorced couple: Finn (Matthew McConaughey) and Tess (Kate Hudson). Finn obsessively seeks to find a Spanish treasure lost at sea in 1715, but he runs afoul of rapper/entrepreneur Bigg Bunny (Kevin Hart). Bunny assigns his henchmen to off Finn, but our hero manages to escape.

Finn tells Tess about a discovery that signals a major turning point in his hunt. She ignores his attempts to persuade her to join him – and finance him – but he manages to weasel his way onto the boat owned by Nigel Honeycutt (Donald Sutherland), a multi-millionaire who employs Tess as a steward. The film follows their adventures along with the friction that results between them and other complications.

When I alluded to McConaughey and Hudson as "B"-level stars, I didn't mean that to convey that they lack talent. Both have their charms, and I find them inoffensive at worst. However, "inoffensive" does not a movie star make. Whenever I see one of them in the lead of a movie, I automatically wonder how many bigger stars turned down the flick before the casting director got to them.

McConaughey could play the Pope and he'd still find a reason to spend half the movie shirtless. Granted, if I had a body like his, they'd have to pin me down to slap a shirt on me, too, but this trend gets tedious after a while. Too many McConaughey movies feel like homages to his buffness. At least his shirtlessness makes more sense here, given the film's sea-bound nature. Actually, McConaughey keeps his clothes on more than I'd expect, so I guess that's progress.

Why have I spent so much time on McConaughey's state of undress? Because there's not a lot else that deserves discussion in Gold. This is the kind of film that creates a passable diversion when you channel-surf. You come across it on cable and give it a look because you're too lazy to look for something better.

That certainly doesn't make it a winning big-screen adventure. Oh, I can't find much about the flick that deserves active complaint. It generates a minor level of entertainment, and it rarely falters to an enormous degree. No, I don't think the leads boast much chemistry, and it suffers from lots of clunky exposition, but otherwise, the film seems decent.

But that's about all I can say for Fool's Gold. It reaches a level of general competence but never rises above that. I didn't dislike the time I spent with the film, but I didn't find anything to make it remotely memorable.
---
The DVD Grades: Picture B-/ Audio B/ Bonus D-
---
Fool's Gold appears in an aspect ratio of approximately 2.35:1 on this single-sided, double-layered DVD; the image has been enhanced for 16X9 televisions. Gold provided an acceptable transfer, but not one that excelled.
Sharpness created occasional issues. Though most of the movie displayed reasonably good delineation, some wide shots seemed a little soft and undefined. A little edge enhancement caused a few of these concerns, and the flick could be slightly blocky at times. No issues with moiré effects or source flaws occurred, at least, though some compression artifacts appeared.
Colors usually seemed good, though not quite as dazzling as one would expect. A flick with so many daylight tropical shots should boast stellar hues, whereas the tones here looked good but not great. Blacks were dark and firm, and shadows showed nice delineation. This was a more than watchable image.
In terms of the film's Dolby Digital 5.1 soundtrack, I figured it could go two ways. On one hand, it could follow the low-key "comedy mix", but on the other, it could embrace the adventure side of things. For the most part, the audio went for the former, as the soundfield tended to be restrained. Music showed good stereo presence, and some sequences opened up matters to a moderate degree. Underwater shots a good sense of envelopment, and the smattering of action elements like explosions added some zest. These didn't play a major role in the proceedings, though, so don't expect great breadth from the soundscape.
Audio quality was generally good. Some dialogue seemed a bit edgy, but most of the lines were natural and concise. Music sounded warm and full, and effects came across as realistic and accurate. Low-end response was perfectly satisfactory. There wasn't enough ambition here for a grade above a "B", though.
Despite the movie's moderate success, the DVD for Fool's Gold comes with sparse extras. Fool's Gold: Flirting With Adventure runs four minutes, 34 seconds and includes comments from director Andy Tennant, producer Donald De Line, stunt coordinator RA Rondell, and actors Kate Hudson and Matthew McConaughey. The show looks at shooting in Australia, the cast, characters and performances, and stunts. This is a boring piece of promotional fluff without any substance. It essentially just acts to glorify the stars.
A Gag Reel fills two minutes, 47 seconds. We get some of the usual goofs and giggles, but there's also a little behind the scenes footage to enhance things. It ain't much, but it's more interesting than that terrible featurette.
A few ads open the DVD. We get clips for The Ellen Degeneres Show, The Sisterhood of the Traveling Pants 2, Get Smart's Bruce and Lloyd and Mama's Boy. No trailer for Fool's Gold shows up here.
Mildly entertaining but without much charm, Fool's Gold creates a passable diversion and nothing more. This is a competent film that lacks anything to make it special or memorable. The DVD provides acceptable picture and audio but skimps on supplements. We get a mediocre DVD for an average film.
| | |
| --- | --- |
| Viewer Film Ratings: 4.3333 Stars | Number of Votes: 15 |