MGM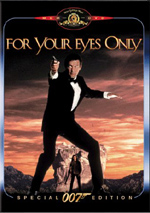 MOVIE INFO
Director:
John Glen
Cast:
Roger Moore, Carole Bouquet, Topol, Lynn-Holly Johnson, Julian Glover, Cassandra Harris, Jill Bennett, Michael Gothard, John Wyman, Lois Maxwell, Desmond Llewelyn
Writing Credits:
Ian Fleming (stories, "For Your Eyes Only", "Risico"), Richard Maibaum, Michael G. Wilson
Tagline:
Bond Has Everything - James Bond Agent 007 Is Back.
Synopsis:
A British spy trawler is accidentally sunk off the coast of a Warsaw pact county. On board is a hi-tech encryption device called an ATAC which the British use to send launch instructions to their Polaris fleet. The British send agent James Bond to investigate but once the Soviets learn of the loss the race is on to recover the device at any cost.
Box Office:
Budget
$28 million.
Opening Weekend
$6.834 million on 952 screens.
Domestic Gross
$54.812 million.
MPAA:
Rated PG


DVD DETAILS
Presentation:
Widescreen 2.35:1/16x9
Audio:
English Dolby Digital 5.1
French Dolby Surround 2.0
Subtitles:
English
French
Closed-captioned

Runtime: 130 min.
Price: $34.98
Release Date: 10/19/1999

Bonus:
• Audio Commentary with Director John Glen, Actors Lynn-Holly Johnson and Topol, and Publicity Director Jerry Juroe
• Audio Commentary with Executive Producer Michael Wilson, Skiing Expert Willy Bogner, Production Designer Peter Lamont, 2nd Unit Director Arthur Wooster, Camera Operator Alec Mills, Assistant Neil Lamont, Stunt Coordinators George Leech and Martin Grace, Producerís Wife Dana Broccoli, and Composer Bill Conti
• ďInside For Your Eyes OnlyĒ Documentary
• Animated Storyboards
• Photo Galleries
• Music Video
• Trailers and Radio Spots
• Booklet




PURCHASE @ AMAZON.COM

EQUIPMENT
Sony 36" WEGA KV-36FS12 Monitor; Sony DA333ES Processor/Receiver; Panasonic CV-50 DVD Player using component outputs; Michael Green Revolution Cinema 6i Speakers (all five); Sony SA-WM40 Subwoofer.


[an error occurred while processing this directive]
---
For Your Eyes Only (1981)
---
Reviewed by Colin Jacobson (January 2, 2007)

What an odd situation: a lead actor who's afraid of heights, but his role depicts him as he hangs off the side off a cliff. A lead actress who can't dive due to physical issues, but her role shows her in multiple underwater deep-sea scenes. How does all this work out in the end? Via some serious movie magic, all of which results in an above-average Bond film, 1981's For Your Eyes Only.

The twelfth picture in the series, Eyes had the producers regrouping to a degree. The previous entry - 1979's Moonraker - had taken the already-outlandish Bond series to new heights of cartoonishness. Although it had done quite well financially, the producers clearly recognized that they could not continue to escalate Bond's adventures along this level, so they decided to scale things back to a great degree for Eyes, one of the most intimate Bond pictures in years.

Not that anyone will mistake Eyes for My Dinner With Andre, of course. "Small scale" in regard to Bond means 1000 extras instead of 5000. This picture contained all of the usual spills and thrills of a Bond film; it just wasn't anywhere near as "over the top" as the previous few releases.

It's a refreshing change, though not one I welcomed at the time. I was 14 when Eyes came out, and I really looked forward to it. As I recall, I thought it was decent but a disappointment after the outrageousness of Moonraker.

Though some folks don't believe it, my perspective actually has changed to some degree over the last few decades, and I have very different feelings about the Bond films. For one, I accept the truth that Connery blows away Moore. Although I saw them different at the time, I now think Eyes is much better than Moonraker. While Eyes isn't a great Bond film, it's above average, especially for the entries during the Moore years.

Admittedly, that's faint praise. The truth is that I didn't think Eyes was a particularly good film. It certainly doesn't compare to the Connery pictures or even live up to Pierce Brosnan's best Bonds. Still, Eyes offers enough excitement and fun to make it worth watching.

I was actually surprised how much I liked some of the action scenes in Eyes. The Bond series has become so formulaic that I almost glaze over when the requisite chase segment starts, but that didn't happen here. Eyes contains two such bits: one car chase and a ski pursuit. The former gets a clever and entertaining twist due to the auto in which Bond finds himself contained: a Citroen 2CV, a Euro-crap-mobile that looks a lot like a Beetle, and probably drives even more slowly. Putting Bond behind the wheel of that clunker makes for a wonderful change of pace since usually these scenes exist solely to spotlight the various gadgets with which "Q" has outfitted Bond's newest screamer. In this case, Bond has to rely on his wits and his driving skills to escape, and it's great fun to watch this happen.

The skiing scene is even better. Bond finds himself under pursuit at a winter sports complex, and we see him skiing on slopes, across tables, through a bobsled course, and over a ski jump. All the while, he's pursued by creeps on motorcycles. The bobsled scene's the capper; it's funny and thrilling all at once. The Bond series made much of its name on its stunts, and these are some of the best.

One other happy deviation from the usual formula is the ending assault. Moonraker uses the "D-day" model and shows about eight billion good guys attacking a similar number of baddies. As a result, we see Bond wind his way through these folks until he finally saves the day. I'm not terribly fond of these "epic" endings; they're just so frantic and confused that the large scale can't make up for their messiness.

In Eyes, the filmmakers wisely pare things down to a more sensible level. The conclusion features Bond and only about five others who take on a small enclave of villains. I find that the more intimate scale heightens the excitement and makes the conclusion more satisfying.

So what flaws did I find? For one, our villain is extremely dull and lifeless. I like Julian Glover as an actor, but his Kristatos is simply a boring character. He seems vaguely based after Largo from Thunderball, which is a mistake. Largo was flat to begin with, and Kristatos is only a pale imitation of him. After the cartoony fun of "Jaws" in the previous two Bonds, I understand why the filmmakers wanted to make this villain more realistic, but this one case in which it didn't benefit the film; Kristatos is more bureaucrat than badass.

Quite possibly the worst thing about Eyes is the terrible score. Bill Conti, of Rockyís "Gonna Fly Now" fame, provides an unpalatable mix of disco-inflected dreck. No, that's not just my reactionary "Disco sucks!" side popping up; it's my reactionary "Sucky scores that try to sound slick by using sucky disco suck!" side that provoked that sentiment. The music really dates the film and makes it less effective than a proper score would have.

As a director, John Glen shows flair for the big action scenes but he doesn't seem quite sure what to do during the rest of the film. This results in a movie with an inconsistent pace and occasionally laborious "quiet" scenes. The directing has always been something of a negative for the Bonds. They seem to feature rather "utilitarian" directors and have rarely gone after anyone who possesses more than workmanlike skill behind the lens. As such, their work rarely escalates beyond the level of serviceable. While they don't necessarily hurt their films, they don't do much to make them special, either.

Carole Bouquet plays our leading lady, Melina. In keeping with the rest of the film, she's a bit darker and grittier than the average "Bond girl". One definitely senses that she can take care of herself. Actually, I think she rescues Bond as much as he rescues her, which is definitely a change from the usual "damsel in distress" Bond model. Bouquet is decent in the role. She looks gorgeous - she has to be one of the prettiest Bond women - and she manages some intensity, but she seems fairly shallow at times. I'd still say she's one of the best Bond women, but I think much of that sentiment is due to the script; she doesn't do much to bring life to the role.

Maybe Iím too hard on For Your Eyes Only. It gets a lot of attention as one of the better Bond flicks, but I just donít see it that way. This is an above-average movie but it doesnít rank up there with the best Bonds.
---
The DVD Grades: Picture C+/ Audio B+/ Bonus B+
---
For Your Eyes Only appears in an aspect ratio of approximately 2.35:1 on this single-sided, double-layered DVD; the image has been enhanced for 16X9 televisions. Overall picture quality was average.
Sharpness was perfectly adequate. Although I noticed a smattering of slightly hazy shots, the majority appeared reasonably concise and accurate. Edge enhancement was the main distraction in terms of definition, as haloes sometimes made the movie a little soft. I noticed no instances of jagged edges or shimmering, but source flaws presented a more consistent distraction. Sporadic examples of specks, spots and other blemishes made the movie messier than Iíd like.
Though also inconsistent, colors usually seemed positive. Red lighting was runny, and other hues occasionally were a little flat. However, most of the tones came across as nicely vivid and bright. Blacks were deep and firm, but shadows could be somewhat dense. Interiors particularly lacked great life. This was a decent transfer but not one that impressed me.
At least the Dolby Digital 5.1 soundtrack of For Your Eyes Only proved satisfying. This mix did a nice job of opening up the sound image. The audio spreads neatly across the front three channels; it's well localized, and occasional effective pans occurred as well. The rear channels receive sporadic use. For the most part, they broadcast music and periodic effects; the latter usually were monaural, but we did sometimes hear some good split surround usage, such as when helicopters fly across the rear soundstage. The five channels meshed together well to create a good sense of place and action.
Audio quality was a little inconsistent but acceptable for its age. Though speech occasionally showed a bit of edginess, the lines were usually concise and natural. Music presented good clarity but lacked much low-end; the score came across as surprisingly thin at times. Effects packed more of a punch and gave us good bass heft when necessary. A little distortion accompanied a few of the louder elements, but they generally seemed solid. Overall, I liked this track and thought it was well above-average for its era.
As we head to the extras, we open with two separate audio commentaries. The first features director John Glen, actors Lynn-Holly Johnson and Topol, and publicity director Jerry Juroe. Narrated by David Naylor, all sit separately for this edited track. The piece looks at the creation of the opening sequence, cast and crew notes, locations and specifics of some action sequences, the use of gadgets and the filmís tone, and the atmosphere on the set.
This commentary provides a reasonably interesting look at the production, though it never becomes great. A little too much dead air occurs, and the tidbits also tend to become a bit off-topic. Rather than concentrate on shoot specifics, we hear a lot of general information about the participants and the tone of the shoot. Thereís enough here to keep us involved, but not enough to make this a terrific track.
For the second commentary, we hear from executive producer Michael Wilson, skiing expert Willy Bogner, production designer Peter Lamont, 2nd unit director Arthur Wooster, camera operator Alec Mills, assistant Neil Lamont, stunt coordinators George Leech and Martin Grace, composer Bill Conti, and producerís widow Dana Broccoli. Again narrated by Naylor, this piece looks at crew information, story and the movieís darker tone, stunts and action sequences, locations and related concerns, effects, the title song and score, camerawork, and other production specifics.
Expect a track that bears a strong resemblance to its predecessor. Again we find a smattering of gaps, though this one doesnít sag as much as the first commentary. We also get notes that focus more on general areas than on specifics, though again, this proves less problematic here. In addition to reflections on various participants, we find reasonably strong information about production challenges and solutions. This is probably a better commentary than the other one, though both have enough good moments to sustain us.
Next up is a pretty good 28-minute documentary called Inside For Your Eyes Only. This includes modern interviews with many of the principal participants, including Roger Moore and director John Glen. While the presentation is somewhat scattershot - the piece skips from topic to topic with little logic - it's a decent little program. We get to see some good footage from the film's production and the interviews reveal a lot of interesting data and anecdotes about the project. It's not a great documentary, but it's still quite good.
Eyes includes a fair number of minor extras as well. Folks who like production stills will be happy; this DVD includes about 160 of them and they're filed under fifteen separate categories. I'm not a big fan of stills, but these are well-presented and mildly interesting. Also in the "not my cup of tea" category are two sets of storyboards. One documents the original planning for the snowmobile/motorcycle chase, and the other shows the setup for the "retrieving the ATAC" scene. Again, I'm not a big fan of storyboards, but these were fairly interesting.
Some promotional materials also appear in this set. We get four trailers, all of which are pretty long; all four total about fourteen minutes! They run back-to-back, so if you want to see just one of them, you have to fast-forward to it. I doubt you'll feel that urge, however, because all four trailers are pretty similar. They have small differences, but nothing extraordinary.
We also hear two radio spots for the film. These are brief and mildly interesting. We see the music video for Sheena Easton's title song. This clip is really just a version of the film's opening title sequence without the text. Whether that's good or bad is up to you; I didn't really care. The DVD itself also features a trailer for a Playstation game based on Tomorrow Never Dies.
While For Your Eyes Only isn't a great movie, and this isn't a great DVD, it provides a level of overall good quality that makes it worthwhile. The film is pretty enjoyable despite some flaws, as it stands as one of the better Moore Bonds. The DVD features lackluster picture along with good audio and some nice extras. If you only want to own one or two Bond DVDs, Eyes shouldn't be among your choices, but if you want a wider collection than that, this one makes for a nice addition to your collection.
To rate this film visit the Ultimate Edition review of FOR YOUR EYES ONLY