SONY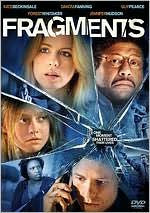 MOVIE INFO
Director:
Rowan Woods
Cast:
Kate Beckinsale, Forest Whitaker, Guy Pearce, Dakota Fanning, Marshall Allman, James Babson, Jacquie Barnbrook, Ankur Bhatt, Kevin Cooney
Writing Credits:
Roy Freirich
Tagline:
You have to lose your way to find it.
Synopsis:
In the aftermath of a gruesome restaurant murder, the survivors of the attack are left to ponder their own mortality and how it relates to their connection to society. Forest Whitaker, Guy Pearce, Kate Beckinsale, and Dakota Fanning headline Little Fish director Rowan Woods' adaptation of Roy Freirich's debut novel.
MPAA:
Rated R


DVD DETAILS
Presentation:
Widescreen 1.85:1/16X9
Audio:
English Dolby Digital 5.1
French Dolby Digital 5.1
Subtitles:
English
French
Closed-captioned
Supplements Subtitles:
None

Runtime: 96 min.
Price: $24.96
Release Date: 8/4/2009

Bonus:
• Audio Commentary With Director Rowan Woods
• Previews




PURCHASE @ AMAZON.COM

EQUIPMENT
Panasonic 50" TH-50PZ77U 1080p Plasma Monitor; Sony STR-DG1200 7.1 Channel Receiver; Panasonic DMP-BD60K Blu-Ray Player using HDMI outputs; Michael Green Revolution Cinema 6i Speakers (all five); Kenwood 1050SW 150-watt Subwoofer.


RELATED REVIEWS
[an error occurred while processing this directive]
---
Fragments (2008)
---
Reviewed by Colin Jacobson (July 21, 2009)

A solid ensemble cast appears in Fragments, a tale about the aftereffects of violence. A gunman enters a small town diner and opens fire. We follow the survivors and witness their reactions to these events as we also see what happened.

As indicated by my two-line synopsis, Fragments doesn't exactly come heavy on plot. Indeed, it may frustrate the viewer during its first act, as the film unfolds slowly. Sure, the violent events occur early, but we don't grasp their full meaning until much later in the flick.

And that's fine with me, as the non-linear method helps make matters more intriguing. It's not a "Rashomon" deal, though; we see a variety of perspectives, but not in the sense that each provides contrasting thoughts. Instead, the different angles end up telling the same tale, as the events slowly emerge.

While I like the structure, I'm not sure the end result proves terribly effective, especially as the flick progresses. The uncertainty about what happened and where things will go keeps us interested for a while, and the unusual structure I mentioned also helps maintain our attention for the first act or so.

After that, though, the film starts to lose steam. Clearly Fragments takes a lot of cues from the Crash School of Filmmaking, though this flick lacks that Oscar winner's smug pretensions. Fragments packs a lot of characters and subplots into a pretty brief running time, and that becomes a problem.

On one hand, the abundance of characters helps the film since it means we find many perspectives – and we're not screwed if we come across one or two participants we don't like. Tired of one character? Don't worry – the film will quickly move to another. Plus, the movie lacks the neat stereotypes of Crash; I won't say the characters are three-dimensional, as they simply lack the screen time to evolve, but at least they have some scope to them.

Still, the ambling nature of the story makes it moderately frustrating in the end. I think the movie bites off more than it can chew. A longer running time might make it more successful, as we'd get better development of the roles. As it stands, we get such minor hints that we never quite invest in any of them.

At least Fragments includes a strong cast. With Forest Whitaker and Jennifer Hudson, we find two Oscar winners, and we get other nominees and notables. All do fine in their parts, though again, the film's brevity and broad scope undercuts them. We see so little of the actors that there's only so much they can do with their roles.

All of this leaves Fragments as a moderately interesting experience but not much more than that. At only 96 minutes, it doesn't overstay its welcome, and it keeps us reasonably involved in its tale. However, the thinness of the plot and the absence of serious character development makes it only sporadically successful.
---
The DVD Grades: Picture B-/ Audio B-/ Bonus C+
---
Fragments appears in an aspect ratio of approximately 1.85:1 on this single-sided, double-layered DVD; the image has been enhanced for 16X9 televisions. The movie provided a decent transfer but not an especially strong one.
Sharpness was the main issue. While much of the flick looked pretty distinctive, wider shots tended to be soft and ill-defined. This wasn't an extreme problem, but a fair amount of the flick lacked great delineation. No issues with jagged edges or shimmering, but I noticed mild to moderate edge enhancement throughout the film. The presentation lacked source flaws.
Colors seemed fine. The movie went with a fairly natural palette, though it favored the chilly side of things. Within those parameters, the tones seemed good. Blacks were dark and tight, while shadows showed nice clarity. Tighten up the image and this would've been a fine transfer, but the softness left it as a "B-" affair.
No real ups and downs came from the low-key Dolby Digital 5.1 soundtrack of Fragments. The most dynamic auditory material related to the shooting scenes at the diner; those didn't present a tremendously broad soundscape, but they involved us in the material fairly well. A few other environmental bits – the backfire of a vehicle, the noise of a casino – used the front side speakers to a good degree, but those were exceptions. Most of the movie remained subdued in terms of soundfield, and the back channels had little to do.
At least audio quality was satisfying. Speech sounded distinctive and warm, without edginess or other concerns. Music was pretty restrained, but the score showed reasonable range and clarity. Effects worked well, especially when they featured louder sounds like gunfire; those elements were clear and accurate. This was too subdued a track to merit a high grade, but it deserved a "B-".
In terms of extras, we get an audio commentary from director Rowan Woods. He offers a running, screen-specific track that looks at characters and story, how he came onto the film and financial issues, cast and performances, sets and locations, themes, and some technical areas.
Woods gives us a good overview of the film. I like the way he digs into interpretation and character/story areas; with such a non-linear structure, Fragments becomes more open to discussion, and he helps clarify some areas and decisions. Woods also tosses in enough movie-making notes to satisfy that side of the equation, and he turns this into a solid chat.
A few ads open the DVD. We get clips for Fireflies in the Garden, Moon, Dark Country, The Maiden Heist and Assassination of a High School President. These also appear in the Previews area along with promos for The Informers, Blu-ray Disc, District 9, Tyson, Obsessed, Nothing But the Truth, The Human Contract, Rudo Y Cursi, Impact, The Shield, What Goes Up, Dark Streets and Elegy. No trailer for Fragments shows up here.
As a broad character piece, Fragments occasionally hits the mark, and it does remain consistently interesting. However, it casts too wide a net, as it presents so many characters in such a brief running time that it feels... well, fragmented. The DVD offers decent but unexceptional picture and audio as well as a very good audio commentary. For fans of Crash-style ensemble drama, Fragments may merit a look, but don't expect greatness from it.
| | |
| --- | --- |
| Viewer Film Ratings: 1.6666 Stars | Number of Votes: 3 |