Reviewed by Colin Jacobson (August 10, 2012)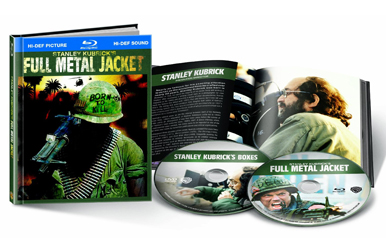 When I first reviewed 1987's Full Metal Jacket, I did so within the context of a full-blown examination of much of Stanley Kubrick's work. I watched the films in chronological order, so Jacket was the last of the movies I examined. I had never much cared for most of his flicks, but after a surprisingly positive experience with previously-disliked 2001: A Space Odyssey, I kept open the thought that perhaps I'd now enjoy Jacket, a picture I didn't care for when I saw it theatrically. Would I still not care for it after all these years?
Yup. When I watched Jacket during its theatrical run,, I thought it lacked any real reason to exist. The first half was generally regarded as the best part, and Lee Ermey built his career around the "ultimate drill sergeant" act seen here. Unfortunately, I didn't think much of those scenes, and the rest of the film was even less interesting. Jacket didn't seem to offer anything we hadn't already seen in 8000 other Vietnam movies, and I thought most of its predecessors did it better.
While I've clearly modified my opinion of 2001, all my original criticisms of Jacket remain. In reality, my only substantial original problem with it stemmed from my feeling that it offered nothing new, and that was definitely still the case. I had multiple instances of déjà vu throughout this film. Unfortunately, my experiences with Kubrick via pictures like 2001 and A Clockwork Orange also showed that something else was missing from Jacket: the superb restraint and subtlety he showed in those movies.
Jacket splits unevenly between the first 40 percent or so of the film - which introduces our main character Joker (Matthew Modine) in boot camp - and the rest of the piece, which shows Joker's experiences in Vietnam. The first segment generally received the most praise, and I agree that it was more interesting than the remainder of the picture. That didn't make it very good, however.
As far as the "déjà vu" part goes, the first section of Jacket elicits a few memories of An Officer and a Gentleman, but to be frank: the movie it most resembled was Stripes. Essentially the boot camp part of the movie was a more intense and brutal version of that comedy classic. Even the film's opening shot - in which all the new recruits received their severe military buzzcuts - directly quoted the Bill Murray flick.
Since I've never been in the military, I can't say this for sure, but I think that in an odd way, Stripes probably presented the more realistic picture of training camp. Kubrick's offering was so harsh and negative that it almost completely destroyed any view of the real world. I have no doubt that Marine boot camp would be tremendously unenjoyable, but there has to be some semblance of humanity on display there. Not if we're to believe Kubrick, however. Only Joker occasionally showed glimmers of sympathy for pathetic Gomer (Vincent D'Onofrio), the sub-Gump loser who couldn't hack it until he went psycho.
That brings me to the other main flaw of Jacket: the way that Kubrick virtually beat the viewer over the head with his concepts. All the "blank slate" ideas from 2001 and Clockwork flew out the window here. Kubrick clearly wanted us to see that the military creates killers by stomping the humanity out of them.
It's all rather absurd, to be honest. One minute Gomer's a moronic screw-up who wants to succeed but is just too stupid to do so. Once he goes around the bend psychologically, however, Gomer all of a sudden gains about 30 IQ points and becomes one bitchin' Marine!
Of course, this comes at a cost: Gomer becomes both suicidal and homicidal, which is always a nice pair. Pretty subtle there, Stanley - I hope I didn't miss your point. As if Kubrick's ham-handed handling wasn't bad enough, D'Onofrio offered an exceedingly bad performance as Gomer. As a pleasant simpleton, his inspiration seemed to come from Disney's Goofy; I truly expected him to say "Gawrsh!" from time to time. D'Onofrio appeared to use another Kubrick work to provide a model for psycho Gomer: Jack Nicholson from The Shining. I think D'Onofrio watched the "Here's Johnny!" scene over and over and took it from there. I know I was supposed to be scared or spooked, but to be honest, when he leered at Joker and rolled his eyes back in his head, I found it tough not to laugh. D'Onofrio was so over the top that the sequence became unintentionally comic.
After all that, you'd think the Vietnam scenes would be an improvement, but they're not. Once again, the pilfering of inspirations from other films continues. One segment showed the grunts as they were interviewed for TV, and it reminded me an awful lot of those M*A*S*H episodes in which journalists visited the 4077th. Frankly, it was sad to watch such an influential director steal so much for his own film.
Kubrick's lack of subtlety continued during the Vietnam part of Jacket. Once again, he told us what to think and never allowed us to draw our own conclusions. War is hell – thanks, Stan, I didn't know that! Joker remained the most sympathetic character, and he was obviously supposed to be the audience's entry into the story. Unfortunately, Modine was pretty flat throughout the picture. They dressed him up as John Lennon - find a still from his appearance in How I Won the War and you'll see what I mean - and made him a pseudo-peacenik to keep the brutality of the other Marines from becoming overwhelming.
Actually, that touch wasn't needed, because the horror of war never really came through in Jacket. Since Kubrick couldn't find an original way to depict the battle, it all seemed like a summer rerun, and it lacked the impact of previous war films. I never felt involved in the story or had any interest in the happenings. The film tried to startle and shock us, but it failed and it essentially limped along until its conclusion.
Is Full Metal Jacket the worst movie ever made? No, not by a long shot. For all its faults, it remains a competently executed war film. However, it may well be Kubrick's worst picture, and that is why many others and I have treated it harshly. "Okay" just wasn't good enough for someone of Kubrick's stature.
Full Metal Jacket appears in an aspect ratio of approximately 1.85:1 on this Blu-ray Disc. Though the image didn't dazzle, it seemed to replicate the source material mostly well.

Sharpness seemed to be positive during the majority of the film. During a few of the boot camp scenes, I thought some wide shots appeared a bit soft. However, this was a minor complaint, as most of the movie was distinctive and well-defined. I saw no signs of moiré effects or jagged edges, and edge enhancement seemed absent. As for source flaws, only a handful of specks cropped up during this clean transfer.

Jacket featured a fairly subdued palette for the most part, and the disc replicated these hues well. Although the colors tended to appear slightly pale at times, these tones made sense within the design of the film and they looked clear and accurate. The Vietnam sequences provided the strongest colors, especially during sunset shots; on those occasions, the golden tones were very strong.

Black levels appeared nicely deep and dense, and shadow detail was also quite strong. All low-light scenes seemed appropriately dark but never too opaque, and some presented very strong delineation. For example, the sequence during which the other Marines attacked Gomer in bed showed solid and stark lighting that made the piece all the more effective. Ultimately, I was impressed with the picture of Full Metal Jacket and thought it offered a solid visual presentation that fell to "B" solely due to some softness and a few blemishes.

Remixed from the original monaural, the PCM 5.1 soundtrack of Full Metal Jacket opened up the material and provided a fine auditory setting. During the boot camp scenes, the soundfield generally remained fairly monaural. The music spread quite nicely to the channels, but effects seemed appropriately constrained to the center for the most part; I heard nice localization when the grunts were on the shooting range, and some general ambience also stretched across the different speakers, but the mix preferred to stay centered.

That attitude changed when our characters went to Vietnam. Once we got to a battlefield, the soundscape opened up nicely and provided a lot of appropriately-placed sound. Choppers flew past neatly, and their blades seemed to engulf me when we watched folks on board them. The skirmishes showed a wide range of effects, as gunfire and mortar blasts appeared in logical locations that made the fight come from all around me. I thought it presented an involving and atmospheric track that nicely broadened the original monaural mix.

Audio quality demonstrated a few concerns, but these seemed fairly minor. As I already noted, some problems came along with the dialogue. At times, speech seemed constrained and stiff, and a bit of edginess also could be heard. Lee Ermey's lines were the most significantly flawed of the bunch; they consistently showed signs of brittleness.

Otherwise, the remaining elements sounded quite good. Effects were usually quite clean and realistic, and they showed positive dynamics. A little gunfire seemed slightly distorted, and I felt that explosions displayed minor "boominess", but for the most part, these aspects of the track were very clean and accurate, and they worked well. Music seemed even better reproduced, as the score was bright and dynamic at all times. I found the music to sound very distinct and rich, and the track provided nice depth as well. I went with a "B+" for the mix, largely due to the occasional edgy speech. Nonetheless, this was a very good remix.

How did the Blu-ray compare to the 2007 DVD version? The uncompressed audio was a little more robust, while the visuals showed stronger definition and clarity. Actually, as often occurs, the Blu-ray revealed some flaws not obvious on DVD; in particular, the softness inherent to the photography was easier to see in high-def. Nonetheless, the Blu-ray remained a better replication of the original film.

Side note: though this release's packaging claims we get a "stunningly remastered 25th Anniversary Blu-ray", I suspect it's the same transfer as the 2007 Blu-ray. I never saw that one, but it offers identical audio and subtitle options – and I don't know why WB wouldn't upgrade to DTS-HD MA instead of PCM for a 2012 mastering. Perhaps the studio did redo the transfer for 2012, but I doubt it; all evidence points to the Blu-ray as being recycled.

The Blu-ray duplicates the extras from the 2007 DVD and adds some new ones. We start with an audio commentary from critic Jay Cocks and actors R. Lee Ermey, Adam Baldwin and Vincent D'Onofrio. All sit separately for this edited track. We learn about cast and performances, the actors' training, Kubrick's methods and collaborating with him, sets and music, the source material and its adaptation, and a mix of other topics.

Ermey and Baldwin are the odd men out here, as they only pop up a handful of times. Ermey disappears fairly early in the film, while Baldwin doesn't appear until around the 65-minute mark. D'Onofrio dominates the first part of the film and still appears in the rest even though his character is gone; he just shows up less frequently, so the track becomes Cocks' baby.

That makes the first section of the film the most useful. D'Onofrio throws out a lot of good insights into the production and Kubrick. He offers a fine look at the director's style and how he worked on Jacket.

Cocks provides some content of that sort as well, but he's not nearly as interesting. Partly that's because Cocks devotes a lot of his time to praise of the film, and he also gets into some bland interpretation of it. We don't find a lot of depth in his chat, though some decent moments emerge. Oh, and someone needs to tell him that it's "Ermey", not "Emery" – Cocks constantly mispronounces the actor's name. Still, there's more than enough gold from D'Onofrio to make this a good commentary.

In addition to the film's trailer, we find a documentary entitled Full Metal Jacket: Between Good and Evil. This 30-minute and 49-second piece mixes movie clips, archival materials and interviews. We hear from Ermey, Baldwin, D'Onofrio, Cocks, former Warner Bros. executive John Calley, The Complete Kubrick author David Hughes, Stanley Kubrick: A Biography author John Baxter, executive producer Jan Harlan, steadicam operator John Ward, assistant art director Nigel Phelps, Do the Right Thing cinematographer Ernest Dickerson, 2010 director Peter Hyams, and actors Kevyn Major Howard and Dorian Harewood. "Good" looks at the source material and the development of the project. From there we hear about casting and performances, recreating Vietnam in England, the length of the shoot and its effect on the actors, Kubrick's working methods, some themes and interpretation, and thoughts about the movie's legacy.

"Good" acts as a solid complement to the commentary. It covers much of the same territory but still manages not to repeat a lot of the content from that track. We get a nice examination of the project in a general way, though anecdotes about Kubrick serve as the show's highlights. This turns into a satisfying program.

For something novel to the 2012 release, we get a documentary called Stanley Kubrick's Boxes

. This resides on a separate DVD and runs one hour, 59 seconds. Narrated by filmmaker Jon Ronson, it features comments from Harlan, widow Christiane Kubrick, daughter Anya Kubrick, Stanley Kubrick's assistants Leon Vitali and Tony Frewin, photographer Manuel Harlan, former WB SVP of European Advertising and Publishing Julian Senior, writer of 1973 "crank letter" Vincent Tilsley, former WB SVP of Business Affairs Rick Senat, reader Deborah Davis, video maker Van Boudreaux and former WB employee Judy Tobey. We learn that Ronson got the chance to dig through vast numbers of boxes located at Kubrick's estate. In these, we find some film and video reels, documents and photos. As Ronson sorts through them, we get a sense of Kubrick's methods and thought processes.

Some of the info revealed seems lackluster, but we usually find good insights. I like the glimpse of the "crank letters", and even seemingly banal details like Kubrick's "fussiness" about box lids. "Boxes" doesn't try to be a grand overview of Kubrick's career, but it gives us interesting notes connected to the director's mind. This turns into a pretty involving documentary.

For the other 2012 exclusive, the disc comes in a hardcover book. It includes an introduction, biographies for cast and Kubrick, trivia, a "Remembrance from Matthew Modine", "The Identity Crisis of Full Metal Jacket" and photos. The essays are unusually good and the book adds nice value to the set.

Full Metal Jacket remains a decent flick, albeit one with little point or flair to distinguish it from others in its genre. And that's a problem, as we expect more than "decent" from Stanley Kubrick. It's one of his lesser films. The Blu-ray delivers very good picture, audio and supplements. I feel pleased with the quality of the Blu-ray, though fans might want to opt for the cheaper "standard" edition instead of the 25th Anniversary release; I like the 2012 exclusives but don't think they're worth the difference in price.

To rate this film visit the Warner Home Video Director's Series review of FULL METAL JACKET