IMAGE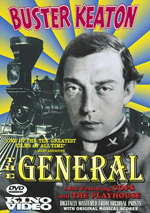 MOVIE INFO
Director:
Clyde Bruckman, Buster Keaton
Cast:
Buster Keaton, Marion Mack, Glen Cavender, Jim Farley, Frederick Vroom, Charles Henry Smith, Frank Barnes
Writing Credits:
Al Boasberg (adaptation), Clyde Bruckman, Buster Keaton, William Pittenger (memoir, "The Great Locomotive Chase"), Charles Henry Smith (adaptation), Paul Girard Smith
Tagline:
Love, Locomotives and Laughs.
Synopsis:
Consistently ranked among the best films ever made, Keaton's The General (1926) is so brilliantly conceived and executed that it continues to inspire awe and laughter with every viewing. Rejected by the Confederate Army as unfit and taken for a coward by his beloved Annabelle Lee (Marian Mack), young Johnnie Gray (Keaton) sets out to single-handedly win the war with his cherished locomotive. Also includes The Playhouse (1921), a technical tour-de-force in which Keaton plays every member of a stage company, the entire audience and an undisciplined chimp to boot! Cops (1922) is the quintessential chase film, with Buster tumbling into a series of marvelous mishaps while fleeing hundreds of uniformed policemen. Digitally mastered from archival prints, with original musical scores.
MPAA:
Rated NR


DVD DETAILS
Presentation:
Fullscreen 1.33:1
Audio:
English Dolby Stereo 2.0
Subtitles:
None
Closed-captioned
Supplements Subtitles:
None

Runtime: 75 min.
Price: $24.99
Release Date: 10/26/99

Bonus:
• Two Bonus Shorts




PURCHASE @ AMAZON.COM

EQUIPMENT
Panasonic 50" TH-50PZ77U 1080p Plasma Monitor; Harman/Kardon DPR 2005 7.1 Channel Receiver; Toshiba A-30 HD-DVD/1080p Upconverting DVD Player using HDMI outputs; Michael Green Revolution Cinema 6i Speakers (all five); Kenwood 1050SW 150-watt Subwoofer.


RELATED REVIEWS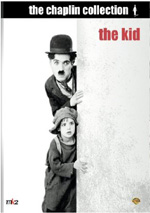 [an error occurred while processing this directive]
---
The General (1927)
---
Reviewed by Colin Jacobson (April 3, 2008)

One of two silent films to become a new entry on the updated 2007 AFI 100, 1927's The General introduces comedy legend Buster Keaton to that chart. It lands all the way up at #18, a shockingly high spot for a movie not deemed to be anywhere in the 100 best 10 years earlier. Set at the start of the Civil War, Johnnie Gray (Keaton) acts as the engineer of a locomotive called "The General". He loves nothing more than his train – except perhaps his sweetheart Annabelle Lee (Marion Mack).

When war strikes, Johnnie attempts to enlist in the Confederate army, but they need him as an engineer. When he lets Annabelle know that they wouldn't take him, she doesn't believe him, and she tells him not to approach her until he wears a Southern uniform.

A year later, Union General Thatcher (Jim Farley) and his lead spy Captain Anderson (Glen Cavender) concoct a plan to sabotage part of the Confederate army. They'll steal a train and destroy Southern tracks and bridges along its path. When Anderson's men execute this plan, they choose "The General". Not one to lose his mechanical love, Johnnie sets out in pursuit of the locomotive. The movie follows his attempts to stop the Union soldiers – and also rescue Annabelle, a passenger captured by the North.

Before The General made the 2007 AFI list, Charlie Chaplin was responsible for the handful of silent comedies judged to be among the 100 best films ever made. It becomes tempting to compare Chaplin and Keaton, as they boast more than a few similarities. After all, both Chaplin's Little Tramp and Keaton's Johnnie are sad sacks who just want to get the girl.

However, the Tramp always seemed like a pretty passive character to me. Things happened to him, and he affected his environment largely by accident. On the other hand, Johnnie offers much more of a go-getter. I find it tough to view him as a real heroic figure since many of his actions go comically awry, but he nonetheless takes charge in a tough spot and single-handedly accomplishes a great deal in this film. Johnnie's façade resembles that of the Tramp, but I couldn't see Chaplin's character pulling off so much action.

And The General excels in the action category, another difference between it and a typical Chaplin flick. While Chaplin usually preferred wry comic vignettes, most of The General amounts to a long chase sequence. Given the era in which it was made – and the comedic genre - this is filmmaking on a surprisingly large scale.

Keaton manages to pull off the enormity of a climactic battle as well as the daring stunts of the train chase. The latter really impress, largely because we know how primitive the era's effects were. Keaton and company essentially had to pull off all the action for real, and that fact makes the sequences dazzling at times.

I must admit I'm not so sure that General fares terribly well as a comedy, though. In that domain, I think Chaplin wins. No, the Tramp doesn't greatly amuse me, but I do find some laughs in those flicks, whereas I honestly can't thing of anything here that I find particularly witty. Keaton pulls of some clever gags and physical bits, but none of these bring out much mirth in me.

Despite the lack of great hilarity in this comedy, The General proves winning due to its cinematic audacity. It stretched the limits of its era and did so with a lively and involving tale. Yeah, I wish it were funnier, but it's still an entertaining piece.
---
The DVD Grades: Picture C-/ Audio B/ Bonus C+
---
The General appears in an aspect ratio of 1.33:1 on this single-sided, double-layered DVD; due to those dimensions, the image has not been enhanced for 16X9 televisions. Given the film's age, I expected a lot of problems. Though I found them, I also thought the transfer often looked better than anticipated.
Nonetheless, ups and downs greeted every aspect of the visuals, and sharpness was one of those erratic elements. Much of the time, the movie demonstrated decent but not great delineation. Not a lot of scenes seemed truly fuzzy, but not many appeared particularly concise, either. The result came across as acceptably well-defined at best. Only minor issues with shimmering and jagged edges appeared, and I noticed some light edge haloes.
In terms to the film's tones, it took on a mildly sepia look much of the time. A nighttime scene went with a more bluish-black feel, but the rest had a slightly browning tint to it. The blue/blacks of the one sequence actually looked pretty tight, but the sepia elements were a bit less successful, as they seemed somewhat muddy. Contrast tended to be somewhat dense; elements could be too bright or too murky, though these segments were often perfectly decent.
For a movie from the 1920s, source flaws weren't too bad – at times. This was probably the most up and down aspect of the transfer. More than a few scenes presented almost no defects; some surprisingly clean shots appeared. However, others would become much dirtier, as I noticed plentiful instances of spots, blotches, tears, specks and marks. The presentation also could be moderately jittery at times. I thought that the material still looked good enough for a "C-", but this wasn't a particularly strong transfer.
Since The General was a silent movie, I didn't have to worry about any problems with its source audio. The DVD provided a stereo music track to accompany the film. The mix provided very nice imaging for the score, as the instruments spread well across the front and demonstrated a good sense of spatiality. Quality was perfectly solid as well. The music boasted nice breadth and definition, with clean highs and some decent bass during the smattering of percussive elements. The soundtrack reproduced the score well.
In addition to The General, two other Keaton shorts pop up on this disc. We get 1921's The Playhouse (23 minutes, 15 seconds) and 1922's Cops (18:10). In the former, Keaton plays a stagehand who dreams of a production in which he plays all the roles – and acts as the audience, too. When he awakes, he goes about his routine but ends up in various shenanigans such as the need to impersonate a chimp. As a comedy, I think Playhouse is much more successful than General. It really highlights Keaton's physical talents, and the opening Keaton-packed stage production is genuinely dazzling. It's a highly entertaining short.
As for Cops, Keaton runs into trouble when he inadvertently steals money and a family's possessions. I don't think this one measures up to Playhouse, though it has some good moments. It lacks the prior short's surreal nature and doesn't give Keaton as many moments to show off his physical skills.
One of the best regarded silent films of all-time, The General doesn't do a lot for me as a comedy. As an action flick, however, it proves more satisfying, and those two sides make it something unusual and enjoyable. The DVD provides flawed but watchable visuals along with perfectly acceptable audio and a couple of entertaining bonus shorts. Silent film fans will get a kick out of this disc.
| | |
| --- | --- |
| Viewer Film Ratings: 4.7142 Stars | Number of Votes: 7 |