NAVARRE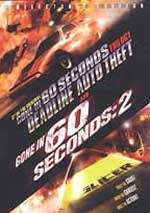 MOVIE INFO
Director:
H.B. Halicki
Cast:
Hoyt Axton, Marion Busia, George Cole, Judi Gibbs, H.B. Halicki Lang Jeffries
Writing Credits:
H.B. Halicki
Synopsis:
Deadline Auto Theft
The number one car thief in America is at it again! Pace (Halicki) has a list of 40 hot ladies, but makes one fatal mistake by boosting a little beauty that belongs to the Captain of the L.A.P.D.' s daughter & her fiance. When Captain Gibbs (Hoyt Axton) makes this a personal vendetta, it's all out war ... and the cops have orders to stop him at any cost. Take a ride on an unstoppable wave of adrenaline ... high-speed chases that leave you breathless! It's a full throttle race to the end; which man will be standing at the finish line? It's the best of Gone in 60 Seconds and The Junkman! It's a slamming roller-coaster ride with gear-shattering, ground-pounding action!
Gone in 60 Seconds 2
For the first time in history you'll be able to see the last unfinished film from one of the greatest car-chase filmmaker's (Halicki) that ever lived, who loved to chase, wreck and destroy anything on four wheels. He bought over 400 cars to devour for Gone in 60 Seconds 2. It's one of the most amazing car crash chases ever filmed! Halicki reprises his role as the legendary car booster ... on the run from some killers and the police, he boosts a tractor-trailer and the chase destroys half the city ... the other half is destroyed by the "Slicer". The car is unstoppable - it can flip any truck or car in it's speeding path! You'll see why they nick-named Halicki "The Car-Crash King" and you won't believe your eyes - you'll watch it again and again. The action never stops!
MPAA:
Rated NR


DVD DETAILS
Presentation:
Widescreen 1.78:1/16x9
(Deadline Auto Theft)
Fullscreen 1.33:1
(Gone In 60 Seconds 2)
Audio:
English Dolby Digital 5.1
English DTS 5.1
English Dolby 2.0
Subtitles:
None
Not Closed-captioned

Runtime: 132 min. (both features)
Price: $19.95
Release Date: 9/2/2003

Bonus:
• Shoestring Showman: The Life and High Times of H.B. "Toby" Halicki
• Trilogy Trailers
• DVD-ROM




EQUIPMENT
TV - Mitsubishi CS-32310 32"; Subwoofer - JBL PB12; DVD Player - Toshiba SD-4700; Receiver - Sony STR-DE845; Center - Polk Audio CS175i; Front Channels - Polk Audio; Rear Channels - Polk Audio.


RELATED REVIEWS
[an error occurred while processing this directive]
---
Deadline Auto Theft (1983) / Gone In 60 Seconds 2 (1986)
---
Reviewed by David Williams (November 17, 2003)

Running from the law in a high-speed and very dangerous vehicular chase seemed to be a pretty big draw back in the mid 70's and early 80's. Remember the Smokey and the Bandit series? How about the Cannonball Run films? However, I'm pretty sure the aforementioned films drew heavy inspiration from H.B. Halicki and the original Gone In 60 Seconds from 1974.

Halicki really capitalized on the car chase theme and movie-going audience's undying love for smashing, crashing, and wrecking just about anything on screen. H.B. "Tony" Halicki, a successful body shop and junkyard owner in the Northeast, made some wise real estate investments and eventually became a world-renowned auto collector and enthusiast. Using his own money, in 1974, Halicki wrote, produced, directed, and starred in Gone In 60 Seconds, a film that he managed to create and distribute outside of the normal Hollywood channels. While Halicki may not have had much "formal" training in filmmaking, he managed to create an action-packed film that was full of extravagant stunts and crashes that demolished dozens upon dozens of vehicles and ended with a 40-minute chase scene. (The film's trailer states that ninety-three cars were smashed in the finale alone.) The film became a cult classic and had the misfortune of being "honored" by Jerry Bruckheimer - whose films I enjoy more often than not - with a dismal remake starring Nic Cage and Angelina Jolie in 2000.

The original Gone was to be part of a trilogy that included the sequel, The Junkman, as well as Deadline Auto Theft, which just so happens to be included on this disc. However, Deadline isn't really a stand-alone film as much as it is a hack job of Gone In 60 Seconds and Halicki's second film, The Junkman … with a little bit of new footage thrown in for good measure. Essentially, what happened with Deadline, is that the fluff in the first two films ended up being cut out and the best action sequences remained intact to create one, jumbled, rehashed, and disjointed film that seems rather pointless considering the two original films remain available as separate titles. Even so, the plot, thin as it is, has Halicki playing renowned car thief Maindrian Pace, and he's got a list of 40 cars that he's responsible for lifting. Unfortunately, one of the hot rods belongs to the local police chief's daughter, and it turns the thefts into more of a personal matter for the cops. The film follows Pace as he tries to steal all of the cars before being caught by the police … (pretty standard plot material for a film such as this).

The DVD also features 30-minutes of footage that was shot on the set of Gone In 60 Seconds 2, the last film that Halicki would ever make. He was tragically killed on the set while preparing for a stunt sequence and the film was never completed. Gone 2 revolves around a silly-looking car called "The Slicer" and basically, "The Slicer" is/was a triangular-shaped wedge that made wrecking/flipping it rather difficult and wrecking/flipping others quite easy. However, with the limited amount of footage we have available on the DVD, it's hard to say how the final product would have panned out. However, as it is, it looks pretty ridiculous.

While the original Gone In 60 Seconds was an enjoyable and well-crafted romp, I can't say the same for the two films included on Navarre's double-feature DVD. While both of the films feature agreeable moments, as a whole, there's just not enough in either film for me to recommend them wholeheartedly.
---
The DVD Grades: Picture C+/ Audio C+/ Bonus C
---
With two different features, we get two different presentations, as Gone In 60 Seconds 2 shows up a fullframe presentation with an aspect ratio of 1.33:1 and Deadline Auto Theft gets an anamorphically-enhanced widescreen transfer in an aspect ratio of 1.78:1. I will briefly discuss each film's transfer on its own merits since the DVD itself plays like a double-feature anyway.
Gone In 60 Seconds 2 gets the fullscreen treatment and has plenty of revealing qualities to clue you in on its age. Over a decade-and-a-half old and shot as a low-budget feature, Gone 2 exhibits a few minor flaws even after the rather impressive restoration job performed on it by Navarre. There's a little bit of softness in the transfer from time to time, as well as a slight amount of grain of edge enhancement noted as well. However, the transfer exhibited plenty of moments that displayed fine detail and definition, and in spots, looked quite impressive. Colors seemed spot on considering the period, as well as the quality of film stock used, while black levels were reasonably deep and dark. The film remained properly balanced and saturated and overall, was a slightly pleasing experience.
The second film, Deadline Auto Theft, doesn't look quite as good as Gone 2 did, as the restorative procedures on this print didn't seem to help quite as much. Image quality was much more inconsistent in this film and Deadline remained a bit softer and less defined than its counterpart. Colors were a bit more muted here, but neither of the color palettes contained any bold or brilliant hues when compared to more recent films. Print flaws seemed a bit more abundant in Deadline, although none severely detracted from the film at all. Grain and slight pixelation were noted in the transfer, as was some minor compression artifacting , but all in all, if you're inclined to pick this title up, I'm sure the image quality is nothing that you didn't expect.
While far from the most impressive transfer(s) you'll run through your player this year, Navarre deserves some kudos for their restorative efforts. Gone and Deadline looked much better than they should have and given the age (and budget) of the respective materials, it doesn't look too bad at all.
Both films get the same audio treatment, as Navarre gives viewers three different choices to select from. We get a Dolby Digital 5.1 and DTS 5.1 transfer, as well as a Dolby 2.0 Surround mix. As is the case with most remastered tracks from this era, there's not a whole lot that a 5.1 mix can do when your source material is essentially craptacular mono … and that holds true for both Gone and Deadline. While the remasters admittedly add a bit of punch to the track, they're far from what most have come to expect from seeing the Dolby and DTS logos on the DVD packaging.
The film's score/dialogue/effects come through crystal clear and clean and there is even some occasional fortification from the rear surrounds. While hardly comparable to action-packed soundtracks on recent films, both films seem to have benefited somewhat from their remastered tracks. That being said, it's hard to camouflage the low-budget origins of the master recordings. Effects come in the form of multiple car crashes and chases and sound pretty good, while the score and the dialogue sound slightly more impressive on a much more consistent basis.
Not without some boundaries and limitations, Gone 2 and Deadline both sound pretty good all things considered and fans of the director or his films won't find many issues to complain about.
Supplements are sparse, with the biggest being one that ran on the Speed Channel entitled Shoestring Showman: The Life and High Times of H.B. "Toby" Halicki (44:54). The documentary is hosted by the late Halicki's wife, Denice, and we learn all about Halicki, his films, and how they were created on such a small budget and independently marketed outside of the Hollywood system. We learn about Halicki's humble beginnings, his love for cars, and how that translated into the films that he was responsible for creating. Recent interviews are conducted with those who knew him best and we get an admittedly interesting and somewhat comprehensive look at Halicki, what made him tick, and how he created all the vehicular mayhem seen in his films.
Also included are Trilogy Trailers for Gone In 60 Seconds, The Junkman, and Deadline Auto Theft, as well as some far from interesting DVD-ROM material.
While both films were somewhat entertaining, I would only recommend a blind purchase of the double-feature of Gone In 60 Seconds 2 and Deadline Auto Theft to hardcore Halicki fans only. The transfers on both the audio and video fronts are acceptable and the supplemental features, while rather generic, are more than expected. Even so, there's just not enough on any front for me to recommend a sight-unseen purchase for those unfamiliar with either of the films.
| | |
| --- | --- |
| Viewer Film Ratings: 4.5 Stars | Number of Votes: 28 |