HBO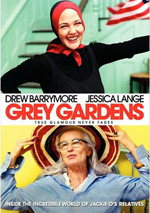 MOVIE INFO
Director:
Michael Sucsy
Cast:
Drew Barrymore, Jessica Lange, Daniel Baldwin, Jeanne Tripplehorn, Malcolm Gets, Ken Howard, Arye Gross, Justin Lewis
Writing Credits:
Michael Sucsy (and story), Patricia Rozema
Tagline:
True glamour never fades.
Synopsis:
Based on the life stories of the eccentric aunt and first cousin of Jackie Kennedy, starring Drew Barrymore and Jessica Lange, Grey Gardens tells the tender, intimate story of an eccentric mother and daughter (both named Edith Bouvier Beale aka "Big and Little Edie"). They were raised as Park Avenue débutantes but withdrew from New York society, taking shelter at their Long Island summer home, "Grey Gardens." As their wealth and contact with the outside world dwindled, so did their grasp on reality. They were reintroduced to the world when international tabloids learned of a health department raid on their home, and Jackie swooped in to save her relatives. Based on the lives that inspired the Maysles Brothers' classic documentary.
Box Office:
Budget
$12 million.
MPAA:
Rated NR


DVD DETAILS
Presentation:
Widescreen 1.78:1/16X9
Audio:
English Dolby Digital 5.1
Spanish Dolby Surround 2.0
Subtitles:
English
Spanish
French
Closed-captioned
Supplements Subtitles:
None

Runtime: 104 min.
Price: $26.98
Release Date: 7/14/09

Bonus:
• Audio Commentary with Writer/Director Michael Sucsy and Executive Producers Lucy Barzun Donnelly and Rachael Horovitz
• Grey Gardens: Then and Now" Featurette




PURCHASE @ AMAZON.COM

EQUIPMENT
Panasonic 50" TH-50PZ77U 1080p Plasma Monitor; Sony STR-DG1200 7.1 Channel Receiver; Panasonic DMP-BD60K Blu-Ray Player using HDMI outputs; Michael Green Revolution Cinema 6i Speakers (all five); Kenwood 1050SW 150-watt Subwoofer.


RELATED REVIEWS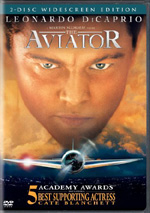 [an error occurred while processing this directive]
---
Grey Gardens (2009)
---
Reviewed by Colin Jacobson (July 13, 2009)

Influenced by a famous 1975 documentary of the same name, 2009's Grey Gardens reenacts the lives of two women closely related to Jacqueline Kennedy Onassis. We meet Jackie's aunt "Big Edie" Beale (Jessica Lange) and cousin "Little Edie" Beale (Drew Barrymore).

Gardens cuts between 1973 – the period covered in the documentary – and earlier years. The latter era launches in 1936, as we see Little Edie as a debutante. Big Edie and her father Phelan (Ken Howard) just want to see her marry a wealthy man, but Little Edie dreams of stardom on the stage or movie screen.

Both live a pretty flighty, superficial life, and Big Edie prefers to lounge around the family's Hamptons estate with her vocal coach/lover Gould (Malcolm Gets). Eventually both Phelan and Little Edie tire of life in the Hamptons. Phelan essentially abandons Big Edie for an unofficial second wife, and Little Edie moves to New York to pursue fame.

Nothing works out particularly well for either of them. Matters go awry first for Big Edie, as Gould deserts her and leaves her alone in the Hamptons. Little Edie launches a romance with a married man (Daniel Baldwin), but once Big Edie finds out, she puts the kibosh on the affair. This occurs not because she disapproves of infidelity, of course; she simply wants Little Edie back home. When she rats out Little Edie to Phelan, he packs her up and ships her back to the Hamptons.

Which is where they remain together for decades. Without the full financial support of Phelan, they lack servants and the estate deteriorates. We follow the Edies through the decades and see how they wound up in the pitiful state in which the 1970s documentary found them.

As someone with less than stellar housekeeping skills, Gardens may act like an alternate version of Scared Straight. As soon as the DVD ceased to spin, I was tempted to get out big trash bags and clean up the Slanty Shanty. I didn't, of course – once a slob, always a slob – but the movie shows me what I could become if I don't literally straighten up my act.

Beyond its value as a warning to the messy, Gardens offers a good docudrama. At its heart, it boasts solid performances from its lead actors. To some degree, both Edies seem more like caricatures than characters, but I get the feeling that was pretty true of them in reality. Some people are simply broad and larger than life; that description seems to fit the Edies, and the movie's portrayal works fine.

Lange offers the deeper performance of the two women. I like Barrymore a lot as the lead in romantic comedies, as that genre suits her well. She feels a bit out of her element when she tries something more dramatic; her broader moments are the most successful, and she comes across as a little more forced when she shoots for deeper emotion. I think Barrymore delivers a perfectly competent to good take on Little Edie, but she occasionally seems somewhat "off".

On the other hand, Lange nails her role. Big Edie is the less showy part of the two, but Lange still grabs hold of the character and makes it her own. She manages to demonstrate Big Edies many quirks but still imbue her with a three-dimensional feel; it's an excellent piece of acting.

Once you get past the performers, Gardens doesn't stand out as especially memorable. This kind of film is an actor's dream; it heavily spotlights the characters and comes with very little story, so the performances are the be-all and end-all of the piece. The "plot" and related elements serve the movie well enough, but most of the time, it feels like the director and others simply set up the actors and get out of their way.

Which works well enough. I wouldn't call Gardens an especially insightful character piece, but it entertains and comes with some fine acting to buoy it. At the very least, it's an interesting 104 minutes.
---
The DVD Grades: Picture C/ Audio C+/ Bonus C+
---
Grey Gardens appears in an aspect ratio of approximately 1.78:1 on this single-sided, single-layered DVD; the image has been enhanced for 16X9 televisions. The movie came with a mediocre transfer.
Sharpness was acceptable but not great. Some of the problems stemmed from the moderate edge enhancement that cropped up through the film. Those haloes meant that wider shots tended to look ill-defined and iffy. Close-ups looked fine, but most wider elements seemed muddy and a bit blocky. Source flaws were absent, at least; some fake documentary footage came with intentional grain and marks, but I couldn't take off points for those instances.
Colors were fine. The movie stayed with a natural palette that boasted a slightly golden tint, and the hues were perfectly decent. Blacks looked dark and tight, while shadows presented good clarity. The issues with sharpness and the like created the majority of the concerns, and they left this as a "C" image.
Don't expect a whole lot from the low-key Dolby Digital 5.1 soundtrack of Grey Gardens. And that was fine with me, as a drama of this sort didn't require much from its audio. The soundfield was subdued. It demonstrated good stereo presence from the music, and effects offered acceptable environmental information. If anything exciting occurred, I didn't notice it; this was a decidedly dialogue-driven piece.
Audio quality satisfied. Speech was a major factor, and all the lines appeared concise and distinctive. Music became the second most significant element; the score was consistently full and rich. Effects didn't have a lot to do, but they were perfectly adequate, as they showed acceptable clarity and definition. Nothing memorable came with this soundtrack, but it served the film.
Two extras round out the set. We find an audio commentary from writer/director Michael Sucsy and executive producers Lucy Barzun Donnelly and Rachael Horovitz. All three sit together for this running, screen-specific look at sets and locations, cast and performances, the Maysles' brothers documentary and its influence on the film, research and period details, cinematography and effects, costumes and music, makeup, and a few other areas.
You'll find a very good examination of Gardens via this commentary. The participants cover a nice variety of subjects and reveal a lot of useful details. The track digs into the movie in a satisfying way.
Grey Gardens: Then and Now runs 11 minutes, 19 seconds and features remarks from Sucsy, Donnelly, Horovitz, documentarian/adviser to the production Albert Maysles, production designer Kalina Ivanov, director of photography Mike Eley, costume designer Catherine Marie Thomas, and actors Drew Barrymore, Jessica Lange, Arye Gross, and Justin Louis. The show looks at the 1975 documentary and its influence on the project, research and additions to the story, cast and performances, and set, costume and production design.
"Now" exists as a promotional piece, but that doesn't mean it's devoid of interesting tidbits. We get a few insightful thoughts about the film, and we find plenty of shots from the original 1975 documentary. I like those segments best, especially since we can often directly contrast them with sections of the HBO film. Those help make this an engaging enough program.
A film that spotlights its actors, Grey Gardens boasts one great performance, another good one, and a reasonably entertaining experience. This isn't the most fascinating character piece I've seen, but it keeps us occupied, and I certainly admire the work of its leads. The DVD features mediocre picture and audio but includes some good extras highlighted by a solid audio commentary. I'm not impressed by the DVD, but the movie's good enough for a rental.
| | |
| --- | --- |
| Viewer Film Ratings: 3.25 Stars | Number of Votes: 4 |