WARNER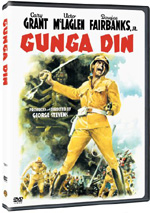 MOVIE INFO
Director:
George Stevens
Cast:
Cary Grant, Victor McLaglen, Douglas Fairbanks Jr., Sam Jaffe, Eduardo Ciannelli, Joan Fontaine, Montagu Love, Robert Coote, Abner Biberman
Writing Credits:
Rudyard Kipling (poem, "Gunga Din"), Ben Hecht (story), Charles MacArthur (story), Joel Sayre, Fred Guiol
Synopsis:
The British send three of their best men to investigate when a patrol is massacred by Hindu fanatics intent on reviving the ancient murder-religion of the Thuggee. Sergeants MacChesney, Cutter, and Ballantine and their water-carrier, young Gunga Din barely escape their first encounter with the bloodthirsty enemy. After they are captured they employ a clever ruse to escape, and take the Thuggee leader as their prisoner. With British reinforcements approaching, they discover their comrades are walking into a trap. In an incredible acto of bravery, Gunga Din, wounded from battle, crawls to a temple dome and blows his bugle to warn the soldiers.
Box Office:
Budget
$1.910 million.
MPAA:
Rated NR


DVD DETAILS
Presentation:
Fullscreen 1.33:1
Audio:
English Monaural
Subtitles:
English
Spanish
French
Closed-captioned

Runtime: 117 min.
Price: $19.97
Release Date: 12/7/2004

Bonus:
• Audio Commentary with Film Historian Rudy Behlmer
• "On Location with Gunga Din" Documentary
• Vintage Cartoon "The Film Fan"
• Trailers




PURCHASE @ AMAZON.COM

EQUIPMENT
Sony 36" WEGA KV-36FS12 Monitor; Sony DA333ES Processor/Receiver; Panasonic CV-50 DVD Player using component outputs; Michael Green Revolution Cinema 6i Speakers (all five); Sony SA-WM40 Subwoofer.


---
Gunga Din (1939)
---
Reviewed by Colin Jacobson (April 28, 2005)

If you enjoy the Indiana Jones movies and want a glimpse of what inspired Lucas and Spielberg, look no further than 1939's action/adventure Gunga Din. Set in India, natives posing as pilgrims attack the patrol of British officer Markham (Roland Varno) and then proceed to an outpost in the village of Tantrapur to continue their efforts.

Back at the main camp, spirited Sergeants Ballantine (Douglas Fairbanks Jr.), MacChesney (Victor McLaglen) and Cutter (Cary Grant) get the assignment to take a detachment to Tantrapur and find out what happened. They find the village deserted and abruptly so, as they see evidence the inhabitants left in a hurry. They discover no leads, as the culprits literally covered their tracks well.

A battle eventually ensues between the Brits and their Indian charges against the Kali-worshiping natives who attacked Tantrapur. When the three sergeants return to their base, they learn that the Thuggee cult is behind the uprising. We also find out that Ballantine plans to leave the military and marry Emmy (Joan Fontaine). MacChesney and Cutter bemoan the loss of their partner, especially since they'll get stuck with stuffy Sgt. Higginbotham (Robert Coote) in his place.

Due to some chicanery, MacChesney and Cutter manage to retain Ballantine as part of their crew, and they head out again. Eventually, native manservant Gunga Din (Sam Jaffe) tells treasure-seeking Cutter about a nearby temple made of gold. Cutter and Din head out to find this. Complications ensue when they find the joint occupied by the Thuggee guru (Eduardo Ciannelli) and his charges. Violence and action follow.

Most guys of my generation first heard of Thuggees via 1984's Indiana Jones and the Temple of Doom, the Indy flick most obviously influenced by Din. Perhaps that's why my Old Man didn't think a lot of Temple, as he probably saw Din as a lad and recognized the similarities. While Temple didn't rip-off Din to an absurd degree, I could clearly see the influences.

That said, Din continues to function as a lively little adventure tale. For the most part, director George Stevens moves things along at a nice pace. At times the film moves a little leisurely, especially in the middle; some of the scenes in the second act tend to plod. Nonetheless, Stevens lets the events unfold naturally and gradually, and that adds to the tension.

I like that the movie allows events to occur in the background. I find few things as jarring as an unnecessary insert shot. Too many filmmakers think that if they don't show us everything explicitly then we'll miss it. Stevens showed more confidence, as he lets important bits pop up outside of the main focus. This is a nice touch that adds complexity to the presentation.

While the Indy films were never meant to be taken too seriously, Din comes across as even frothier. This is definitely a light comic adventure without many real threats. We get this sense early when we see Cutter's lack of urgency when a gang attacks Ballantine. In reality, Cutter would display concern for his cohort, but this character knows he's in Movie World, so he plays the situation for laughs.

And it works, as does most of the comedic and/or action moments in the flick. The chemistry among Grant, McLaglen and Fairbanks helps. The three bicker and interact in a most amusing way, but we also can see the affection among them. Grant continues to dispel my predisposition to see him as a prissy fop. He makes Cutter much earthier and rowdier than one expects.

What flaws occur during Din? For one, it seems odd that the title character plays an almost inconsequential role in the film. I suppose this comes as no surprise given Hollywood's attitude toward non-white personalities during the period in which the film was made. There was little chance they'd create a movie that focused on an Indian character, even if someone as firmly white as Jaffe played him. Gunga exists for a little local color, the movie's title, and little else.

Some will chafe at the flick's decided lack of modern perspective toward other cultures as well. Make no mistake: this film exhibits a distinct lack of political correctness. Not only do our heroes - or at least Cutter - want to ransack a foreign nation's treasures for their own gain, but also everyone exhibits a view of the Indians as inferior and backward. Paternalism rules the day.

However, I don't think it's totally fair to dismiss Gunga Din because it reflects the attitudes of its period. At least it avoids the out-and-out racism of flicks like Gone With the Wind. Also, unlike other movies, the general lightness of Din makes it more difficult to take seriously its issues in that domain. Take the film for what it is: a fluffy and fun comic adventure.
---
The DVD Grades: Picture B-/ Audio B-/ Bonus B-
---
Gunga Din appears in an aspect ratio of 1.33:1 on this single-sided, double-layered DVD; due to those dimensions, the image has not been enhanced for 16X9 televisions. Although Din started with some problems, it improved as it progressed and offered a mostly satisfying picture.
Print flaws created the biggest concerns during the first act. During those scenes, Din showed quite a lot of specks, marks, lines, spots and other defects. While some of these continued to periodically appear during later parts of the movie, they were less prevalent. The movie became noticeably cleaner and looked quite good after the initial segments.
Sharpness varied a little but usually stayed solid. Occasionally the image turned slightly ill-defined, usually in wider shots. However, those instances were modest, and the flick mostly came across as nicely detailed and concise. Blacks were quite deep and firm, and shadows usually looked clear and well-developed. Exceptions occurred during some "day for night" shots, as those displayed excessive darkness. Otherwise, low-light elements satisfied. Din wasn't a great transfer, but it provided above-average visuals.
I felt the same way about the monaural soundtrack of Gunga Din. The audio was perfectly acceptable for a movie of this vintage. Speech usually sounded restricted but concise. A little edginess crept into some lines such as Grant's in the Thuggee temple. The material stayed perfectly intelligible, though, and never showed real problems.
Effects demonstrated pretty solid definition. Louder elements like explosions failed to suffer from significant distortion and they packed a decent punch. While they didn't present great range, they came through acceptably well. Music was slightly shrill and harsh but usually displayed adequate clarity and delineation. Source noise like hiss or pops failed to occur. Overall, this mix worked out just fine for an old flick.
Heading into the DVD's extras, we open with an audio commentary from film historian Rudy Behlmer. He presents a running, screen-specific chat. Behlmer's tracks rarely disappoint, and this one offers yet another winner.
As always, Behlmer covers virtually all relevant aspects of the production. He traces the script's long progression and lets us know about elements like the involvement of William Faulkner. Behlmer gives biographical information for some of the cast and crew and also delves into specifics about locations, stunts, and many aspects of the shoot. He directly compares Din to Indiana Jones and the Temple of Doom and even lets us know about the career of the movie's elephant! I don't think I've heard a Behlmer commentary that disappointed me, and this is another terrific one.
Next comes a featurette called On Location with Gunga Din. In this 11-minute and 14-second program, we take a modern look at the flick. It incorporates movie clips, archival materials, and comments from RKO Studios executive in charge of production Pandro Berman, screenwriter William Goldman, director's son George Stevens Jr., and actor Douglas Fairbanks Jr. They discuss the development of the script, locations, casting and the work of the actors, shooting the flick and various complications, and the movie's approach to its subject.
A fair amount of information repeats from Behlmer's detailed commentary, so don't expect many revelations here. Actually, it's tough for me to recall almost anything that I learned from "Location". The program acts as a good little synopsis of things if you don't have the time for the full commentary; it just serves little purpose if you did already listen to Behlmer's chat.
Two trailers appear. We get the original 1939 promo as well as a 1957 re-release ad. Finally, we discover The Film Fan, a 1939 Porky Pig cartoon. In this one, Porky heads to the movies. This allows the fairly clever short to spoof many of the day's stars and topics.
A movie whose influence continues to this day, Gunga Din suffers from occasional awkwardness along with a decided lack of political correctness. However, it never takes itself too seriously and it turns into a fun and rousing comic adventure. The DVD offers generally positive picture and audio along with supplements bolstered by an excellent audio commentary. Gunga Din is a must-see for film buffs with an interest in classic action flicks.
| | |
| --- | --- |
| Viewer Film Ratings: 4.2352 Stars | Number of Votes: 17 |