NEW LINE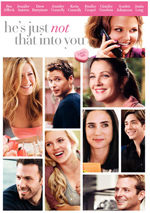 MOVIE INFO
Director:
Ken Kwapis
Cast:
Ben Affleck, Jennifer Aniston, Drew Barrymore, Jennifer Connelly, Kevin Connolly, Bradley Cooper, Ginnifer Goodwin, Scarlett Johansson, Justin Long
Writing Credits:
Abby Kohn, Marc Silverstein, Greg Behrendt (book, "He's Just Not That Into You: The No-Excuses Truth to Understanding Guys"), Liz Tuccillo (book, "He's Just Not That Into You: The No-Excuses Truth to Understanding Guys")
Tagline:
Are you the exception ... or the rule?
Synopsis:
Remember that really cute guy who said he'd call ... and didn't? Maybe He's Just Not That Into You. An all-star cast - Ben Affleck, Jennifer Aniston, Drew Barrymore, Jennifer Connelly, Kevin Connolly, Bradley Cooper, Ginnifer Goodwin, Scarlett Johansson and Justin Long - looks for love and finds laughs in this savvy, sexy, right-now romcom. Based on the runaway (like some guys you know) bestseller by Sex and the City series writers Greg Behrendt and Liz Tuccillo, He's Just Not That Into You sparkles with zingy aha moments any survivor of the dating wars will recognize. See it with someone you'd like to love.
Box Office:
Opening Weekend
$27.785 million on 3175 screens.
Domestic Gross
$93.923 million.
MPAA:
Rated PG-13


DVD DETAILS
Presentation:
Widescreen 2.35:1/16X9
Fullscreen 1.33:1
Audio:
English Dolby Digital 5.1
Subtitles:
English
Spanish
French
Closed-captioned
Supplements Subtitles:
English

Runtime: 129 min.
Price: $28.98
Release Date: 6/2/2009

Bonus:
• Additional Scenes with Optional Commentary
• Previews




PURCHASE @ AMAZON.COM

EQUIPMENT
Panasonic 50" TH-50PZ77U 1080p Plasma Monitor; Sony STR-DG1200 7.1 Channel Receiver; Panasonic DMP-BD60K Blu-Ray Player using HDMI outputs; Michael Green Revolution Cinema 6i Speakers (all five); Kenwood 1050SW 150-watt Subwoofer.


RELATED REVIEWS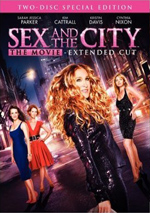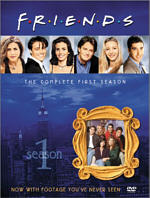 [an error occurred while processing this directive]
---
He's Just Not That Into You (2008)
---
Reviewed by Colin Jacobson (June 3, 2009)

When Hollywood adapts a best-selling book, usually it takes on fiction or historical material. It seems odd to bring a self-help book to the big screen, but that's what we get with 2009's He's Just Not That Into You, an adaptation of the work done by Greg Behrendt and Liz Tuccillo.

While I normally like to offer my own plot synopses, Into You features so many characters that it's most effective to take the overview from the press release: "Gigi (Ginnifer Goodwin) wants a man who says he'll call – and does – while Alex (Justin Long) advises her to stop sitting by the phone. Beth (Jennifer Aniston) wonders if she should call it off after years of committed singlehood with her boyfriend Neil (Ben Affleck), but he doesn't think there's anything wrong with their unmarried life. Janine's (Jennifer Connelly) not sure if she can trust her husband Ben (Bradley Cooper) who can't quite trust himself around Anna (Scarlett Johansson). Anna can't decide between the sexy married guy or her straightforward, no-sparks standby, Conor (Kevin Connolly), who can't get over the fact that he can't have her. And Mary (Drew Barrymore), who's found an entire network of loving, supportive men, just needs to find one who's straight."

That's an awfully complex set of stories and characters for what appears to be a simple romantic dramedy – and it might be too complicated for something in this genre. Never having read the book, I don't know how much of the on-screen material connects to its advice. The Alex character partially exists to spell out the various lessons, and a few awkwardly placed interstitials from "real women" also illustrate the different mistakes women make.

Otherwise, however, the movie works through it characters. I suppose they represent the archetypes found in the book, but again, it's impossible for me to say since I didn't read it.

I would guess that the screenwriters wanted to fit as many of those themes/issues into the film as possible, and that's why we end up with 547 lead characters. The presence of so many prominent participants actually ends up as both a positive and a negative. On the bad side, we barely get to know any of them. Sure, the movie favors some over others – Conor and Mary barely register – but it doesn't draw them as complete characters. Essentially they remain the self-help book archetypes they are, and that's probably inevitable. Even though the movie runs more than two hours – really long for a flick in this genre – it just doesn't have enough room to give us full flesh and blood portrayals of all those characters.

On the good side, however, at least the abundance of personalities makes it more difficult to get bored. Whenever one thread threatens to become tedious, the film leaps to something else. Do any of them work particularly well? No, but they pacing remains brisk enough to keep us moderately involved in the tale.

Granted, this also means we never develop any real investment in the characters. I won't spell out how they all conclude; you can probably figure out the various endings on your own, though some may offer minor surprises. I don't think it's a spoiler to indicate that most of the characters end up happily, as that's a given in this genre.

What's more of a surprise is how little we care about those happy endings. Because we barely know the characters, we never invest in them and develop a stake in their futures. We care for them in a generic way, much of which attaches to our feelings about the various actors. Indeed, I challenge most viewers to identify the characters by their names; inevitably, you'll just think of them as "Jennifer Aniston" or "Ben Affleck", not "Beth" or… damn, I had to look at my synopsis to remember that Affleck plays "Neil"!

I do think that the star-studded cast really helps Into You. Yeah, we may only identify the characters via their actors, but the flick includes a lot of talent, and they allow us to think we know the roles better than we do. They give us something of a shorthand, so we better buy into the film than we would've with a cast of lesser known performers.

Into You is unquestionably a serious "chick flick". It nods in the vague direction of the mind games women play on men but doesn't delve into them seriously. The Conor character is the prime recipient of that side of the equation, but as I noted, he doesn't get much screentime, so don't expect the film to go down the logical She's Just Not That Into You path.

Although Into You clearly shoots for the XX-chromosome demographic, that doesn't make it unpleasant for male viewers. Again, it moves quickly and it maintains a light enough tone to make it palatable. It occasionally threatens to veer into melodrama, but that's where the plethora of characters helps; when we think we're stuck with the mopier stuff, we know the movie will soon change course. Ultimately Into You is insubstantial but acceptably entertaining.
---
The DVD Grades: Picture C+/ Audio C+/ Bonus D+
---
He's Just Not That Into You appears in both an aspect ratio of approximately 2.35:1 and in a fullscreen version on this double-sided, single-layered DVD; the widescreen image has been enhanced for 16X9 televisions. Only the letterboxed picture was reviewed for this article. Though the transfer started out pretty rough, it got better as it improved and looked pretty decent for its second half.
The excessive compression created most of the problems, especially during that first hour. The film could take on a gauzy look, as artifacts made it seem like it was shot through a light screen. This decreased during the second half, though, as that part looked clearer.
Sharpness was up and down, especially during the first hour. The film tended to appear rather rough and blocky, and wide shots were iffy. I also noted a fair amount of shimmering. During the second half, though, clarity improved. Wider scenes still had their soft moments, but they appeared better defined over the second hour. No issues with source flaws ever caused problems.
Colors appeared fairly good. The movie adopted a natural, warm tone and seemed pretty positive in terms of its hues. They never excelled, but they looked fine. Blacks were dark and tight, while shadows came across as pretty smooth. This was an erratic transfer and never one that really looked great, but at least it overcame its flaws as it progressed.
Though I had fewer complaints about the Dolby Digital 5.1 soundtrack of Into You, I couldn't find much to praise, either. I expected that, though, since I wouldn't anticipate a wild experience from this sort of romantic comedy. The soundfield focused relentlessly on the front spectrum, and music presented the most prominent element. The score showed good stereo imaging, and we got some minor ambience, but that was about it. If the surrounds played a part, I didn't notice them; they added some mild reinforcement and nothing else. This was a very low-key experience.
Audio quality was fine. Speech sounded distinctive and natural, without edginess or other issues. Effects didn't have much to do, but they were acceptable for what they offered. Music appeared reasonably full and rich. There wasn't enough here to merit a grad above a "C+", though, so don't expect a memorable soundtrack.
Five Deleted Scenes run a total of 13 minutes, 51 seconds. We find "Birthday Party/Walk Home" (4:55), "Anna Visits Her Mom" (2:51), "Anna's Song" (1:42), "Gigi's Date With Bill" (3:01), and "Gay Pride Parade" (1:22). The major additions involve Theresa Russell as Anna's mom; not only does she appear in "Visits", but she's also the focus of "Birthday Party". These are interesting to see, as they add to the Anna character; they would've made an already long movie too extended, but they would've fit fine in the final flick.
"Song" just shows a performance from Anna; it also connects to the first two cut scenes, but it's not as compelling and it would've made the film drag. "Date" spells out the dullness of the Bill character; the movie works better without it, as it allows us to see Bill as a viable possibility for Gigi's heart, while "Date" shows us he's a dud. Finally, "Parade" shows an alternate introduction for Mary and Conor; it's considerably weirder and less effective than the version in the final cut.
We can watch these with or without commentary from director Ken Kwapis. He offers some thoughts about the various scenes and also lets us know why he deleted them. Kwapis proves informative and engaging; it's too bad he didn't do a full movie commentary.
A few ads open the disc. We get clips for Blu-ray Disc, InkHeart, and 17 Again. No trailer for Into You appears here.
While not a great – or even very good – movie, He's Just Not That Into You provides more entertainment than I expected. The film boasts an excellent cast and moves at a brisk enough pace to ensure that we never become too bored. The DVD offers erratic but generally decent visuals along with mediocre audio and insubstantial extras. This is a fair "date night" rental but not more than that.
| | |
| --- | --- |
| Viewer Film Ratings: 2 Stars | Number of Votes: 3 |