UNIVERSAL STUDIOS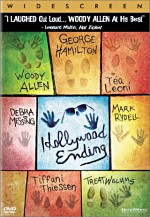 MOVIE INFO
Director:
Woody Allen
Cast:
Tea Leoni, Bob Dorian, Ivan Martin, Gregg Edelman, George Hamilton, Treat Williams, Woody Allen, Debra Messing
Screenplay:
Woody Allen

Tagling:
It's Going to be a Shot in the Dark!
Box Office:
Budget $16 million.
Opening weekend $2.017 million on 765 screens.
Domestic gross $4.839 million.
MPAA:
Rated PG-13 for some drug references and sexual material.


DVD DETAILS
Presentation:
Widescreen 1.85:1/16x9
Audio:
English Digital Mono
French Digital Mono
Spanish Digital Mono
Subtitles:
English
Closed-captioned

Runtime: 112 min.
Price: $32.99
Release Date: 9/17/2002

Bonus:
• Production Notes
• Theatrical Trailer
• Cast and Crew Biographies




EQUIPMENT
Sony 36" WEGA KV-36FS12 Monitor; Sony DA333ES Processor/Receiver; Panasonic CV-50 DVD Player using component outputs; Michael Green Revolution Cinema 6i Speakers (all five); Sony SA-WM40 Subwoofer.


[an error occurred while processing this directive]
---
Hollywood Ending (2002)
---
Reviewed by Colin Jacobson

Self-parody can be a dangerous thing, but Woody Allen proves himself game for the concept in Hollywood Ending. For this film, he takes on the role of Val Waxman, a once-successful director who now finds it hard to get work. Formerly married to Galaxie Pictures executive Ellie (Tea Leoni), Val developed a reputation as a hypochondriac with whom virtually everyone found it impossible to work.

At the start of Ending, Ellie discusses a new project called The City That Never Sleeps with her studio head boyfriend Hal Yeager (Treat Williams) and other Galaxie execs. Clearly still fond of her ex, Ellie argues that Val would be perfect for the flick, and she convinces Hal and the gang to give him a shot. Though he now dates sexy young - but not so bright - aspiring actress Lori Fox (Debra Messing), Val obviously harbors bitterness about the fact that Ellie left him, but he knows that Sleeps offers a final attempt to revive his career, so he takes it.

Things progress fairly normally from there, although Val finds it difficult to hide his anger about Ellieís coupling with Hal. Nonetheless, he hires a cast and crew - which includes Lori in a small role - until disaster strikes. At the start of the shoot, Val mysteriously loses his eyesight. A psychiatrist diagnoses this as a psychosomatic disorder, and he canít predict when Valís vision will return. Valís agent Al Hack (Mark Rydell) convinces him to direct the movie anyway. Al figures that if they admit the mental illness, Valís career will end anyway, so they might as well try to keep things going.

Initially Al tries to act as Valís eyes, but no one likes agents on the set, so they soon need to find someone else. They choose Chou (Barney Cheng), the interpreter for the Chinese cinematographer (Yu Lu); a college student, Chou has no film career to risk if someone catches him. To complicate matters, a reporter from Esquire named Andrea Ford (Jodie Markell) resides on the set to compose a piece about Valís return; this ups the ante even further.

From there we watch the antics as Val tries to conceal his blindness, direct the film, and reconnect with his ex all at the same time. While Woody virtually always plays himself in his films, Ending obviously seems even more autobiographical than usual. Ending isnít the only Allen flick that aims at the movie industry; he also took some shots at it in 1998ís Celebrity. However, Woodyís character in that film came across much more as fictional than does Val; one couldnít see similarities there nearly as easily.

The parallels between Val and Woody donít seem perfect, though. Allen seems to have little trouble getting projects - he pumps out a movie every year - and folks seem more than happy to work with him. Allen hasnít enjoyed a genuine hit in many years, so that element matches Valís experiences, and most people also see Allenís best years as being far behind him. Woody doesnít have an ex-wife who works as a film executive, however, and the last time I looked, he left Mia Farrow, not the other way around, so obviously Val doesnít perfectly equate to Woody.

Nonetheless, the connections remain, and given Allenís frequent pomposity, I like the fact that he gently pokes fun at himself and his pretentiousness. Not that his usual arrogance totally deserts Woody. Ending works worst when Allen mocks the Hollywood establishment and scene. Some of the gags come across fairly well, such as the art director (Isaac Mizrahi) who wants to construct sets to replicate the Empire State Building and other Manhattan landmarks rather than use the real thing. However, many of the jokes seem smug, like a dud in which we hear that Haley Joel Osment will receive a lifetime achievement award.

As Iíve noted in the past, I tend to prefer Allenís films in which a) he doesnít appear, and b) the story takes place in the past. With the notable exception of Annie Hall and a couple of others, I usually find that when Allen violates those guidelines, I dislike the results. Ending didnít strongly make me reconsider these concepts, but it worked better than most of his modern-day releases.

Actually, I think Ending might have become a fairly solid success if Allen had concentrated on the Val/Ellie relationship. Though that pairing seems to be at the core of Ending, it really doesnít fill much screen time. Between the Hollywood satire and the gimmicky blindness plot, Allen juggles a lot of balls, which is probably why the 112-minute Ending runs much longer than most of his movies. The typical Allen flick lasts between 80 and 90 minutes, so this one runs almost a half an hour more than I expected.

Allen manages to balance matters reasonably well, but it still seems like he tosses in too many elements to have any of them really work. It doesnít help that Allen demonstrates little chemistry with Leoni. Frankly, the Woody and younger women conceit has gotten really tired; with each passing year, it seems more and more stretched. Granted, Iím sure a celebrity of his status wouldnít have much trouble nailing young babes, especially aspiring actresses like Lori Fox. Still, it would be nice to see him with someone closer to his own age. Thereís absolutely no reason the Ellie character needs to be young.

Ultimately, Hollywood Ending offers pretty average Woody Allen. Given the fact that so many of his films over the last decade totally stunk, I donít regard this as a bad thing, really. The movie seems amiable and moderately enjoyable, and though it tosses in more than its fair share of bad jokes, it also includes enough reasonably witty material to succeed. Donít expect Love and Death, but Hollywood Ending provides some light entertainment.
---
The DVD Grades: Picture B+ / Audio C- / Bonus D-
---
Hollywood Ending appears in an aspect ratio of approximately 1.85:1 on this single-sided, dual-layered DVD; the image has been enhanced for 16X9 televisions. While not on a par with the excellent transfer of his prior flick, The Curse of the Jade Scorpion, Ending provided a generally positive picture.
Sharpness seemed excellent. The movie always presented a nicely crisp and well-defined image. I noticed virtually no examples of soft or fuzzy material during this distinct and clearly delineated movie. Jagged edges and moirť effects created no concerns, but I did see a tiny amount of edge enhancement on a couple of occasions. Print flaws didnít interfere heavily, but a little grain appeared at times, and I also witnessed a few very small examples of grit and speckles.
Ending featured a somewhat unusual palette, as Allen imbued many shots with a golden glow; these usually came during scenes that included Ellie, so it seemed likely he wanted a certain sense of romanticism about them. Whatever the case may be, the colors came across well. The tones appeared vivid and distinct throughout the film, and it took on a nice sense of warmth. Black levels came across as deep and dense, and shadow detail looked appropriately heavy but not excessively thick. The movie occasionally showed a somewhat bright and overblown look, but this also seemed intentional, especially since it usually came during those Ellie scenes I mentioned. Overall, Hollywood Ending didnít present visuals quite on a par with some of the better Allen transfers, but it looked very positive nonetheless.
If youíve read my prior reviews of Allen DVDs, this audio discussion will probably look very familiar. Woody doesnít favor multi-channel audio, so Hollywood offered only a monaural soundtrack. The mix seemed typical and greatly resembled the audio for many other Allen movies. Dialogue was consistently intelligible and reasonably natural, and I heard no concerns related to edginess. Effects came across as acceptably accurate and distinct, and they occasionally showed decent low-end response. Music fell into the same category, as the score - which consisted entirely of period jazz recordings, another Allen staple - was fairly bright with reasonable fidelity; due to the source, bass response stayed lackluster but range seemed acceptable nonetheless. It was another satisfying mono mix, but it lost points for its lack of ambition; Ending sounded good, but by default, a single-channel track from 2002 doesnít deserve a grade above ďC-ď.
Allen fans know that the director doesnít care for supplements, which is why we never find much on the DVDs for his films. Compared to most Allen releases, however, Scorpion comes packed to the gills. In addition the filmís theatrical trailer - presented anamorphic 1.85:1 with the usual monaural sound - we find Cast and Filmmakers listings. Like most DreamWorks DVDs, these cover a slew of participants. We get entries for Allen, executive producer Stephen Tenenbaum, producer Letty Aronson, co-producer Helen Robin, editor Alisa Lepselter, director of photography Wedigo Von Schultzendorff, production designer Santo Loquasto, costume designer Melissa Toth, and actors George Hamilton, Tea Leoni, Debra Messing, Mark Rydell, Tiffani Thiessen, and Treat Williams. For the most part, these amount to annotated filmographies, but their scope seems positive nonetheless. (In the case of Allen, all we find is a plain filmography; I guess his dislike of extras means he refuses to allow them to print even some rudimentary biographical information!)
Finally, the DVD provides some passable Production Notes. The text gives us some basic information about the film, but too much of it relates praise for the genius that is Woody. Unlike most DreamWorks DVDs, no version of these notes appears in the packageís booklet. In fact, the set includes no booklet; it only provides an insert card. That seems pretty stingy for a barebones DVD that retails for $32.99; at least pay the five cents for a real booklet!
Woody Allen takes gentle aim at himself in Hollywood Ending, and the results seem mildly amusing. The movie lacks the necessary bite or insight to become a real success, but at least it avoids the pitfalls found during Allenís embarrassing duds from the Nineties. The DVD provides generally solid picture with clear monaural sound and a small roster of extras. With a list price of almost $33, I find it very hard to recommend Hollywood Ending to anyone other than Allen completists, though less intense fans should at least give it a rental.
| | |
| --- | --- |
| Viewer Film Ratings: 3.7777 Stars | Number of Votes: 9 |