SENATOR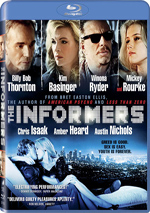 MOVIE INFO
Director:
Gregor Jordan
Cast:
Billy Bob Thornton, Kim Basinger, Mickey Rourke, Winona Ryder, Jon Foster, Amber Heard, Rhys Ifans, Chris Isaak, Austin Nichols, Brad Renfro
Writing Credits:
Nicholas Jarecki, Bret Easton Ellis (and novel)
Tagline:
Greed Is Good. Sex Is Easy. Youth Is Forever.
Synopsis:
In his bestselling novels (American Psycho, Less Than Zero), author Bret Easton Ellis established himself as a modern chronicler of decadence, and a writer who reveals the dark shadows behind lives of wealth and glamour. Academy Award winners Billy Bob Thornton and Kim Basinger, Academy Award nominees Winona Ryder and Mickey Rourke star in an interweaving tale, which unfolds in Los Angeles in the decadent 80's: a city ruled by addictions of every type - from sex, to drugs, to power - where youth is wasted, where love is fleeting, where every night is a headlong rush to the next orgy of sensation. Sooner or later, the party has to end ... and the hangover is bound to be a killer. Also starring Chris Isaak, Brad Renfro, Amber Heard and Austin Nichols. Featuring 80's flashback music loaded with tracks from 'new wave' recording legends.
Box Office:
Budget
$19 million.
Opening Weekend
$300.000 thousand on 482 screens.
MPAA:
Rated R


DVD DETAILS
Presentation:
Widescreen 2.40:1
Audio:
English Dolby Digital TrueHD 5.1
Subtitles:
English
Closed-captioned
Supplements Subtitles:
None

Runtime: 98 min.
Price: $34.95
Release Date: 8/25/2009

Supplements:
• Audio Commentary with Director Gregor Jordan and Actors Jon Foster and Lou Taylor Pucci
• "Human Intersections: Making The Informers" Featurette
• Previews




PURCHASE @ AMAZON.COM

EQUIPMENT
Panasonic 50" TH-50PZ77U 1080p Plasma Monitor; Sony STR-DG1200 7.1 Channel Receiver; Panasonic DMP-BD60K Blu-Ray Player using HDMI outputs; Michael Green Revolution Cinema 6i Speakers (all five); Kenwood 1050SW 150-watt Subwoofer.


RELATED REVIEWS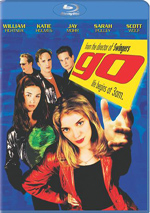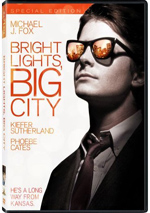 [an error occurred while processing this directive]
---
The Informers [Blu-Ray] (2009)
---
Reviewed by Colin Jacobson (August 18, 2009)

Based on a novel by American Psycho and Less Than Zero author Bret Easton Ellis, 2009's The Informers takes us to LA circa 1983. At a swanky party packed with hot and rich kids, Bruce (Fernando Consagra) gets killed in a car wreck.

Bruce's funeral brings together most of the characters we follow in this ensemble piece. Graham Sloan (Jon Foster) dates Christie (Amber Heard) and was the one with Bruce when he died. However, he and most of his friends seem pretty unaffected by Bruce's grisly demise, and Graham doesn't even appear to care when he finds out Christie fooled around on him with Bruce. That may be because he messes around on her as well.

Plenty of extracurricular sexual shenanigans crop up elsewhere. Graham's divorced parents William (Billy Bob Thornton) and Laura (Kim Basinger) plan to reunite. They do this although William has been seeing newscaster Cheryl Moore (Winona Ryder) and Laura is sleeping with Graham's pal Martin (Austin Nichols) – as is pretty much everyone else.

Those social relationships dominate the film. We also follow plots related to doorman Jack (Brad Renfro), his seedy Uncle Peter (Mickey Rourke), and a decadent rock star named Bryan Metro (Mel Raido).

That's not much of a synopsis, is it? I find it hard to summarize a plot when the movie in question doesn't actually have a plot. Heck, even the press materials for Informers don't bother to relate a coherent storyline; under "Synopsis", the release stresses the film's cast and just vaguely alludes to LA as "a city ruled by addictions of every type". When a summary doesn't even bother to name characters, that means the movie lacks an actual story.

If you seek the decadence the "synopsis" promises, you'll find it here. Sex, drugs and rock 'n' roll are the order of the day, and you'll all sorts of seedy elements. This means a surprising amount of nudity, both female and male. Since Heard isn't afraid to show her spectacular form, I can't complain; she may be naked in 75 percent of her scenes.

However, I will gripe about the hollow nature of Informers. Oh, I don't mean to whine because the characters at its heart are so plastic and shallow, as that goes with the territory. Easton made his name with tales of superficial rich folks who care about nothing but a good time, so it comes as no surprise that this flick follows true to his form.

The problem stems from the intensely dull nature of Informers. In the press release I mentioned, the publicists have the gumption to compare the film to Boogie Nights. Yes, both films are period pieces about the recent past that feature a lot of seediness and multiple characters.

That's pretty much where the comparisons end. Boogie focused on one main participant, and the others supported that story. I suspect we're supposed to see Graham as the protagonist, but he doesn't really get enough screen time to pull off that challenge. Also, Foster is such a forgettable actor that he can't make us care about Graham in the least.

Like Boogie Nights, Informers does feature a pretty solid supporting cast. With professionals like Thornton, Basinger, Rourke and Ryder in tow, the film should demonstrate more depth than it does. However, they get stuck with totally forgettable roles, whereas the Boogie characters were consistently interesting and intriguing. We learn little about the participants here, and we care even less.

While I seem disenchanted with the movie's shallowness, it falters even worse when it attempts social relevance. Informers invokes AIDS in a way that appears to be meant to add depth, but instead, it just reminds us how little substance the flick truly maintains. The AIDS segments are tacky and forced.

Informers can't even get period details right. For instance, it refers to Amadeus before that project had cinematic cache – it came out in 1984 - and the Bryan Metro music video we see doesn't look at all like something from 1983. It really boasts more of a 1989/1990 vibe ala "Wicked Game". Perhaps that was intentional – Chris Isaak plays a role here – but it doesn't make sense in a period sense.

Perhaps the original novel of The Informers offers greater depth and the movie had to jettison lots of story and character information to fit into its 98 minutes. Perhaps the book was shallow and plot-free as well. All I know is the film leaves me cold and provides little entertainment value.
---
The Blu-ray Grades: Picture B+/ Audio C+/ Bonus B-
---
The Informers appears in an aspect ratio of approximately 2.40:1 on this Blu-Ray Disc. I expected a solid visual presentation from a brand-new movie, and Informers looked very good.
At no point did any issues with sharpness emerge. All shots demonstrated terrific clarity and definition, as softness never became a problem. I also saw no signs of jagged edges or shimmering, and edge enhancement was absent. Source flaws failed to mar the presentation; it always was clean and fresh.
Colors looked fine. The palette varied but usually went with fairly natural tones, though it stayed subdued; it definitely lacked the garish 80s look we usually get from flicks associated with this era. Overall, the hues were well-reproduced. Blacks came across as dark and firm, while shadows were pretty good. Some interiors seemed a little murky, but those shots weren't too off-putting. Overall, this was a very pleasing presentation.
As for the Dolby TrueHD 5.1 soundtrack of The Informers, it was pretty average. One complaint came from dialogue, as I noticed a fair number of awkwardly looped lines; these didn't integrate well, and they could cause distractions. The lines were perfectly intelligible, though, and not a substantial issue.
Otherwise the audio was fine. Music showed nice range and definition, as the movie's songs worked well. Effects weren't a major consideration, but they appeared acceptably clear and natural. Though they had little to do in this character-based affair, they fit the project.
This meant the soundfield remained lackluster. Music offered fine stereo imaging and played a prominent role in the film. Effects didn't do much, though. The soundscape focused on general atmosphere and rarely brought out more than that. Between the lack of sonic ambition and the iffy looping, this was a "C+" track.
Only a couple of extras show up here. First comes an audio commentary with director Gregor Jordan and actors Jon Foster and Lou Taylor Pucci. All three sit together for this running, screen-specific look at cast and performances, the source novel, its adaptation and other story issues, sets and locations, 80s period details, music, and a few other topics.
Given my disenchantment with the movie, I didn't expect to enjoy this commentary. However, it provides a consistently engaging piece. We get a good mix of notes, and I especially like the thoughts about the changes from the novel; those insights allow the film to make more sense, as we learn about lost subplots. The three guys interact well and turn this into a good commentary.
Human Intersections: Making The Informers runs 15 minutes, 26 seconds and features Foster, Jordan, Pucci, producer Marco Weber, and actors Billy Bob Thornton, Mel Raido, and Amber Heard. The show looks at script and story adaptation, cast, characters and performances, Jordan's work on the film, various visual design choices, music and locations. After the commentary, "Intersections" lacks great substance, but it throws out enough useful notes to be worth a look.
A few ads open the platter. We get clips for Assassination of a High School President and Blood: The Last Vampire. Theses also appear in the Previews area along with promos for What Doesn't Kill You, Obsessed and Damages Season One. No trailer for Informers appears here.
Good movies about 1980s decadence exist, but The Informers isn't one of them. Virtually free from a real plot and without memorable characters, the film limps along for its 98 minutes and never threatens to engage the viewer. The Blu-ray provides solid picture quality, mediocre audio and a couple of good supplements. I have no complaints about the Blu-ray, but the movie itself is too much of a mess to earn my recommendation.
| | |
| --- | --- |
| Viewer Film Ratings: 3.3333 Stars | Number of Votes: 6 |