PARAMOUNT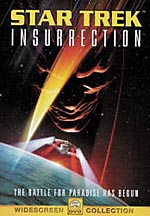 MOVIE INFO
Director:
Jonathan Frakes
Cast:
Patrick Stewart, Jonathan Frakes, Brent Spiner, F. Murray Abraham, LeVar Burton, Michael Dorn, Gates McFadden
Writing Credits:
Gene Roddenberry, Rick Berman, Michael Piller
Tagline:
The Battle For Paradise Has Begun.
Synopsis:
From the beginning of the Federation, the Prime Directive was clear: no Starfleet expedition may interfere with the natural development of other civilizations. But now Picard is confronted with orders that undermine that decree. If he obeys, 600 peaceful residents of Ba'ku will be forcibly removed from their remarkable world. All for the reportedly greater good of millions who will benefit from Ba'ku's Fountain of Youth-like powers. If he disobeys, he will risk his Starship, his career, his life. But for Picard, there's really only one choice. He must rebel against Starfleet…and lead the insurrection to preserve Paradise.
Box Office:
Budget $58 million.
Opening Weekend
$22.052 million on 2620 screens.
Domestic Gross
$70.117 million.
MPAA:
Rated PG


DVD DETAILS
Presentation:
Widescreen 2.35:1/16x9
Audio:
English Dolby Digital 5.1
English Dolby Surround 2.0
French Dolby Surround 2.0
Subtitles:
None
Closed-captioned

Runtime: 103 min.
Price: $29.99
Release Date: 5/11/1999

Bonus:
• Behind-The-Scenes Featurette
• Two Theatrical Trailers




EQUIPMENT
Sony 36" WEGA KV-36FS12 Monitor; Sony DA333ES Processor/Receiver; Panasonic CV-50 DVD Player using component outputs; Michael Green Revolution Cinema 6i Speakers (all five); Sony SA-WM40 Subwoofer.


RELATED REVIEWS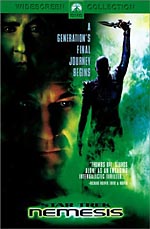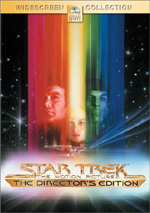 [an error occurred while processing this directive]
---
Star Terk: Insurrection (1998)
---
Reviewed by Colin Jacobson (July 30, 2003)

Ah, the Star Trek curse! This alleged phenomenon says that only the "even numbered" films rule, while the "odd numbered" pictures drool. While I agree that Star Treks two and six clearly represent the best of the bunch and that the first sucks almost beyond belief, I don't really subscribe to the "curse" in regard to the other seven films.

1999's Insurrection falls squarely in the middle of the pack along with a bunch of good but not tremendous movies. While few would claim that it offers the best of the series, almost no one thinks it provides the worst.

Actually, for a series that supposedly displays its intelligence so frequently, Insurrection seems surprisingly afraid to address deep subjects. The filmmakers hint at a substantial issue, as it examines whether or not something that may benefit billions of people justifies the alteration of the lives of a few hundred. However, any real contemplation of this thought gets completely obscured by clichés. We never really get the opportunity to think that maybe the good of the many does outweigh the good of the few because the film sets up the aggressors in such stark contrast to their intended victims. We have the evil Son'a who desire to take away the lifestyles of the peaceful, really-good-looking-but-still-essentially-hippies Ba'ku. Nazi allegories abound as we're told repeatedly that the Bak'u must be allowed to exist as they are because of the "Prime Directive."

No one will side with the Son'a because they're just some nasty bastards who will clearly not allow the life-regenerating technology to be used for anyone but themselves. Starfleet Admiral Dougherty (Anthony Zerbe) fills the Neville Chamberlain role as he appeases the bad guys who don't seem likely to fulfill their end of the bargain. Nonetheless, a very complex issue arises from this. We are told that the Ba'ku simply lucked their way onto their little fountain of youth, so why are they allowed to hog it all?

I'm sorry, but there does seem something wrong about this little commune of 600 people who get to benefit from this amazing substance while the other billions of beings get nothing at all. If we find some little island in the Pacific that has amazing properties that cure cancer, should we leave it be because it already has some people on it who want to continue to play hacky-sack? Heck, the Son'a don't even threaten to kill the Bak'u until push comes to shove toward the end of the film; prior to that, they just want to relocate them to a holographic recreation of their village! The whole thing seems rather narrow-minded and selfish to me.

Really, the only plausible reason I see for Captain Picard (Patrick Stewart) and crew to strongly oppose the Son'a is because they believe the bad guys won't spread the wealth. That probably would happen, but no strong argument is made in that vein. Instead, we get Picard's frequent citing of the "Prime Directive," which is supposed to disallow interfering with indigenous cultures. However, as Dougherty points out, the Ba'ku aren't indigenous; they're just the lucky colonists who found the joint. For a series that usually offers such a "one world" viewpoint, the fact that we're supposed to side with the folks who want to keep Ba'ku for the Ba'ku, I find that whole aspect of the film puzzling and inconsistent, to say the least.

At least it all makes for a pretty entertaining movie. For the most part, Insurrection offers a more humorous tone than most Star Trek films. Like most of the series, the humor works only sporadically, especially in regard to the abundance of anachronisms; will they really still say "boobs" that far in the future? Still, they throw enough at the wall that some of it sticks; since they try more humor but the same percentage actually works, Insurrection definitely offers more laughs than we've seen since the limp gags of The Voyage Home

Insurrection differs from that film in that it more deftly balances humor with action. The Voyage Home offered much more of a true comedy. Despite the fact that the crew worked to literally save their entire civilization, action and drama played a much less significant role than in any other Star Trek film. Insurrection gives us a few nice action scenes and it scatters them around the movie well enough that the pace moves along fairly well. It never approaches the thrills of First Contact - which would be difficult for it to do, since the Son'a provide a much less threatening foe than the Borg - but it keeps the audience interested.

Really, Insurrection seems to fill the role of a "caretaker" Trek film. While it doesn't suffer from some of the lows of the series, it also doesn't do anything to associate it with the other movies' peaks. It continues the series in respectable but unspectacular fashion.
---
The DVD Grades: Picture B+/ Audio A-/ Bonus D
---
Star Trek: Insurrection appears in an aspect ratio of approximately 2.35:1 on this single-sided, single-layered DVD; the image has been enhanced for 16X9 televisions. Despite a few minor concerns, the movie generally presented a solid picture.

Sharpness mostly looked solid. Some wide shots demonstrated slight softness, but those issues caused only a few concerns. Mostly the film appeared concise and crisp. Jagged edges and moiré effects created no problems, but I noticed some light edge enhancement at times. As for print flaws, I detected a few specks; otherwise, the image seemed clean and fresh.

As it benefited from many daylight settings, Insurrection displayed a nicely natural palette. The DVD replicated these well, and the tones consistently looked lively and vivid. They showed no signs of noise or other issues, and the colors came across as vibrant and distinct. Black levels seemed deep and rich, but shadow detail was a little heavy at times. The movie featured quite a few low-light shots, and these seemed somewhat dense. Still, most of Insurrection presented a positive picture that merited a "B+".

The Dolby Digital 5.1 soundtrack of Star Trek: Insurrection seemed even stronger. The soundfield provided an active and involving piece. All five channels received a nice workout, as various elements cropped up all around throughout the movie. Effects moved precisely and accurately from channel to channel, and the entire package blended together smoothly. Surround usage seemed excellent, as the rear speakers kicked in a great deal of unique information as well as support of the front. From flying drones to phaser fire, the flick offered many opportunities for sonic action, and the soundtrack took full advantage of these.

Audio quality also appeared solid. Speech seemed natural and distinct, and I noticed no signs of edginess or problems related to intelligibility. Music sounded clear and concise, as the score presented natural and dynamic tones. Effects also worked quite well, as those elements consistently appeared clean and accurate. The track boasted very solid low-end response, with bass that seemed tight and lively. Ultimately, the audio of Star Trek: Insurrection worked very well, and it added to the experience.

Eventually Paramount will release a special edition of Insurrection, but until then, we're stuck with this fairly feature-free package. The main attraction is a short featurette that provides a little information about the flick. Mostly it just tells us about the story, but a few decent tidbits emerge. We see movie shots and images from the set and also hear sound bites from producer Rick Berman, actors Patrick Stewart, F. Murray Abraham, Marina Sirtis, Brent Spiner, make-up supervisor Michael Westmore, and director/actor Jonathan Frakes. The material about the Son'a make-up provides the most substantial data in this glossy and insubstantial program.

In addition, we get two trailers. The DVD includes both "teaser" and theatrical clips. Each appears non-anamorphic 1.85:1 with the option of either Dolby Digital 5.1 or Dolby Surround 2.0 audio. Like the movie itself, the trailers default to 2.0, so you'll need to use you remote to select the 5.1 tracks.

Not the best Star Trek film but far from the worst, Insurrection lags at times but it generally provides an entertaining piece. I maintain some philosophical problems with it and think it comes across as dumber than most Trek flicks, but the action and humor make it worthwhile. The DVD offers very good picture and sound but skimps on extras.

As I write this in early 2003, a special edition of Insurrection seems likely to appear by the end of 2004. If you can wait that long, I'd recommend you hold off and pick up the SE when it hits the shelves. If you don't care about extras, though, just grab this version, as I doubt the SE will improve upon its picture and sound.
| | |
| --- | --- |
| Viewer Film Ratings: 4.0714 Stars | Number of Votes: 28 |