WARNER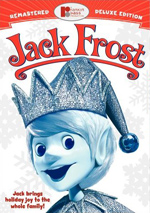 MOVIE INFO
Director:
Jules Bass, Arthur Rankin Jr.
Cast:
Buddy Hackett, Robert Morse, Paul Frees, Larry Storch, Dave Garroway, Debra Clinger, Don Messick
Writing Credits:
Romeo Muller
Synopsis:
A groundhog (Buddy Hackett) narrates this stop-motion animation masterpiece about the gift of love and the joy of being generous to others. Jack Frost (Robert Morse), the darkhearted spirit of winter, has fallen in love with a beautiful maid, Elisa (Debra Clinger). Wishing to win her over, Jack takes the form of a human and befriends Elisa and her family. Working as a tailor, Jack becomes a regular part of his community, and just when he thinks he's reaching Elisa, he learns that she is already engaged to marry the noble knight Sir Danny (Larry Storch). However, before Jack can lament the loss of Elisa, the evil King Kubla Kraus (Paul Frees) comes along and snatches her up, locking her away in his castle. When Elisa refuses to marry Kraus and pledges her allegiance to Sir Danny, the all-powerful Kraus vows to destroy the village. Jack realizes that he is the only one powerful enough to stop the evil king, but he can only stage such a rescue if he returns to his immortal winter form.
MPAA:
Rated NR


DVD DETAILS
Presentation:
Fullscreen 1.33:1
Audio:
English Monaural
Subtitles:
English
Closed-captioned
Supplements Subtitles:
None

Runtime: 49 min.
Price: $19.97
Release Date: 10/7/2008

Bonus:
• "Totally Cool Crafty Creations" Featurette
• "Snip's Snowy Singalong"
• Previews




PURCHASE @ AMAZON.COM

EQUIPMENT
Panasonic 50" TH-50PZ77U 1080p Plasma Monitor; Harman/Kardon DPR 2005 7.1 Channel Receiver; Toshiba A-30 HD-DVD/1080p Upconverting DVD Player using HDMI outputs; Michael Green Revolution Cinema 6i Speakers (all five); Kenwood 1050SW 150-watt Subwoofer.


[an error occurred while processing this directive]
---
Jack Frost: Remastered Deluxe Edition (1979)
---
Reviewed by Colin Jacobson (October 2, 2008)

At the age of 12, I think I still cared about various holiday specials. That said, I have absolutely no memory of 1979's Jack Frost. Is this because I never saw the show or because it was totally forgettable? I may not be able to answer that question, but I can address my feelings toward Frost as an adult.

I thought Frost might attempt to fill the kiddie special hole between Christmas and Easter, but apparently it originally aired in December, so I'm left adrift by its timing. Groundhog "Pardon-Me-Pete" (voiced by Buddy Hackett) stars in the annual Groundhog Day festivities, and he acts as narrator. We go to the village of January Junction, a burg ruled by the iron first of the Cossack Kubla Kraus (Paul Frees).

One day Jack Frost (Robert Morse) visits the town and encounters cute Elisa (Debra Clinger). Jack falls for her and turns into a human so he can woo her. However, Elisa pines after a knight named Sir Raveneau, and other complications also ensure. Kubla steals Elisa for himself, so Jack has to fight to rescue Elisa, win her love – and overthrow the tyrant for good measure.

When I started the review, I wondered if I saw Frost in 1979 and forgot about it. I still don't know the answer to that query, but it seems altogether entirely possible, as the special boasts almost nothing to make it memorable.

Many of these Rankin-Bass shows lack great substance, but they compensate with clever bits. Frost lacks many of these fun moments, and it seems even less depth than usual. This is a thin story that struggles to fill its 49 minutes. Frost might've fared better at half an hour, as the extended running time makes the program slow and sluggish.

Tons of padding occurs via extraneous characters, plot elements and songs. While the show doesn't pack in scads of tunes, it throws in too many – or maybe it just feels that way since the numbers on display are so bland. There's not a memorable melody to be found in this drab concoction.

Frost also bogs down with all its characters and plot bits. For instance, the show forces us to sit through extended exposition about Kubla's lonely lot in life. This seems unnecessary to me. Maybe it intends to set up his eventual redemption, but why bother? Plenty of other simple baddies went down similar happy endings but we didn't need to see so much of their unpleasant existences.

All of this leads to my belief that the show's creators just wanted to pad out the program and make it fill an hour. Why not leave well enough alone and stick with a shorter format? I don't know, but Frost lacks the substance to stretch to a full hour.

Every once in a while, we encounter an amusing bit, like Kubla's mechanical ventriloquist puppet Dummy. Some of the actors add a bit of life; in particular, Morse gives Jack more personality than one might expect. These are minor positives, however, as Frost turns into a rather dull holiday special.
---
The DVD Grades: Picture B+/ Audio C+/ Bonus D
---
Jack Frost appears in an aspect ratio of 1.33:1 on this single-sided, single-layered DVD; due to those dimensions, the image has not been enhanced for 16X9 televisions. Virtually no issues developed in this fine transfer.
Sharpness was pretty solid. While I couldn't call the results razor-sharp, I also couldn't identify any instances of actual softness. Though the image didn't present killer definition, it appeared more than satisfying in that regard. No examples of jagged edges or shimmering materialized, and edge enhancement remained absent. Source flaws seemed essentially absent. Grain remained light, and other than a speck or two, the show looked quite clean.
Colors seemed good. The show tended toward a chilly blue tint, and those elements satisfied. Other tones – like the reds of Kubla's clothes – also appeared full and rich. Black levels also seemed pretty deep and dark, and shadow detail was appropriately heavy but not excessively thick. All of this was good enough for a "B+".
The monaural audio of Jack Frost seemed adequate but unspectacular. Dialogue usually sounded fairly natural and distinct. Music also seemed fairly clear and smooth; no real dynamic range emerged, but the material was acceptable. Effects came across as clean and accurate without much depth but also without any concerns related to distortion. It's a bland but decent soundtrack that seemed appropriate for a program of this one's era.
Only a few minor extras fill out the set. Totally Cool Crafty Creations lasts eight minutes, 38 seconds and host "Francine Flake" shows us how to make snowflakes, snow globes, and "instant snow". This might be fun for kids, but it does nothing for me. Actually, that's not totally true; "Francine" is a babe, so she offers eye candy for the guys.
Snip's Snowy Singalong allows you to croon along with three of the special's tunes. We find Karaoke-style entries for "Jack Frost", "Just What I Always Wanted" and "The Groundhog Song". Since the DVD already includes subtitles, I'm not sure what purpose this feature serves, though the bouncing snowflake highlights the words you're supposed to sing, so maybe that'll help some folks.
A few ads open the DVD. We get promos for A Charlie Brown Thanksgiving, A Charlie Brown Christmas, It's the Great Pumpkin, Charlie Brown, You're Not Elected, Charlie Brown and Blu-Ray Disc. The disc also includes trailers for Fred Claus, Looney Tunes Golden Collection Volume 6, Smurfs Season 1, Volume 2 and Scooby-Doo And the Goblin King.
Since it aired in 1979, Jack Frost became a forgotten holiday special, and for good reason: it's wholly forgettable. A few amusing moments emerge, but the show feels long, slow and dull as a whole. The DVD presents strong picture quality, acceptable audio and some minor extras. This is a bland show that should be left for Rankin-Bass die-hards.
| | |
| --- | --- |
| Viewer Film Ratings: 4.1666 Stars | Number of Votes: 6 |