Jeepers Creepers appears in both an aspect ratio of approximately 1.85:1 and in a fullscreen version on this DVD-14; the widescreen image has been enhanced for 16X9 televisions. Only the letterboxed picture was reviewed for this article. While consistently watchable, Creepers showed many more problems than I expected for such a recent film.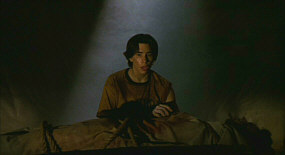 Sharpness usually seemed solid. A few wider shots demonstrated a smidgen of softness, but these concerns remained minor. As a whole, the movie looked nicely crisp and well defined most of the time. I saw no problems related to edge enhancement or jagged edges, but some moiré effects did crop up at times. In particular, the car's upholstery and its grille demonstrated mild shimmering.
Print flaws were a more substantial than normal concern. The picture often seemed overly grainy, and I also saw a fair amount of speckles, grit, and general debris like small hairs and whatnot. These didn't become overwhelming, but they were too heavy for a 2001 film. During his commentary, director Salva indicated that some of the grain was intentional. Even so, the usage was oddly inconsistent and more distracting than anything else.
Colors looked decent much of the time, but they often came across as somewhat heavy and oversaturated. Daylight scenes caused the main problems, as they appeared too strong for the screen. The nighttime shots were less problematic, but they also used cooler tones and didn't have the same potential for overload. Black levels seemed reasonably deep and rich, but shadow detail occasionally was a bit too thick. Some low-light scenes appeared excessively dim and difficult to discern. To be sure, much of Jeepers Creepers actually looked quite good, but the movie demonstrated enough concerns to lower my grade to a "C+".
Much stronger was the Dolby Digital 5.1 soundtrack of Jeepers Creepers, though it wasn't anything absolutely terrific. The soundfield seemed a little restrained at times, but it generally offered a good experience. The track stayed largely in the forward spectrum, and in that realm, it generated a nice sense of atmosphere. Music showed positive stereo imaging, while effects were appropriately placed and moved well between channels. Occasionally the mix seemed a bit speaker specific, as it didn't blend together exceptionally well, but it usually came across as reasonably well integrated.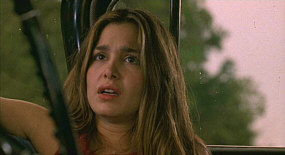 Surround usage was a little lackluster, but it seemed acceptable. The rears kicked in nice reinforcement of the music, and they also offered reasonable effects at times. Generally the surrounds concerned themselves with the larger scare pieces like the "road rage" bits, and they showed positive elements on those occasions. It wasn't a tremendously involving piece, but it worked pretty well.
Audio quality was generally very good. Early in the film, speech showed a little edginess, but this didn't become a consistent issue. As a whole, dialogue sounded natural and distinct, and I heard no problems related to intelligibility. Effects seemed clean and accurate, and they also showed good range. The roar of engines and the thump of the Creeper and his actions boasted a nice impact. Even better was the fidelity of the score, which sounded absolutely terrific. The music offered excellent clarity and deep bass, which gave it a very nice punch throughout the film. Overall, the spread of the soundfield was too limited to merit an "A" grade for Jeepers Creepers, but its soundtrack deserved a solid "B+".
Of all the various studios, none have embraced the DVD-14 as strongly as MGM. As also seen on their release of The Terminator, this offers one dual-layered side and another single-layered side. The two versions of the movie appear on the dial-layered portion, while most of the extras show up on the single-layered reverse.
Most, but not all. Side one includes two features. We get Cast and Crew Filmographies that provide listings for director Victor Salva, director of photography Don E. FauntLeRoy, composer Bennett Salvay, and actors Gina Philips, Justin Long, Jonathan Breck, Patricia Belcher, Brandon Smith, and Eileen Brennan.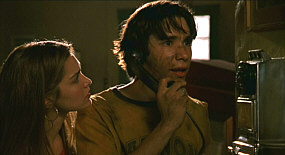 More significant is side one's other supplement, an audio commentary from director Salva. He offers a running, screen specific piece that gives us a very good look at the film. Salva covers a nice variety of subjects. We learn about alterations to the script that occurred during production, pressures put on him to change some parts of the film, working with the cast and crew, budget issues, interesting trivia, and many other useful tidbits. Salva starts to fade during the movie's third act, and the commentary drags a little at times, but overall, this is a very solid track.
As we move to side two, we find a number of video supplements. First up is Behind the Peepers: The Making of Jeepers Creepers. Created expressly for the DVD, this 59-minute and 15-second documentary actually splits into six "mini-featurettes": "Finding Trish and Darry", "Designing the Creeper", "Cars and Trucks", "The Creeper Comes to Florida", "Night Shoots" and "Composed By Bennett Salvay". Each of these uses the same format. We see short clips from the film along with shots from the set and production materials plus a mix of interviews. In the latter realm, we hear from director Salva, producers Tom Luse and Barry Opper, actors Gina Philips, Justin Long, Jonathan Breck, and Eileen Brennan, creature and makeup effects Brian Penikas, stunt coordinator James M. Churchman, and composer Bennett Salvay.
"Peepers" provides a pretty solid look at the production. We learn about the story and the evolution of many components. We see audition footage for Long, Philips, and Breck and witness a fair amount of material from the set, though this area could be a little deeper. I do like the "cat outtakes" from Brennan's scenes, though, and the interviews add a reasonable level of depth. The program also offers the best description of how they shoot driving scenes that I've ever witnessed. As a whole, "Peepers" gives us a good documentary; it's not one of the best I've seen, but it definitely is better than most.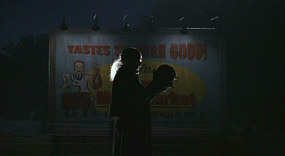 One peeve about the documentary: during Salvay's portion, we're told about how "creative" the musicians were. Buh? The portions of the music to which they refer sound like they were lifted verbatim from Aliens! I had some serious déjà vu while I watched the movie, and I almost gagged when I heard those elements called fresh. They work for the movie, but new they ain't.
Next we find a collection of Deleted and Extended Scenes. Actually, virtually all of them fell into the latter category; there wasn't anything here that didn't simply expand already existing segments. As such, I thought the materials weren't terribly interesting. The extra pieces expand the characters slightly, but there was nothing here that was a tragic loss.
Called "Last Looks", a Photo Gallery offers a running view of some production stills. A few publicity shots creep in as well, but mainly this seven-minute and 50-second presentation sticks with images from the set. Backed by Salvay's score, this was a pretty bland set of pictures; I saw little that provoked my interest.
Lastly, Creepers includes a bunch of trailers. We discover the theatrical clip for Creepers itself - which reveals way too much information - as well as DVD promotional pieces for Hannibal, The Silence of the Lambs, Carrie, and The Terminator. One nice touch: all of the extras except for the trailers are enhanced for 16X9 screens.
As a whole, I thought Jeepers Creepers was a minor pleasure. It didn't create an amazingly new horror experience, but it provided a periodically scary and intense piece that worked well overall. The DVD featured surprisingly problematic visuals along with very good sound and a solid collection of extras. Horror fans will definitely want to give Jeepers Creepers a look.